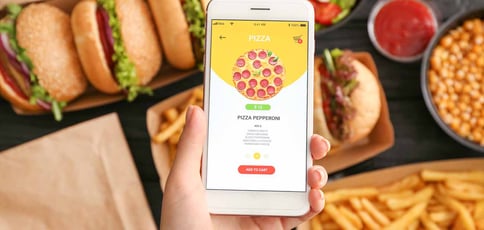 I know the life of a restaurant owner is stressful because I used to own one. You spend the bulk of your time developing culinary masterpieces, managing employees, keeping the books, ordering products, and yelling at the suppliers when they send you bad potatoes.
Finding the best web hosting for restaurants simply wasn't on the menu.
But in today's era of digital dining, your restaurant needs an online presence just to keep up with the status quo. Ninety percent of guests go online to research where to eat before they dine, with 57% visiting the restaurant's website before making a decision.
Here, we've trimmed all the fat to give your palate a list of only the best web development options for your restaurant. Read on to learn more!
Best Web Hosting for Restaurants
Think of good web hosting as having a good server at your restaurant — both provide the first impression of your business. Be it page load times or a friendly smile, you want customers to always be greeted pleasantly and professionally and leave satisfied.
A good host will do the job quickly and effectively, blending into the background of the business. You are unlikely to see reviews about servers unless a customer had a negative experience with long wait times or a discourteous encounter.
All in all, your web host should work silently and efficiently to give your customers excellent service.
We'll look at variations in storage, reliability, speed, security, and customer service to find the best web hosting provider. You can also compare each provider's offerings with your restaurant's needs in mind.
Cheap shared hosting from a trusted provider
Ideal for hosting a WordPress website
FREE Weebly website builder and Cloudflare CDN
Unlimited traffic and 24/7 live chat support
Get 70% off today with our Bluehost coupon
CHEAP
RATING 4.7 ★★★★★ Our Review
Bluehost: Our Expert's Review
Ryan Frankel (HostingAdvice.com): Bluehost pricing is about as competitive as the industry offers. Sign up for a shared hosting plan for as little as $2.95 per month, and WordPress hosting packages are consistently priced; a VPS plan starts at around $19.99 per month; and the dedicated hosting rates are as little as $79.99 per month. Go to full review »
| Money Back Guarantee | Disk Space | Domain Name | Setup Time |
| --- | --- | --- | --- |
| 30 days | 10 GB SSD - 100 GB SSD | FREE (1 year) | 5 minutes |
Bluehost is one of our all-time favorite providers, especially when it comes to web hosting for a small business. Restaurant owners will particularly enjoy the user-friendly interface, great customer support, and inexpensive plans.
Bluehost offers tons of great features for restaurant owners, including unlimited storage, bandwidth, and domains on most plans. In addition to including the Weebly website builder, WordPress endorses Bluehost for its premium service and support.
Both design platforms feature dozens of pre-built templates for restaurants that you can customize with your logo, menu, and other appetizing components of your brand. A WordPress theme specialized for restaurants is right around the corner.
Features and benefits:
Price: $2.95 and up per month
Free domain for the first year
Excellent customer support
Integrated Weebly website builder
Free SSL certificate and CDN for added security
Lots of storage for a low rate
Each plan comes with unlimited bandwidth
30-day money-back guarantee
Given the quality of Bluehost's offerings, you'd understandably expect the hosting provider to charge more. Sure, you can likely find cheaper options if you plan on having a fairly small website and don't need much storage, but quality would likely suffer.
You may have noticed that Bluehost doesn't have an uptime guarantee as do a large percentage of other providers, but don't let that deter you. Bluehost's reliability consistently tests at or above the industry standard, and its customer support is always at the ready to help you through any issues you may have.
Unlimited everything, from storage to databases
FREE site builder & WP performance upgrades
FREE daily or weekly backups
Custom control panel and auto-installation scripts
SSH access & unlimited FREE SSL certificates
CHEAP
RATING 4.9 ★★★★★ Our Review
Hostinger: Our Expert's Review
Laura Bernheim (HostingAdvice.com): As the shared hosting market becomes increasingly saturated, unlimited storage, bandwidth, and email accounts have become surprisingly average. Hostinger, however, extends the routine, expected metrics to greater lengths — the number of websites, databases, FTP users, subdomains, and parked domains are all unrestricted for most customers. Go to full review »
| Money Back Guarantee | Disk Space | Domain Name | Setup Time |
| --- | --- | --- | --- |
| 30 days | 50 GB SSD - 200 GB SSD | FREE (1 year) | 3 minutes |
If you're looking for phenomenal prices, here comes Hostinger! With introductory rates starting at $0.99 and renewal rates significantly lower than those for other hosts, your bank account will surely be happy.
Are you wondering what's being sacrificed for the lower price? The good news: not much.
Features and benefits:
Prices starting at just $1.99 per month
Loading speeds powered by LiteSpeed web server
Integrated Zyro website builder
Free SSL certificate
Included email accounts
30-day money-back guarantee
If you're basing your entire decision on a free domain, you may be disappointed. Hostinger includes a free domain name with all but its cheapest plan.
However, you can register a .COM with Hostinger for less than $10 per year — again, much cheaper than what it costs with other registrars we've tested.
Otherwise, we expect you'll be impressed with the web host's accelerated WordPress infrastructure, regular backups, and CloudFlare-protected nameservers.
If you're wary that Hostinger.com's prices may be too good to be true, take advantage of the 30-day, money-back guarantee to take it for a test drive yourself.
Host up to unlimited websites on a single plan
FREE SSL certificate included on all plans
Unlimited bandwidth & email addresses
1-click WordPress installs & FREE blog tools
Get 67% OFF by buying 36 months upfront
CHEAP
RATING 4.6 ★★★★★ Our Review
HostGator: Our Expert's Review
Ryan Frankel (HostingAdvice.com): HostGator is a great compromise between performance and price. The company offers unlimited emails, MySQL databases, disk space, and bandwidth, plus one-click installs of popular open-source projects, in addition to a 99. Go to full review »
| Money Back Guarantee | Disk Space | Domain Name | Setup Time |
| --- | --- | --- | --- |
| 30 days | Unlimited | FREE (1 year) | 4 minutes |
HostGator, which is sister companies with Bluehost, started in a college dorm in 2002 before being acquired for a monstrous $225 million. (Don't we all hope to build something that will one day sell for that much?)
Having been around for so long and benefiting from the resources that a big corporation can provide, HostGator comes to the table with lots of good things to offer.
Features and benefits:
Price: $2.64 and up per month
Proprietary Gator website builder
24/7/365 support via phone, chat, and Twitter
Unlimited storage and unmetered bandwidth
Flexible terms ranging from one month to three years
Supports multiple programming languages
Optimized servers available for WordPress users
Free domain registration if hosting for at least a year
HostGator provides services to more than 2 million websites already, and the hosting company touts that about a third of its customers are web professionals who "know where the gettin' is good."
But beginners will do just great as well. In fact, HostGator created its own website builder to serve them even better. Otherwise, HostGator includes the always familiar cPanel control panel along with ecommerce tools and even a $150 credit for Google advertising.
FREE Cloudflare CDN and SSD speed boost
Optimized caching and 1-click installs
Unlimited email, domains, and databases
Advanced security and FREE HackScan
24/7 support via phone, chat & tickets
CHEAP
RATING 4.5 ★★★★★ Our Review
A2 Hosting: Our Expert's Review
Alexandra Anderson (HostingAdvice.com): There are plenty of excellent cPanel shared hosting providers out there, so what sets A2 Hosting apart from the rest. Not only does the company offer a ton of features, but it has custom-built its packages for enhanced performance, speed, and security — putting your priorities above pricing. Go to full review »
| Money Back Guarantee | Disk Space | Domain Name | Setup Time |
| --- | --- | --- | --- |
| 30 days | 100 GB SSD - Unlimited SSD | New or Transfer | 4 minutes |
If you want to further update your restaurant's professionalism and credibility, you may want to consider utilizing a custom email address that builds the recognition of your brand (yourname@restaurantname.com).
A2 Hosting offers unlimited email inboxes even with its lowest tier plans so that you and your entire team can shine when developing relationships with clients and vendors both large and small.
Features and benefits:
Price: $2.99 and up per month
Super fast page loading speeds
Regularly delivers beyond 99.9% uptime
Unlimited email accounts with all plans
Free SSL certificate
Integrated site builder
Free website migration
30-day money-back guarantee
When it comes to meeting the needs of a restaurant website, A2 Hosting's offerings leave little to critique. The hosting provider's go-to advantage is its inherently speedy and modern infrastructure, featuring high-powered SSD storage drives.
If we're getting greedy, we'd love to see A2 Hosting offer an automatic backup solution with its cheapest plan. For restaurants, though, even minimal back-ups may not be terribly problematic as changes are often minimal or easily replicated if needed.
A2 Hosting's free site migration services spare restaurant owners from much of the complex process, and we especially appreciate how the host further streamlines its customers' workflow with a free website staging environment.
FREE BoldGrid site builder and templates
FREE website, domain, and cPanel migrations
SSD storage makes your site load up to 20x faster
Security suite includes SSL and hack protection
Unlimited bandwidth and email accounts
CHEAP
RATING 4.7 ★★★★★ Our Review
InMotion: Our Expert's Review
PJ Fancher (HostingAdvice.com): InMotion Hosting offers an excellent business-class shared hosting plan — with a price tag lower than several other budget hosts. For the IT crowd in the audience, you'll appreciate SSH access, as well as support for PHP, Ruby, Perl, Python, WP-CLI, and other popular languages. Go to full review »
| Money Back Guarantee | Disk Space | Domain Name | Setup Time |
| --- | --- | --- | --- |
| 90 days | 100 GB SSD - Unlimited | FREE (1 year) | 5 minutes |
Billing itself as the last host you will need, InMotion Hosting is a strong contender for one of the top business-friendly web hosts. Thanks to modern, high-speed infrastructure, a lengthy money-back guarantee, and friendly support, your restaurant site will be in good hands.
The affordable rates and unlimited bandwidth are eye-catching features, for sure, but we especially appreciate how InMotion Hosting integrates with WordPress. Add to that the fact that the InMotion Hosting team created BoldGrid, a custom drag-and-drop website builder, and it's clear why InMotion Hosting is our top choice for hosting the CMS.
Features and benefits:
Price: $2.29 and up per month
Faster speeds and improved uptime with SSDs
Unlimited bandwidth
Supports a variety of programming languages
WordPress-optimized servers available
Free website migration and onboarding call
Industry-leading 90-day money-back guarantee
Don't want to worry about designing your site or going through the pains of finding a web developer? Like a handful of other hosts on our list, InMotion Hosting will tackle all the work for you.
The hosting company's built-for-you QuickStarter websites give restaurant owners a custom-built one-page WordPress website in just two days for just shy of $100.
The mobile-friendly site will display your business's contact information, connect social media accounts, and start your SEO foundation. Sure, a one-page website will probably not be enough for most restaurants, but it's a good place to start.
Best Website Builders for a Restaurant
For people who don't know how to code or struggle with WordPress, creating a website would be nearly impossible without a website builder or web developer. If you want to prioritize a restaurant website builder, we have created a list of excellent options.
Before we dive in, you will want to know the answers to a few questions to narrow down the options:
Will you be taking online orders, payments, and reservations?
What will your potential customers look for on the restaurant website?
How and where on the site would you prefer to display your food menu?
Will you need an online store for merchandise other than your food?
Will you have a mobile app? How will it relate to your website?
Do you want to invite or share customer reviews?
Would you like a space to present and easily modify specials and offers?
Can customers sign up for a loyalty program?
Will you be collecting email addresses for future marketing campaigns?
The answers to these questions are so vast and distinctive, we can't tell you which restaurant website builder will meet your exact needs (though we are more than happy to dig into it with you).
Instead, we will point out four website builders that provide diverse options that are likely to check off the majority of your boxes.
No coding skills needed with drag-and-drop builder
100s of templates with niche-specific designs
Add features via the App Market and Wix Events
Easily create ecommerce functionality easily
Great way to build small sites on a budget
WEBSITE BUILDER
RATING 4.9 ★★★★★ Our Review
Alexandra Anderson (HostingAdvice.com): Website building is where Wix shines. The thousands of templates, the intuitive editor, the industry-leading designs that cater to a variety of specific fields and use cases — all these facets represent a platform that excels at facilitating easy web design for the non-tech-savvy user. Go to full review »
| Money Back Guarantee | Disk Space | Domain Name | Setup Time |
| --- | --- | --- | --- |
| 14-day FREE trial | 2 GB - Unlimited | FREE (1 year) | 4 minutes |
The Wix restaurant website builder offers fully customizable layouts with drag-and-drop editing tools that are easy to use and great for beginners.
Most are optimized for mobile devices and can be enhanced with apps available from the Wix App Market, including tools for online reservations, menus, and online orders. With more than 260 available apps, you are likely to find the functionality you need.
Wix also offers a free hosting plan that is very useful for business owners on a tight budget. Be aware, however, that the free plan only comes with a Wix subdomain (restaurantname.wixsite.com) and no ability to remove Wix ads from your website.
You will likely want to eventually upgrade to one of the paid plans to bolster the professionalism of your site.
Remember that you can't switch your template after you've published your site.
So be sure you like your restaurant website design before going live. The design choices can be overwhelming (a blessing and a curse), but taking the time to sift through them is worth it to ensure a polished final product.
Choice of Weebly or WebsiteBuilder by iPage
Mobile-optimized and easy-to-use setup wizards
100s of professionally designed themes
FREE online store, shopping cart, and blogging
Get 38% off your first month
WEBSITE BUILDER
RATING 4.9 ★★★★★ Our Review
iPage: Our Expert's Review
PJ Fancher (HostingAdvice.com): Do you want your website built today. If you answered "yes," you should look no further than iPage. Go to full review »
| Money Back Guarantee | Disk Space | Domain Name | Setup Time |
| --- | --- | --- | --- |
| 30 days | Unlimited | FREE (1 year) | 4 minutes |
If you don't want to devote time to comparing the various plans for your site now and in the future, iPage makes life easy by offering a single shared hosting plan.
The Go Plan includes unlimited storage, scalable bandwidth, unlimited websites and databases, good security, and email addresses. It also comes with an ecommerce platform, a free domain for the first year, and 24/7 customer support for the notably low price of $4.99/month.
The hosting company's all-new, AI-driven website builder is part of the package, too. All you need to do is answer a few simple questions, and the program will choose a layout, add initial content, and select images for your restaurant website.
You can create up to six pages for free, or upgrade to unlock unlimited pages, revision history, analytics, PayPal integration, or the ability to run promotions.
Alternatively, iPage includes a fairly standard one-click WordPress installer. Your hosting service will also be enhanced with easy-to-use setup wizards, customizable layouts, and access to other top website management systems.
Drag-and-drop design with the Gator™ site builder
Hundreds of mobile-friendly templates
FREE hosting, domain name, and SSL certificate
Easily add a blog, store, and social media
Analytics portal helps gauge site performance
WEBSITE BUILDER
RATING 4.6 ★★★★★ Our Review
HostGator: Our Expert's Review
Ryan Frankel (HostingAdvice.com): Setting itself apart from the scores of competitors that rely on white-labeled website builder solutions, HostGator spent the time to painstakingly craft its own platform. Gator provides a frustration-free experience that pairs the simplicity of drag-and-drop design with the company's powerful and respected web hosting services. Go to full review »
| Money Back Guarantee | Disk Space | Domain Name | Setup Time |
| --- | --- | --- | --- |
| 30 days | Unlimited | FREE (1 year) | 4 minutes |
HostGator would fit perfectly in either category — web hosting or website builder. We've even named the hosting provider as one of our favorite hosts to grow with, meaning HostGator is a great fit for small businesses and restaurant sites.
You can get to HostGator's website builder (Gator Builder) in one of two ways. You can sign up for hosting and get the basic builder functions included, or you can target the website builder directly to access features only available in the higher-tier site builder plans.
For example, the highest tier offers features like Facebook integration, coupon codes, and multipayment processors. By signing up with the website builder, you will also get free hosting, supported email campaigns, an online store, a free domain for a year, and PayPal integration.
The restaurant website builder is intuitive and intelligent, allowing you to type in some basic information and see the suggested design the site builder has generated for you. To help develop your brand, Gator also comes with an integrated logo maker.
You will likely want to use a number of your own photos with high-quality, professional images of your dishes and your space for the majority of your material, but HostGator has your other images covered with its Unsplash image library.
Site statistics are provided for all plans so you can put your site together and keep an eye on how much traffic it's getting. If you feel like the expense isn't worth the benefit, you can take advantage of HostGator's 45-day money-back guarantee.
Get started for FREE, no credit-card required
Easy-to-use interface with tons of customization
GoDaddy InSight™ provides tailored action plans
99.9% uptime with an award-winning support team
Built-in marketing tools and expertise
WEBSITE BUILDER
RATING 4.8 ★★★★★ Our Review
GoDaddy: Our Expert's Review
Ryan Frankel (HostingAdvice.com): GoDaddy uses a custom website builder and easy access to dozens of content management systems to offer a user-friendly site-building solution to customers. Most of GoDaddy's hosting plans include these options at no additional cost. Go to full review »
| Money Back Guarantee | Disk Space | Domain Name | Setup Time |
| --- | --- | --- | --- |
| 30 days | Unlimited | New or Transfer | 5 minutes |
GoDaddy has long been known as a household name for hosting and domain registration, but you may be less familiar with its website builder.
The newest version of GoDaddy's website builder is a beginner and user-friendly tool with an entire category of templates that are specific to restaurants.
The best part is that you can get started for free. If you just want to test the waters, you can get started with the free plan (with ads) and upgrade or incorporate add-ons as needed.
For those who need a little extra support, GoDaddy can help you develop designs for social media posts, blog content, and marketing materials. The SEO Wizard can also help optimize your site.
GoDaddy truly offers a one-stop-shop with its hosting capabilities, domain registration, website builder, and marketing support. However, all this peace of mind comes at a fairly steep price compared with the price of services from other web hosting companies on our list.
If you want an ecommerce store, for instance, it will cost about $25/month. This is quite a bit more than you would pay other providers and highlights the need to have a clear understanding of your site's needs now and in the future before you get started.
What is Web Hosting for Restaurants?
A web hosting service, generally speaking, maintains web servers that hold files that make up websites. The company will rent you space on these servers to both store your files and make them available for public access online.
Every website is hosted on a server, be it physical or virtual.
Web hosting for restaurants differs from web hosting for other entities like a Fortune 500 company, travel blog, or personal website in several ways:
Efficiency: Restaurant owners need to spend considerable time with the brick-and-mortar aspects of their business. A good web host simplifies the online aspect.
Uptime needs: A blog may miss out on a few clicks if its website is down, but a missed opportunity for a restaurant could result in a lost connection with someone who could have become a high-value customer and a word-of-mouth marketer for years to come.
Storage requirements: A basic restaurant website example could have a single page with only location and contact information. On the more complex end, the restaurant might have plugins for things like reservations and ordering, events calendars, and even a food blog.
All in all, most restaurant sites are typically compact enough to be hosted on shared servers and are unlikely to need dedicated hosting.
Websites can be very advantageous tools when used correctly, but they are a double-edged sword because today's digital revolution has created a base of users who expect the best of the best.
Downtimes, slow page loading speeds, unprofessional designs, and poorly communicated information can easily cost you a sale. In extreme cases, they can even cost you a customer.
Consider a hosting provider that supports a platform with a restaurant theme, an online ordering system, and provides top-notch customer support to help you through any difficulties. It should also be fast and reliable to avoid discouraging potential customers.
Why Do I Need a Web Hosting Plan for My Restaurant?
Without a hosting plan, you can't present your website.
Your online presence is a primary means of advertising for your business. You may have coupons in the Pennysaver, use Constant Contact, or cater events at cost to get your name out there, but much of that effort will be wasted if your customers can't find you online.
Having a strong online presence, particularly a website, can be make-or-break for generating more revenue.
A website gives you credibility, develops your brand, directs customers, makes your customer service more efficient, and provides a platform for you to interact with the people who are interested in your services.
You can draw people in with an appealing web design, appetizing pictures of your food, and a showcase of your ambiance. Through your website, you can also present coupons and promotions to make your restaurant that much more enticing.
How Do I Choose the Best Hosting for My Restaurant?
Restaurants typically don't host things like large database-driven applications or downloadable software, so you'll probably have relatively minimal needs in terms of disk space, at least to start.
There are, however, a number of features that differ between various hosting providers that you will want to keep an eye out for.
Here are some questions you should know the answer to as you dive into the options:
How much information do you want on your website and how big are the files?

If you plan to provide something like a knowledge center with lots of cooking videos, you will consume more storage space than if you were to simply display your address and hours

.
Will you need functionality to take reservations and online payments?

You'll want to pay particular attention to options with payment platforms or compatibility with plugins that can do the job. You should also pay attention to security features to protect your customers who are providing personal payment information

.
Do you have multiple locations?

Will you need functionality to unify the overall brand while seamlessly separating the details of the individual locales? Consider having layouts and themes that can achieve this goal

.
We suggest you choose an option with a website builder that offers a workable restaurant template that generates a responsive website to use with any mobile device.
Having a responsive website is crucial now that there are so many tools — including computers, tablets, and phones — people use to access online content. More than half of online traffic comes from mobile devices, with 60% of searches coming from mobile devices.
Speed is also very important. The last thing you want is a hangry customer throwing their phone against a wall because they could not get to the checkout screen fast enough.
If your website doesn't load within three seconds, you could easily be losing 53% of your potential customers right off the bat.
Be sure the hosting provider you select has a reputation for excellent customer service. When your website goes down, you want to make sure it gets back up quickly. Your time is much too valuable to spend on the phone with a company that isn't doing its job while you're losing customers.
How Much Does It Cost to Create a Website for a Restaurant?
As with many things in life, the answer is — it depends.
In short, a website for a restaurant could range from $0 to $20+ per month. You can build a nice, simple website for $3 per month. Or, if you'd like to beef it up a bit, you can plan to spend closer to $10 monthly. For more in-depth information, check out our article on this topic.
Let's take a look at a few typical costs:
Hosting plan – Roughly $1 to $20 per month
Domain registration (if not included for free) – $10 to $20 per year
Add-ons (templates, email accounts, and other upgrades) – Varies
A hosting plan could run you anywhere from zero (free) to hundreds of dollars. Since restaurants don't typically require a lot of advanced features, programming, security, space, or bandwidth, shared hosting is typically the go-to plan structure.
This helps narrow down the pricing quite a bit as $19.99 per month is the most expensive shared hosting plan offered by a company on this list (GoDaddy's Business Hosting).
Your domain may be free for a year, depending on the terms of your service agreement. If it isn't included, you are looking at paying an average of $15/year for a domain, which comes out to about $1.25/month.
The biggest variables are the extra features that you can add. A few examples include custom emails, added security like CloudFlare, extra backups, and web design or SEO services.
What's the Difference Between Web Hosting and a Website Builder?
A website builder is software that helps generate the content that will be presented by the web host. If your hosting provider is your restaurant's hostess or server, a website builder would be the interior or graphic designer responsible for the restaurant's decor and menu styling.
The website builder (or designer) develops an appealing layout to present important information to the consumer.
The web host hangs onto your website files much like a server will store the menus until a customer or visitor is ready to see them.
Once the information has been called for (someone clicks on the website or a customer is ready to be seated), the host brings the information from the storage location to where the potential customer can access it.
Ultimately, the website builder facilitates the creation of the frontend visual representation of your restaurant's information while the host works in the background to ensure that said information can reach the user.
Despite the two distinct purposes, however, you can find both solutions with the same provider. Hosted website builders like Wix and Weebly include a stress-free hosting solution, while many traditional web hosts offer self-hosted website builders.
Web hosting and website building for restaurants may have a specific focus, but there is still infinite customizability that can sometimes make narrowing down a provider difficult.
Discerning restaurant owners will weigh their specific needs when planning the restaurant's online presence, including whether to prioritize options that focus on the website builder or the hosting package.
How Do I Build a Website for My Restaurant?
Creating a website can certainly seem like a daunting task, and it's reasonable to be wary of (or even avoid) jumping into the unknown. With today's tools, the process of creating a website can be broken down into just a few simple steps:
Step 1: Choose a host
Step 2: Sign up for a hosting plan
Step 3: Create a design for your website using the host's integrated site builder or a content management system like WordPress
Step 4: Add your restaurant's content and information
Step 5: Publish your website
Of course, each step has differing degrees of difficulty, but the general pathway to a successful launch isn't overly complex.
Step 3 certainly has the widest room for variation. Thankfully, between the various providers, a web development system that caters to your experience, requirements, and budget can likely be found with ease.
As you explore your needs for Step 3, keep in mind some features that may differentiate your website from a corporate website, a blog, or even a personal website:
Plugins and add-ons: A world of options are available for restauranteurs to improve their reach and operations. From scheduling reservations with OpenTable to verifying ages at the bar with Easy Age Verifier, the wide world of internet extras will have you covered.
Design: Many web builders will offer a restaurant template. These themes often come optimized not only for mobile use, but also for SEO and cross-browser compatibility.
Ecommerce platform: A restaurant's ecommerce platform will often have a more limited range of items for sale than traditional ecommerce businesses, typically focusing on branded merchandise and perhaps the odd innovative offering like meal kits for at-home prep of popular menu options.
For more detailed information, check out our website development guide and other how-tos.
What Should Be on a Restaurant Website?
A restaurant's website doesn't need to be very complicated. There are only a few pieces of information you absolutely must have, such as location, hours, and contact information.
It is also highly advisable to have your restaurant menu on your website. Not only will it help with your SEO, but it will also provide beneficial information to your customers that could make your customer service considerably more efficient, freeing your employees' time for other tasks.
Once you have those elements, there is a wide world of extras you can explore including:
Reservations
Online ordering
Map features
Blog posts
Reviews
Events calendar
Notification features
An online store
Coupons and promotions
Videos
A considerable number of resources exist online that are dedicated to helping restaurant owners maximize the potential of their websites.
A great place to start gathering information and getting ideas is thedigitalrestaurant.com. You can find plenty of free articles online once you have an idea of what you wish to learn about or improve upon.
Don't Forget About Dishing Up Online Ordering and Social Media
If you aren't capitalizing on opportunities presented by online ordering and social media, you are surely missing out. During these turbulent times of COVID, many customers want to minimize risks as much as possible.
When I owned a restaurant (before the pandemic), online ordering was also huge for my catering customers. Companies that are planning meetings or events enjoy the convenience of digital transactions.
The time saved not having to quadruple-check how a name is spelled, being put on hold, or listening to a new employee stumble through the menu options is invaluable for the often overworked administrative professionals who have 100 other things to do.
Allowing customers to place catering orders online was also extremely valuable for me as the restaurant owner because my employees were spared the time-consuming task of taking down the orders and answering questions that are invariably already answered in the menu.
One minute we'd be working along and the next minute we'd have a $500 order for the following day, all while my employees were busy prepping veggies without missing a beat. Plus, my phone lines were clear for other orders and questions coming in.
If you want to be super innovative, you can combine online ordering with social media through services like theorder2go.com. You could even explore the cutting edge of social media ordering, like Pizza Hut and its full emoji-based menu (though sadly that didn't take off).
If you're not an early adopter, you can stick to the traditional use of social media as a marketing tool — #food is one of the most used tags on Instagram, after all, so take advantage!
See Our Full Review of Bluehost
Whatever type of hosting plan you're looking for, Bluehost is a solid choice no matter the scale. Our reviewer Ryan Frankel recently took Bluehost for a spin, and rated the popular host a 4.7 in the Cheap Hosting category out of a perfect score of 5.0. Here's what Ryan had to say about Bluehost:
Bluehost has a rock-solid reputation in the shared and WordPress hosting communities, and the host is a long-time favorite of mine. Today, Bluehost powers more than 2 million websites, and the team touts years of experience. With well-maintained servers, competitive pricing, and excellent customer support, Bluehost is hardly a pick you'll regret.
Before signing up for Bluehost, it's a good idea to read through Ryan's full review to learn about all the features Bluehost offers. You can also compare it to other web hosts to ensure you're getting the best deal possible:
If you decide Bluehost is the right choice, keep in mind that it takes just minutes to deploy your Bluehost server space. And at $2.95 per month, it's a bargain considering the many great features that come in any Bluehost plan.
Advertiser Disclosure
HostingAdvice.com is a free online resource that offers valuable content and comparison services to users. To keep this resource 100% free, we receive compensation from many of the offers listed on the site. Along with key review factors, this compensation may impact how and where products appear across the site (including, for example, the order in which they appear). HostingAdvice.com does not include the entire universe of available offers. Editorial opinions expressed on the site are strictly our own and are not provided, endorsed, or approved by advertisers.
Our Editorial Review Policy
Our site is committed to publishing independent, accurate content guided by strict editorial guidelines. Before articles and reviews are published on our site, they undergo a thorough review process performed by a team of independent editors and subject-matter experts to ensure the content's accuracy, timeliness, and impartiality. Our editorial team is separate and independent of our site's advertisers, and the opinions they express on our site are their own. To read more about our team members and their editorial backgrounds, please visit our site's About page.