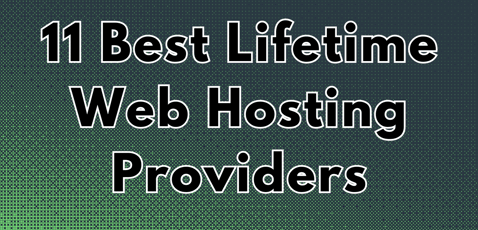 The road to success is built on a long-term plan. No matter your profession, you can't become a success overnight. It can take years of hard work take you to the promised land.
Likewise, a business needs a solid foundation to thrive in the long run. The foundation of any online business is a distinguished website that will resonate with the brand image forever, so it's crucial to identify the right web hosting partner to foster your web presence for years to come.
It's a wise and economical choice to opt for as long of a hosting plan term as possible: Not only do longer hosting plans save money, but they also save the hassle of frequently renewing plans (at substantially higher prices) or migrating your website from one web host to another. Here are the best lifetime web hosting plans.
1. GoDaddy: 5-Year Plan
GoDaddy is the torchbearer of long-term hosting. With a maximum hosting term of five years, it is hard to beat the value it offers in the long run.
GoDaddy is one of the most reliable web hosts, offering excellent shared hosting options to start your journey. If you want to build a simple website, look no further than its Web Hosting Starter plan.
Industry-leading load times
Award-winning support and security
World's #1 Domain Name Registrar
Choice of cPanel or Plesk included
99.9% uptime guaranteed
BEST OVERALL
RATING 4.7 ★★★★★ Our Review
GoDaddy: Our Expert's Review
Ryan Frankel (HostingAdvice.com): GoDaddy is exceptionally well-known in the hosting space, typically serving as site owners' introduction to the world of web hosting. The company makes it incredibly easy and affordable for folks to choose a domain name, sign up for hosting, and start building their online business or personal web property. Go to full review »
| Money Back Guarantee | Disk Space | Domain Name | Setup Time |
| --- | --- | --- | --- |
| 30 days | 25 GB – Unlimited | FREE (1 year) | 4 minutes |
More about GoDaddy:
Advanced server hardware for fast website page loads
Datacenters in North America, Europe, and Asia-Pacific
FREE SSL certificate included with your hosting plan
This plan offers all the tools you need to get up and running in no time, including satisfactory (and rather quick) NVMe SSD storage space, unmetered bandwidth, automated daily backups, cPanel, one-click WordPress installation, and 24/7 network security.
2. Hostinger: 4-Year Plan
For those seeking a cheap, long-term hosting plan, Hostinger has you covered. While Hostinger offers a maximum contract term that is one year less than GoDaddy's (four years), it is considerably cheaper in the short and long term. Its renewal fee is pocket-friendly as well.
24/7/365 ticket and live chat support
99.9% network uptime guarantee
FREE domain, site builder, backups, and SSL certificate
Unlimited bandwidth, databases, and email accounts
Speedy SSDs optimize performance
BEST OVERALL
RATING 4.8 ★★★★★ Our Review
Hostinger: Our Expert's Review
Laura Bernheim (HostingAdvice.com): Behind a mission to make life easier for website developers and their customers, Hostinger provides fast, stable, and streamlined services at a price that is very hard to beat. Founded in 2004, the bootstrapped company hit the 10 million users mark a decade later, achieving ICANN accreditation and localizing services in 39 countries. Go to full review »
| Money Back Guarantee | Disk Space | Domain Name | Setup Time |
| --- | --- | --- | --- |
| 30 days | 50 GB SSD – 200 GB SSD | FREE (1 year) | 3 minutes |
More about Hostinger:
Its website-building features are second to none
Global datacenters and a good security suite
FREE site migration included with your hosting plan
Beginners should take a look at the Hostinger Single plan. This shared hosting plan offers top features, including unlimited free SSL certificates and bandwidth, respectable SSD storage, managed WordPress capabilities, a no-code website builder powered by AI, several marketing integrations, and standard DDoS protection.
3. InMotion Hosting: 3-Year Plan
A four-year or five-year hosting plan may be too much for some individuals and businesses. These include a lack of flexibility and (potentially) limited upgrades. That is why most hosting companies offer three-year plans. InMotion Hosting provides the perfect balance of cheap hosting, solid features, and a sufficiently long-term contract duration. Its Core plan is a superb choice for shared hosting.
FREE SSD drives included with all hosting plans
Zero-downtime website transfers and migrations
FREE backups, SSL, and DDoS protection
Choice of East Coast or West Coast datacenter
Multi-language support for PHP, Ruby, and Perl
BEST OVERALL
RATING 4.9 ★★★★★ Our Review
InMotion: Our Expert's Review
PJ Fancher (HostingAdvice.com): Offering a wider range of services than most — including shared, dedicated, VPS, and even WordPress-specific plans — InMotion Hosting features a great combination of industry-leading hardware, always-there support, and mass scalability for all hosting needs. InMotion Hosting has ultra-modern SSD drives on its shared plans, which give an added speed boost to your site. Go to full review »
| Money Back Guarantee | Disk Space | Domain Name | Setup Time |
| --- | --- | --- | --- |
| 90 days | Unlimited | FREE (1 year) | 4 minutes |
More about InMotion Hosting:
A 99.999% uptime promise
Developer-friendly hosting provisions
cPanel and a free website builder are included in all plans
The Core plan offers a free SSL certificate, abundant SSD storage, unlimited hosting bandwidth, outstanding security and marketing tools, and US-based datacenters. InMotion Hosting's live chat support is renowned, so reach out to the support team if you have any questions.
4. Bluehost: 3-Year Plan
Bluehost is the best web service for WordPress hosting and is recommended by WordPress. That said, Bluehost offers far more. Its shared and dedicated server hosting plans are excellent in their own right, proving immense hosting flexibility, reliability, and speed.
Up to unlimited website domain and email hosting
1-click WordPress installs and software updates
Support for popular shopping carts with FREE SSL
Up to $200 in Microsoft and Google Ad credit
Industry-leading hardware and uptime rates
BEST OVERALL
RATING 4.9 ★★★★★ Our Review
Bluehost: Our Expert's Review
Ryan Frankel (HostingAdvice.com): Bluehost has long been a favorite of mine in the shared and WordPress hosting spaces. The company adheres to modern standards for hardware, and its customer service resources are now backed by hosting industry titan Newfold Digital. Go to full review »
| Money Back Guarantee | Disk Space | Domain Name | Setup Time |
| --- | --- | --- | --- |
| 30 days | 10 GB SSD – 100 GB SSD | FREE (1 year) | 5 minutes |
More about Bluehost:
A 99.9% uptime guarantee
Domain privacy and spam protection features
Daily backups through CodeGuard
The three-year BASIC plan is far from a bare-bones shared hosting plan, with features such as unlimited bandwidth, free domain registration, a Cloudflare CDN subscription, automatic malware scans, and 24/7 customer service.
5. A2 Hosting: 3-Year Plan
A2 Hosting is the Usain Bolt of the hosting world, providing "hosting in the fast lane", thanks to its AI-powered performance optimizations. Its cheapest shared web hosting plan, the STARTUP plan, is wonderful for hosting newcomers.
SSDs and TurboServer for 20x faster pageloads
Host unlimited websites and FREE site transfer
Optimized plugins and 1-click installs for WP
Pre-installed OPcache and Memcached caching
FREE HackScan with restore options
BEST OVERALL
RATING 4.9 ★★★★★ Our Review
A2 Hosting: Our Expert's Review
Alexandra Anderson (HostingAdvice.com): If speed and performance, partnered with support and security, are at all priorities in your web host shopping, A2 Hosting should be a leading contender. When A2 Hosting first launched in 2003, the company was focused on serving developers; A2 Hosting was among the first providers to offer PHP 5 and to support Ruby on Rails on shared servers. Go to full review »
| Money Back Guarantee | Disk Space | Domain Name | Setup Time |
| --- | --- | --- | --- |
| 30 days | 100 GB SSD – Unlimited SSD | New or Transfer | 5 minutes |
More about A2 Hosting:
A guaranteed uptime of 99.9%
An advanced security offering
Email hosting services
The STARTUP plan offers ample NVMe SSD storage, a free SSL certificate, unlimited email accounts, a free website builder, website staging, easy website migration, and knowledgeable, 24/7 Guru Crew support.
6. DreamHost: 3-Year Plan
DreamHost is another capable web host for long-term hosting. Its shared hosting plans offer all the features you need to successfully launch a website and are easy on your budget. The Shared Starter plan is an entry-level hosting plan for new websites that includes a free domain name.
Unlimited traffic, storage, websites, and email
US-based customer support available 24/7
200% faster performance with SSDs
Industry-leading 97-day money-back guarantee
Enjoy preinstalled WordPress and FREE transfer
BEST OVERALL
RATING 4.8 ★★★★★ Our Review
DreamHost: Our Expert's Review
Laura Bernheim (HostingAdvice.com): A top-notch host for those who know what they're looking for, DreamHost offers nuanced and performant hosting perfect for scaling websites and applications through the ranks of shared, VPS, cloud, and dedicated hosting. We love the company's features but realize that beginners or hobbyist developers might not want to fork over the extra cash to capitalize on the performance, optimization, and managed services that DreamHost offers. Go to full review »
| Money Back Guarantee | Disk Space | Domain Name | Setup Time |
| --- | --- | --- | --- |
| 97 days | Unlimited | FREE (1 year) | 4 minutes |
More about DreamHost:
An astounding 100% uptime guarantee
Resource protection and server optimization capabilities
A custom control panel for easy account administration
The plan is highly flexible and was designed for beginners. With this plan, you can easily set up a blog, an eCommerce store, or a business website. Take advantage of its free integrated features, unlimited storage, automated backups, and extreme reliability.
7. ScalaHosting: 3-Year Plan
ScalaHosting is an exceptional managed cloud VPS hosting provider. With a 5-star Trustpilot rating, it is a top-rated shared hosting solution, and its long-term Mini plan for shared hosting is fast and dependable.
Simple, fast, and reliable hosting services
Full-service account management with SPanel
FREE domain name, SSL certificate, and CDN
Custom-built servers and self-healing cloud setup
Unlimited emails, databases, and bandwidth
Managed VPS options with top-tier support
BEST OVERALL
RATING 4.7 ★★★★★ Our Review
ScalaHosting: Our Expert's Review
Laura Bernheim (HostingAdvice.com): Perfect for those looking for the best value for shared or cloud hosting, ScalaHosting offers a soft place to land.  Even if you're taking your first steps into the world of virtual private servers, the company's modern hardware and attentive support teams will make your experience enjoyable. Go to full review »
| Money Back Guarantee | Disk Space | Domain Name | Setup Time |
| --- | --- | --- | --- |
| 30 days | 10 GB SSD – 2 TB SSD | FREE (1 year) | 6 minutes |
More about ScalaHosting:
A 99.99% uptime promise
Official partnership with Joomla
A library of more than 400 web apps
The plan offers standard security, NVMe SSD storage, unmetered bandwidth, free SSL certificates, unlimited emails and databases, and daily offsite backups. But the plan does not offer a free domain name.
8. HostArmada: 3-Year Plan
HostArmada is a relative newcomer in the industry but has built a reputation as a pocket-friendly and reliable hosting company. The provider packs a punch and can rival the best web hosts in the business. It is a cloud hosting service that offers managed web hosting solutions. The Start Dock plan is a good fit if you need a cheap managed hosting plan but have a long-term vision.
FREE website optimization with enhanced caching
Upgrade quickly with scalable cloud servers
Easy-to-navigate cPanel integration
FREE web security suite with DDoS protection
24/7 technical support and ticketing 
BEST OVERALL
RATING 4.6 ★★★★★ Our Review
HostArmada: Our Expert's Review
Lynn Cadet (HostingAdvice.com): Launched in 2019, HostArmada offers cloud-based hosting plans that range from shared to dedicated server services. The web hosting provider cements its services on three pillars: speed, security, and stability. Go to full review »
| Money Back Guarantee | Disk Space | Domain Name | Setup Time |
| --- | --- | --- | --- |
| 45 days | 15 GB SSD – 40 GB SSD | FREE (1 year) | 3 minutes |
More about HostArmada:
A 99.9% uptime guarantee
A drag-and-drop SiteBuilder subscription
Robust malware and firewall capabilities
Its managed shared hosting plan offers rapid, redundant SSD storage space, SSL for all websites, unlimited subdomains, email account addresses, and databases. You should also check out HostArmada's managed WordPress hosting plans, as our experts rate them highly.
9. HostGator: 3-Year Plan
HostGator is an innovative hosting platform that offers several shared hosting, WordPress hosting, dedicated hosting, and VPS hosting plans. Its shared hosting plans were crafted with care and are among the best in the industry. These plans are affordable, feature-laden, and swift.
Familiar and easy-to-use cPanel control panel
FREE drag-and-drop custom website builder
Unlimited disk space, email, and bandwidth
Flexible term lengths with no contract required
67% off your first three years
BEST OVERALL
RATING 4.5 ★★★★★ Our Review
HostGator: Our Expert's Review
Ryan Frankel (HostingAdvice.com): HostGator has been around for more than a decade and is well-respected for its large number of servers and consistent reliability. Known mostly as a shared hosting provider, HostGator still supplies decent dedicated and VPS options if you need your site to scale. Go to full review »
| Money Back Guarantee | Disk Space | Domain Name | Setup Time |
| --- | --- | --- | --- |
| 30 days | Unlimited | FREE (1 year) | 6 minutes |
More about HostGator:
Hosts more than 2 million websites.
Advanced features for advanced web professionals.
One-click installation for web apps such as WordPress, Magento, Joomla!, Drupal, and phpBB.
Each plan offers unmetered bandwidth, an SSL certificate, free domain registration, an array of eCommerce and SEO tools, and at least $150 in Google Ad credits. The Hatchling Plan is highly recommended for beginners.
10. SiteGround: 2-Year Plan
SiteGround is built on Google Cloud infrastructure and rated highly by our HostingAdvice experts. Its plans offer security, reliability, speed, and around-the-clock support.
FREE site transfer or new site setup
FREE daily backups, CDN, email, and SSL
24/7 expert support with no wait on phone or chat
Recommended by WordPress as a top host
Ideal for business email hosting
BEST OVERALL
RATING 5.0 ★★★★★ Our Review
SiteGround: Our Expert's Review
Alexandra Anderson (HostingAdvice.com): With an impressive breadth of overall hosting services offered, SiteGround is a leading innovator in the hosting space — from custom software solutions to premier customer support. The company offers the full range of web hosting features, including a free Cloudflare CDN, cPanel with SSH access, and unlimited MySQL databases and bandwidth — not to mention prize-worthy customer support. Go to full review »
| Money Back Guarantee | Disk Space | Domain Name | Setup Time |
| --- | --- | --- | --- |
| 30 days | 10 GB SSD – 40 GB SSD | New or Transfer | 6 minutes |
More about SiteGround:
An annual uptime guarantee of a staggering 99.996%
eCommerce-enabled with managed WordPress capabilities in-built
Optimized for CMS applications
SiteGround's shared hosting StartUp plan, in particular, is worth noting. If you are looking for enhanced security and top-notch hosting features, SiteGround is among the best in the business.
11. IONOS: 1-Year Plan
IONOS is well-reviewed for its cheap hosting plans and exceptional features. If a short-term hosting plan is what you seek, there is no better web host than IONOS.
Unfortunately, IONOS only offers a contract period of one year for its shared hosting plans, and it charges a high renewal price for these plans when compared to initial pricing models.
FREE domain and SSL, plus daily backups
Drag-and-drop site builder and starter kit
Gain exposure with $100-worth of ad credits
Packages cater to businesses & personal use
FREE custom SEO and marketing tools
BEST OVERALL
RATING 4.8 ★★★★★ Our Review
1&1 IONOS: Our Expert's Review
Alexandra Anderson (HostingAdvice.com): Born in 1988 — at least a decade before many competitors — 1&1 IONOS has maintained its dedication to making technology easy to understand and use. The company got its start in Europe but has since expanded to serve more than 8 million global customers and host more than 12 million domain names. Go to full review »
| Money Back Guarantee | Disk Space | Domain Name | Setup Time |
| --- | --- | --- | --- |
| 30 days | 10 GB – Unlimited | FREE (1 year) | 6 minutes |
More about IONOS:
A solid uptime guarantee of 99.99%
Super quick hosting and georedundant infrastructure
Scalable performance management and one-click compatibility with your favorite apps
If you do the math, IONOS is still a practical option in the long run, when compared to web hosts that offer longer contract terms at higher monthly prices (and charge equally high renewal fees).
The Plus plan is a good choice for businesses of all sizes and has the hosting features you need to bring your website to life. These include unlimited domains, unlimited storage, daily backups, performance-optimized resources, 24/7 customer support service, and more.
What Is Lifetime Web Hosting?
As famous American writer Sidney Sheldon once said, "nothing lasts forever." It's unlikely that any web host offers a lifetime subscription. Most hosting companies provide their customers with a maximum term of three years. The longer the hosting term, the better it is, as hosting renewal prices are considerably higher than the discounted rates of the initial contract term.

The upsides of long-term web hosting deals outweigh their potential downsides. Most web hosts offer low introductory pricing and greater discounts on long-term plans. Contract renewal pricing could more than double, and it is best to get the most out of your initial, long-term deal before dealing with high-cost renewal fees.
What Is the Cost of Lifetime Hosting?
Most web hosts offer one- to five-year hosting terms. IONOS offers the lowest introductory pricing in the industry but for the shortest term (one year). That means that customers will have to pay a higher renewal fee (comparatively) once their one-year contract ends or migrate their website to a new web host, which has its own challenges.
The hosting term and renewal fee still do not take away from the brilliance of IONOS's hosting services.
GoDaddy, on the other hand, offers a maximum term of five years (the longest in the industry) at a reasonable monthly cost. The renewal fee at the end of this term is much higher than the initial monthly cost. The cost of long-term hosting varies from provider to provider, and the bottom line is that when you select a hosting company, you should opt for its longest possible contract.
How Can I Get Free Hosting Forever?
There is no such thing as free web hosting or a lifetime hosting contract. The longer your contract term, the lower the monthly pricing should be. If a hosting provider offers one-, two-, and three-year contract terms, for example, its three-year hosting plans will have the greatest discounts and, in turn, the lowest monthly costs.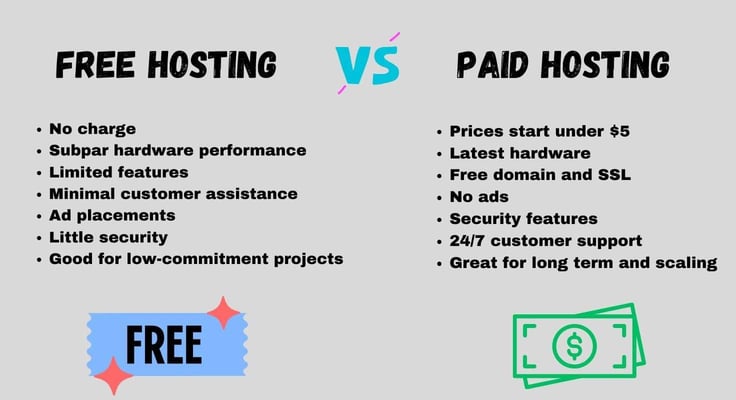 Additionally, if you factor in discounts, including the ones we offer at HostingAdvice, you can take advantage of the lowest possible pricing for your preferred hosting plan.
What Are the Best Options for Lifetime Web Hosting Providers?
When selecting a hosting provider, factoring in the lowest possible monthly cost for your preferred plan is recommended (and should be standard practice). The longest hosting contract term will most certainly offer the lowest pricing model. GoDaddy is without a doubt one of the best lifetime hosting providers, with its five-year hosting plans.
Register a domain at GoDaddy, purchase a five-year plan, and enjoy peace of mind. If you are looking for a cheaper, yet equally capable hosting provider, Hostinger is an incredible option.
Hostinger offers a maximum term of four years on its plans and has plenty of positive reviews. Its renewal fee for four-year plans is quite respectable. With three-year shared hosting plan terms, InMotion Hosting, HostArmada, and HostGator are also great options.
See Our Full Review of GoDaddy
Whatever type of hosting plan you're looking for, GoDaddy is a solid choice no matter the scale. Our reviewer Ryan Frankel recently took GoDaddy for a spin, and rated the popular host a 4.7 in the Best Overall Hosting category out of a perfect score of 5.0. Here's what Ryan had to say about GoDaddy:
GoDaddy has long been a reliable host — world-renowned as the #1 domain registrar. With some of the best longevity in the industry, the hosting company is a trustworthy provider we confidently recommend to beginners, developers, and entrepreneurs. Read our GoDaddy reviews below to see which hosting package will be the best fit.
Before signing up for GoDaddy, it's a good idea to read through Ryan's full review to learn about all the features GoDaddy offers. You can also compare it to other web hosts to ensure you're getting the best deal possible:
If you decide GoDaddy is the right choice, keep in mind that it takes just minutes to deploy your GoDaddy server space. And at $2.99 per month, it's a bargain considering the many great features that come in any GoDaddy plan.
Advertiser Disclosure
HostingAdvice.com is a free online resource that offers valuable content and comparison services to users. To keep this resource 100% free, we receive compensation from many of the offers listed on the site. Along with key review factors, this compensation may impact how and where products appear across the site (including, for example, the order in which they appear). HostingAdvice.com does not include the entire universe of available offers. Editorial opinions expressed on the site are strictly our own and are not provided, endorsed, or approved by advertisers.
Our Editorial Review Policy
Our site is committed to publishing independent, accurate content guided by strict editorial guidelines. Before articles and reviews are published on our site, they undergo a thorough review process performed by a team of independent editors and subject-matter experts to ensure the content's accuracy, timeliness, and impartiality. Our editorial team is separate and independent of our site's advertisers, and the opinions they express on our site are their own. To read more about our team members and their editorial backgrounds, please visit our site's About page.