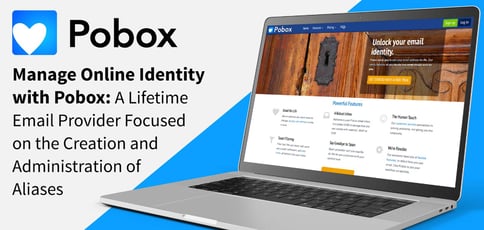 TL; DR: Pobox, a specialist in email forwarding and personal domains, has built its business around putting consumers in charge of their email for 25 years. The company aims to help individual users secure their own domain and empower affinity groups to manage high-volume needs. Pobox joined forces with Fastmail in 2015. Together, the companies combine their expertise on deliverability, security, and speed to better serve customers.
Honest entrepreneurs looking to earn a living on the web today face a grave challenge: It isn't easy to build trust with consumers when cyber villains seemingly lurk around every corner.
Today's scam artists have an assortment of online fraud techniques at their disposal, from malware to phishing and everything in between. It's no wonder consumers have their guards up — a healthy dose of skepticism can fend off even the savviest of internet crooks.
In this environment, one wrong move can make an individual or business appear questionable. To that end, entrepreneurs frequently overlook the importance of a professional email domain.
"Nothing bothers me more than a website with a great domain, like JosiesCupcakes.com, that directs readers to an email address such as JosiesCupcakes@gmail.com," said Helen Horstmann-Allen, COO, at Fastmail. "People form an opinion about you based on your email address."
Fastmail is the parent company of Pobox, an email provider specializing in personal domains and email forwarding, which Helen presided over for many years. Pobox joined forces with Fastmail in 2015, and together, the companies have leveraged their combined expertise in email deliverability, security, and speed.
Today, Pobox aims to help customers manage online identity through the creation and administration of email aliases. Individual users can quickly secure and control their own domains, while the company's resources empower affinity groups, such as universities, to easily manage high-volume needs.
"It's about credibility and how people perceive you," Helen said. "You need to put an identity out into the world that is associated with who you are and what you do."
Email Services Backed by 25 Years of Experience and Fastmail Technology
Pobox was founded in 1995 by Meng Wong, then a student at the University of Pennsylvania. Meng faced the same dilemma many of his peers grappled with at the time — how to transition from his university email address after graduation.
A lack of market solutions led him to create Pobox. "The original idea was to provide users with a lifetime email address that would never shut off, which wasn't really a concept for almost five more years after that," Helen said.
Helen told us that since then, Pobox has morphed more into the identity-based email service it is today. Helen and Ricardo Signes now lead the product team under Fastmail, which is dually based in Philadelphia and Melbourne, Australia.
"The great thing about Pobox is that it's backed by Fastmail's technology," Helen said. "We are also incredibly responsive to industry trends and user requests. We spend a lot of time thinking about how email is complicated for a lot of people, and how we can make it easier to use."
Pobox aims to serve as a trusted advisor that speaks to customers in their own language, instead of confusing industry jargon. Accessible, friendly support is a significant benefit in the tech world, regardless of consumer skill level.
"Proving great service means more than having the most cutting-edge tech," she said. "It also means having someone you can rely on who will talk to you, not down to you. As a Pobox customer, you've got somebody backing you up, somebody who's going to help you get any problems sorted out."
In that way, Helen said a Pobox account can serve as an email insurance policy in the rare case that something goes wrong.
Making it Easy to Send Mail From Your Own Domain
As a company, Pobox believes everyone should send and receive email using their own domain, and it provides multiple options for customers to do so. Don't have a domain yet? Pobox will register one for an annual fee.
Helen said customers who already have a website with its own domain should be using that domain for email, as it provides a more professional, trustworthy appearance. With Pobox, users can send mail from addresses at their domain and forward it nearly anywhere (it's even possible to configure Gmail to use a Pobox address). This allows users to separate their email identity from where they read their email.
"It's such an incredibly affordable thing to do, and it makes a big impact," Helen said. "For example, a Pobox Basic plan allows you to use a personal domain, and you can forward all of the mail from your domain to any address you want for $20 a year. You can't beat that price."
For loyal customers, the price is even lower: Anyone who makes a payment on an individual Pobox account for five years will receive the sixth year for free.
Customers who are already using their domain for email have the option to switch over to Pobox by contacting their registrar to change their Mail Exchanger (MX) records. The Pobox team is happy to assist customers in navigating this or any other process.
Pobox offers group and corporate pricing for domains leveraged by multiple users. The company also works directly with customers on large-scale migrations to ensure a smooth transition, whether done in stages or all at once.
In terms of security, the company offers a range of options, including password encryption, optional two-step verification, app-specific passwords, recovery and backup options, and additional administrator access.
Providing Backend Services to Universities and Other Affinity Groups
Pobox also specializes in white-label email forwarding services for trade organizations, alumni groups, and other businesses with high-volume needs, beginning at 100,000 messages per month.
All accounts include access to an administrative dashboard where users can pay bills, edit individual forwarding settings, clear messages from spam filtering, and review mail volume, among other actions. And, because Pobox's white-label services are configured using the JSON API, businesses can even integrate email forwarding into their native web interface.
Customers are billed monthly based on volume handled, which typically ranges from $200 to $800 per million messages, with discounts for higher quantities (volume includes messages forwarded and rejected by spam filters). Helen said customers are often pleasantly surprised by how affordable the service is.
"We've had universities say, 'I can't believe it costs us less than $10,000 a year to do this for our alums,'" she said. "There's a lot of value for them in providing this service and having it cost virtually nothing compared to everything else they do in terms of outreach."
These services certainly aren't limited to universities. Helen said it's interesting to see all the ways people use Pobox's backend services to reflect hobbies, skills, and other aspects of their identities.
"We serve other groups where people want to have a common association, such as people who use their Internet Relay Chat (IRC) handles or radio call signs, in the same way that a university alumni will hand out their university email address to say, 'I belong to this group,'" she said.
Pobox Versus Fastmail: Finding the Right Fit
Trying to decide between Pobox and Fastmail? Both Fastmail and Pobox charge minimal fees (Pobox charges slightly more) to provide better technology and attentive customer support while preventing advertisers from accessing personal information.
Helen told us that ultimately, Pobox is focused on the creation and management of aliases, whereas consumers in nearly any other category would be a good fit for Fastmail.
"Pobox is ideal for consumers who want the Fastmail experience with the ease of creating a lot more aliases," she said. "That's possible with Fastmail, but it's not front and center."