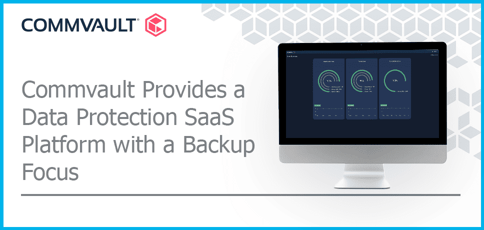 TL; DR: System downtime robs millions of businesses of time and money every year. With the rapid growth of data, companies must protect their environments to keep bad actors from taking them hostage and causing downtime. Commvault uses an innovative approach focused on backup technology to protect data and provide visibility into production environments. It helps users detect threats in as little as five minutes and defend against the slew of attacks hackers have up their sleeves. We spoke with Jakub Lewandowski, Global Data Governance Officer at Commvault, to learn more about the platform and its many solutions.
Pursuit-evasion is a standard family of problems in mathematics and computer sciences that is often likened to the popular children's game, cops and robbers. Similar to cops and robbers, in pursuit-evasion, one group of players attempts to track down another group within a confined environment. The pursuers must navigate the evaders' constant tricks and movements to capture them before the evader can steal the loot.
But in the world of cybersecurity, the loot is company data. The evaders, known as bad actors, prey on a business's framework vulnerabilities and launch ransomware attacks on their systems to force payouts. And what makes this problem more challenging for security organizations, or the cops, is that threat actors are crafty and love to stay one step ahead.

"Organizations and individuals try to defend and address those vulnerabilities. But as they close one loophole and eliminate a vulnerability, another one pops up. So it's extremely important to have several lines of defense," said Jakub Lewandowski, Global Data Governance Officer at Commvault.
Commvault offers a host of data security solutions to help users protect, defend, and recover their data against increasingly sophisticated cyberthreats. Since late 2020, Commvault has mobilized to address 41 ransomware cases per quarter. And the company constantly evolves to protect customer data and meet the changes in the threat landscape. It recently added a new set of security capabilities to its ecosystem to maximize performance and compliance needs.
Addressing the Security of Backup and Production Environments
According to the latest IBM report, 83% of organizations experienced at least one data breach in 2022. That shifts the likelihood that a business will fall victim to a breach from a question of if rather than when. With data breaches a common trait in today's landscape, companies that sit idle without taking security measures have become a prime target for bad actors.
Commvault serves as a top security solution for many businesses seeking to protect their data systems. Although the company's bread and butter are backups, its Metallic platform also has solutions that address other areas, including storage optimization and compliance.
"Our main expertise is around backup. But we are able to add additional services that can help you address not only the backup environments but also your production environment," said Jakub.
Backups mainly act as a last line of defense when other security measures fail. But for Commvault, the backup point is also where its platform ingests data from active production systems to fuel its other data protection tools. By using its backup software, Commvault is able to deliver a complete overview of a company's environment.
"So that's what is unique about us. Based on the information we gather when backing up data, we were also able to provide early warning from what's going on in your environments, in-depth threat monitoring, and cyber deception functionalities," said Jakub.
Commvault's innovative, backup-focused approach to data protection has helped thousands of organizations save on backup costs and reduce the number of management tools they use. In a hybrid and multicloud world, Commvault has made managing and securing ever-growing databases easier.
Pushing a Proactive Approach for Data Protection
Gone are the days when implementing security tactics was an optional business practice. But Jakub said having a proactive mindset when approaching security threats is the best way to thrive in today's state of cybersecurity. He offered three steps users should take to stay ahead of threats.
"The first is to stay informed about what's happening with your data and environment. The second would be to take educated actions based on the information you gather in that first step. And the third one is to work on your resilience," said Jakub.
Commvault's platform helps companies accomplish these tasks with its security capabilities. Users gain insight and a complete view of their environments by leveraging its data protection tools. Commvault also allows users to make informed decisions for various types of infrastructure models.
"Our aim is to address all potential scenarios that our customers might want to address. We have customers that keep the environment to themselves. We also have customers that use hybrid clouds and are predominantly interested in staying in the cloud. Our solutions, Commvault and Metallic, cover all those areas," said Jakub.

Commvault's Metallic platform has only been on the market for three years but has seen impeccable growth in that short time. It has exceeded $100 million in annual revenue, placing it among the fastest-growing SaaS applications in history. With downtime as a significant worry for companies, it's no surprise so many customers have enlisted the help of Commvault to prevent this pain point.
"As part of our pre-sales process, our team works closely with our customers to identify their pain points, the type of data protection they need, the workloads they need to protect, etc., which helps us appropriately provide a recommendation," said David Ngo, CTO of Metallic at Commvault.
By partnering with customers, Commvault creates proactive security strategies for their environments. The team proposes a general design when onboarding to support user workloads. Commvault also provides reporting capabilities via Security IQ to give customers complete visibility into their security risk profile regarding backup and infrastructure health.
Boosting Security Capabilities With a New Vault of Solutions
Commvault launched a new set of security capabilities on June 7, 2023. This release allowed the company to expand its security ecosystems and meet growing needs. Jakub also said this launch precipitates the next phase of Commvault's evolution.
"It allows us to have a holistic view of your environments with additional capabilities related to threats analysis and risk management," said Jakub.
The launch features multiple tools and integrations, which include the following:
Commvault Auto Recovery validates recovery points and backups, demonstrates recovery readiness, and reduces recovery testing complexities.
Commvault Cloud Command provides customers with global visibility and actionable insights across SaaS and infrastructure environments.
Commvault Risk Analysis identifies, categorizes, and classifies sensitive data to prioritize security efforts and reduce data exfiltration.
Commvault Threat Scan enables companies to scan backup content to identify malware and files that have been encrypted and corrupted to recover clean data and avoid file reinfection.
ThreatWise Advisor assesses backup environments and intelligently recommends decoy placement to further harden critical workloads and reduce users' cognitive load.
Commvault also included product integrations with CyberArk and Microsoft. These new tools will allow Commvault to further advance its mission of helping businesses become more proactive and regain control of their environments.