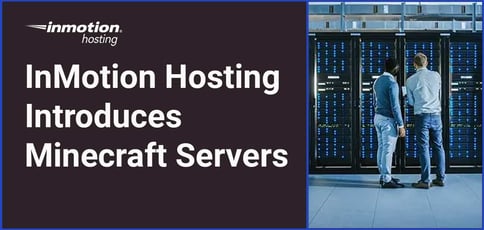 TL; DR: Calling all Minecrafters: Experience ultimate gaming freedom with InMotion Hosting's new Minecraft Servers. Since its inception in 2001, InMotion Hosting has been a leader in fast, reliable, and affordable web hosting services thanks to its unmatched NVMe SSD storage and 99.99% uptime speeds. Matt Bell, Senior Manager of Sales and Affiliate Marketing at InMotion Hosting, walked us through what players can expect from InMotion's new Minecraft game servers.
Seasoned gamers who live and breathe their favorite titles have a well-kept secret: mods. Game mods, or game modifications, are installable additions created by like-minded players who want more flexibility and enhanced gameplay than the game currently offers.
Take The Sims, for example, where popular mods include more career choices or new social interactions. Or Skyrim, where players download mods for new quests and better character graphics. The granddaddy of all open-world, sandbox, multiplayer games is Minecraft. Minecraft mods improve how players use their chosen mode with new characters, collectibles, and texture packs.
Many Minecrafters use third-party servers for more control over their gameplays, but it can be disappointing to find that the server you've chosen to build your world on is slow, laggy, and downright unreliable. When you're playing with friends, an unreliable connection can make or break a team meet-up.

That's why InMotion Hosting launched its brand-new Minecraft Servers for gamers and gaming communities. This easy-to-use and budget-friendly solution answers every gamer's need for speed and reliability. As Matt Bell, Senior Manager of Sales and Affiliate Marketing at InMotion Hosting put it: "We're excited that our game server product creation is starting with Minecraft."
So are we, especially since InMotion Hosting is one of our favorite providers for speed. If you can't wait to see what's in-store, then without further ado, let's dive in.
InMotion Hosting's New Minecraft Servers
Gamers are no longer at the mercy of the creators of their favorite games; with customized gaming servers, players now have more control over how, where, and why they game than ever before.
Matt couldn't agree more. "Minecraft is an established game with thousands of mods and plugins for each customer to customize their gameplay," he said.
And yet, very few hosting providers offer the option for gaming servers — which may be why it can feel like slim pickings when choosing which provider you want to host with. But InMotion has been a leader in the hosting industry for more than two decades with a specialization in speed and uptime reliability, so there's proof its servers impress.

Gamers can launch and manage their custom Minecraft servers within five minutes or less. Driven by NVMe SSDs, these servers can support any number of players so you can invite your entire team in without issue.
InMotion's Minecraft Servers also come with a handful of handy features that many gamers have long awaited, including:
Unlimited plugins and mods
A variety of server types
Automatic backups
Support for Java and Bedrock Editions
Dedicated server resources
Erik Soroka, Managing Director at InMotion Hosting, told HostingAdvice last year that InMotion is no stranger to promising and delivering high-speed servers to its customers.
"Customers will have everything they need to securely and reliably host with us," he said. "Our customers will continue to receive the best hosting experience and customer support they have come to expect from InMotion Hosting."
But that's not all. Minecraft servers are also hosted on cloud-powered VPS servers, providing players with ultra-low latency connections and 99.99% uptime. Get a dedicated IP address, DDoS protection, and full access to FTP and MySQL databases, all with a powerful game panel complete with flexible controls.
Minecraft Servers Are an Affordable Solution with Versatile Plans
The decision to introduce Minecraft Servers was a no-brainer. "We're trying to blend all of our products so that we have an option for anyone and everyone that needs anything," Matt said in an interview in late 2022, less than a year before the launch.

InMotion's Minecraft Server plans are split into eight plans whose names coincide with objects in the game. The first three plans — Grass, Stone, Gold, and Iron — are perfect for smaller teams, worlds, and plugins and a few mods:
Grass Server: Only $6/mo packing 2GB RAM, ready for up to 10 players, but not recommended for Modpacks.
Stone Server: For $12/mo, you get 3GB RAM and room for up to 12 players, but it isn't recommended for Modpacks.
Gold Server: At $24/mo, it's loaded with 4GB RAM, supports up to 20 players, and supports most plugins and some Modpacks.
For a few extra bucks a month, choose from InMotion's trusty second-tier Iron, Obsidian, or Emerald servers for more versatile gameplay with unlimited support for your favorite plugins:
Iron Server: At just $31/mo, it comes with 6GB RAM, perfect for up to 25 players, and is compatible with all plugins and most Modpacks.
Obsidian Server: Priced at $48/mo, this plan has 8GB RAM, and you can invite up to 35 players with all the plugins and Modpacks you want.
Emerald Server: For $64/mo, boasting 12GB RAM, you can play with up to 50 players. And yes, it supports all the plugins and Modpacks.
Want even more? Upgrade your server to InMotion's bigger and better options, which include the rare Diamond and the ever-sought-after Netherite servers:
Diamond Server: At $92/mo, this plan has 16GB RAM, ready for up to 75 players, with support for all plugins and Modpacks.
Netherite Server: For $182/mo, the Netherite server is like gaming royalty with 32GB RAM, handling 100+ players with any plugins or Modpacks you desire.
Whether you're looking to join someone else's server or create your own, every plan comes with NVMe SSD storage, up to 10x faster than traditional SSDs. And with InMotion's datacenters throughout the US and in Amsterdam, you can get better ping time when playing with others who seem (and sometimes are) a world away.
In other words, InMotion's Minecraft Servers are incredibly fast, no matter how or where you play.
InMotion Hosting's Long History of Server Reliability
Since 2001, InMotion Hosting has pioneered fast, reliable, and affordable web hosting services. It currently has more than 350 expert team members and 250,000 satisfied customers thanks to its unrivaled NVMe SSD speeds, which earned it the #1 spot on HostingAdvice's Best SSD Hosting list in 2023.

InMotion also partners with SuperMicro and Open Infrastructure Foundation. SuperMicro provides InMotion with cutting-edge hardware solutions for optimal performance, reliability, and speed. Open Infrastructure Foundation is a leader in open-source technologies that power cloud computing and infrastructure worldwide.
It's a perfect medley for gaming servers if you ask us.
But the launch of Minecraft Servers is just the beginning of an exciting journey into gaming hosting. Matt told us there are no signs of InMotion stopping at Minecraft Servers: "Make sure you keep checking back in with us — this is the first of many games we want to offer."
In the meantime, choose your favorite plan and fire up a new game.