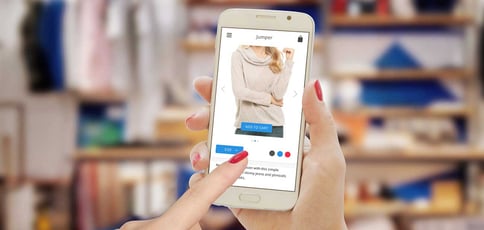 When learning how to start an online boutique, aspiring shop owners have seemingly countless decisions to make — and that's even before they get to building their website.
Building a brand that embodies the styles you love goes beyond just finding the trendy clothing and jewelry or landing on the perfect color scheme and logo. Fashions change over time, and one season's fad may be the next one's flop.
Online retail stores must leverage new technologies to remain competitive as more customers go online to do their window shopping. With more than half of consumers preferring to make purchases online instead of in a store, boutique businesses can experience high rates of success.
But how can you, the fashionista, make all that tech stuff a reality? Take a look at our guide, which provides simple steps to take your idea from simple sketches to a runway show.
Step 1: Choose an Ecommerce Hosting Partner
Already valued at $533 billion in 2018, experts predict the global online fashion industry will grow to $872 billion by 2023. Assuming you've already gotten a start on your business plan, licenses, branding, and sourcing your products, you can claim your piece of the pie by finding a hosting provider that perfectly balances affordability, speed, security, and the ecommerce tools necessary to run your business.
Right off the bat, entrepreneurs are confronted with choosing between showcasing their goods on marketplaces like Etsy or their own online store. Serious sellers will want to head straight to independent web hosting companies that can help them launch and grow a custom website. From design to SEO and marketing, business owners will have much more flexibility and control to create exactly the store they've dreamed about — starting with a free custom domain name registration.
Our recommended route to starting your own online boutique is to sign up for one of the best small business hosting plans from one of the following providers. From there, you have seemingly unlimited options for getting everything set up just the way you like it — with around-the-clock support and rich knowledge base guides on standby to help you along the way.
Drag-and-drop online store builder for $1/mo
Quickly sell products, services, and digital goods
Cross-platform selling integrations with social media, Amazon, Google, and eBay
Built-in metrics, promos, and coupons
Track competitors' Google and social media activity
ECOMMERCE
RATING 4.9 ★★★★★ Our Review
1&1 IONOS: Our Expert's Review
Alexandra Anderson (HostingAdvice.com): The online store builder from 1&1 IONOS gives entrepreneurs a full suite of selling and marketing tools at their disposal — and all for a ridiculously low price. The company's lightning-fast architecture and tools for SEO and marketing metrics will make your customers' buying experience quick and enjoyable. Go to full review »
| Money Back Guarantee | Disk Space | Domain Name | Setup Time |
| --- | --- | --- | --- |
| 30 days | Unlimited SSD | FREE (1 year) | 4 minutes |
Code-free design tools for eCommerce stores
Templates for retail, food, clothing, and services
Custom WordPress integrations and optimizations
24/7/365 support via phone, chat, and email
Try StoreBuilder with a 30-DAY FREE TRIAL
ECOMMERCE
RATING 4.8 ★★★★★ Our Review
Nexcess: Our Expert's Review
Laura Bernheim (HostingAdvice.com): Designing, deploying, and maintaining an online store is best done with a quality host. Nexcess created a one-of-a-kind site builder exclusively for optimizing online stores. Go to full review »
| Money Back Guarantee | Disk Space | Domain Name | Setup Time |
| --- | --- | --- | --- |
| 30 days | 30 GB - 100 GB | New or Transfer | 5 minutes |
20 times faster performance that boosts sales
80+ software options: Magento, OpenCart, WooCommerce, PrestaShop, and others
Fully managed WordPress and server environments
Worry-free migration and 24/7 support
DDoS protection and layered security measures
ECOMMERCE
RATING 4.8 ★★★★★ Our Review
A2 Hosting: Our Expert's Review
Alexandra Anderson (HostingAdvice.com): For those who understand the importance of page load speed and sales, look no further than A2 Hosting. The company boasts premium storage, optimized security, and one of the most diverse portfolios of one-click software installations we've seen. Go to full review »
| Money Back Guarantee | Disk Space | Domain Name | Setup Time |
| --- | --- | --- | --- |
| 30 days | 100 GB SSD - Unlimited SSD | New or Transfer | 4 minutes |
Compare other top hosts for ecommerce »
For those shop owners who may want more help on the technical setup and are OK with sacrificing some design flexibility, you can try a hosted ecommerce solution or hosted shopping cart. Hosted solutions tend to be quite a bit more expensive and may leave entrepreneurs wanting further design and content customizations to more seamlessly integrate with the rest of the website. But the all-in-one platforms offer a quicker path to market when compared to starting from scratch.
These hosted ecommerce providers offer a little more oomph on the online store front by taking care of the nitty-gritty details of inventory management, payment processing, and order tracking. Business owners should be able to spend more time on their store and products instead of configuring their website, provided you spend the time to choose a platform with an easy-to-use interface that meshes with your goals and level of experience.
Site builder with FREE and premium themes
Unlimited bandwidth, storage, and products
Easy-to-use dashboard for managing orders, shipping, and payments
Tons of features, including discount codes
FREE MyShopify.com subdomain or use your own
ECOMMERCE
RATING 4.6 ★★★★★ Our Review
Shopify: Our Expert's Review
Toby Sembower (HostingAdvice.com): The great thing about Shopify is how the feature set centers around ecommerce, a focus of many shared hosting shoppers. Shopify plans are fully hosted, but most of the company's plans are significantly more costly than a majority of the shared hosts we've come across. Go to full review »
| Money Back Guarantee | Disk Space | Domain Name | Setup Time |
| --- | --- | --- | --- |
| 3-Day FREE Trial | Unlimited | FREE Subdomain | 5 minutes |
Everything you need to grow an online store
Drag-and-drop store builder and FREE themes
FREE payment processing, shipping, and inventory
Marketing with discounts, newsletters, and more
Unlimited bandwidth and tools for SEO
ECOMMERCE
RATING 4.6 ★★★★★ Our Review
Volusion: Our Expert's Review
Laura Bernheim (HostingAdvice.com): Volusion packs everything you need to build a powerful online store presence into competitive bundles. Start with a drag-and-drop editor and create categories for unlimited products. Go to full review »
| Money Back Guarantee | Disk Space | Domain Name | Setup Time |
| --- | --- | --- | --- |
| 14-Day FREE Trial | Unlimited | New or Transfer | 5 minutes |
Compare other top hosts for ecommerce »
Step 2: Design and Build Your Online Boutique
Now that you've reserved your domain name and web hosting space, let's get to work! You probably already have an idea about how you want to build your site, but let's first go over a few of the most popular ecommerce website builders:
WooCommerce is the most popular option for WordPress websites, boasting a familiar interface and more than 86 million downloads
PrestaShop is a great beginner-friendly open-source ecommerce platform available for free and as a one-click installation on most hosting plans
Magento comes in open-source and commercial flavors and represents a high-powered choice for growing businesses and more advanced users
You can find many other open-source and self-hosted shopping carts with a few quick searches or by clicking around your hosting plan's library of installation scripts. Once the software is installed, look up the platform's support articles for guidance on how to get started.
You'll want to spend a lot of time cultivating your online storefront's presentation so visitors don't experience that put-off feeling one gets when walking into a cluttered, disorganized, and dingy brick-and-mortar operation. Thankfully, each ecommerce platform comes with free and premium themes that will do much of the heavy lifting for you. Look for mobile-friendly, minimalistic designs that capitalize on other popular ecommerce design trends and let your products shine.
As you add products, be sure to invest in high-quality photography and detailed descriptions. Consider how shoppers will be able to find what they're looking for and organize the items into various categories or tags (this may involve setting up additional product pages). Finally, set your prices: Many boutiques typically follow a 50% markup, which essentially means doubling the price of acquiring the jewelry or clothing item via wholesale.
Step 3: Set Up Payment and Shipping Methods
While hosted platforms like Shopify and Wix come with built-in ways to process customer credit card numbers, you'll likely want to add a few other options to increase your customers' options. Self-hosted ecommerce software like WooCommerce, PrestaShop, and Magento, often have rich plugin or extension marketplaces full of payment gateways like PayPal, Stripe, and others — you can even find integrations for manual payments via cash or checks.
When it comes to shipping, however, your options are much more varied and confusing. Charge too much for shipping, and you risk turning away customers; charge too little, and you'll be cutting into profits and not supporting a sustainable business model. Roughly 65% of shoppers said cost was the most important attribute when it comes to shipping, which breaks down into three main categories: flat-rate shipping, calculated costs, or straight-up free shipping.
How you source your products will have a big impact on how you ship them. Going through wholesalers gives you the most control — and the most work. Dropshipping, which entails partnering with a third-party supplier, is a hands-off way of fulfilling your orders but sacrifices some of the personalized branding of your boutique's packaging.
Most ecommerce platforms will come with some form of shipping procedures built into the interface. For instance, WooCommerce enables sellers to print off shipping labels for the U.S. Postal Service, while Shopify integrates with USPS, UPS, and DHL. Go ahead and configure those setups, or seek out other plugins and extensions you prefer instead.
Step 4: Market Your Products and Build a Following
Ready for your grand opening! Time to fling open your online doors and let your audience see how your tastes mesh with and can elevate theirs. Social media is a free and easy way to start building a following, especially if the branding is consistent across each outlet. Social networks that place an emphasis on photography, like Instagram and Pinterest, are best for online boutiques looking to showcase their high-quality products.
Once you survive the first few weeks or months of your business, consider starting a blog to establish your brand as a thought leader and creative, innovative source for unique products. By adding that key component of ecommerce content marketing, your average conversion rate could swell up to nearly 3% (compared to just a 0.5% of websites that don't use content marketing).
Even better, having an archive of interesting and knowledgeable blog posts will help boost your boutique's SEO, or performance in search results — further boosting your traffic and potential conversions. Combine your industry expertise and passion with a few basics of keyword research to learn about exactly what your shoppers are looking for online.
As your business starts to grow, keep your customers engaged by building a subscriber list for email marketing channels. You can notify them about new products or sales, offer discounts, and other information to make sure they'll keep perusing your inventory. You may also want to invest in customer relationship management software, or CRM hosting, to track those interactions and support requests on a more personal basis.
How Much Does It Cost to Start an Online Boutique?
Depending on the route you take, you can launch and run your online store for as little as a few dollars each month. Simply sign up for a cheap web hosting plan and leverage free and open-source ecommerce or marketing programs to keep your costs low. Pair that with a free domain registration, email addresses, and even free marketing credits for search engines for the most affordable strategy..
Of course, you can easily spend quite a bit more if your budget allows. You'll likely incur payment processing fees of roughly 3% per transaction, plus, of course, the cost to acquire and potentially store or ship your inventory.
More discerning store owners may choose to spend between $20 and $100 on a premium store template, or the more expensive hosted ecommerce solutions like Shopify and Volusion — which still is more affordable than hiring a professional developer to set up and manage the technical aspects of your boutique.
Regardless of those online expenses, you'll still come out ahead when compared with opening a physical store location. A midwestern city like Des Moines, Iowa, charges an average of $87.55 per square foot a year, resulting in almost $90,000 in annual rent before utilities like electric, water, gas, and internet.
How Can I Sell Online for Free?
Although we can find you scores of free web hosting opportunities, the vast majority of them do not support ecommerce functionality without a paid upgrade. And, frankly, nor would you want them to. Strong ecommerce hosting requires a level of performance, security, and support that many bargain-basement hosts just can't offer at that price point.
Even with many ecommerce platforms, you'll likely have to pay transaction or shipping fees. Not that they will cut dramatically into your revenue, but they're another wrinkle in the selling-for-free dream.
If you're insisting on not spending a dime selling anything, your only real option is Craigslist — not quite boutique material. Etsy and other online marketplaces have affordable listing fees, but open-source software and cheap web hosting represents the route that will give your boutique the highest chance at success at the lowest start-up costs.
Open for Business: How to Succeed With Your Clothing and Jewelry Store
Once you finally launch your online boutique, how can you make sure your brand and your products resonate with shoppers? In addition to the sales boosts your site will experience from the speed and security your hosting company provides, you'll want to continually evaluate your user experience, store design, and conversion funnels.
Aim for website loading times of four seconds or less for the best chance at success — conversion rates drop by more than 4% with each additional second your customer has to wait. Your host's infrastructure and network configurations will have a lot of influence over your page load speed, but you can accelerate your website by adding a content delivery network, or CDN hosting, to shorten the physical distance your data needs to travel.
Once the behind-the-scenes settings have been taken care of, look to optimize your store's checkout process. Seven or eight out of every 10 shoppers will add items to a cart but leave without purchasing, according to ecommerce consulting firm The Good. Often times, users are turned off by surprise charges like taxes or shipping, as well as being forced to create an account or encounter a burdensome, lengthy checkout process. Research ecommerce checkout best practices and see what ideas you can implement, and be sure to study your analytics to see what effect they have.
See Our Full Review of 1&1 IONOS
Whatever type of hosting plan you're looking for, 1&1 IONOS is a solid choice no matter the scale. Our reviewer Alexandra Anderson recently took 1&1 IONOS for a spin, and rated the popular host a 4.9 in the eCommerce Hosting category out of a perfect score of 5.0. Here's what Alexandra had to say about 1&1 IONOS:
A leading web host across the board, 1&1 IONOS offers solutions to meet the needs of all customers. Following a 2018 rebrand, the company focused its priorities on customer support and transparent pricing. Thanks to dedicated personal consultants, numerous site builder options, and a variety of cloud offerings, customers can trust 1&1 IONOS for the long haul.
Before signing up for 1&1 IONOS, it's a good idea to read through Alexandra's full review to learn about all the features 1&1 IONOS offers. You can also compare it to other web hosts to ensure you're getting the best deal possible:
If you decide 1&1 IONOS is the right choice, keep in mind that it takes just minutes to deploy your 1&1 IONOS server space. And at $1.00 per month, it's a bargain considering the many great features that come in any 1&1 IONOS plan.
Advertiser Disclosure
HostingAdvice.com is a free online resource that offers valuable content and comparison services to users. To keep this resource 100% free, we receive compensation from many of the offers listed on the site. Along with key review factors, this compensation may impact how and where products appear across the site (including, for example, the order in which they appear). HostingAdvice.com does not include the entire universe of available offers. Editorial opinions expressed on the site are strictly our own and are not provided, endorsed, or approved by advertisers.
Our Editorial Review Policy
Our site is committed to publishing independent, accurate content guided by strict editorial guidelines. Before articles and reviews are published on our site, they undergo a thorough review process performed by a team of independent editors and subject-matter experts to ensure the content's accuracy, timeliness, and impartiality. Our editorial team is separate and independent of our site's advertisers, and the opinions they express on our site are their own. To read more about our team members and their editorial backgrounds, please visit our site's About page.