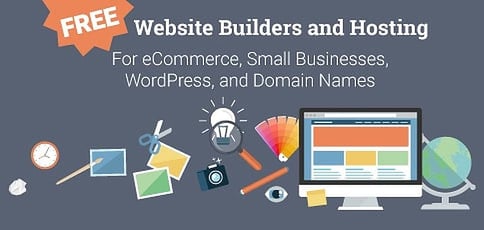 Finding free website builders and hosting services is like stumbling upon a rich, lush oasis in the middle of a desert — the perfect vision, but oftentimes just a mirage.
A website builder is a service or software that allows you to create a website without writing code or hiring a developer, which can easily cost thousands of dollars in contractor expenses. Popular website builder platforms range from $0 to $15 per month, but most web hosting providers include a free website builder as part of their monthly packages, which range from $1 to $7 per month for a shared hosting plan.
We've categorized the best website builder and hosting solutions, allowing you to make the best purchasing decision based on your project's specific goals and budget.
Best Free Website Builder and Hosting Platform Overall
A quality website builder offers simplicity and flexibility wrapped into one. We like to see ample storage allowances with a drag-and-drop experience that allows you to easily add text, images, and buttons. Most people access the web via mobile devices instead of desktops, so your chosen site builder should also offer a responsive design for mobile website viewing.
Wix is an industry staple that excels in helping even the most inexperienced users get online. Lightened-up versions of each tool are available for free, enabling users to get a sense of which platform to use long term. Take a look at our expert's review to get a sense of everything this free website builder has to offer:
No coding skills needed with drag-and-drop builder
100s of templates with niche-specific designs
Add features via the App Market and Wix Events
Easily create ecommerce functionality easily
Great way to build small sites on a budget
WEBSITE BUILDER
RATING 4.9 ★★★★★ Our Review
Alexandra Anderson (HostingAdvice.com): Website building is where Wix shines. The thousands of templates, the intuitive editor, the industry-leading designs that cater to a variety of specific fields and use cases — all these facets represent a platform that excels at facilitating easy web design for the non-tech-savvy user. Go to full review »
| Money Back Guarantee | Disk Space | Domain Name | Setup Time |
| --- | --- | --- | --- |
| 14-day FREE trial | 2 GB – Unlimited | FREE (1 year) | 4 minutes |
See other site builder and hosting plans »
Get a Free Website Builder and Free Domain Name With Cheap Hosting
We always advocate for getting the most from your hosting plan. By investing only a few dollars per month, website owners can unlock a ton of perks and add-on features that can really impress their users and improve the functionality of their websites. The hosts in this category have the best deals on extras that can make a big difference in the quality, look, and feel of your website.
There's no discounting the value of getting a free domain name thrown into an already sweet package. Enjoy free website builders and complimentary custom domain name registration with one of the top cheap web hosting providers:
Unlimited everything, from storage to databases
FREE site builder & WP performance upgrades
FREE daily or weekly backups
Custom control panel and auto-installation scripts
SSH access & unlimited FREE SSL certificates
CHEAP
RATING 4.9 ★★★★★ Our Review
Hostinger: Our Expert's Review
Laura Bernheim (HostingAdvice.com): As the shared hosting market becomes increasingly saturated, unlimited storage, bandwidth, and email accounts have become surprisingly average. Hostinger, however, extends the routine, expected metrics to greater lengths — the number of websites, databases, FTP users, subdomains, and parked domains are all unrestricted for most customers. Go to full review »
| Money Back Guarantee | Disk Space | Domain Name | Setup Time |
| --- | --- | --- | --- |
| 30 days | 50 GB SSD – 200 GB SSD | FREE (1 year) | 3 minutes |
FREE cPanel integration and Softaculous apps
Auto daily backups and web application firewall
Reliable and redundant cloud servers
FREE SSL encryption and website migration
99.99% uptime guarantee
CHEAP
RATING 4.8 ★★★★★ Our Review
HostArmada: Our Expert's Review
Lynn Cadet (HostingAdvice.com): HostArmada's cloud network spans four continents, with datacenters in Europe, the US, Asia, and Australia. Its server redundancy and website optimization features allow users to run stable and performant sites for end users across the globe while running a simplified hosting environment. Go to full review »
| Money Back Guarantee | Disk Space | Domain Name | Setup Time |
| --- | --- | --- | --- |
| 45 days | 15 GB SSD – 40 GB SSD | FREE (1 year) | 3 minutes |
$1/month for 12 months
No hidden fees, pay just $12 at checkout
Easy setup and 24/7 expert support
FREE domain or transfer, plus FREE SSL certificate
Unlimited storage and databases with most plans
CHEAP
RATING 4.8 ★★★★★ Our Review
1&1 IONOS: Our Expert's Review
Alexandra Anderson (HostingAdvice.com): If budget is the main factor on your mind when searching for your next web host, search no more. 1&1 IONOS has an impressive range of robust web hosting and website building packages for what may be the best price we've ever seen in the world of hosting. Go to full review »
| Money Back Guarantee | Disk Space | Domain Name | Setup Time |
| --- | --- | --- | --- |
| 30 days | 10 GB – Unlimited | FREE (1 year) | 4 minutes |
Best Free Website Builder for WordPress Hosting
As the top blogging platform and one of the biggest names in web design, WordPress powers around 30% of the world's websites. It's no wonder that many hosts offer built-in WordPress with easy one-click installation, plugin functionality, and integrated support.
Site owners love the CMS for its simple website design tools that allow them to create a fully customizable site based on a WordPress theme. Although its functionality is impressive, WordPress has a steep learning curve compared with other popular site builders such as Wix or Squarespace (formerly Square Online).
InMotion Hosting saw this industry-wide cry for help and created BoldGrid, an intuitive website builder that lies atop the WordPress environment. BoldGrid provides drag-and-drop elements that simplify the WordPress editor for a seamless website building experience. Even if you have years of coding under your belt, BoldGrid can help you make the most of WordPress.
FREE drag-and-drop WordPress website builder
WordPress pre-installed by InMotion Hosting
Pre-built and customizable content with GridBlocks
FREE WordPress themes with mobile/tablet editing
PayPal integration and shopping carts available
WORDPRESS WEBSITE BUILDER
RATING 4.8 ★★★★★ Our Review
BoldGrid: Our Expert's Review
Laura Bernheim (HostingAdvice.com): InMotion Hosting leads in shared, VPS, dedicated, and WordPress hosting, so it's only fitting the team would craft one of the web's first drag-and-drop site-building interface to sit atop WordPress. BoldGrid is a revolutionary platform that welcomes beginners and impresses professional developers. Go to full review »
| Money Back Guarantee | Disk Space | Domain Name | Setup Time |
| --- | --- | --- | --- |
| 90 days | 100 GB SSD – Unlimited SSD | FREE (1 year) | 7 minutes |
If you're not yet sold on paying for a cheap hosting plan, you can still set up a WordPress website for free. WordPress.com is a free online platform that leverages the software made by WordPress.org developers.
WordPress.com doesn't offer the same benefits as other free website builders mentioned throughout this post; the website templates are limited, and the platform may display ads on websites using the free plan. However, WordPress.com is a fine option for quickly setting up a simple static website.
By partnering with a reputable WordPress host, such as Bluehost, you unlock access to third-party WordPress plugin support and infinitely better customer support. We recommend this path for professional website creation.
Best Free Website Builder for eCommerce
If you're going to host an online store, eCommerce functionality on your website is a must. Online retailers should choose a website builder with a variety of template designs and multiple payment processing options (i.e., accept payments via major credit cards, checking accounts, and online payment systems such as PayPal and Google Pay). The best eCommerce website builders accomplish this.
Volusion provides a free shared hosting environment for people in the retail space. It's our top pick for eCommerce because of the sheer number of features for displaying, advertising, and selling products. On top of that, Volusion offers integrations with social media platforms and major retailers such as Amazon.
Check out our expert's full review first, or jump right into Volusion's 14-day free trial.
Tools for inventory, orders, payments, and shipping
Integrations allow store owners to sell on Amazon, Facebook, and eBay
PCI compliance and SSL certificate on all plans
Easily collect payments with NO FEES
Built-in SEO keeps your store in search results
CHEAP
RATING 4.7 ★★★★★ Our Review
Volusion: Our Expert's Review
Laura Bernheim (HostingAdvice.com): When folks typically search for cheap web hosting, they're often in need of a shared server provider that offers a basic site builder or easy integration with blogging apps or content tools. For folks looking to launch an online store, however, costs can rise with the addition of ecommerce-friendly features. Go to full review »
| Money Back Guarantee | Disk Space | Domain Name | Setup Time |
| --- | --- | --- | --- |
| 14-Day FREE Trial | Unlimited | New or Transfer | 5 minutes |
If Volusion doesn't quite meet your needs, Shopify hardly needs any introduction in the eCommerce space. The online store builder and retail management platform is trusted by millions of brands around the world.
We love Shopify for the eCommerce-specific website templates, robust tools for tracking shipping and payments (even internationally), and seamless migration from competing store or website builders. Try Shopify for free for 14 days (no credit card required) or check out our review for more information:
Site builder with FREE and premium themes
Unlimited bandwidth, storage, and products
Easy-to-use dashboard for managing orders, shipping, and payments
Tons of features, including discount codes
FREE MyShopify.com subdomain or use your own
CHEAP
RATING 4.6 ★★★★★ Our Review
Shopify: Our Expert's Review
Toby Sembower (HostingAdvice.com): The great thing about Shopify is how the feature set centers around ecommerce, a focus of many shared hosting shoppers. Shopify plans are fully hosted, but most of the company's plans are significantly more costly than a majority of the shared hosts we've come across. Go to full review »
| Money Back Guarantee | Disk Space | Domain Name | Setup Time |
| --- | --- | --- | --- |
| 3-Day FREE Trial | Unlimited | FREE Subdomain | 5 minutes |
See other eCommerce site builders »
Best Free Website Builder and Hosting for Small Business
In an ideal world, you'd move your mom-and-pop shop online without hiring any new staff, learning a new skill, or waiting too long to get your website up. Whether you own a restaurant, bed-and-breakfast, repair shop, or jewelry store, keeping costs down is the name of the game. By choosing a free website builder for your small business, you greatly reduce your overhead costs of getting online.
You can set up a Wix site in as little as four minutes with the drag-and-drop WYSIWYG editor that gives you full control of the look and feel of your website. Customer interactions, such as booking appointments and making reservations, are as straightforward as possible and can be customized to fit your brand. Dive into our expert review, then enjoy a 14-day free taste of Wix:
FREE signup with email or Facebook
Drag-and-drop designing is super easy
1-year domain free with most plans
Up to $300-worth of ad credits
Access to 1,000s of templates and additional tools in the App Market
BEST OVERALL
RATING 4.6 ★★★★★ Our Review
Alexandra Anderson (HostingAdvice.com): As a web builder, Wix is an industry leader when it comes to ease of use, setup time, and available features. The browser-based, WYSIWYG (What You See Is What You Get) site-building service is hands down one of the foremost brands in this industry niche, and that's not without just cause. Go to full review »
| Money Back Guarantee | Disk Space | Domain Name | Setup Time |
| --- | --- | --- | --- |
| 14-day FREE trial | 2 GB – Unlimited | FREE (1 year) | 4 minutes |
See other site builder and hosting plans »
Best Free Website Builder With No Ads
Advertising has its place in the online market, and free site builders often offset maintenance costs by placing small ads on your site. Increasing evidence has shown that website users don't really like having to look at ads.
To give your visitors an ad-free experience, consider Weebly. Weebly's free plan displays only a small link back to Weebly, and the premium plan removes this altogether. The website design platform's simple editing interface means the tool is ideal for beginners. It also includes advanced feature sets such as marketing tools, SEO tool sets, customizable web design elements, and top-notch customer support.
Design your site with the popular drag-and-drop site builder
Fully hosted, drag-and-drop site-building and marketing
Choose from 100s of customizable, professional themes
Add contact forms and take RSVPs via apps
eCommerce-ready and SEO-friendly with built-in tools
WEBSITE BUILDER
RATING 4.8 ★★★★★ Our Review
Weebly: Our Expert's Review
Alexandra Anderson (HostingAdvice.com): Weebly is in the elite clique of drag-and-drop website builders that includes WordPress and Wix. com. Go to full review »
| Money Back Guarantee | Disk Space | Domain Name | Setup Time |
| --- | --- | --- | --- |
| 30 days | 500 MB – Unlimited | FREE (w/ paid plans) | 3 minutes |
See other site builder and hosting plans »
Is There Such a Thing as Free Web Hosting?
A free version of your favorite design and hosting platform isn't always better. Quality web hosting involves hardware (i.e., the physical servers hosting your web content), supporting software for security and your content management system, and engineering resources to maintain the infrastructure. If you skimp on these costs, you will get what you pay for.
Wix.com is the closest contender for a truly free version of a web hosting and website design platform. On the other end of the hosting spectrum lies Kamatera, an increasingly popular cloud hosting provider that attracts new customers with a 14-day free trial.
For a complete rundown of our stance on this matter, check out our guide to free web hosting and its pros and cons.
Does Google Sites Host Websites for Free?
Yes, Google Sites is a free website builder that accommodates basic website building — with storage limitations. Other noteworthy drawbacks to using Google Sites include:
No custom domain names: Google Sites users are restricted to the domain assigned by Google; also, you must have a Google account to sign up.
Limited and outdated themes: The Google Sites theme library is notably limited, and the website template options are lackluster at best.
No SEO tool options: SEO resources are typically included in some form, even with free site builder platforms. Google Sites missed the obvious opportunity (in our opinion) to integrate with Google Analytics.
A clunky interface: Compared with other website builder platforms, the Google Sites user experience is lacking.
We were also disappointed to discover Google Sites offers very limited compatibility with other Google applications. This will likely change in the future, but the current state of affairs is bleak.
Are Website Builder Platforms Worth It?
You shouldn't feel as if using a website builder is taking the easy way out. In a fraction of the time, website builders can create sites that are just as good as hand-coded ones. As is the case with all hosting purchasing decisions, do your homework and let the provider reputations speak for themselves.
If you spend some time reviewing our recommendations, you're sure to pick a free or cheap website builder and hosting plan that works well for you.
See Our Full Review of Wix
Whatever type of hosting plan you're looking for, Wix is a solid choice no matter the scale. Our reviewer Alexandra Anderson recently took Wix for a spin, and rated the popular host a 4.9 in the Website Builder Hosting category out of a perfect score of 5.0. Here's what Alexandra had to say about Wix:
Wix offers one of the quickest and easiest means of getting a website online — free of charge to start. They've got a robust feature set that is growing every day as Wix leads in the browser-based web builder niche. While the support is subpar compared to that of the top hosts' web builders, the customization and ever-growing list of templates is hard to beat.
Before signing up for Wix, it's a good idea to read through Alexandra's full review to learn about all the features Wix offers. You can also compare it to other web hosts to ensure you're getting the best deal possible:
If you decide Wix is the right choice, keep in mind that it takes just minutes to deploy your Wix server space. And at $0.00 per month, it's a bargain considering the many great features that come in any Wix plan.
Advertiser Disclosure
HostingAdvice.com is a free online resource that offers valuable content and comparison services to users. To keep this resource 100% free, we receive compensation from many of the offers listed on the site. Along with key review factors, this compensation may impact how and where products appear across the site (including, for example, the order in which they appear). HostingAdvice.com does not include the entire universe of available offers. Editorial opinions expressed on the site are strictly our own and are not provided, endorsed, or approved by advertisers.
Our Editorial Review Policy
Our site is committed to publishing independent, accurate content guided by strict editorial guidelines. Before articles and reviews are published on our site, they undergo a thorough review process performed by a team of independent editors and subject-matter experts to ensure the content's accuracy, timeliness, and impartiality. Our editorial team is separate and independent of our site's advertisers, and the opinions they express on our site are their own. To read more about our team members and their editorial backgrounds, please visit our site's About page.