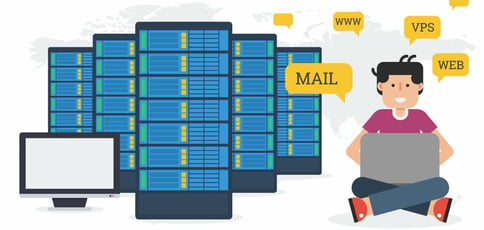 White-label hosting holds immense promise for all types of businesses. It's like a magic door that lets you dive into the web hosting universe without needing an IT department or a tech wizard by your side.
You can capitalize on the burgeoning demand for web hosting by creating a unique brand and making it all your own. That's not the best part, as you can tap into the vast world of web hosting, meet new clients, and expand your horizons without doing the heavy lifting.
If it sounds too good to be true, I assure you that it's not. We sifted through a trove of hosting providers and came up with a curated list of the best white-label web hosting services money can buy.
1. InMotion Hosting
When looking for a reliable, scalable, and affordable reseller hosting provider, you'll have a hard time finding a better option than InMotion Hosting. The in-house team of experts takes care of everything on the backend, including server management, hardware and software upgrades, and load balancing.
SSD reseller hosting with FREE cPanel/WHM
Keep your reseller business organized with WHMCS
FREE dedicated IP and site backups
Tons of email features with IMAP and POP3 support
Manage your domains with a FREE Enom license
RESELLER
RATING 4.9 ★★★★★ Our Review
InMotion: Our Expert's Review
PJ Fancher (HostingAdvice.com): InMotion Hosting offers cPanel reseller hosting that's affordable, easy to manage, and includes free SSDs. Become a domain reseller for popular gTLDs and TLDs with a free Enom license and WHMCS to manage your accounts. Go to full review »
| Money Back Guarantee | Disk Space | Domain Name | Setup Time |
| --- | --- | --- | --- |
| 90 days | 80 GB SSD – 260 GB SSD | FREE (1 year) | 5 minutes |
You get a free dedicated IP address, high-performance NVMe SSD, a Softaculous app installer, free SSL, WHMCS billing software, and unlimited email with each reseller plan. You also receive a free Enom license to manage your domains, while cPanel licenses are included to make managing your reseller business a breeze. In addition, you can make more money by selling hundreds of top-level domains.
InMotion Hosting also includes quite a few security and marketing tools, from malware and DDoS protection to a website builder and free advertising credits. The host offers four plans, each with an industry-best, 90-day money-back guarantee, valid for six-month and longer plans.
2. A2 Hosting
Known for its performance-centric approach, A2 Hosting offers two tiers of reseller hosting: the standard SSD version and the Turbo NVMe-powered version. For no extra cost, you get site migration, an Enom domain reseller account, either Blesta or WHMCS as your client billing and management system, an SSL certificate, and custom nameservers.
Affordable reseller plans with luxury features
FREE Enom account to manage unlimited domains
Turbo Server configuration loads pages 20x faster
FREE SSDs, CDN, and choice of server location
99.9% uptime guarantee and 24/7 monitoring
RESELLER
RATING 4.8 ★★★★★ Our Review
A2 Hosting: Our Expert's Review
Alexandra Anderson (HostingAdvice.com): A2 Hosting provides some of the most appealing reseller hosting deals on the market. Enjoy free Enom, cPanel, and WHMCS accounts to get your business started, then leverage A2 Hosting's impressive speed to impress your customers. Go to full review »
| Money Back Guarantee | Disk Space | Domain Name | Setup Time |
| --- | --- | --- | --- |
| 30 days | 60 GB SSD – 270 GB SSD | New or Transfer | 4 minutes |
The host also offers a wide array of features to keep everything running smoothly, including cloud backup powered by JetBackup, reinforced DDoS protection, LiteSpeed cache plugins, deluxe WordPress Toolkit features, and analytics. Suffice it to say, A2 Hosting's reseller offerings pack quite a punch.
You can rely on the company's excellent 24/7/365 Guru Crew support staff to step in and help your customers if they encounter any issues. In case you want to purchase white-label web hosting for personal use and have a separate cPanel account for each of your sites, A2 Hosting can make it happen.
3. HostGator
No matter what type of business you have, HostGator can provide high-quality reseller hosting services with enticing price-to-performance deals. The web host offers three reseller plans, starting with 60GB of disk space and ten times the bandwidth. HostGator includes WHMCS and SSL with every reseller hosting plan, and you can easily scale should the need arise.
Start a company with cPanel reseller hosting
Unlimited domains, emails, and MySQL databases
99.9% uptime guarantee and 400+ tutorials
All web hosting reseller plans include WHMCS
FREE ResellerClub account for domains
RESELLER
RATING 4.7 ★★★★★ Our Review
HostGator: Our Expert's Review
Ryan Frankel (HostingAdvice.com): HostGator offers some of the industry's best reseller hosting plans, with WHMCS included for your management purposes, as well as cPanel for your customers. You specify your reseller hosting customers' packages, disk space, and bandwidth. Go to full review »
| Money Back Guarantee | Disk Space | Domain Name | Setup Time |
| --- | --- | --- | --- |
| 30 days | 60 GB – 140 GB | New or Transfer | 4 minutes |
When it comes to reseller-oriented features, you get unlimited domains, subdomains, email accounts, MySQL databases, and FTP accounts, with a 99.9% uptime guarantee and a 30-day money-back guarantee. WHM and the latest cPanel with site statistics and instant installs are available for management purposes. The tools are supported by various dev-friendly options for those with technical know-how.
It's important to note that your customers can access HostGator's premium support via live chat or phone, which should take some burden off your shoulders. Plus, you receive a ResellerClub domain registration account (Enom is included as well) where you can register and manage domains for your clients
4. SiteGround
SiteGround offers white-label web hosting on its GoGeek and Cloud plans and bundles plenty of features at some of the lowest prices in the business. The host allows you to host an unlimited number of websites and provides a free private DNS to choose a custom domain name for your nameservers. Then, you can select between multiple datacenter locations for visitors from the US, Europe, and Asia-Pacific regions.
Discounted plans for different workflows
Ultra-reliable cloud hosting infrastructure
FREE site transfers and WordPress migrator plugin
Unlimited MySQL databases and bandwidth
White-label client management and private DNS
RESELLER
RATING 4.7 ★★★★★ Our Review
SiteGround: Our Expert's Review
Alexandra Anderson (HostingAdvice.com): You'll be hard-pressed to find a more affordable reseller plan that comes with better hardware than SiteGround. The web host carries a stellar reputation for customer service and cloud-based scalability. Go to full review »
| Money Back Guarantee | Disk Space | Domain Name | Setup Time |
| --- | --- | --- | --- |
| 30 days | 10 GB SSD – 40 GB SSD | New or Transfer | 6 minutes |
Each of its plans offers numerous freebies, including your choice of CMS install (WordPress, Joomla!, Drupal, etc.), Weebly site builder, email accounts, CDN, SSL certificate, and SSH and SFTP access. Essentials include unlimited MySQL DB, sub and parked domains, automated daily backups (with the possibility of an on-demand backup), and a slew of security solutions that provide peace of mind regarding cyber threats.
To round it all off, SiteGround provides a customized server setup, thanks to a specifically developed platform based on Linux containers, customized CentOS, and a mixture of Apache and NGINX web server technologies. Coupled with an in-house caching service called SuperCacher that maximizes loading speeds, server performance won't be an issue.
5. InterServer
One aspect that makes InterServer worthy of your consideration is the fact you can create cPanel accounts for each of your clients to improve security and performance. Initial server resources are fairly generous, with 80GB of disk space and 500GB of monthly bandwidth across all resold accounts, and you can select from four additional packages if you need more.
Set up unlimited cPanel accounts for your clients
FREE proactive daily backups and no setup fee
Private DNS servers and dedicated IP address
Clients enjoys all standard shared hosting features
Client management through WHM control panel
RESELLER
RATING 4.6 ★★★★★ Our Review
InterServer: Our Expert's Review
Laura Bernheim (HostingAdvice.com): InterServer automatically connects your customers to the company's full roster of shared hosting perks, including high-performance SSDs, a website builder, free migration, and Intershield security. Enjoy instant account setup and easy management on premium hardware. Go to full review »
| Money Back Guarantee | Disk Space | Domain Name | Setup Time |
| --- | --- | --- | --- |
| 30 days | 80 GB SSD – 280 GB SSD | New or Transfer | 4 minutes |
Each reseller account enjoys all features of the company's standard web hosting, which means your users receive unlimited email and domains, one-click scripts for 440-plus apps, SitePad website builder, and Intershield protection — an in-house developed security solution that does a bit of everything to stop attacks in their tracks.
InterServer also has a set of proprietary caching mechanisms that work at the raid, hardware, software, and packet level. In conjunction with Cloudflare, these ensure speed is optimal at all times. There are no setup fees whatsoever, and each user receives a DirectAdmin login.
6. GoDaddy
For those who need a turnkey storefront, GoDaddy will delight with its Basic and Pro Reseller plans as they provide the building blocks for a successful business. A shopping cart and credit card processing are part of the hosting package, eliminating the need for additional products, such as a merchant account, to process sales as you can employ the company's own.
Get products for 20-40% off retail prices
White-label storefront with credit card processing
Easy integration with WordPress via GoDaddy's API
Sell anything: domains, hosting, email, and more
Custom software for management and reports
RESELLER
RATING 4.5 ★★★★★ Our Review
GoDaddy: Our Expert's Review
Ryan Frankel (HostingAdvice.com): GoDaddy gives you all the tools and products to be successful in reseller hosting without stepping on your toes. Set your own prices and run promotions while the company's platform processes payments, tracks sales, and helps you build your business. Go to full review »
| Money Back Guarantee | Disk Space | Domain Name | Setup Time |
| --- | --- | --- | --- |
| 30 days | Unlimited | New or Transfer | 4 minutes |
GoDaddy offers no shortage of ways to customize your eCommerce store. WordPress users can access the hosting provider's WordPress APIs directly or go with its WordPress plugin. You can opt-in to sell a variety of GoDaddy products and services, while the host supplies you with detailed sales and commission reports to help you expand your service offerings and drive more revenue.
You have access to a dedicated team that can support your customers 24/7 by phone or email. As a bonus, the host offers a handy video tutorial on how to get started with the GoDaddy Reseller Program. This is a full-service deal, so note that third-party billing management software such as WHMCS is not compatible.
7. AccuWebHosting
AccuWebHosting offers Windows, Linux, and Windows VPS reseller plans, each with multiple pricing tiers and varying resources. Whatever version you choose, you get a finely balanced mix of performance and affordability that will check even the most demanding boxes.
Choose between Windows or Linux reseller plans
VPS or shared reseller options available
SSD storage with CloudLinux and LiteSpeed
FREE management with cPanel, WHM, and WHMCS
Unlimited domains, email, FTP, and databases
RESELLER
RATING 4.5 ★★★★★ Our Review
AccuWebHosting: Our Expert's Review
Laura Bernheim (HostingAdvice.com): Blending performance and affordability, AccuWebHosting offers the full range of reseller options. Entrepreneurs can choose Windows or Linux, as well as shared or VPS configurations, depending on the scale of their reseller business. Go to full review »
| Money Back Guarantee | Disk Space | Domain Name | Setup Time |
| --- | --- | --- | --- |
| 30 days | 10 GB SSD – 150 GB SSD | New or Transfer | 4 minutes |
The Linux variant features a CloudLinux operating system with LiteSpeed Web Server and cPanel or WHM access. You get unlimited email and FTP accounts, subdomains, and databases, as well as a free setup and SSL certificates. Windows reseller hosting service does much of the same, together with comprehensive ASP.NET support and a Plesk panel. Web, mail, and database servers are separated from each other, guaranteeing optimal performance.
As for the self-managed VPS offering, you get optional SolidCP as your control panel, 1Gbps port connectivity, and Hyper-V virtualization technology. Full root access is included, as is the choice of Windows server OS for you and your clients (you have 2019, 2016, and 2012 versions to choose from).
8. Hostwinds
Unlike others on this list, Hostwinds offers only one white-label web hosting plan. Its proposition is fairly straightforward: You receive a basic shared hosting account on an unbranded server, which means you get cPanel access to manage your domain and emails, unlimited bandwidth and disk space, and one domain.
Per-account pricing format keeps costs low
Unlock discounts as you gain more customers
Industry-leading 99.999% uptime guarantee
Instant setup with 24/7 managed support
Unlimited bandwidth, email, and disk space
RESELLER
RATING 4.4 ★★★★★ Our Review
Hostwinds: Our Expert's Review
Laura Bernheim (HostingAdvice.com): Champions of performance, uptime, and customer support, Hostwinds takes a slightly different approach to its reseller hosting. Entrepreneurs essentially add shared hosting accounts to resell to their clients, enabling you to take a hands-on approach to onboarding. Go to full review »
| Money Back Guarantee | Disk Space | Domain Name | Setup Time |
| --- | --- | --- | --- |
| 3 days | Unlimited | New or Transfer | 6 minutes |
The web host's expert team sets everything up for you, including installing WHMCS and the Hostwinds Reseller Module so you can sell any of the provider's products. You can also include your products and services in WHMCS for resale, though you'll have to add your payment processing information.
Among the notable perks of joining the Hostwinds reseller team is receiving round-the-clock assistance throughout the year from its dedicated support team. While website development assistance isn't part of the deal, any potential issue regarding your site or account can be resolved through live chat and a support ticketing system.
9. ResellerClub
ResellerClub may be the first stop for many entrepreneurs on their reseller hosting journey, and it's easy to see why. The company offers customers a full suite of cloud server products that they can rebrand or completely white label, depending on their preferences. To get you started on the right foot, there is a comprehensive account startup guide that covers almost every detail of reseller hosting.
Choice of Windows or Linux reseller packages
Hardware via Dell servers & Intel Xeon processors
1-click upgrade for FREE domain reseller account
Unlimited Plesk or cPanel accounts with all plans
99.99% uptime guarnatee with distributed DNS
RESELLER
RATING 4.3 ★★★★★ Our Review
ResellerClub: Our Expert's Review
Laura Bernheim (HostingAdvice.com): Known for a reseller program that has attracted more than 200,000 entrepreneurs, ResellerClub offers numerous services to those looking to start their own businesses in web hosting and domain registrations. In addition to serving more than 5 million domains and customers in more than 150 countries, the hosting provider has crafted among the most diverse portfolio of solutions that we've ever seen. Go to full review »
| Money Back Guarantee | Disk Space | Domain Name | Setup Time |
| --- | --- | --- | --- |
| 30 days | 40 GB SSD – 200 GB SSD | New or Transfer | 4 minutes |
Its feature-rich Windows or Linux hosting plans have four configurations and come with unlimited websites and email, a free WHM/cPanel and Softaculous installer, a pre-integrated Cloudflare CDN and network security, and a no-cost SSL certificate. Though, you'll pay a bit more to get WHMCS support on Linux.
ResellerClub has an excellent Reseller Program through which you can earn more money by selling domain name registrations, email accounts, SSL certificates, and backup services. The program is worth considering because it is part of one of the largest domain reseller programs in the industry, with more than 350 extensions available.
What Is White Label Web Hosting?
Commonly referred to as reseller hosting, white-label web hosting is a type of business collaboration in which a smaller web hosting company or reseller partners with a larger web hosting provider to resell its products. This is similar to purchasing generic products from a well-known manufacturer and rebranding them as your own.
In practical terms, the smaller hosting company seeks to offer web hosting services to its clients but may lack the resources, including the requisite server infrastructure or datacenters. To bridge the gap, they engage in a white-label agreement with the larger hosting provider to meet those needs, essentially manufacturing the hosting service.

Here is where the white-label reseller concept comes into play. The smaller company can customize the host's services with its own branding, including logos and branding. In the eyes of the end customers, it seems as if the smaller hosting company is responsible for the entire hosting operation, which builds trust and loyalty.
Through this arrangement, the reseller can offer hosting services without the burden of significant capital investment or managing complex server infrastructure. That makes reseller hosting a particularly enticing proposition for those who want to start their own web hosting business.
Is Reseller Hosting Profitable?
Generally speaking, reseller hosting can be profitable, but it depends on how you approach it. The market is competitive, so your pricing strategy and service quality will likely make the difference.
The idea of white-label web hosting is to charge your customers a higher price than what you paid to purchase the reseller plan. Setting too low a price might bring in more customers but could also lead to lower profits, whereas setting the price too high might stand in the way of establishing yourself in the market. It is important to find the proper balance between these two extremes.

Customers expect a certain level of quality from the hosting services you provide. Pay close attention to the quality of the parent hosting provider's services, including reliability, speed, and uptime. Otherwise, it could result in customer discontent and churn.
The business model you choose could be another way to stand out in a crowd of similar businesses and increase your bottom line. Ideally, you want to find a niche or differentiate yourself from competitors by offering specialized hosting services designed for a particular market segment (e.g. managed WordPress hosting).
What Features Do I Need for Reseller Hosting?
Your reseller hosting starts and ends with a reputable web hosting provider, so your first step should be thorough research and selecting a provider that provides a reliable infrastructure with at least 99.9% uptime. Anything less could mean trouble, frustration, and customers who will walk away.
From there, look for:
White label branding
Easy-to-use control panel
Site builder and CMS support:
WHMCS, cPanel, WHM, or Enom licenses
Security features such as SSL certificates, firewalls, and regular backups
24/7/365 support
Those are some of the main features to keep an eye on, but certainly not the only ones. Starting a reseller hosting business is a significant undertaking, so it's vital to invest time in research and planning to find a partner that will deliver the performance, scalability, and support you need.
What Are the Three Types of Web Hosting?
Three general hosting options available are Shared, Dedicated, and Virtual Private Servers (VPS). These cater to websites of varying sizes, usually determined by their monthly visitor count.
Shared Hosting
Shared hosting is the most common choice for small businesses, individuals, and even some popular blogs. It involves multiple websites sharing resources on a single server, which keeps costs low. Shared hosting accommodates websites running platforms such as WordPress and Joomla, making setup straightforward.
Typically, it can handle up to 30,000 visitors per month, making it suitable for most websites. If you're just starting with hosting, shared hosting is an attractive option due to its affordability and performance.

Dedicated Hosting
Dedicated hosting entails a single, dedicated server that exclusively hosts one client. This configuration ensures optimal website performance, making it ideal for websites that demand fast page load times and a dedicated IP, and can handle high traffic, such as more than 100,000 visitors per month.
While this particular hosting solution can be costly, the investment is justified for websites with specific performance requirements.
VPS Hosting (Cloud)
Short for virtual private server, VPS provides access to a substantial pool of computing resources, allowing users to reserve and pay for the amount they require.
Think of it as having access to a computer with numerous processors, extensive RAM, and limitless storage, with the flexibility to choose the server resources you need based on your requirements. VPS hosting offers a tailored approach to hosting, with a price that corresponds to your resource selection.
Should I Start a Reseller Hosting Business?
The answer is a resounding "Yes" if you want to expand your business and offer a broad range of services while adding another revenue stream. Having an all-inclusive service means you can charge more as you take care of every aspect of your customer's website. This also ensures that you can develop more meaningful and long-term relationships, which can boost customer retention.
Pro tip: Reseller hosting is also a good business proposition for solo web developers or agencies that want to introduce new ways to serve their users. The possibility of having separate control panel accounts means everything stays in the house and allows clients to get everything they need in one place.
Start Hosting on Your Terms
As long as the internet is alive and kicking, there will always be a high demand for website hosting. Reseller hosting presents an exciting opportunity for entrepreneurs and web professionals who don't want to worry (or simply just don't care) about the complexities of server management.
With white-label web hosting, you don't have to deal with the costly and trying aspects of hosting but can still offer a valuable (and profitable, mind you) service to customers.
A few customers may be enough to cover the costs of white-label hosting and generate a profit. So, as you cast off on your reseller hosting journey, remember to choose a reliable provider that offers ease of use and exceptional customer support. With firm commitment and a well-thought-out business strategy, your reseller hosting business (white label or not) can thrive in the ever-evolving digital landscape.
See Our Full Review of InMotion
Whatever type of hosting plan you're looking for, InMotion is a solid choice no matter the scale. Our reviewer PJ Fancher recently took InMotion for a spin, and rated the popular host a 4.9 in the Reseller Hosting category out of a perfect score of 5.0. Here's what PJ had to say about InMotion:
InMotion Hosting is consistently one of the best hosting providers you'll find. You pay a bit of a premium for great support, powerful hardware, and supreme reliability, but the value of the product is market-leading. Whether you need SSD-powered VPSs or are ready to build your first site with its BoldGrid web builder, InMotion should be a top contender for your host.
Before signing up for InMotion, it's a good idea to read through PJ's full review to learn about all the features InMotion offers. You can also compare it to other web hosts to ensure you're getting the best deal possible:
If you decide InMotion is the right choice, keep in mind that it takes just minutes to deploy your InMotion server space. And at $15.99 per month, it's a bargain considering the many great features that come in any InMotion plan.
Advertiser Disclosure
HostingAdvice.com is a free online resource that offers valuable content and comparison services to users. To keep this resource 100% free, we receive compensation from many of the offers listed on the site. Along with key review factors, this compensation may impact how and where products appear across the site (including, for example, the order in which they appear). HostingAdvice.com does not include the entire universe of available offers. Editorial opinions expressed on the site are strictly our own and are not provided, endorsed, or approved by advertisers.
Our Editorial Review Policy
Our site is committed to publishing independent, accurate content guided by strict editorial guidelines. Before articles and reviews are published on our site, they undergo a thorough review process performed by a team of independent editors and subject-matter experts to ensure the content's accuracy, timeliness, and impartiality. Our editorial team is separate and independent of our site's advertisers, and the opinions they express on our site are their own. To read more about our team members and their editorial backgrounds, please visit our site's About page.