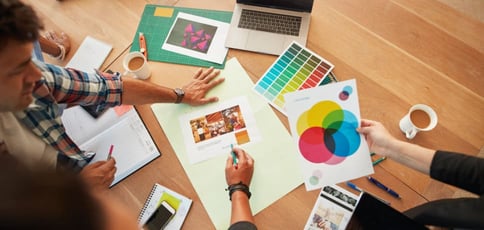 If you run a web design or development agency, you probably already know how stressful it is to manage multiple client accounts. Being a small business owner is a juggling act, and your success hinges on whether you can keep your pins in the air without dropping them. Web hosting, marketing, and customer service are just a few of the many moving parts of a successful operation.
If you have a huge workload, dealing with multiple login credentials is the last thing you want. That's where the importance of web hosting for agencies comes in. But it's not just about choosing any web host; knowing what to look for in the best web hosting for agencies is the first and most crucial step. Read on to learn more.
WordPress Hosting Plans for Agencies
WordPress is the most popular Content Management System, and rightfully so. For context, WordPress is the preferred CMS for 43.2% of all websites on the internet. So, if you're looking for a web host for multiple WordPress websites, it's crucial to know the key factors to consider.
We'll start with speed. First, you need a WordPress hosting provider that guarantees fast loading speeds for WordPress websites. Be sure to consider specific features such as the availability of solid-state drive (SSD) or NVMe storage and high memory.
Secondly, look for a host with at least a 99.9% uptime guarantee. That's the bare minimum. Anything less than that will only lead to a bad customer experience.
Speaking of customer service, you need a web host you can easily contact via phone, live chat, or email when facing technical issues beyond your control.
Lastly, choose a provider that's compatible with WordPress. By this, we mean a web hosting service provider that offers WordPress-specific features and functionalities such as one-click installation and eCommerce applications. And if you are not familiar with WordPress, you may want to choose a managed WordPress hosting plan. Managed hosting comes with server setup and configuration, performance optimization, advanced security, and automatic updates.
Above all, ensure the selected host also has powerful security features. Examples include secure sockets layer (SSL) certification, backup and restoration capabilities, distributed denial of service (DDoS) protection, regular server and network monitoring, and two-factor authentication.
Our experts have tested some of the best WordPress hosting plans for agencies. Here are our top picks for plans that allow you to host multiple WordPress sites.
FREE site migrations and automatic updates
1-click staging and unlimited email accounts
Built-in image compression, caching, and CDN
24/7 support and plugin performance monitoring
Monthly hosting unlocks the most savings
WORDPRESS
RATING 4.9 ★★★★★ Our Review
Nexcess: Our Expert's Review
Laura Bernheim (HostingAdvice.com): We get it, many new WordPress users simply opt for an affordable one-size-fits-all shared hosting package for their new website. Given the worldwide popularity of the content management system, web hosting companies will make sure all the basics are covered for a very low cost. Go to full review »
| Money Back Guarantee | Disk Space | Domain Name | Setup Time |
| --- | --- | --- | --- |
| 30 days | 15 GB – 800 GB | | 6 minutes |
Recommended by WordPress.org since 2005
Automatic WordPress updates and initial install
FREE WordPress themes in the Bluehost Marketplace
24/7 support via live chat, phone, and email
Get exclusive discounts on WordPress plans
WORDPRESS
RATING 4.9 ★★★★★ Our Review
Bluehost: Our Expert's Review
Ryan Frankel (HostingAdvice.com): Bluehost's WordPress hosting packages are aimed at first-time site owners and personal bloggers. These services come at a premium compared to the standard Bluehost web hosting (basic shared hosting) plans, but the WordPress optimization and platform-specific resources are arguably worth the cost. Go to full review »
| Money Back Guarantee | Disk Space | Domain Name | Setup Time |
| --- | --- | --- | --- |
| 30 days | 50 GB SSD – 100 GB SSD | FREE (1 year) | 7 minutes |
Up to 12x faster WordPress hosting
FREE SSL certificate and SSD storage
Automatic WordPress plugin, theme, and core updates
Features a FREE drag-and-drop WP page editor
Premium themes and plugin subscriptions
WORDPRESS
RATING 4.9 ★★★★★ Our Review
InMotion: Our Expert's Review
PJ Fancher (HostingAdvice.com): InMotion Hosting, long known for affordable and high-performance shared hosting options, entered the WordPress space with a solid option built upon the company's reputation for great support and reliability. Build on an all-SSD infrastructure, InMotion's inherently quick speeds make the infrastructure a perfect fit for delivering rapid WordPress page loads. Go to full review »
| Money Back Guarantee | Disk Space | Domain Name | Setup Time |
| --- | --- | --- | --- |
| 90 days | 100 GB – Unlimited NVMe SSD | FREE (1 year) | 5 minutes |
Officially endorsed by WordPress.org
FREE migration plugin or automated installation
Pre-installed Git, 3 caching levels, and FREE CDN
FREE WP setup wizard, staging, and auto-updates
Fast, 24/7 support via custom chat system
WORDPRESS
RATING 4.9 ★★★★★ Our Review
SiteGround: Our Expert's Review
Alexandra Anderson (HostingAdvice.com): Want a hassle-free, WordPress-optimized hosting service. SiteGround has thought of everything you need to get your site up and running. Go to full review »
| Money Back Guarantee | Disk Space | Domain Name | Setup Time |
| --- | --- | --- | --- |
| 30 days | 10 GB SSD – 40 GB SSD | New or Transfer | 6 minutes |
0%

OFF your first payment for our readers
FREE Genesis Framework & StudioPress themes
Fast, scalable, and secure WordPress
FREE SSL certificate and CDN ready
Upgrade for geotargeting and edge security
WORDPRESS
RATING 4.8 ★★★★★ Our Review
WP Engine: Our Expert's Review
Ryan Frankel (HostingAdvice.com): With prices much higher than many WordPress users are accustomed to seeing, we understand that WP Engine may not be for everybody. But for those developers, designers, agencies, and growing businesses passionate about website performance, stability, and cutting-edge WordPress features, WP Engine will be a godsend. Go to full review »
| Money Back Guarantee | Disk Space | Domain Name | Setup Time |
| --- | --- | --- | --- |
| 60 days | 10 GB – 50 GB | New or Transfer | 6 minutes |
Keep in mind that while the plans highlighted above have great features, narrowing them down to your client's needs can help you choose exactly what works best for them. For example, suppose some of your clients need more storage. In that case, you want a scalable plan that allows you to expand as your client's needs grow.
Other Top Hosting Services
As mentioned, your clients may have unique needs that only specific hosting providers can meet. Take, for example, a client looking for Linux hosting; Windows hosting will not work for them.
The same applies to clients looking for dedicated server hosting or virtual private servers. Whatever their needs, you can always find the right hosting company to accommodate them.
Here are other options worth considering if those highlighted above do not meet your client's unique needs.
SSD reseller hosting with FREE cPanel/WHM
Keep your reseller business organized with WHMCS
FREE dedicated IP and site backups
Tons of email features with IMAP and POP3 support
Manage your domains with a FREE Enom license
RESELLER
RATING 4.9 ★★★★★ Our Review
InMotion: Our Expert's Review
PJ Fancher (HostingAdvice.com): InMotion Hosting offers cPanel reseller hosting that's affordable, easy to manage, and includes free SSDs. Become a domain reseller for popular gTLDs and TLDs with a free Enom license and WHMCS to manage your accounts. Go to full review »
| Money Back Guarantee | Disk Space | Domain Name | Setup Time |
| --- | --- | --- | --- |
| 90 days | 80 GB SSD – 260 GB SSD | FREE (1 year) | 5 minutes |
Affordable reseller plans with luxury features
FREE Enom account to manage unlimited domains
Turbo Server configuration loads pages 20x faster
FREE SSDs, CDN, and choice of server location
99.9% uptime guarantee and 24/7 monitoring
RESELLER
RATING 4.8 ★★★★★ Our Review
A2 Hosting: Our Expert's Review
Alexandra Anderson (HostingAdvice.com): A2 Hosting provides some of the most appealing reseller hosting deals on the market. Enjoy free Enom, cPanel, and WHMCS accounts to get your business started, then leverage A2 Hosting's impressive speed to impress your customers. Go to full review »
| Money Back Guarantee | Disk Space | Domain Name | Setup Time |
| --- | --- | --- | --- |
| 30 days | 60 GB SSD – 270 GB SSD | New or Transfer | 4 minutes |
Start a company with cPanel reseller hosting
Unlimited domains, emails, and MySQL databases
99.9% uptime guarantee and 400+ tutorials
All web hosting reseller plans include WHMCS
FREE ResellerClub account for domains
RESELLER
RATING 4.7 ★★★★★ Our Review
HostGator: Our Expert's Review
Ryan Frankel (HostingAdvice.com): HostGator offers some of the industry's best reseller hosting plans, with WHMCS included for your management purposes, as well as cPanel for your customers. You specify your reseller hosting customers' packages, disk space, and bandwidth. Go to full review »
| Money Back Guarantee | Disk Space | Domain Name | Setup Time |
| --- | --- | --- | --- |
| 30 days | 60 GB – 140 GB | New or Transfer | 4 minutes |
Discounted plans for different workflows
Ultra-reliable cloud hosting infrastructure
FREE site transfers and WordPress migrator plugin
Unlimited MySQL databases and bandwidth
White-label client management and private DNS
RESELLER
RATING 4.7 ★★★★★ Our Review
SiteGround: Our Expert's Review
Alexandra Anderson (HostingAdvice.com): You'll be hard-pressed to find a more affordable reseller plan that comes with better hardware than SiteGround. The web host carries a stellar reputation for customer service and cloud-based scalability. Go to full review »
| Money Back Guarantee | Disk Space | Domain Name | Setup Time |
| --- | --- | --- | --- |
| 30 days | 10 GB SSD – 40 GB SSD | New or Transfer | 6 minutes |
Set up unlimited cPanel accounts for your clients
FREE proactive daily backups and no setup fee
Private DNS servers and dedicated IP address
Clients enjoys all standard shared hosting features
Client management through WHM control panel
RESELLER
RATING 4.6 ★★★★★ Our Review
InterServer: Our Expert's Review
Laura Bernheim (HostingAdvice.com): InterServer automatically connects your customers to the company's full roster of shared hosting perks, including high-performance SSDs, a website builder, free migration, and Intershield security. Enjoy instant account setup and easy management on premium hardware. Go to full review »
| Money Back Guarantee | Disk Space | Domain Name | Setup Time |
| --- | --- | --- | --- |
| 30 days | 80 GB SSD – 280 GB SSD | New or Transfer | 4 minutes |
Get products for 20-40% off retail prices
White-label storefront with credit card processing
Easy integration with WordPress via GoDaddy's API
Sell anything: domains, hosting, email, and more
Custom software for management and reports
RESELLER
RATING 4.5 ★★★★★ Our Review
GoDaddy: Our Expert's Review
Ryan Frankel (HostingAdvice.com): GoDaddy gives you all the tools and products to be successful in reseller hosting without stepping on your toes. Set your own prices and run promotions while the company's platform processes payments, tracks sales, and helps you build your business. Go to full review »
| Money Back Guarantee | Disk Space | Domain Name | Setup Time |
| --- | --- | --- | --- |
| 30 days | Unlimited | New or Transfer | 4 minutes |
Our experts have reviewed each hosting company above and ensured that they provide all the basic features a web hosting company for agencies should have. These include security, storage, speed, reliability, and affordability.
What Is the Difference Between Reseller Hosting and Agency Hosting?
Reseller hosting and agency hosting share many similarities but are two different types of web hosting services designed for different kinds of customers.
Reseller hosting is a hosting service operated by an individual or company that buys vast server space and bandwidth from a hosting provider and then resells that space and bandwidth to other customers.

This type of hosting allows a person or company (the reseller) to become a middleman between a hosting provider and their own clients. The reseller typically manages their client accounts and provides customer support while the hosting provider manages the server infrastructure and technical support. Think of reseller hosting as you would renting a brick-and-mortar space in your local area, partitioning it into smaller spaces, and renting it out to small businesses.
Agency hosting works best for digital agencies, web designers, and developers who build and manage websites for their clients. With this type of hosting, the web host offers a range of tools and features specifically designed to make it easier for agencies to manage multiple websites for their clients. This may include features such as white labeling, client management tools, and automated backups.

To sum up, here's what you should remember when discussing these two types of hosting services:
Reseller hosting suits individuals or companies looking to start their own hosting business. Agency hosting works best for agencies and web professionals looking to manage multiple websites for their clients.
How Do I Choose the Best Hosting Plan?
Many factors come into play when choosing a hosting provider. One thing you need to know is that not every web host you see out there will work for you. Unfortunately, that's a lesson many clients learn the hard way.
By the time you realize you need a better host, it may be too late. This explains why you should get things right the first time.
Remember that thousands, if not millions, of websites or applications offer the same services you do. That's why a bad user experience could be the difference between reaching your objectives (e.g., financial) or losing potential clients.

First, decide on the type of server you need, whether shared, VPS, or dedicated. After that, follow these tips.
Identify your website's requirements: Determine the type of website you want to host and its requirements. For example, a simple blog may require minimal server resources as compared with the server resources required by an eCommerce website. Consider factors such as website traffic, storage, and bandwidth requirements.
Determine your budget: Hosting plans vary widely in price. That's why you should determine how much you can afford and what features you need for such a budget. Remember to be realistic; for instance, you'll likely get a free email account with a cheap web host but not with a dedicated or virtual private server. The more resources you need, the more money you'll spend.
Research hosting providers: Look for hosting providers that offer the type of server you need and meet your requirements. If you're unsure where to start, here's a list of the best hosting providers worth checking out.
Consider server type: In the world of web hosting, shared, dedicated, and virtual private servers are the three most common types of servers. The exact server for you will depend on your unique needs. Here's an overview of what to expect from these three hosting options.

A shared hosting plan is the most affordable option and involves sharing a server with other websites. This type of web hosting works best for:
Small businesses
Static websites (websites that contain static content and do not need high processing power)
Portfolio websites
Some nonprofit organizations with limited budgets
VPS hosting is a step up from shared hosting and involves sharing a server with fewer websites. The following are examples of websites that suit VPS hosting.
eCommerce websites
High-traffic websites
Certain web applications
Resource-intensive websites
Lastly, dedicated hosting is when you have an entire server dedicated to your website. This web hosting alternative is great for:
Large eCommerce websites
Social media platforms
Streaming websites
Gaming websites
Applications that require high-security standards
Evaluate customer support: Back to the things to look for when choosing a web host. You need one that offers 24/7 customer support. For best results, opt for one with phone, email, and live chat support, a huge knowledge base.
Check security features: No one will visit your website or use your application if they know that doing so is unsafe. For this reason, you should choose a host with strong security features, including firewalls, malware scanning, and SSL certificates.
Look for scalability: You don't want to switch web hosts monthly just because your website or business is rapidly growing. Instead, look for hosting providers that offer easy scalability options.
Here's a quick tip: Most web hosts offer great deals such as a free domain for WordPress users, unlimited website bandwidth, and premium site tools. You can take advantage of that to woo your clients.
Think about it this way, who wouldn't want a free domain name?
How Much Does Web Hosting for Agencies Cost?
The cost of web hosting for agencies depends on factors such as:
The size of the digital agency
The number of websites hosted
The amount of traffic the websites receive
The type of hosting plan.
That said, here are some general estimates to keep in mind.
Shared hosting plan, the cheapest option, can cost as little as $3 per month per website.
In addition, you can get a good, reliable VPS hosting plan for as low as $10 per month per website.
Finally, dedicated hosting plans typically start at $100 per month and can go up to several hundred dollars per month, depending on your needs.

Remember, you can include client hosting costs in your website management fees. That way, with a few long-term clients, you shouldn't have to worry about not being able to afford the services of a good web host.
Remember, most clients won't care much about the price if it's worth the money. All you need is a good web host; the rest will fall into place.
Why You Need an Agency Hosting Plan
As the name suggests, an agency hosting plan best suits web design and development agencies that manage multiple clients and websites. Here's why.
Cost-Effectiveness
Hosting multiple websites on a single server is more cost-effective than having each one on a separate server. Think about it as purchasing web hosting services at wholesale prices.
Time Management
They say time is money, and that's not any different in the world of web hosting. By managing multiple websites on a single server rather than managing each website independently, you'll have more time to focus on other tasks, such as designing and developing client websites.

That's because web hosting for agencies typically features a centralized control panel or dashboard, allowing agencies to access and manage their websites from a single location.
More Control
Web hosting for agencies offers a high level of control. To put things into perspective, agencies can customize server configurations, manage security settings, and make other adjustments to optimize website performance and meet the specific needs of their clients.
Improved Reliability
An unreliable web host will ruin your business. On the other hand, a reliable one can help ensure great performance for your client's websites and applications. When considering reliability, think of at least 99.9% uptime, great speed, and excellent customer service.
Now you have these tips and tools under your belt, you're ready to choose a host. If you're still searching, you can check out our top recommendations for hosting plans of all shapes and sizes.
See Our Full Review of Nexcess
Whatever type of hosting plan you're looking for, Nexcess is a solid choice no matter the scale. Our reviewer Laura Bernheim recently took Nexcess for a spin, and rated the popular host a 4.9 in the WordPress Hosting category out of a perfect score of 5.0. Here's what Laura had to say about Nexcess:
Offering high-class managed hosting solutions for WordPress and ecommerce, Nexcess delivers stress-free web hosting experiences primed for scalability and performance. The company's optimized cloud servers mean site owners can concentrate on their business instead of struggling to maintain their infrastructure. Go with Nexcess for any digital commerce needs.
Before signing up for Nexcess, it's a good idea to read through Laura's full review to learn about all the features Nexcess offers. You can also compare it to other web hosts to ensure you're getting the best deal possible:
If you decide Nexcess is the right choice, keep in mind that it takes just minutes to deploy your Nexcess server space. And at $12.67 per month, it's a bargain considering the many great features that come in any Nexcess plan.
Advertiser Disclosure
HostingAdvice.com is a free online resource that offers valuable content and comparison services to users. To keep this resource 100% free, we receive compensation from many of the offers listed on the site. Along with key review factors, this compensation may impact how and where products appear across the site (including, for example, the order in which they appear). HostingAdvice.com does not include the entire universe of available offers. Editorial opinions expressed on the site are strictly our own and are not provided, endorsed, or approved by advertisers.
Our Editorial Review Policy
Our site is committed to publishing independent, accurate content guided by strict editorial guidelines. Before articles and reviews are published on our site, they undergo a thorough review process performed by a team of independent editors and subject-matter experts to ensure the content's accuracy, timeliness, and impartiality. Our editorial team is separate and independent of our site's advertisers, and the opinions they express on our site are their own. To read more about our team members and their editorial backgrounds, please visit our site's About page.