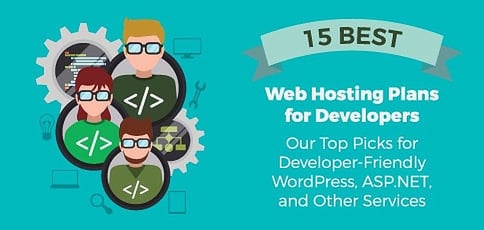 As a fresh-faced student learning how to code table-based designs and using this new-fangled contraption called WordPress, finding the best web hosting for developers was nowhere on my radar. I barely understood what the service did, just that I needed to have it to get my projects online. I signed up with the cheapest, most well-known provider, and called it a day.
As I learned more and better understood the criteria of what makes a decent website great, I became an increasingly discerning hosting consumer. Now it's my job to match others with the hosting plan that best serves their specific needs. Understandably, developers have much different hosting needs than first-time site owners who prioritize usability and affordability over attributes such as root access or solid-state drives.
No matter your programming language or server configuration of choice, we've compiled a list of the providers most worthy of hosting your portfolio, side project, or application. Click the links below to skip ahead to the section that is most relevant to you.
Best "Overall" Hosting for Developers
Although taking a gamble on a little-known, newly launched hosting company can end up being a jackpot, most developers should stick with a tried-and-true provider that provides plenty of stability. Sleep well knowing the company won't suddenly go out of business or be acquired by a conglomerate that moves your files to lower-quality hardware and support services. Those reputable hosts are also more likely to provide prompt around-the-clock support, top-notch performance, reliable uptime, increased security, and added perks such as a free domain registration, automated backups, or solid-state drives.
Although many developers are perfectly served by high-end, upgraded shared hosting plans, we recommend the scalability and dedicated resources that come with a virtual private server, or VPS. You'll get more control over a larger slice of a better server — that means getting exactly the coding environment you want with guaranteed resources and improved page load speeds.
Our favorite VPS host below makes server management exceedingly easy with the ability to add and allocate computing resources and featuring high rates of availability-boosting redundancy. Be sure to read our full review to get the full picture of the managed services, security systems, and developer-friendly tools included to help your project succeed.
Managed or unmanaged virtual servers available in Windows or Linux
Cloud hosting instances with hourly or monthly billing
Instant upgrades without downtime
FREE around-the-clock monitoring
Automatic nightly backups available
Hostwinds: Our Expert's Review
Setup time: 6 minutes
Go to full review

»
Does any hosting provider have more virtual private server packages than Hostwinds? The company offers 10 configurations — and that's just for managed Linux server partitions. Hostwinds provides 10 additional plans each for managed Windows VPS and unmanaged...
| Money Back Guarantee | Disk Space | Domain Name | VPS Hosting Plans |
| --- | --- | --- | --- |
| N/A | 30 GB - 750 GB SSD | New or Transfer | www.hostwinds.com/vps |
Best "Cheap" Hosting for Developers
It's OK. We know that no matter the programming languages or features you need in a hosting plan, affordability is ultimately king — especially for individual developers starting projects with razor-thin margins. Finding a bargain on a high-performing host enables developers to more readily reinvest in their project, whether the money goes toward more computing resources or another pizza to fuel the late-night coding sessions.
Although plenty of free hosting options exist for risk-free experimentation with new ideas, we tend to be a little leery. Here, we've balanced with might-as-well-be-free companies that offer upgraded services, support, and a surprising number of features for less than $5 per month.
If your new idea for a website or application has any traction, you'll want to sign up for a hosting plan that can grow along with you. Doing so eliminates the hassles of searching for another host and migrating from substandard free hosting infrastructure.
For just a few dollars per month, developers can enjoy added support for languages, higher uptime guarantees, 24/7 technical assistance, extra computing resources, and plenty of add-on or included services, including free domain registrations, unlimited email accounts, and access to upgraded security protections or a content delivery network. Here are our three favorite hosts based on affordability; all the companies listed below offer a prime cost-benefit ratio.
Known for high performance at a low price
Endorsed by WordPress.org team
FREE Weebly site builder and CloudFlare CDN
FREE domain and unlimited storage
Get 63% off today (was $7.99/month)
Bluehost: Our Expert's Review
Setup time: 4 minutes
Go to full review

»
If you're looking for an affordable host, Bluehost is a solid, reputable choice; The company's low costs, coupled with its supremacy in the shared hosting arena, is what makes this provider such a valuable deal. The Bluehost name is listed toward the top of...
| Money Back Guarantee | Disk Space | Domain Name | Cheap Hosting Plans |
| --- | --- | --- | --- |
| 30 days | 50 GB - Unlimited | FREE (1 year) | www.bluehost.com/shared |
Unlimited everything, from bandwidth to databases
FREE site builder & WordPress performance upgrades
FREE daily or weekly backups
90+ auto-installation scripts and custom control panel
SSH access & SSL certificates
Hostinger: Our Expert's Review
Setup time: 3 minutes
Go to full review

»
As the shared hosting market becomes increasingly saturated, unlimited storage, bandwidth, and email accounts have become surprisingly average. Hostinger, however, extends the routine, expected metrics to greater lengths — the number of websites, databases,...
| Money Back Guarantee | Disk Space | Domain Name | Cheap Hosting Plans |
| --- | --- | --- | --- |
| 30 days | 10 GB SSD - 30 GB SSD | FREE (1 year) | www.hostinger.com/shared |
$0.01 for the first month, then $5 monthly after
NO annual contracts and NO sudden price increases
Unlimited storage space, data transfers, and email
New domain is $11 with 1-month plan ($1.99 otherwise)
99.9% uptime and price-lock guarantee
InterServer: Our Expert's Review
Setup time: 4 minutes
Go to full review

»
It's hard to argue with a shared hosting plan that includes unlimited storage, bandwidth, websites, and email — but shared hosting is a crowded industry that turns on name recognition, reputation, and bargain-basement prices. InterServer outperforms some of...
See other recommended and affordable hosts »
Best "WordPress" Hosting for Developers
Even though WordPress is the world's most popular content management system, developers have a strongly polarized love/hate relationship with the open-source publishing platform. According to StackOverflow's 2017 developer survey, only 35.5% of developers said they loved WordPress, compared to 64.5% who dreaded using the system.
Despite the perceived security concerns and bloated code, the WordPress platform offers a no-brain-required installation and setup process and is among the best at providing a fast and efficient way to launch complex websites. What's more, countless developers can make money by crafting and selling themes and plugins.
The powerful system is available for free and comes with one of the internet's most vibrant online user communities for support and inspiration. The key to a successful WordPress experience is finding hosting providers that are best equipped to handle the platform's quirks. For example, SSDs mitigate any performance concerns while free SSL certificates and automatic backups reduce most worries about security. The hosts below cover these features and more, occasionally even being endorsed by the team behind the core WordPress code.
WordPress pre-installed with NGINX and PHP 7
FREE SSL certificate and unlimited bandwidth
Optional automatic plugin, theme, and core updates
Features a FREE drag-and-drop WP page editor
Premium themes and plugin subscriptions
InMotion: Our Expert's Review
Setup time: 5 minutes
Go to full review

»
InMotion Hosting, long known for affordable and high-performance shared hosting options, entered the WordPress space with a solid option built upon the company's reputation for great support and reliability. Costing a small premium over other budget-minded...
Recommended by WordPress Core since 2005
FREE SSD storage and SSL certificate
FREE domain registration and email
Automatic installation and updates
63% discount exclusively for HostingAdvice shoppers
Bluehost: Our Expert's Review
Setup time: 5 minutes
Go to full review

»
Aimed at personal bloggers and first-time users, Bluehost's WordPress hosting packages are a great alternative to simple shared hosting. These service come at a premium, compared to Bluehost's standard shared plans, but the WordPress optimization and...
| Money Back Guarantee | Disk Space | Domain Name | WordPress Hosting Plans |
| --- | --- | --- | --- |
| 30 days | 50 GB SSD - Unlimited | FREE (1 year) | www.bluehost.com/wordpress |
FREE Cloudflare CDN and 1-click installs for WordPress
Turbo Server, SSD speed boost, and optimized caching
A2-optimized WP plugins for performance and security
SSL certificates, PayPal integration, and 24/7 support
FREE HackScan and KernelCare
A2 Hosting: Our Expert's Review
Setup time: 4 minutes
Go to full review

»
As experts in performance optimization, A2 Hosting is a top choice for powering resource-heavy WordPress websites. The company offers shared or managed plans for the ultra-popular content management system, with the benefits extending to Joomla, Drupal, and...
See other top WordPress hosts »
Best "Cloud" Hosting for Developers
A close cousin to VPS hosting, cloud hosting involves virtualized server space and computing resources that come from a wide network of machines, as opposed to one physical server. As such, availability and rapid scalability are vastly improved in cloud hosting. Users pay only for the resources consumed, as opposed to the flat rates in VPS plans.
Business research firm Gartner expects the worldwide cloud industry to grow 18% in 2017, with cloud adoption strategies and decisions predicted to influence more than half of organizations' IT outsourcing decisions. The flexibility, scalability, and cost benefits of cloud hosting make the service particularly appealing to developers and startups looking to maximize innovation and business growth.
Perhaps surprisingly to some, developers don't need to turn to the massive and often difficult-to-understand Amazon, Google, or Microsoft cloud platforms to capitalize on the same advantages. Many traditional hosting providers actually build their VPS services using cloud-powered infrastructure. By choosing one of the companies below, you'll be able to enjoy the personal support and included perks not typically found with the massive cloud platforms.
Ranked #1 for cloud VPS hosting
Fault-tolerant SSD storage and up to 8GB of RAM
FREE control panel with choice of Linux OS
Full root access or managed servers available
FREE live-state or scheduled snapshots
InMotion: Our Expert's Review
Setup time: 6 minutes
Go to full review

»
With leading-edge cloud technology, InMotion offers free site transfer, setup, and SSD drives for the ultimate cloud solution offerings. They include free data backups and offer unmanaged or fully managed servers to help you scale your site with...
| Money Back Guarantee | Disk Space | Domain Name | Cloud Hosting Plans |
| --- | --- | --- | --- |
| 90 days | 75 GB SSD - 260 GB SSD | FREE (1 year) | www.inmotion.com/cloud |
Twice as fast and four times the computing resources
Tons of storage with the scalability of the cloud
Low-density servers and multiple caching layers
Unlimited domains and MySQL databases
Upgrades available for security, backups, productivity, and domain privacy
HostGator: Our Expert's Review
Setup time: 7 minutes
Go to full review

»
For those ready to expand beyond shared hosting, HostGator offers a fully featured step into the cloud. With scalable, high-powered resources, customers can easily monitor resources and caching from an intuitive dashboard. Rest easy knowing your site is...
| Money Back Guarantee | Disk Space | Domain Name | Cloud Hosting Plans |
| --- | --- | --- | --- |
| 45 days | 120 GB - 240 GB | New or Transfer | www.hostgator.com/cloud |
Choose your OS or optimized application configuration
Hourly or monthly billing for convenience
Optional upgrades for cPanel, backups, and monitoring
Managed services, SSDs, and HDDs available
Block and object storage, plus enterprise-grade firewall
Hostwinds: Our Expert's Review
Setup time: 6 minutes
Go to full review

»
Hostwinds provides supremely scalable and customizable options for the savvy developer or site owner. Customers can customize their cloud environment or choose pre-built configurations optimized to run apps like WordPress, Drupal, and others. With an emphasis...
| Money Back Guarantee | Disk Space | Domain Name | Cloud Hosting Plans |
| --- | --- | --- | --- |
| N/A | 30 GB - 750 GB SSD | New or Transfer | www.hostwinds.com/cloud |
Best "ASP.NET" Hosting for Developers
Much of the hosting realm consists of server-friendly, Linux-based operating systems, as only about a third of all sites use Windows. However, Microsoft's open-source, server-side programming language ASP.NET is second only to PHP in terms of usage.
Although Windows hosting plans might be harder to find, their presence is usually a sign of a knowledgeable hosting provider willing to go the extra mile to provide the services its customers are seeking. Keep an eye out for which frameworks and versions the host supports, in addition to the standard uptime, storage, bandwidth, and memory metrics. The best providers, especially the one we are featuring below, will give developers' dynamic sites plenty of storage and database resources to grow and thrive.
Build with modern ASP.NET and MVC 6, plus unlimited MSSQL databases
50% server capacity and RAID-10 storage
$1.99 domain registration for the first year
Free migration service and automated weekly backups
NO contracts and your price is guaranteed for life
InterServer: Our Expert's Review
Setup time: 4 minutes
Go to full review

»
Built for speed, InterServer is a perfect solution for developer-friendly Windows shared hosting. In addition to offering a free site migration, the company uses only 50% of its server capacity to guarantee resources are available as your site grows…
Best "Java" Hosting for Developers
Although rumors constantly swirl about the decline of Java, the object-oriented programming language still remains at the forefront of Android mobile development and enterprise applications. Java has topped the TIOBE Index, which measures the popularity of programming languages, for more than 15 years.
Although most hosting platforms support Java, developers will appreciate hosts that offer special features and compatibilities that demonstrate experience in providing the best environment to run dynamic Java websites and applications. For example, look for companies that support Java Servlet Pages (JSP) and/or Apache Tomcat, as well as access to server resources, ample RAM, and several application and service frameworks. Our favorite host for Java, listed below, meets the criteria and adds on high-powered servers and responsive, reliable support.
Highly available Java hosting powered by the cloud
Install Tomcat or Java Servlet Pages (JSP) on VPS 1024+
FREE SSDs for 20x faster Java hosting
Manage your web application server via cPanel/WHM
Redundant hardware clusters for virtually zero downtime
InMotion: Our Expert's Review
Setup time: 6 minutes
Go to full review

»
Few web hosts these days are going to offer Java-specific support, but the InMotion team will help you through the initial setup. Install and enable Apache Tomcat or JSP servlets and get going with your Java-based web application. Experience insane uptime...
Best "PHP" Hosting for Developers
Far and away the most popular server-side scripting language, PHP helps developers create everything from dynamic web content to client-side graphical user interfaces, often by interfacing with relational database management systems. As long as LAMP stacks continue to enjoy a stranglehold on the web hosting industry, PHP — alongside Linux, Apache, and MySQL — will be well represented and supported with optimized servers and solutions.
When looking for the prime PHP host to house your website or application, keep an eye out for which versions of the language are supported, and how seamlessly you can switch between the various options.
We appreciate hosts that regularly update their services to provide the latest technologies, while still giving customers the option to choose the configuration that works best for their specific needs. The hosting company below excels at this, while also including ample MySQL databases and a wide range of PHP-powered content management systems and other applications.
Multiple versions of PHP 5 and PHP 7 available
Code in PHP, with support for MySQL and Ruby
Customize your PHP version with PHP handlers
Easily configure the PHP environment with php.ini
Responses generated faster with FastCGI for PHP apps
Bluehost: Our Expert's Review
Setup time: 4 minutes
Go to full review

»
Bluehost is a great option if you're looking for a PHP-friendly hosting environment. You get your choice of PHP version, which can also be customized and configured to meet your site-building needs…
| Money Back Guarantee | Disk Space | Domain Name | PHP Hosting Plans |
| --- | --- | --- | --- |
| 30 days | 50 GB - Unlimited | FREE (1 year) | www.bluehost.com/php |
Managed Services: Skip Server Maintenance and Get Back to Coding
Interestingly, the more I learn about web hosting, the less I actually want to do. That's not to say I'm signing off from the hosting world — rather, I'm much more inclined to work with hosts that offer top-tier managed services and hands-on attention. The extra support gives me more time to develop and less time updating the software and applications powering my hosting environment.
As your project grows, consider upgrading to managed services to capitalize on your host's technical expertise, which often leads to improved reliability and increased security. Many of the top managed service providers will optimize your infrastructure and software configurations to eke out precious page load time savings. Managed hosting is particularly useful — and almost necessary — at the dedicated server level, though virtual and cloud server options are available if you look hard enough.
Across the industry, we've also noticed a particularly strong uptick in the number of hosting providers offering managed WordPress hosting services. We're huge managed WordPress fans when the host makes a genuine effort to optimize a user's WordPress experience with high-performing SSDs and added security measures, along with multiple caching layers and plugins. However, be sure to watch for hosts looking to capitalize on the WordPress buzz and popularity by offering so-called managed services that essentially repackage the same features as the standard shared plans.
Regardless of whether you choose a managed or unmanaged service, kick your feet up and settle in behind your computer for the long haul of developing your next big website or application. The right provider and plan will take care of the rest.
Advertiser Disclosure
HostingAdvice.com is a free online resource that offers valuable content and comparison services to users. To keep this resource 100% free, we receive compensation from many of the offers listed on the site. Along with key review factors, this compensation may impact how and where products appear across the site (including, for example, the order in which they appear). HostingAdvice.com does not include the entire universe of available offers. Editorial opinions expressed on the site are strictly our own and are not provided, endorsed, or approved by advertisers.
Our Editorial Review Policy
Our site is committed to publishing independent, accurate content guided by strict editorial guidelines. Before articles and reviews are published on our site, they undergo a thorough review process performed by a team of independent editors and subject-matter experts to ensure the content's accuracy, timeliness, and impartiality. Our editorial team is separate and independent of our site's advertisers, and the opinions they express on our site are their own. To read more about our team members and their editorial backgrounds, please visit our site's About page.