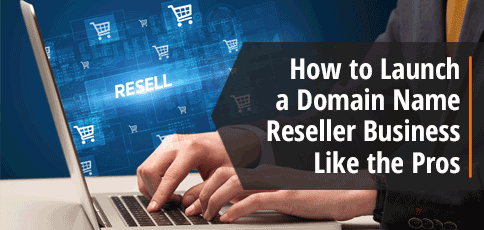 Understanding how to become a domain reseller can lead to a successful career with tons of benefits in the hosting industry. Business success today depends increasingly on how well a company is represented online, and more people will need domain services to build a robust online presence. This growth demonstrates why domain reselling can be a solid small business opportunity. Fortunately, it doesn't take much expertise to build a domain name business.
As with every business venture, domain reselling takes planning and research before you can hit the ground running. Some people become full-fledged domain registrars, while others provide domain reselling as an additional offering to their web hosting or various web-related businesses.
Domain reseller programs give novice business owners the ability to learn the ropes and build a profitable reseller business without much complexity. While domain reselling is a great outlet for making money, it also promotes your brand and achieves a comprehensive user experience for customers.
Below, we expand on what it takes to become a successful domain reseller and give an overview of the domain name registration process.
Step 1: Learn The Basics of Domain Reselling
Before transitioning to a career in domain reselling, you must first learn the basics of the craft. Thankfully, domain reselling is a pretty simple business opportunity to crack. Let's start with its definition.
Domain reselling is the act of buying domain names from an accredited domain registrar to sell to customers as a service. Domain resellers serve as the middleman between the registrar and domain name customers. Alternative methods for selling domains include becoming an accredited registrar or selling through a third-party source, which is usually a domain reseller program.
How Domain Name Reseller Programs Work
Domain name reseller programs are usually offered by an accredited registrar — or sometimes a web hosting company — that sells domain names to service providers. The registrar organization handles the investments and infrastructure management needed to maintain domain registration, including sending information to the domain registry.
The registry is the organization that manages top-level domain names and works with registrars to sell domain names. Once the registry completes domain name requests, it will store the domain information in its database. The domain reseller receives a portion of the sales after helping orchestrate the transaction between the registrar and end user.
The Benefits of Domain Reselling
Budding entrepreneurs can leverage a domain name reseller program to push their operations forward. Domain reseller programs simplify operations, ultimately maximizing the return on your investment of any time, money, or effort spent to launch your business. While the features vary by program and partner, the perks of domain reselling include:
Low expenditures: Domain resellers aren't saddled with large investments in infrastructure, such as renting a dedicated server, because their program provider handles all the technical aspects.
Simplified business model: By working with a reseller program, domain resellers won't have the burden of gathering all the resources to set up a registrar. They can focus on core business aspects and leave backend system maintenance to the experts.
Accessibility: Domain resellers gain access to top-level domain names through their registrar. This benefit also allows them to offer their customers a wide range of domain names.
You don't need an extensive domain background to operate a successful domain business model. But your choice of reseller program provider makes all the difference in delivering an exceptional customer experience.
Step 2: Choose the Best Domain Reseller Program for You
Every domain reseller program is unique, so finding one that meets your budget, includes your desired features, and is tailored to your target audience is key. Choose a provider with API integrations, a helpful knowledge base of tutorials and resources, and other tools to set you up for success (e.g., an affiliate program to reward referring friends and family members to join the program).
We recommend trying DomainNameAPI, whose free membership and simple signup process lower the barriers to entering the domain reseller business.
Other factors to consider when choosing a domain reseller program:
White-label service: Using a white-label service can help business owners put their own touch on their branding and offer a different experience to their customers. A white-label service allows businesses to set themselves apart from their competitors.
A wide selection of TLDs: This feature allows businesses to deliver better domain name options. So even if a favored domain extension is not available, users can still find suitable alternatives. Businesses should also consider premium domain names, especially if their target audience includes high-value users looking for discoverable, highly sought-after names.
Free 24/7 customer service: Customer support is essential in any industry, whether B2B or B2C. In this context, resellers should look for a provider that can help them whenever a problem arises with their reseller account. Technical issues can happen anytime, and the reliability of quality 24/7 support can go a long way.
An efficient control panel: Reseller programs that provide easy-to-use, API-integrated control panels are highly preferred. This resource is the key to managing a well-run domain business and having the access point to make vital decisions such as domain renewal, updates, and inventory management.
Value-added solutions: Entrepreneurs looking to diversify their catalog can add solutions, such as SSL certificates or email hosting, to their domain business. This helps them grow their operations and deliver a well-rounded set of offerings to their customers from one place.
Different program providers have their upsides and the features that set them apart from the competition. DomainNameAPI wins popularity with its free membership and varied list of domain names, including more than 800 domain extensions.
Another way to sell domain names is by becoming an ICANN accredited registrar. To start a business as a domain name registrar, you must first register and apply for an ICANN accreditation, which can be costly. This route may be more difficult for most users because you must directly register domain names and work with multiple registries to obtain a variety of TLDs. Keep in mind that you're essentially competing with some of the largest domain registrars — GoDaddy, Google, and the like — if you go this route.
Step 3: Create a Domain Reseller Account and Plan a Business Model
Once you figure out your domain program provider, you can move on to creating a domain reseller account. First, you must apply and get approved by the registrar or web host. Some program providers make this easier than others.
Program providers with white-label services allow you to customize your business the way you want. This feature also gives you more freedom while planning a business model. You can choose how to communicate with your audience and build a memorable brand.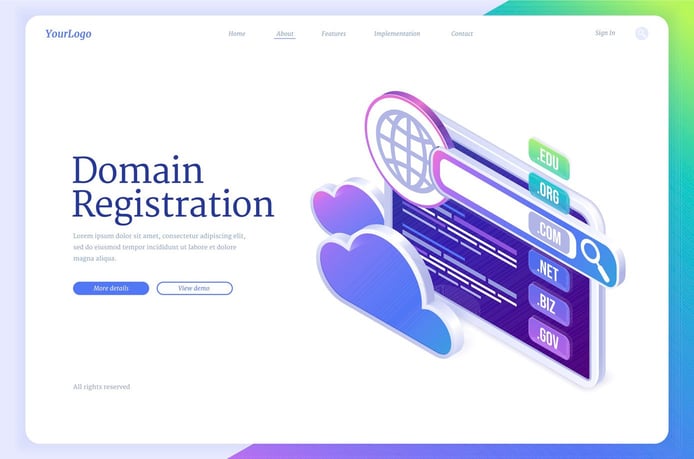 You can access the backend to upload logos, update messaging templates, and make use of other features to create a cohesive business voice through the control panel. You can also consider whether you want to add other services such as email or web hosting to your catalog.
Creating a competitive pricing model is extremely important to the success of your business, and the pricing decision starts with the domain program. You want to make sure the prices you set up can help you break even when splitting sales with the program provider.
You also consider the types and how many TLDs you want to sell. This decision comes down to the target audience and the scalability of your business. If growth is your goal, adding TLDs as you go can be an effective plan of action.
Step 4: Include API Integration for Better Customer Support
If a company provides the option of API integration, domain resellers should leverage it. An API simplifies many things for the reseller and the customer, from automating the domain life cycle to improving self-service management for customers.
API integration allows customers to manage various aspects of their domains, including auto-renewal, registrations, and contact information updates. Businesses can use these benefits to save time on the operational end and provide improved access to customers. End users will gain more autonomy and flexibility with API.
Businesses with more layered offerings, such as website building or shared hosting, can use API integration to add domain registration to their checkout screens or application flow. You can also monitor your domain inventory, manage relevant data, and send out alerts to customers by leveraging API.
Overall, API integration can boost a domain reselling business in multiple ways while making everything that comes with domain registration more streamlined for customers and backend management.
What is a Domain Name Reseller?
Similar to reseller hosting, domain name resellers work with service providers to deliver domain registration services to end users. They partner with registrars through registration programs to offer and sell domain names to customers while building and diversifying their branding and business operations to remain competitive.
Domain registration resellers buy domains from an accredited registrar that communicates with the registries to retrieve domain names from their TLDs databases. Since resellers provide domains to the end user at face value, they are also responsible for user experience. Their business operations are usually centered around creating a seamless registration experience, delivering top-level domain names, and providing attentive customer service.
How Much Can You Make as a Domain Reseller?
Domain resellers don't have to shell out large investments to create a successful business. Because program providers shoulder most infrastructure costs, resellers can save on maintenance expenses and manage a pretty profitable company.
When setting up a domain reselling company, you may want to consider investing in a presentable, well-run website to attract leads and increase your customer base. You should also choose a program provider that offers free essential features, such as API integration and customer support, with a variety of domain extensions and services. Domain name program providers offer exclusive discounts for add-ons, including an SSL certificate and control panel.
Domain reselling is a low-cost business venture that can lead to steady income with the right branding, customer operations, user experience, and pricing strategy. Researching competitors can help you scope out an effective business model and learn the market as a beginner.
As for price per domain, it varies depending on the types of domains you're selling. Regular or lower-value domain names can go for a few dollars. Premium domains can start in the $100 range and skyrocket to the thousands, especially if they're highly sought-after or catchy marketing-wise. These domains are usually more challenging and expensive to reel in because of their popularity.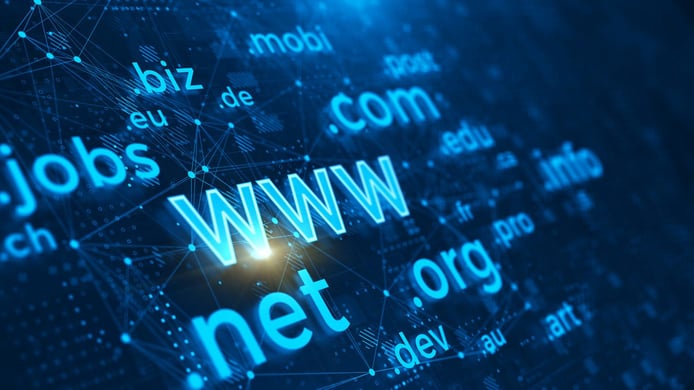 If you can stock up your inventory with various domain names, including keyword-rich and premium types, it can help you sell faster.
But you can probably make the most money out of selling domains as an additional service to web hosting, WordPress hosting, or other eCommerce services. Lean toward diversification by giving customers all of their Internet-related necessities under one hood because competition has increased in the domain industry. A domain name registration service can complement several web or network solutions.
Is Domain Reselling Legal?
Domain reselling is a profitable business opportunity and completely legal. If you're selling stolen domain names or trademarks, then you could be in some trouble. Only the registrant can complete domain transfers, so make sure to check the WHOIS information to ensure you're the true domain registrant. You can usually avoid legal problems by joining a trustworthy domain reseller program because it handles the domain database and registry communication for you.
Launch a Profitable Domain Reseller Business with DomainNameAPI
DomainNameAPI is one of the industry's most notable and credible providers of domain reseller programs. The company has designed a program with core features that make resellers successful even amid high competition.
DomainNameAPI's pricing model allows users to have a competitive edge because it is cost-effective and includes free essentials such as registration tools and a management panel. The company also provides you with everything you need in one place, including 800-plus domain extensions, a self-service customer portal, and scalable domain name system (DNS) records, among others. This way, you can create a scalable and layered domain business with user experience in mind.
Resellers can join the DomainNameAPI membership for free and get started on creating a unique and brandable service with a small initial deposit. Users can also leverage the DomainNameAPI infrastructure to instantly register, transfer, and renew multiple domains. Its API integration comes in various forms with tools for .NET, PHP, and WHMCS frameworks to help simplify billing and other software elements.
DomainNameAPI also offers end users domain privacy, known as WHOIS privacy. This free protection allows user contact information to stay anonymous in the online database. Resellers can also create customized pricing lists to match their sales strategies.
All in all, DomainNameAPI is a credible, go-to resource for making a profitable career as a domain reseller.