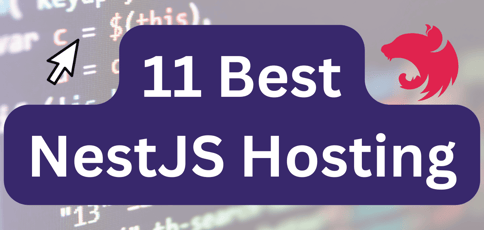 The best NestJS hosting provider will make sure your hosting environment offers the most recent and stable version of Node.js since NestJS runs on top of it. But Node support isn't the only thing to look for in such a host.
Other factors will also come into play. Those include scalability, easy deployment options (preferably one-click processes), the ability to play around with the server's settings and create the right environment for the NestJS application, and support for NestJS-compatible databases such as MySQL, PostgreSQL, or MongoDB.
In this article, I'll review 11 of the best NestJS hosts, including the specific features that earn them a spot in this list. Let's take a look.
Best Overall NestJS Host
If you'd like to skip the line and head straight into choosing the best host for your NestJS project, I recommend A2 Hosting as the best overall. A2 Hosting offers everything a developer needs to get their web application up and running. Here's what it entails.
SSDs and TurboServer for 20x faster pageloads
Host unlimited websites and FREE site transfer
Optimized plugins and 1-click installs for WP
Pre-installed OPcache and Memcached caching
FREE HackScan with restore options
BEST OVERALL
RATING 4.9 ★★★★★ Our Review
A2 Hosting: Our Expert's Review
Alexandra Anderson (HostingAdvice.com): If speed and performance, partnered with support and security, are at all priorities in your web host shopping, A2 Hosting should be a leading contender. When A2 Hosting first launched in 2003, the company was focused on serving developers; A2 Hosting was among the first providers to offer PHP 5 and to support Ruby on Rails on shared servers. Go to full review »
| Money Back Guarantee | Disk Space | Domain Name | Setup Time |
| --- | --- | --- | --- |
| 30 days | 100 GB SSD – Unlimited SSD | New or Transfer | 5 minutes |
Speed is the first thing that comes to mind when A2 Hosting pops up in any conversation. Known for its Turbo Servers and robust infrastructure built to provide up to 20 times faster speeds than other hosts, A2 Hosting is perfect for a resource-intensive NestJS project.
That's not surprising, given that most NestJS projects require a lot of resources to run. Take, for example, a real-time application like an online gaming platform, a live chat feature, or even a video calling software. Without powerful speeds, such applications will most likely struggle to perform.
That's what makes A2 Hosting unique when compared to other hosts. Speed aside, this host is highly scalable, reliable (offers a 99.9% uptime guarantee), secure, and has tons of features for developers.
Best VPS NestJS Hosts
Since NestJS applications are usually powerful, they perform better with VPS hosting or anything above that. Cloud hosting also works great when looking for scalability, but most VPS hosts offer highly scalable virtual private clouds, so you won't have to worry about that aspect. Fortunately, as I've outlined below, you have many options to choose from if you're looking for the best VPS NestJS hosts.
Cloud VPS that's more flexible and affordable
Load balancer, firewall, and managed services
Premium Intel CPUs with 300% more power
Choose between monthly or hourly billing
Sign up today for a 30-day FREE trial
VPS
RATING 4.9 ★★★★★ Our Review
Kamatera: Our Expert's Review
Laura Bernheim (HostingAdvice.com): Backed by cutting-edge cloud computing technology, Kamatera adds instant and limitless scalability to the VPS hosting marketplace. Each cloud or virtual server is equipped with blazing-fast SSD storage and Intel Xeon Platinum CPUs. Go to full review »
| Setup Time | Disk Space | CPU | RAM |
| --- | --- | --- | --- |
| 5 minutes | 20 GB SSD – 4 TB SSD | 1 – 104 cores | 1 GB – 525 GB |
Speaking of highly scalable virtual private clouds, Kamatera is one of the most well-respected VPS providers available. It offers fully customizable server configurations and a 30-day free trial. With this host, you can scale your hosting plan to infinite levels.
This is particularly great when working on a NestJS project with unpredictable or seasonal traffic. A good example is an eCommerce website that sells outdoor sporting gear. Such a website will likely experience more traffic in the warmer months of the year, particularly in the summer, and requires a highly scalable host like Kamatera to handle the spike in traffic.
$2/month with no hidden fees
Try it FREE via 30-day money-back guarantee
Full root access and API
10GB to 240GB SSD, Linux or Windows
No throttling or traffic restrictions, ever
VPS
RATING 4.9 ★★★★★ Our Review
1&1 IONOS: Our Expert's Review
Alexandra Anderson (HostingAdvice.com): For an all-star player in the game of web hosting flexibility, look no further than the low-cost options from 1&1 IONOS. The company's vServers are a powerful VPS option that includes dedicated resources and unlimited traffic. Go to full review »
| Setup Time | Disk Space | CPU | RAM |
| --- | --- | --- | --- |
| 6 minutes | 80 GB SSD – 240 GB SSD | 1 – 8 cores | 512 MB – 24 GB |
I've migrated at least five websites to IONOS within the last month. Take it from me: No web administrator or owner enjoys the website migration process. Sometimes, things can go smoothly, but other times, you're one click away from disaster. IONOS takes the guesswork out of your NestJS website migration with simple tools and step-by-step guides.
IONOS is one of the cheapest NestJS web hosts out there. The best part? Despite being affordable, this host is extremely reliable (offers 99.9% availability), supports unlimited traffic, comes with NVMe storage for better speed and performance, and provides root access. On top of that, you also get to choose your preferred datacenter location.
Turbo server & cache options for faster page loads
Well-built plans starting with 4GB RAM
FREE CDN plus auto-installs with Softaculous
Multilingual support and up to unlimited databases
Enhanced security with and daily kernel updates
VPS
RATING 4.8 ★★★★★ Our Review
A2 Hosting: Our Expert's Review
Alexandra Anderson (HostingAdvice.com): While A2 Hosting's turbocharged shared hosting platform gives site owners ample room to grow, the company's tech prowess is on full display with its portfolio of VPS options. Ranging from unmanaged, bare-metal environments to stress-free, fully managed space, A2 Hosting is sure to have the perfect option for your expanding online presence. Go to full review »
| Setup Time | Disk Space | CPU | RAM |
| --- | --- | --- | --- |
| 7 minutes | 150 GB SSD – 450 GB SSD | 1 – 8 cores | 1 GB – 32 GB |
I know I've already talked about A2 Hosting's speed, so let's look at something slightly different. I'm assuming that you're a professional web developer or someone who knows a thing or two about web or application development. In that case, this host is any developer's dream.
You'll find lots of developer-friendly features for your NestJS project with A2 Hosting. Whether you're looking for a host that supports the latest version of MySQL, MariaDB, PostgreSQL, or anything in between, A2 Hosting has a fully-stacked shelf for all that. In addition, this host also offers free SSH access and a free SSL certificate, and it supports PERL, Apache, PHP, and Python.
$0.01 for the first month using code HOSTINGADV
Then $6 monthly with no contracts, no changes
Latest of PHP, MySQL, Perl, Python, and Ruby
7 operating system options for Linux or Windows
Full root access and choice of datacenter
VPS
RATING 4.8 ★★★★★ Our Review
InterServer: Our Expert's Review
Laura Bernheim (HostingAdvice.com): InterServer's on-site datacenter and hands-on involvement with configuring and provisioning virtual private servers give customers a level of flexibility not seen with many other hosting providers. InterServer rations VPS and cloud resources through slices. Go to full review »
| Setup Time | Disk Space | CPU | RAM |
| --- | --- | --- | --- |
| 6 minutes | 30 GB SSD – 480 GB SSD | 1 – 16 CPUs | 2 – 32 GB |
InterSever's self-healing technology is what makes it stand out in the crowded world of VPS hosting. If you're working on the kind of NestJS project that can't afford any form of downtime, this is the hosting provider you need to keep your project up and running all the time.
Here's how the AI-powered self-healing technology works. Let's say you're developing a gaming server with NestJS. You know very well that gaming, whether online or offline, is the one activity that tends to cause most people to become impatient when something goes wrong with the server. But thanks to the self-healing technology, the moment the AI system detects a glitch on the server, it instantly and automatically "heals" it, keeping your project up and running without interruptions.
Seamless migration from any Bluehost shared hosting plan
Root access and easy multi-server management
Ample RAID-1 storage and tons of bandwidth
Each plan gets at least 3 dedicated IP addresses
cPanel and WHM with root access
VPS
RATING 4.7 ★★★★★ Our Review
Bluehost: Our Expert's Review
Ryan Frankel (HostingAdvice.com): We love recommending Bluehost for its lifetime customer growth potential, meaning you can start with shared hosting and seamlessly scale to VPS hosting plans and beyond. The price versus performance is pretty unbeatable in the virtual hosting space, and Bluehost's engineering team will kick off the customer relationship by instantly provisioning your server. Go to full review »
| Setup Time | Disk Space | CPU | RAM |
| --- | --- | --- | --- |
| 6 minutes | 30 GB SSD – 120 GB SSD | 2 – 4 cores | 2 GB – 8 GB |
Bluehost offers all the primary features of a typical VPS plan and adds a little bit extra just for your NestJS app. For example, its unlimited bandwidth means you won't have to worry about your project lagging when traffic spikes.
With this plan, you can also host unlimited domains and websites. This means you'll have everything you need all under one roof, making it easier to manage your project. What's more, Bluehost offers 24/7 VPS support, a simple dashboard (perfect for beginners), and dedicated server resources such as memory, storage, and CPU.
Best Cloud NestJS Hosts
Scalability is usually the first thing that comes to mind when discussing the benefits of cloud hosting. But that's not the only benefit this type of hosting offers. Other advantages, such as the pay-as-you-go pricing model, reliability, and security, set cloud hosting apart from shared and VPS hosting. Ready to give it a try? Let's explore some options.
Ultimate scalability with limitless customizations
Create and deploy servers in 60 seconds
Easily add load balancers and firewalls
Stellar 99.95% uptime guarantee
Sign up today for a 30-day FREE trial
CLOUD
RATING 4.9 ★★★★★ Our Review
Kamatera: Our Expert's Review
Laura Bernheim (HostingAdvice.com): Starting with more than 60 operating system images to choose from, Kamatera is a strong option for developers who know exactly what environment works best for their project. Customize your cloud server as needed and deploy in less than a minute. Go to full review »
| Setup Time | Disk Space | CPU | RAM |
| --- | --- | --- | --- |
| 5 minutes | 20 GB SSD – 4 TB SSD | 1 – 104 cores | 1 GB – 525 GB |
Kamatera still tops my list if you're looking for a reliable cloud hosting provider for your NestJS project. But what makes this host truly special, at least regarding cloud hosting, is that it offers enterprise-class cloud infrastructure at an affordable rate.
You can think about it as booking a first-class plane ticket with an economy-class budget. The second-best part is that you can customize your hosting infrastructure per your project's needs rather than paying for what you don't need.
Auto scaling with premium Intel processors
Customized operating systems (Linux or Windows)
Deploy Linux instances in less than 1 minute
SSD infrastrucutre optimized for your software
Transparent costs and by-the-minute billing
CLOUD
RATING 4.8 ★★★★★ Our Review
1&1 IONOS: Our Expert's Review
Alexandra Anderson (HostingAdvice.com): Boasting 99. 998% platform availability, the popular cloud hosting services from 1&1 IONOS deploy more than 2,500 virtual machines each week. Go to full review »
| Setup Time | Disk Space | CPU | RAM |
| --- | --- | --- | --- |
| 6 minutes | 80 GB SSD – 240 GB SSD | 1 – 24 cores | 512 MB.- 48 GB |
IONOS has more to offer besides affordability. This host takes security seriously, which is rare among cheap hosting providers.
For context, IONOS enjoys a host of security certifications, including the International Organization for Standardization (ISO), the General Data Protection and Regulation (GDPR), and the Health Insurance Portability and Accountability Act (HIPAA) compliance, among others. So, if you're working on a NestJS project with strict security requirements, you know where to host it.
Managed cloud hosting with 24/7/365 monitoring
Choose from 5 popular cloud providers
Auto-healing cloud servers with FREE backups
3-day free trial with no credit card required
Host unlimited apps with no contract lock-in
CLOUD
RATING 4.6 ★★★★★ Our Review
Cloudways: Our Expert's Review
Alexandra Anderson (HostingAdvice.com): If you can't beat the cloud provider behemoths, offer their infrastructure as a service. Cloudways gives customers their choice of cloud platform: AWS, Google, Linode, Digital Ocean, or Vultr. Go to full review »
| Setup Time | Disk Space | CPU | RAM |
| --- | --- | --- | --- |
| 8 minutes | 20 GB SSD – 4 TB SSD | 1 – 96 cores | 1 GB – 384 GB |
Cloudways works with some of the best cloud providers in the world: Digital Ocean, AWS, and Google Cloud Platform. You already know what that means – more power, better performance, and reliability.
That also explains why it costs slightly more than many other hosts I've reviewed. With such a robust infrastructure, I'd recommend this host for a big NestJS project, such as gaming servers, social media platforms, or live streaming services.
Choose your OS or application configuration
Hourly or monthly billing for convenience
Optional upgrades for cPanel, backups, and more
Managed services, SSDs, and HDDs available
Block and object storage, plus enterprise firewall
CLOUD
RATING 4.6 ★★★★★ Our Review
Hostwinds: Our Expert's Review
Laura Bernheim (HostingAdvice.com): Hostwinds provides supremely scalable and customizable options for the savvy developer or site owner. Customers can customize their cloud environment or choose pre-built configurations optimized to run apps like WordPress, Drupal, and others. Go to full review »
| Setup Time | Disk Space | CPU | RAM |
| --- | --- | --- | --- |
| 6 minutes | 30 GB SSD – 750 GB SSD | 1 – 16 cores | 1 – 96 GB |
Hostwinds is a popular, budget-friendly host that comes with oodles of perks in its cheap cloud hosting plans. I know cloud hosting is synonymous with reliability. But Hostwinds takes it to a whole new level thanks to its load-balancing technology.
With load-balancing, you'll never have to worry about downtime since load balancers distribute traffic across various servers, avoiding server overloads. In addition, I find Hostwinds' hourly billing even more flexible for short-term projects.
User-friendly hosting powered by Google Cloud
Isolated resources and integrated CloudFlare
Built on CloudLinux with LVE containers
Automated, daily backups and integrated caching
Instant setup with intuitive custom control panel
CLOUD
RATING 4.4 ★★★★★ Our Review
Hostinger: Our Expert's Review
Laura Bernheim (HostingAdvice.com): Hostinger offers something for everyone. From two cloud hosting plans that leverage the company's global datacenter presence to a premium service powered by Google Cloud Platform, you're sure to find what you need. Go to full review »
| Setup Time | Disk Space | CPU | RAM |
| --- | --- | --- | --- |
| 6 minutes | 20 GB SSD – 250 GB SSD | 2 – 6 cores | 3 – 12 GB |
Hostinger is a feature-rich cloud hosting provider, making it the perfect choice for a resource-intensive project. Here, you'll find lots of free stuff to plug into your NestJS project. I'm talking about a free domain, migration, CDN, and email addresses. You'll also get unlimited SSL certificates to protect your project and unlimited bandwidth to keep it running without interruption.
One of my personal favorite aspects of using Hostinger for NestJS projects is its pre-made template for installing the OpenLiteSpeed web server and Node.js. This setup makes your app up to four times faster than Nginx.
What Is NestJS Hosting?
NestJS hosting is a hosting environment curated for a NestJS project. Here, you'll find tools and features like Node.js hosting support (because NestJS is a Node.js framework), containerization, higher security levels, CDN integration, and serverless deployment options like Amazon Web Services (AWS), Google Cloud, and Microsoft Azure.

NestJS hosting isn't a specific category of hosting like shared, VPS, cloud, or dedicated. Rather, it's a framework set up to support a nest application.
How Do I Host a Nest Application?
It's simple to deploy NestJS — all you need is a compatible host. Start by deciding whether you need a cloud, VPS, or any other type of compatible hosting. A server that allows root access and complete control will set you up for success.
I wouldn't recommend shared hosting since it offers limited control to the server-end side, which beats the whole purpose of building a Node or NestJS app. That said, once you've found the best host, all you need to do is sign up for a plan that suits your needs and then proceed to set up the server where your application will run.
Once that's set up, you can now deploy your NestJS application.
Where Is the Best Place to Deploy Node Apps?
A2 Hosting is the overall best Node.js hosting provider if you're looking for speed and performance, which you should. The best part is that it offers both a cloud and VPS plan, so you won't need to migrate to a new host later down the line when your hosting needs grow. And if you want the entire server to yourself, A2 Hosting is still the go-to hosting.

Other equally impressive hosts include IONOS for affordability and security, Kamatera and Cloudways for enterprise-live infrastructure, and Hostwinds for reliability (uptime).
Get the Best NestJS Host to Nest Your Project
I hope you'll find exactly what you need to host your NestJS project from these options. Whether you're looking for something affordable, powerful, highly secure, or a combination of these, you will find something that best suits your unique needs.
Need a quick refresher? Say no more.
A2 Hosting is what you need if you're looking for top speeds and performance. Kamatera, IONOS, Cloudways, Hostwinds, and Hostinger are perfect for cloud hosting, while InterServer and Bluehost top the VPS hosting list.
See Our Full Review of A2 Hosting
Whatever type of hosting plan you're looking for, A2 Hosting is a solid choice no matter the scale. Our reviewer Alexandra Anderson recently took A2 Hosting for a spin, and rated the popular host a 4.9 in the Best Overall Hosting category out of a perfect score of 5.0. Here's what Alexandra had to say about A2 Hosting:
With an emphasis on performance and an eye for detail, A2 Hosting largely avoids the typical shortcomings of many web hosts out there. The independently owned company balances high-powered infrastructure and developer tools with equally responsive customer support teams, giving experienced customers a highly optimized hosting experience.
Before signing up for A2 Hosting, it's a good idea to read through Alexandra's full review to learn about all the features A2 Hosting offers. You can also compare it to other web hosts to ensure you're getting the best deal possible:
If you decide A2 Hosting is the right choice, keep in mind that it takes just minutes to deploy your A2 Hosting server space. And at $2.99 per month, it's a bargain considering the many great features that come in any A2 Hosting plan.
Advertiser Disclosure
HostingAdvice.com is a free online resource that offers valuable content and comparison services to users. To keep this resource 100% free, we receive compensation from many of the offers listed on the site. Along with key review factors, this compensation may impact how and where products appear across the site (including, for example, the order in which they appear). HostingAdvice.com does not include the entire universe of available offers. Editorial opinions expressed on the site are strictly our own and are not provided, endorsed, or approved by advertisers.
Our Editorial Review Policy
Our site is committed to publishing independent, accurate content guided by strict editorial guidelines. Before articles and reviews are published on our site, they undergo a thorough review process performed by a team of independent editors and subject-matter experts to ensure the content's accuracy, timeliness, and impartiality. Our editorial team is separate and independent of our site's advertisers, and the opinions they express on our site are their own. To read more about our team members and their editorial backgrounds, please visit our site's About page.