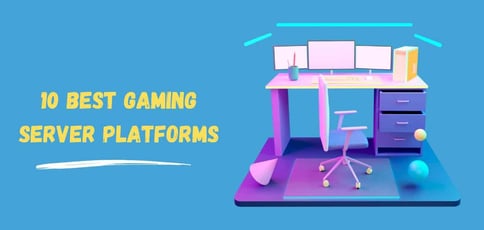 Once upon a time, if you wanted to play a video game with friends, you would have to invite them over and play in-person multiplayer. But now, thanks to technological advancements in computer science, we have become much more connected virtually. Internet access allows gamers to play with people from around the world at the same time — not to mention with a friend who lives a few blocks away.
Gamers who play Minecraft, ARK, or other popular multiplayer games can enlist the help of game server hosting to set up these digital communities. These hosts provide the infrastructure you need to create and power a gaming environment according to your needs.
Like most services, web hosts are not one-size-fits-all. Gaming support, hosting packages, and features all vary. But don't fret. You won't have to go through the twists and turns alone. Below, we provide our top 10 game hosting platforms to help you choose the best host for you.
RocketNode doesn't have the word rocket in its name for nothing. Not only does it provide fast support, but it also offers faster storage and loading capabilities. RocketNode uses NVMe SSD storage to boost its platform's speed and ensures security with DDoS protection. Get this, users can add unlimited players with its dedicated Minecraft hosting.

RocketNode is an excellent option for gamers looking for great affordability and essential features. Rocket Panel, its proprietary control panel, makes creating modifications and managing your server as simple as possible. And if any obstacles ever arise, RocketNode's superior customer service will set you right back on path.
Sparked Host is a hub for gaming servers. It supports a variety of games while providing plans with both vanilla and enhanced experiences for almost every one. Sparked Host datacenter selection is also off the charts. Users won't have to worry about low latency and can choose from locations in Europe, Asia, Australia, and four cities across the US.

Sparked Host boasts a score of 4.7 on TrustPilot. One reviewer raved about its quick and responsive customer support and said its platform helped make Minecraft fun for them again. Its feature set and wide range of add-ons help users build gaming experiences unique to their needs.
Vultr is a cloud hosting provider before anything else, meaning high performance and scalability are always top of mind. This is evident in the fact that it powers more than 45 million cloud servers worldwide, ensuring global availability with minimal latency for users. Its game servers are perfect for real-time gaming, whether that's for game development or hosting community events.


Its cloud platform has elastic capacity, which can help users meet their demands on a needs basis. Vultr also provides instructional guides to assist users during the server setup process. Vultr does a great job at providing users with everything they need to know before purchasing. So if you want to test a datacenter location's speed or learn more about a plan, Vultr has you covered.
ScalaCube is a popular hosting fixture within the gaming community. How did it build this strong reputation? Well, by providing everything gamers need: reliable uptime, an easy-to-use interface, and a wide selection of dedicated gaming servers.

ScalaCube is also one of the most affordable hosting providers on the market. Its commitment to affordability can be seen in that it is one of the few web hosts that offers quality free Minecraft hosting. ScalaCube checks off all the boxes for your gaming needs, with automatic backups, mod support, instant setup, and well-priced plans.
Nodecraft allows users to create game servers within seconds. Its unique game servers come with features you can't easily find anywhere else. For example, Nodecraft lets customers play any game within its library, save their progress, and swap to another server to start a new game. Nodecraft also leverages automation to help users run in-game commands.

Backed by industry-leading network providers, Nodecraft can also ensure top availability and uptime. Gamers can easily choose and spawn a server near their location to minimize latency and create the best hosting experience for their communities.
Apex Hosting is a name often mentioned in the gaming sphere for Minecraft hosting. As a pioneer in the game server industry, Apex Hosting established its strong reputation for reliability, ease of use, and customer support. Although its Minecraft plans are the most popular, Apex Hosting's game library is largely varied.

Users can choose from ARK, V Rising, and Rust, among other titles. Apex Hosting also gives customers the option to switch between games with its control panel. Apex Hosting has eight different packages. But all include essential staples, from unlimited player slots and blazing-fast hardware to dedicated live chat support and instant setup.
ServerMania just gets gamers. The team understands that its customers don't want to waste time waiting for their game to load or to connect with other gamers in their community lobby. That's why it focuses on providing the lowest-latency server configurations out there. Combining optimized networks with the latest hardware, ServerMania delivers a smooth gaming experience for its users.

Gamers can choose from either cloud or dedicated servers to set up their gaming space. Its cloud plan deploys in seconds and has all the features you would want in a cloud platform. Its dedicated hosting plans are where you can get more customizable. Customers can meet with ServerMania's experts to help them build a dedicated server that meets their requirements.
BisectHosting was created in 2011 by two friends with a passion for Minecraft. While searching for their own server, the founding duo had realized there wasn't any helpful hardware solution for gamers on the market. So they launched BisectHosting to help other Minecraft players set up their servers without the hassles they faced.

BisectHosting now supports more than 30 game titles and has 20 datacenter locations worldwide. Its platform is truly built for gamers and is Minecraft community-approved. Users can access its 24/7 customer support or extensive knowledge base for assistance. Its control panels also make it easy to install modpacks, edit configuration files, and adjust player slots.
Who would understand the requirements of game server hosting more than gamers? The team behind PingPerfect comprises gamers, programmers, and network technicians working together to create solutions tailored to the gaming experience. It has one of the most extensive title catalogs on our list and allows users to do a test run of any of its game servers for 48 hours.

Users can also try out its control panel before purchasing. The interface is super straightforward and includes advanced features for making custom configurations. Overall, PingPerfect provides gamers with everything they need to build their online communities.
GameHosting.co is all about delivering smooth gameplay for its customers. Leveraging VPS hosting allows GameHosting.co to ensure top performance and lower ping, making it a valuable option for any gamer. After all, no one wants to get their game interrupted in the middle of an intense round or experience the sheer agony that follows.

GameHosting.co also takes pride in its friendly customer support. Its staff provides 24/7 technical assistance to help users navigate any obstacles. You can also expect a fast and secure setup for your servers, so you won't have to wait long to start gaming.
If you want more freedom while gaming, renting a game server is a great place to start. The hosts we listed above allow you to modify your gaming environment to your needs and build strong online multiplayer communities. Browse through their features, and maybe you'll find the right match to power your unique gaming experience.