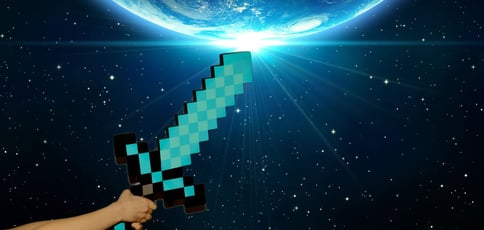 Minecraft server hosting has become a valuable product over the years, helping users power their game modifications and boost game performance. It didn't take long for Minecraft, which launched in 2011, to get its own hosting category. While the idea of gaming servers continues to grow in popularity, Minecraft server hosting has been around since as early as 2013.
While you can self-host a Minecraft server, many web hosting companies offer hosting plans for the video game. Web hosts can provide you with the right hosting environment, features, and easy setup to get started on exploring deeper into the vast world of Minecraft, whether through game modifications or personal communities.
Below, we discuss the best free Minecraft server hosting companies and their features. Stay tuned for more information to help you decide on the best digs for your character.
1. Server.pro
Server.pro is one of the top free Minecraft hosts in the world. The Sweden-based web hosting company has datacenters worldwide that reach gamers in eight different countries, including the US, France, and Singapore. Server.pro leverages VPS infrastructure to power its plans, which support various games and software.

Server.pro's free plan includes the following:
A sleek file manager for quick editing and configurations
5GB of NVMe SSD storage
Standard DDoS protection
A plugin installer for easy, one-click installs
A player limit of 10 people
Although Server.pro's free plan has limitations, it offers valuable resources for beginners. Server.pro ensures that every free plan user also receives the base features they need to run a smooth Minecraft experience, with an emphasis on security and file access for game modifications.
2. ScalaCube
ScalaCube promises 24/7 Minecraft server hosting with around-the-clock customer support and uptime. Its reliable hosting service offers a user-friendly platform for beginners and provides an excellent foundation to test out Minecraft servers. Users can set up instantly and find support for all Minecraft versions, including Spigot, Technic, and PaperMC.

While users get more with ScalaCube's paid plans, the host does provide the following for free:
24/7 customer support via email and chat
DDoS protection for attacks
30GB of SSD Storage
99.99% uptime
Instant setup that takes only a few clicks
Mod and plugin support
ScalaCube makes for the perfect testing environment for Minecraft hosting. It doesn't offer multiple-player slots, so only you can play on the server. But it allows you to explore and understand game servers without paying a penny.
3. Aternos
Aternos is dedicated to delivering free-forever Minecraft hosting. The Aternos team members are so committed to this vision that they make it impossible to pay for anything on their site. Gamers can use its Minecraft servers to play multiplayer with their friends anytime. Aternos currently has more than 85 million users on its platform, with 1 million people playing daily.

With a trusted reputation in the Minecraft community, Aternos provides multiple features users love, including:
UNLIMITED player slots
Real-time live console for server management
Instant setup and the ability to share server access
Automatic backups
DDoS protection
Preconfigured modpacks
24/7 customer support
Users can easily customize their Minecraft to their liking with Aternos. The web host also allows gamers to add plugins and any worlds they want. Aternos is easy to use and supports both Java and Bedrock editions. It offers a comprehensive environment for Minecraft gaming. The only drawback to consider is that the platform does have ads.
4. Minefort.com
Minefort is yet another forever-free Minecraft game server hosting provider with lots of exciting features to help you explore your Minecraft realm to the fullest. With ample player slots, users can join their Minecraft game without worrying about tight player restrictions.

Here's what you need to know about the free plan, dubbed "Hut."
Supports unlimited plugins
Offers at least one gigabyte of RAM (quite low compared to other alternatives)
A 20-player slot limit
Has a 10 gigabyte storage limit
Comes with FREE FTP file access
Features an intuitive file manager
The free plan is good enough to get you started with your first 20 players. But it isn't the best option if you need more resources or want to add more players. Also, note that the free plan isn't available 24/7, so you can't play any time you want to.
5. Minehut
Minehut boasts a diverse catalog of servers, which is quite common in most premium Minecraft plans. These servers provide users with different options, making their Minecraft experience even more enjoyable. Whether you're looking for farming, memes, or mini games, you'll find them all here.

Here's what to expect when you join Minehut's servers:
Freedom to choose between Minecraft Java edition (the original version of the game) and Minecraft Bedrock (the cross-platform version)
Plenty of servers to join (in their thousands)
IP protection to keep your information safe as you enjoy Minecraft
Add endless add-ons to make your server stand out
A large community of Minecrafters to interact with
For a free Minecraft server, this platform definitely outdid itself. The only downside is that you'll need to navigate the swarm of ads on its website. That's one of the many ways such platforms make money to maintain their servers.
6. Free MC Server
Free MC Server is a little bit more generous with its resources, it's hard to believe that it's actually a free Minecraft server. It comes with enhanced security features, such as DDoS protection, to prevent unwanted downtime. I'll break down some of its other resources for perspective.

The free plan includes the following:
Up to four gigabytes of FREE RAM
DDoS protection
Unlimited slots to add your players
Mod support
Routine backups
Support for all Minecraft versions
But that's not all. The free plan also allows you to share your server status with friends, so they can join you whenever you're online. On top of that, you'll get a free MySQL database that supports all the latest Minecraft plugins.
So, what's the catch? As with other free Minecraft hosting providers, the only downside is that the website displays ads. Also, if you need more RAM and disk space, you'll need to upgrade to a premium plan.
7. Falix
Falix takes free Minecraft hosting a notch higher by offering significant benefits. With this host, you can create up to three Minecraft servers, all for free. No wonder it has more than half a million users and tons of positive reviews on Trustpilot.

Other than the three servers you can create with this host, here are some additional features that make it a darling to thousands of Minecrafters.
You can modify all your Minecraft files after downloading them
Allows you to share your server with other users
You'll have full access and control over your server environment
Supports mods, plugins, and data packs
You'll get a FREE MySQL database with your server
Regarding specifications, the free plan of this modded Minecraft server will give you 15 gigabytes of storage, 5.5 gigabytes of memory (you can stretch that to eight gigabytes but no more than that), zero queues, and STFP support.
As for the drawbacks, your server won't always be online. Secondly, be prepared to navigate ads on its website as you find your way to the server.
8. PloudOS
A quick, four-step setup process welcomes you to the world of PloudOS, yet another free Minecraft server worth taking for a test drive. The Minecraft host boasts unlimited plugins and mods for those who are ready to customize their games to the fullest extent.

This server offers numerous irresistible features for Minecrafters, including:
High-end AMD Epyc CPUs for more power and better performance
Up to 6 gigabytes of SSD storage
Unlimited plugins and modifications for your Minecraft environment
DDoS protection to protect your servers before, during, and after your gameplay
Up to 20 FREE servers, all of which you can manage individually
FTP access if you want to upload plugs, mods, and more
PloudOS offers many benefits, but the ability to create up to 20 servers is what makes it truly special for anyone passionate about Minecraft.
That said, it has its fair share of drawbacks, starting with the limited storage space. Six gigabytes is quite low compared to what other hosts are offering (between 10 to 15 gigabytes). With that in mind, one thing is certain: This isn't the server for you if you want to add unlimited players.
9. MagmaNode
Despite being a free Minecraft server hosting, MagmaNode is popular among many Minecraft enthusiasts. Its highly configurable Europe-based servers (Falkenstein, Germany) come with what's considered the bare minimum in the world of free Minecraft server hosting and an extra stash of standout features. I'm talking about the likes of DDoS protection, a free MySQL database, routine backups, and FTP access.

Now let's touch on the standout features that don't always come with other hosts.
Unlimited player slots
No restrictions on the kind of plugins or mods you can install
Multilingual customer service (even for free plans)
Unlimited server reinstalls, any day and any time
Ability to upload your own server if you don't want to set up one from scratch
The whitelist feature allows you to block strangers from joining your server
No doubt that MagmaNode is unique and its services have a certain draw. But one of the first things you'll notice about it is the high number of ads displayed in almost every corner of the website, even more than other hosts I've reviewed.
The Minecraft server hosting provider addresses the issue regarding over-advertising in its FAQ section. And the explanation is what you would expect; the money the hosting provider makes from ads is what goes into supporting the server. If too many ads don't bother you at all, then you can ignore that and head straight into setting up your free Minecraft server with MagmaNode.
Before I draw the curtains, I'll throw in some additional free and cheap Minecraft servers you may want to check out in case you didn't find what you were looking for in the nine Minecraft server hosting options I highlighted above. If you're still on the lookout, check out Minecraft-Hosting.pro, Skynode, AxentHost, and Godlike.Host.
Paid Minecraft Hosting Plans
We discussed the ins and outs of the best free Minecraft hosting plans above. But we wanted to recommend a couple of paid plans here as well. Paid hosting plans usually come with more features and storage space than free plans and can cost only a few dollars a month. So if you want all the bells and whistles for your gaming servers, these hosts can do the trick.
10. Shockbyte has one of the most affordable Minecraft hosting services on the market, starting at $2.50 a month. And its plans are loaded with features and perks. Launched in 2013, its platform specializes in Minecraft servers and offers other game servers. Shockbyte does an excellent job at curating its hosting packages, even naming its plans after specific Minecraft elements. Users can enjoy DDoS protection, instant setup, 100% uptime, and 24/7 support with all its plans.
11. Hostinger allows users to set up their Minecraft server within minutes. This ease of use can also help describe the rest of its platform. Hostinger offers one-click mod installers to make game modifications simple and automated backups to preserve progress. Since its Minecraft servers are VPSes, Hostinger can ensure fast speeds and performance. Overall, its plans offer excellent features and 24/7 live chat support for any unanswered questions.
12. Apex Hosting offers specialized game servers that support multiple games, including Minecraft, Rust, and ARK. Founded in 2013, Apex Hosting has a long-standing reputation for delivering top-notch hosting with on-par customer service. Its Minecraft packages start at $7.49 and provide several features, including DDoS protection, automated backups, live chat support, and modpacks.
See more Minecraft hosting plans >>
What is Minecraft Server Hosting?
Minecraft server hosting can help you take your gaming to the next level. If you're tired of the vanilla game mode and want to customize your world, it can help you get the job done. Minecraft hosting allows users to rent dedicated server space to power their gaming adventures.

Although users can self-host game servers, they can also purchase Minecraft hosting plans from a web host for easier server management. Gamers can use Minecraft hosting to accomplish a variety of tasks and enjoy several benefits.
Here are some benefits of Minecraft server hosting:
Customization: You can configure your world settings to your liking and modify the game to meet your needs. You can also expand the server's capabilities with custom plugins and preconfigured modpacks.
Security: Hosting your own Minecraft server puts you in control of your server's security and privacy. You can manage user permissions and prevent attacks.
Community: You can build a customized multiplayer experience for your friends and other players.
Performance: With the right host, you will receive limited interruptions to your gaming experience and boost uptime for your server.
Many web hosts also offer various versions of Minecraft hosting and servers. Bedrock and Java are two different world editions and software formats. There are also multiple Minecraft servers to choose from, including Spigot, BungeeCord, and ATLauncher.
Which Features Should I Look for in a Minecraft Hosting Plan?
Minecraft hosting is a lot like traditional web hosting. At their core, they both require fundamental resources to be useful to a customer. These resources include ample storage space, quality customer support, uptime, security, and fast performance. But Minecraft also has special features that are uniquely tailored to its software.
Most gamers leverage Minecraft hosting for its customizability and freedom of ownership. Users can control who plays, add modifications, and create a world that is personalized to them. They can build a community for players to join. Minecraft hosting also lets users play on different server types, including Spigot and Technic.
Essential features users should consider are DDoS protection, mod and plugin support, an easy-to-use control panel, automated backups, and instant setup. These features will help enhance your Minecraft experience by securing it and providing you with the tools to personalize your world settings. A good control panel and instant setup will also make management much easier.
How Do I Keep My Minecraft Server Safe?
Keeping your Minecraft server safe is crucial to your user experience. You would never want your IP address to be found and overloaded by an attack. This is why most Minecraft web hosts provide DDoS protection with their plans. DDoS protection safeguards users who own IP addresses from targeted attacks that seek to overload their servers. Backups are also helpful in securing your progress.

Users with dedicated servers can also take control of their security by managing security patches, updates, and settings. Since it is your server, you can configure it to your liking, including your security measures. You can also control who can access and play within your community, preventing and eliminating threats if needed.
Win Big With the Right Minecraft Host
Minecraft has taken the world by storm, with new players joining the community all the time. And users have made Minecraft their own by purchasing Minecraft hosting services. They can customize the gaming software to spark adventure and make it more personalized. So it's no surprise many people use it to build communities and enhance experience for other players.
Choosing the right web host will lead you to the best experience. The best web host will give you the right resources, performance, security, and customer support. These features are essential to any web hosting plan. You can count everything else the web host offers as a bonus. No matter what hosting provider you choose, we hope it will help you take your Minecraft world to new heights.
Advertiser Disclosure
HostingAdvice.com is a free online resource that offers valuable content and comparison services to users. To keep this resource 100% free, we receive compensation from many of the offers listed on the site. Along with key review factors, this compensation may impact how and where products appear across the site (including, for example, the order in which they appear). HostingAdvice.com does not include the entire universe of available offers. Editorial opinions expressed on the site are strictly our own and are not provided, endorsed, or approved by advertisers.
Our Editorial Review Policy
Our site is committed to publishing independent, accurate content guided by strict editorial guidelines. Before articles and reviews are published on our site, they undergo a thorough review process performed by a team of independent editors and subject-matter experts to ensure the content's accuracy, timeliness, and impartiality. Our editorial team is separate and independent of our site's advertisers, and the opinions they express on our site are their own. To read more about our team members and their editorial backgrounds, please visit our site's About page.