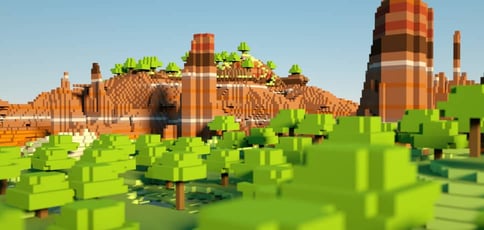 If you had told me 10 years ago that Minecraft, a sandbox video game with pixelated graphics, would eventually become the best-selling video game of all time, I wouldn't have believed you. But things have changed, and it's Minecraft's world we're living in. How else would you describe a game with 140 million active monthly players?
I know many people whose lives have changed by playing Minecraft. Gone are the days when you'd sit in your bedroom playing video games all day, only to end up with exhausted eyes, unfinished assignments, and chronic back pain. Times have changed, and gaming is no longer a pastime for some people; it's a source of income, with some established gamers making more than $10 million a year!
So whether you plan to monetize your Minecraft server or create something that offers a seamless gaming experience, I'm pretty sure you wouldn't mind saving money on your hosting service. That's the whole point of finding the cheapest Minecraft server hosting plans. I may not be a popular Minecraft player like Preston Arsement or Daniel Middleton, who make millions of dollars a year playing this game, but I know a thing or two about choosing a great yet affordable server. Let's take a look at my top picks.
1. Hostwinds — Plans starting at $4.99
Hostwinds is the buffet of Minecraft server hosting. You'll never run out of affordable hosting plans with this web host.
Here's a pro tip, though: when choosing a Minecraft server hosting plan, start with checking the CPU which acts as the server's 'brain.' You want one that thinks quickly and acts fast. A single-core processor might work, but I wouldn't recommend it because it likely won't be as powerful.
Impressive 99.9999% Uptime
FREE website transfer, custom ISOs, and enterprise firewall for enhanced security
Root access with fully personalized gameplay
30-750 GB storage
For best results, start with a dual-core processor with a memory of at least 2 gigabytes. That should be good enough to host one or two players. The more players you add to your gaming environment, the higher the specifications you'll need.
One of my favorite things about Hostwinds is that it breaks down its hosting plans into smaller packages. Why is this important? Let's say you're just starting out, and you'd like to host the game on your own server, but you don't have many players to join you just yet.
You can start from the very bottom with Hostwinds' basic plan, which comes with a single CPU, 1 gigabyte of memory, and 1 terabyte worth of bandwidth. Here comes the fun part: Hostwinds allows you to scale up your hosting package slowly but surely as you grow. Just to give you some perspective, you can easily go from a single CPU core to up to 16 CPUs with at least 96 gigabytes of memory, 750 gigabytes of storage, and 9 terabytes of bandwidth.
See our full review of Hostwinds >>
2. Hostinger — Plans starting at $6.99
Hostinger knows Minecraft is a resource-intensive game, so it starts at 4 gigabytes of RAM for its most basic plan. And despite being reasonably priced, it comes with many great offers any gamer would love to take advantage of.
I love how Hostinger takes the concept of control seriously. Each of its hosting plans comes with full root access, meaning you have all the freedom in the world to transform your Hostinger Minecraft server into whatever works best for you and your community.
Full root access for server configuration
Solid DDoS protection, upgraded SSDs, and dedicated IPv4/IPv6 addresses
Instant setup and automatic backups
Access to plugins and automatic mod installers for customized gameplay
As a gamer, you probably know how terrible it feels to lose your gaming progress due to a technical error. That's the last thing you'll need to worry about when you host your server with Honstinger. This web host also offers automatic offsite backups, a game changer in Minecraft hosting.
If you don't know what off-site backups mean, I'll explain. Think of a situation where your Minecraft server suffers a malicious attack, most likely a DDoS, putting your progress at risk of corruption. Many Minecraft web hosting providers offer automatic backups for this exact reason. But the biggest challenge here is that most of these backups reside in the same environment under threat or attack. It's like using a bandaid to fix a bullet hole.
Enters Hostinger's offsite backup system, which involves storing copies of your Minecraft files in a remote location. This means that whatever happens to your current server, you can rest easy knowing that you won't lose anything, including your progress. Instead, Hostinger will restore everything from the remote server like nothing ever happened.
You'd expect such a well-thought-of feature to cost extra, right? Not with Hostinger — you'll get that with DDoS protection, all for free!
See our full review of Hostinger >>
3. Dreamhost — Plans starting at $10.00
Dreamhost offers a fully managed hosting sandbox you can play with to build your dream Minecraft server. This web host understands the assignment from the onset — you should expect a minimum of 4 gigabytes of memory and 1 terabyte of storage space from its most basic plan.
From there, you can play with the sandbox in whichever way you like to create something that's perfect for your gaming environment. Whatever you come up with, Dreamhost promises full root access, a 100% uptime guarantee, DDoS protection, and 24/7 technical support.
Custom web-based control panel
Unlimited MySQL databases
Easily scalable RAM
High-performance SSD drives
5 years of security updates with Ubuntu Long Term Support
VPS
RATING 4.7 ★★★★★ Our Review
DreamHost: Our Expert's Review
Laura Bernheim (HostingAdvice.com): With scalable RAM and SSD storage, DreamHost's VPS plans give customers a powerful, speedy, and stable environment ripe for growth. RAM ranges from 1GB to 8GB, while storage varies between 30GB and 240GB. Go to full review »
| Money Back Guarantee | Disk Space | Domain Name | Setup Time |
| --- | --- | --- | --- |
| N/A | 30 GB – 240 GB SSD | New or Transfer | 6 minutes |
I also like how Dreamhost splits its hosting packages to suit the unique needs of Minecraft gamers, just like Hostwinds does. But there's a difference — I feel like Hostwinds tends to lean more toward that gamer who's just starting from scratch. It has a curated selection of packages for every step of the Minecraft journey, from beginner to expert.
On the other hand, while Dreamhost is equally-great, it feels more like an overkill if you don't need too many resources to host your Minecraft server. So here's how to go about this: Opt for Hostwinds if it's just you or if you have a small number of players.
Dreamhost, on the contrary, is best for established gamers with more players on their servers. Whichever option you choose, you can rest assured that it is more affordable than most hosting plans I've seen out there targeting the Minecraft community.
See our full review of Dreamhost >>
4. Bluehost — Plans starting at $19.99
Bluehost doesn't come with servers specifically designed for Minecraft. By this, I mean those kinds of servers built only for Minecraft, nothing else. If that's what you're looking for, you'll likely need to look beyond this host.
But if you're looking for affordability in the web hosting world and don't mind scratching the surface to discover the true gem this web host offers for Minecraft gamers, then you're in the right place. Bluehost is not only affordable but also one of the most reliable web hosting companies out there.
Seamless migration from any Bluehost shared hosting plan
Root access and easy multi-server management
Ample RAID-1 storage and tons of bandwidth
Each plan gets at least 3 dedicated IP addresses
cPanel and WHM with root access
VPS
RATING 4.7 ★★★★★ Our Review
Bluehost: Our Expert's Review
Ryan Frankel (HostingAdvice.com): We love recommending Bluehost for its lifetime customer growth potential, meaning you can start with shared hosting and seamlessly scale to VPS hosting plans and beyond. The price versus performance is pretty unbeatable in the virtual hosting space, and Bluehost's engineering team will kick off the customer relationship by instantly provisioning your server. Go to full review »
| Setup Time | Disk Space | CPU | RAM |
| --- | --- | --- | --- |
| 6 minutes | 30 GB SSD – 120 GB SSD | 2 – 4 cores | 2 GB – 8 GB |
To get the most out of its affordable servers for Minecraft, you first need to decide the number of players you want to host in your gaming environment. If you're starting out and you don't have that many players (probably two to four), consider its Minecraft VPS hosting plan.
On the other hand, if you have more than four players, Bluehost has dedicated servers you can use. Whether you choose the VPS or dedicated option, Bluehost rarely disappoints regarding speed, reliability, and overall performance.
See our full review of Bluehost >>
5. ScalaHosting — Plans Starting at $61.95
ScalaHosting may be more expensive than the other Minecraft hosts on this list, but you'll find the extra cost is worth what you pay. If you're planning to host multiple gamers, the resources and performance ScalaHosting provides are worth the price. This host is a bargain for the dedicated resources you get.
4-32 GB RAM & 4-6 TB bandwidth
Up to 640 GB of blazing NVMe SSDs
FREE domain for one year, unlimited ports, and a dedicated IP address
Isolated cloud resources and automatic world repair with the Region Fixer tool
With ScalaHosting's Minecraft server plans, you'll get your own virtual dedicated server with excellent speeds and a 99.9% uptime guarantee. The host also includes advanced cybersecurity protection and a 7-day money-back guarantee.
See our full review of ScalaHosting >>
What Is Minecraft Hosting?
Minecraft server hosting is when you rent or set up a server designed to host Minecraft game worlds. The goal is to create a gaming environment that can accommodate multiple players from different locations.

With Minecraft hosting, you don't need to run the game on your local computer. By hosting the game on a server, you'll experience better performance, stability, and the ability to invite and play with other gamers in your world.
Minecraft hosting comes in different capacities, all designed to allow players to choose the level of performance and the number of players their server can handle. For example, as I mentioned earlier, you may choose a hosting plan that only accommodates two players or one that can manage hundreds of players; the choice is entirely up to you.
How Much Does it Cost to Host Minecraft?
Minecraft hosting doesn't usually come with a standard price. The amount of resources allocated to that particular server will ultimately decide the price. Some servers may cost as little as $5 a month, but the price can go up to hundreds of dollars a month depending on the hosting infrastructure, including memory and storage.
Minecraft Server vs. Web Hosting Server: What's the Difference?
A Minecraft server is what you need to host multiplayer Minecraft gameplay. On the other hand, a web hosting server is for hosting websites and web-based applications.
The other key difference between these two servers lies in their software and configurations. Minecraft servers can only run on specific server software built for the Minecraft game. Web hosting servers, on the other hand, run on server software like Apache, Nginx, or Microsoft IIS, and usually support various programming languages, databases, and web technologies.

A closer look at how the network traffic of these two servers functions will also reveal some key differences you probably didn't know existed. The best Minecraft server hosting plan only takes care of gameplay-related network traffic, which usually includes player movements, chat messages, block updates, and synchronization of the game world among players.
But that's not how web hosting works; it handles broader network traffic, which may involve processing HTTP requests, delivering web pages from the server to the client, serving files over the network, handling database queries, and executing server-side scripts.
The ways users interact with these servers are also different. In Minecraft, users interact with the server through the gameplay mechanics provided by the game. In the world of web hosting, users mostly interact with web hosting servers through web browsers unless you're a system administrator or developer working on the server end.
Which Minecraft Server Is the Cheapest?
Hostwinds tops our list of the cheapest Minecraft hosting servers because it breaks down its hosting packages into smaller, more affordable bits. Whether you're looking for a server for a single-player slot or something that can support at least one or two more players, you'll find a suitable hosting plan at Hostwinds.
Hostinger and Dreamhost are also affordable because they break down their hosting packages to accommodate users with fewer players in their Minecraft realm.

ScalaHosting and Bluehost, on the other hand, have pocket-friendly prices but work best for gamers with a massive community. Just to give you some perspective, Scalahosting's cheapest plan costs a little more than $60.00 (its virtual dedicated server option) and comes with 4GB of memory. That's too much if you're just starting out and don't have a following yet. The same applies to Bluehost. Yes, it is cheap, but not ideal for beginners.
Here are some other affordable options:
Although the additional hosts I've mentioned above are reasonably priced and have some notable pros, that does not necessarily guarantee great server performance as a whole. The best way to find out is by signing up, or better still, you may want to avoid taking all that risk by settling for any of the five options the team at HostingAdvice.com, which I'm proud to be part of, has tried, tested, and certified.
How Do I Choose a Minecraft Host?
When choosing a Minecraft host, you need one that offers high-performance servers with sufficient CPU power, RAM, and storage to handle the number of players and the size of the Minecraft world you anticipate. Make sure you also check the hosting provider's uptime guarantee; it should be at least 99.9%.
Always keep growth in mind when choosing a Minecraft server. In hosting lingo, they call it 'scalability.' You don't want to find yourself in a situation where you'll need to switch hosts simply because your Minecraft world has outgrown your current host. If you already have a huge gaming community, you may want a host that offers a Minecraft server hosting option with unlimited player slots.

So many times, I've needed someone to help troubleshoot technical issues or game server-related problems. That's why choosing a server that comes with 24/7 customer support via live chat, email, or phone is not something I take lightly.
The physical location of the hosting service provider's datacenters will influence the server's performance. You need a host with servers close to your target player base to reduce latency and improve performance.
On top of that, go for the availability of DDoS protection, remote access, and affordability without compromising on quality.
Pro tip: Use caution with free Minecraft server hosts. They may be vulnerable to DDoS attacks.
What Is Included with My Minecraft Hosting Plan?
While it all depends on the specifics of your hosting plan, a standard plan will have server resources such as CPUs, RAM (memory), storage space, and a control panel or dashboard that enable you to customize the server to meet your needs.
The plan should support multiplayer gameplay, offer protection against DDoS attacks, provide 24/7 customer support and regular backups, and allow for the installation of Minecraft mods and plugins. That's not the full list of features to expect from a Minecraft hosting plan; it's just the bare minimum.
Spend Less and Game More With an Affordable Minecraft Server
I believe no one should ever have to play Minecraft with one eye on the controller and another on the hosting fees. But that's what you get when you spend more than you should on your gaming infrastructure. These hosting fees can quickly pile up, inviting stress in an otherwise fun environment.
But with these affordable hosting plans, you can find a Minecraft server that works best for your needs and then scale up as your world grows. Now that's gaming the smart way.
Further Reading: "5 Cheapest Minecraft Server Hosting Plans (Oct. 2023)"
Hopefully, our recommendation of DreamHost fulfills all your web hosting needs. Starting at just $4.99 per month and rated 4.7 overall, DreamHost gives users plenty of bang for the buck. Among our favorite features:
Impressive 99.9999% Uptime
FREE website transfer, custom ISOs, and enterprise firewall for enhanced security
Root access with fully personalized gameplay
30-750 GB storage
If you'd like recommendations similar to DreamHost and others in 5 Cheapest Minecraft Server Hosting Plans (Oct. 2023), check out these popular guides. You'll find comparisons of DreamHost to other hosts on pricing, features, support and more:
And of course, if DreamHost is your top choice, you can get started now at just $4.99/month. DreamHost is easy to set up and scale, no matter the size of your next project.
Advertiser Disclosure
HostingAdvice.com is a free online resource that offers valuable content and comparison services to users. To keep this resource 100% free, we receive compensation from many of the offers listed on the site. Along with key review factors, this compensation may impact how and where products appear across the site (including, for example, the order in which they appear). HostingAdvice.com does not include the entire universe of available offers. Editorial opinions expressed on the site are strictly our own and are not provided, endorsed, or approved by advertisers.
Our Editorial Review Policy
Our site is committed to publishing independent, accurate content guided by strict editorial guidelines. Before articles and reviews are published on our site, they undergo a thorough review process performed by a team of independent editors and subject-matter experts to ensure the content's accuracy, timeliness, and impartiality. Our editorial team is separate and independent of our site's advertisers, and the opinions they express on our site are their own. To read more about our team members and their editorial backgrounds, please visit our site's About page.