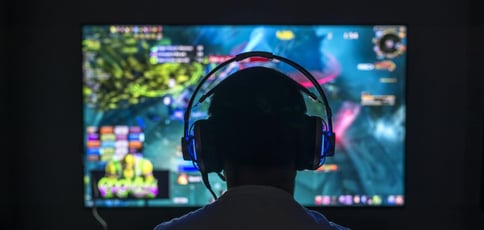 ARK is a prehistoric survival game where players can immerse themselves in the natural elements of ARK Island. Burdened by hunger, extreme temperatures, and dinosaurs, players must hunt, build shelters, and team up with others to survive and escape the island.
Developed by Studio Wildcard and played by more than 24 million players worldwide, this game feels even better when hosted on a robust server with the right specifications and functionalities. The best ARK server hosting will provide a seamless gaming experience, allowing you to take customization, engagement, and interactivity to a whole new level. That's what I'll help you find in this article.
I have reviewed 12 of the best ARK server hosting providers to help you unlock a whole new level of gameplay. Here's everything you need to know.
Best Premium ARK Server Hosts
My countdown begins with premium ARK server hosts. These servers will require you to set up your ARK environment to suit your needs.
I've tried and tested each one of these hosts, so you can rest assured that they'll work with this game. The only thing that makes them different from each other is their unique features and functionalities, as you'll discover below.
Explore server deals to find the best rates
High powered modern AMD and Intel processors
Unlimited traffic and 1 Gbit/s network connectivity
8-minute deployment with full API control
Auto backups, DDoS protection, and RAID-1 storage
DEDICATED
RATING 4.9 ★★★★★ Our Review
1&1 IONOS: Our Expert's Review
Alexandra Anderson (HostingAdvice.com): If you need blazing-fast speed, optimum uptime, top-notch flexibility, and full control over the fate of your website the dedicated servers from 1&1 IONOS have you covered. The company offers an assortment of entry-level, performance-focused, and business-class server options. Go to full review »
| Setup Time | Disk Space | CPU | RAM |
| --- | --- | --- | --- |
| 7 minutes | 480 GB SSD – 2 TB HDD | 4 – 32 cores, 8 – 64 threads | 16 GB – 256 GB |
Enter IONOS, a web host known for being affordable and reliable. But its capacity to host a game server isn't discussed enough. Here's why you should trust this company with your ARK world:
Having three ARK server hosting options (cloud, VPS, and dedicated) means you can choose one that meets your unique needs, such as system requirements and budget.
The base server (cloud server) can host between two to 10 players.
It supports unlimited traffic, keeping your game up and running without interruptions.
IONOS has powerful ARK hosting resources you can use to enjoy this popular survival game with your friends online. Remember, you'll need to set up your server from scratch, so it would help to have some technical knowledge. If you're unsure how to proceed, you can always contact IONOS, and they'll provide a dedicated customer support expert to help you get started with your ARK server.
Linux or Windows servers available
HDD or SSD storage plus unmetered bandwidth
Fully redundant network and datacenter
SSH access and support for multiple languages
Managed or semi-managed solutions
DEDICATED
RATING 4.6 ★★★★★ Our Review
HostGator: Our Expert's Review
Ryan Frankel (HostingAdvice.com): Founded in 2002, HostGator is one of the largest web hosts with a long lineage of dedicated server hosting. With updated hardware, including Intel Xeon Quad-core processors and a boatload of RAM, HostGator balances performance, quality web hosting service, and competitive pricing. Go to full review »
| Setup Time | Disk Space | CPU | RAM |
| --- | --- | --- | --- |
| 6 minutes | 512 GB SSD – 2 TB HDD | 4 – 8 cores, 8 – 16 threads | 8 GB – 30 GB |
HostGator's dedicated servers are great for ARK hosting. While it's not as pocket-friendly as IONOS, you won't question its reliability. If you didn't know, dedicated servers are way more powerful since they devote all their resources to you, the owner. Below is a preview of what to expect when renting an ARK dedicated server from HostGator.
HostGator offers powerful features, including four to eight CPU cores, eight to 30 gigabytes of memory, and one terabyte of hard drive or solid-state drive storage (depending on the plan you choose).
You get unmetered bandwidth, ensuring you enjoy the game with zero interruptions.
Intel Xeon-D CPUs for maximum performance and speed.
That said, it's worth noting that HostGator only offers US-based datacenters, so I wouldn't recommend this host if most of your players are outside of the United States. While you shouldn't have performance issues, I only recommend this host for US-based players for the best gameplay experience.
Best Affordable ARK Server Hosts
You don't need to empty your bank account to pay for the best ARK server. I've seen many affordable ARK server hosts with equally powerful resources. This is particularly helpful if you're getting started with the game and aren't ready to commit to investing in expensive hosting environments.
3. DatHost
DatHost is one of the best-value hosting companies on this list. To begin with, you can choose between a monthly, quarterly, and yearly billing cycle. As with most hosts, the longer the commitment, the lower the price. So, keep that in mind if you want to save even more.
Savings aside, there's more to expect from this host, as outlined below.
Offers fully managed hosting, allowing you to focus on the gameplay rather than the technical aspects of running your survival server.
Supports any ARK mods and plugins.
Has servers in 20 locations worldwide for peak performance.
This host also takes your server's security seriously. By providing daily backups and DDoS protection, you can focus on enjoying your ARK game without worrying about losing your server settings or experiencing downtime due to attacks.
4. Apex Hosting
Only one phrase perfectly describes Apex Hosting: a game changer. This host is quite different from the others I've reviewed. Its support for unlimited players is a huge advantage to those who have large groups of players.
Here's more on Apex Hosting.
Offers unlimited player slots, allowing you to add as many players as you want without affecting the gameplay.
Supports different kinds of mods in the ARK world, allowing you to maximize your gameplay experience.
Has a detailed knowledge base where you can learn everything you need to know about setting up your server environment and getting the most out of your game.
The fact that this host allows you to add unlimited players is a game changer since you won't have to worry about migrating to another host later down the road to accommodate more players. This is perfect for professional gamers who want to grow their audience in the long run.
5. ScalaCube
ScalaCube is another decent option if you don't have many players to add to your server. Depending on your chosen plan, this host can accommodate between 20 to 120 players. So, what makes it the right ARK server host besides affordability? I've summarized its key features and functionalities.
Some of ScalaCube's best features include the following.
Supports all ARK: Survival Evolved server hosting mods, including but not limited to Scorched Earth, The Center, Genesis (parts one and two), Lost Island, and Primitive Plus.
Has datacenter locations in North America, Europe, and Asia.
Comes with SSD drive storage, DDoS protection, and full FTP access.
What I love the most about this host is that it specializes in game server hosting. Besides offering high-performance ARK servers, it also hosts other popular games such as Minecraft, Rust, Project Zomboid, and Factorio. That makes it uniquely equipped with the proper gaming infrastructure to keep you on the edge of your seat.
6. HostHavoc
Like ScalaCube, HostHavoc also specializes in hosting game servers and has invested heavily in game-specific infrastructure. It comes with free clusters and lets you access any map or modification, enhancing your gameplay experience tenfold.
Let's review some top features that make this server stand out.
Hosts between 30 to 100 player slots
Supports all mods and downloadable content, including Ragnarok, Genesis, and Extinction
Offers DDoS protection for free to protect your online gaming environment as you enjoy your favorite game
This host uses powerful and high-performance hardware hosted in 10 datacenter locations across the globe. On top of that, you'll get daily backups to protect your server in case of a technical issue.
7. Hostinger
As someone who builds and develops websites and applications for a living, Hostinger has been my go-to web host for many years, mainly because it is affordable. Regarding hosting your ARK survival game, I'd recommend Hostinger's VPS plan for starters.
Cloud-based SSD storage for speed and reliability
Double your RAM with burst periods
FREE dedicated IPv4 and IPv6 addresses
Custom control panel for reboots and OS installs
HostingAdvice readers enjoy more than 50% off
VPS
RATING 4.6 ★★★★★ Our Review
Hostinger: Our Expert's Review
Laura Bernheim (HostingAdvice.com): Hostinger's laser focus on providing affordable hosting solutions shines brightest with the company's VPS packages. The company provides six different virtual server plans, including one that costs less than $5. Go to full review »
| Setup Time | Disk Space | CPU | RAM |
| --- | --- | --- | --- |
| 6 minutes | 20 GB SSD – 250 GB SSD | 1 – 8 cores | 1 GB – 16 GB |
Here's what it entails.
You'll get ample CPU cores, RAM, and storage.
NVMe SSD storage and AMD EPYC processors guarantee powerful performance and lightning-fast speeds.
Weekly backups to protect your gaming server and save your progress if anything goes wrong.
The KVM2 VPS plan, its most popular option, is the best for hosting your ARK: Survival Evolved server. The only concern you may have with Hostinger is that it has a two-terabyte bandwidth limit. But you shouldn't be too worried about that; I've seen gaming servers hosting thousands of players a month without consuming more than one terabyte of bandwidth.
8. Fozzy
Fozzy is way ahead of the game if you're looking for a host with a powerful server infrastructure. This host uses the latest server technology powered by tech giant Dell to provide the perfect hosting environment for ARK enthusiasts.
I'll break down Fozzy's best features for you below.
Has processors with 16 cores, five gigahertz, and up to 12 gigabytes of memory for blazing-fast speeds and top-notch performance.
Comes with up to 900 gigabytes of NVMe SSD storage, giving you all the legroom you need to install mods and all sorts of supported downloadable content to your server.
Set up your server automatically and within minutes so you can head straight into gameplay.
With datacenter locations in the United States and throughout Europe, this plug-and-play ARK server host will keep you engaged in the game with zero interruptions. The best part? It lets you try out its servers for free before signing up. And when you sign up, you'll get a three-day money-back guarantee.
9. ShockByte
I like how customizable ShockByte is. From its hosting infrastructure to its billing cycle, this host gives you all the freedom you need to set up an ARK server you and your friends will enjoy.
Here are some of ShockByte's key highlights.
Offers unlimited disk space and bandwidth for an uninterrupted gaming experience.
Hosts between 30 to more than 125 player slots per server (depending on the hosting plan you choose).
Supports automatic mod installation and provides automatic updates and backups.
In addition to the perks mentioned above, ShockByte also provides one dedicated IP address for free. If you're migrating from another host, ShockByte will handle the entire migration process if you provide them with your previous FTP details.
10. Survival Servers
Survival Servers come fully equipped with the infrastructure you need to survive in your ARK world. You only need to add your survival skills to the equation. For context, it features a customized control panel for ARK players, opening up endless possibilities throughout the game.
But there's more, as covered below.
Offers a proprietary ARK server configuration tool with tons of variables to customize.
Allows the installation and customization of ARK mods and plugins within seconds.
Lets you change your server location instantly and without interrupting your gameplay.
I'm a big fan of gaming servers built with gamers in mind. And you can tell that Survival Servers is one of them. Besides ARK, this gaming host also hosts many other games, including 7 Days to Die, Arma, Dark and Light, Craftopia, Rust, Eco, and Atlas.
11. ServerBlend
Most gaming servers I've reviewed offer short money-back guarantees or free trials, usually three days from the date of purchase. That's mostly because they want to prevent server abuse due to the high expenses of managing a gaming server. But SurverBlend is a little bit more generous.
ServerBlend offers a seven-day money-back guarantee and much more, as shown below.
Host as few as 30 player slots to as many as you want.
Install and update as many ARK mods and plugins as you wish.
Get a free server transfer from your current host to ServerBlend.
Perhaps the most intriguing feature of this host is the public/group payment system. Here, you can create a unique payment link and encourage your players to contribute to the costs of running the server. So, if you're considering server monetization, ServerBlend is a great place to start.
12. GTXGaming
Finally, we wrap up our countdown with another feature-rich gaming server: GTX Gaming. This gaming host is powerful, to say the least. It offers more than a dozen perks for gamers to make the most of their ARK gaming experience.
Here's a breakdown of its best features.
Has servers at strategic locations in North America, Europe, Asia, and even the Oceania region.
Backs up your gaming data offsite, providing peace of mind as you enjoy your game.
Supports all ARK maps, mods, and plugins.
The server's cross-travel technology, also known as ARK clustering, is one of the things I love about this host. With this technology, I can easily merge multiple servers to host more apps and mods or transfer a player to another server.
What Is ARK Server Hosting?
Serious gamers don't want to worry about lagging and lost data. That's why game servers exist in the first place. They offer a more performant and specialized environment to play your favorite online games, including ARK. An ARK server is simply a server environment that's made to support the performance requirements, mods, and plugins of the popular survival game.

For the best gaming experience, your ARK server should have specific hardware and network requirements. You may need to upgrade your memory, storage, and bandwidth to ensure that the machine has the right CPU cores to accommodate this game.
Game servers can also offer data backups, which saves your game progress if your machine crashes. All these features can give you a fun, worry-free gaming experience.
Which Is the Best ARK Server Hosting Reddit Users Recommend?
Reddit is a great place to find honest reviews on ARK servers and anything related to gaming. Here are a few names (actual reviews) that have popped up more than once in these conversations.
DatHost
"I can recommend DatHost. I've been using it for a long time and haven't experienced any issues. Good performance and a nice user interface."

– stonKenB
HostHavoc
"If you're looking for an ARK server hosting provider that gives you more control, I'd recommend HostHavoc. I switched to them from Shockbyte and have been very impressed with all the configuration options for modpacks, plugins, etc."

– crummySeafowl67261
ApexHosting
"Apex Hosting offers ten Minecraft packages with the most budget-friendly plan."

– CharacterAnt5413
Reddit is a go-to place for honest reviews of game servers. You can trust first-hand experiences more than marketing jargon, so take some time to review the comments about each ARK host. Hopefully, it will help you choose the right host for you.
What Is the Best Type of Server for ARK?
Game servers need to be performant and reliable. Online gaming requires a lot of resources, and the last thing you want is lagging and buffering when you're trying to slay a dinosaur. To best support your ARK gaming experience, you should choose a VPS or a dedicated server.
Shared servers are usually out of the question since most don't have enough resources to accommodate resource-intensive games like ARK and all the downloadable files and customization they come with.
A virtual private server will give you more resources and control over your gaming environment. Speaking of resources, it's worth mentioning that the ARK game will need the following as the bare minimum.
Minimum requirements for ARK hosting:
Eight gigabytes of memory
At least 20 gigabytes of storage (preferably NVMe SSD storage)
At least two CPU cores
Windows 64 Bit or Linux OS (preferably CentOS)
A stable and fast network connection, with speeds of at least 100 megabytes per second
That's pretty much what a standard VPS offers. If you don't mind paying significantly more, a dedicated server can take it a notch higher and add more players and resources to your ARK world.
Can You Host an ARK Server for Free?
ARK Servers are not usually available for free, and that's because running a gaming server is expensive. You can imagine having to purchase and maintain powerful storage, memory, and CPU cores, while at the same time maintaining high security standards. That requires a lot of resources, which, of course, costs money.
That said, some hosts, such as ServerBlend and ShockByte, offer free trials lasting between three days to a week. On the other hand, traditional web hosting providers, such as IONOS and HostGator, come with a 30-day money-back guarantee. This works like a free trial, but only if you cancel within the first 30 days of signing up for their ARK server hosting plans.
How Do I Choose an ARK Server?
Many factors will come into play when choosing the right ARK Survival Evolved server. I've narrowed everything down to the most important.
Consider the number of player slots you need. Common options range from 10 to 100+ slots.
Get at least eight gigabytes of RAM (memory), then scale up as needed.
Faster CPUs with more cores can handle more players and complex gameplay.
SSD storage is usually faster and more responsive. Get at least 40 gigabytes of that.
High player counts, and mod-heavy servers will need more bandwidth. If you need more players, it's safer to have a server with unlimited bandwidth.
Choose a compatible OS (can be either Windows or Linux).
Choose a server closest to your players to reduce latency.
Ensure the host guarantees at least 99.9% uptime.
The server should let you install and manage mods if you plan to use them.
For security, choose a server that offers DDoS protection to safeguard your server from malicious attacks and routine backups to preserve your gaming data.
Once that's out of the way, you can consider secondary factors such as user reviews, free trials, and pricing. Some hosts charge per month, and others charge per player. You should prioritize monthly billing to save money if you have many players.
Get the Best ARK Server to Maximize Your Chances of Survival
The right ARK server shouldn't be too difficult to find if you know where to look. Hopefully, I've provided more than enough options in this review. Here's another useful guide to help you choose the right game server host (for most, if not all, types of online games) if you want to keep searching.
Other hosts worth taking a peep at include Nitrous Network (offers virtual dedicated servers), Streamline Servers (great for user-friendliness), Citadel Server (easy to set up), Ping Perfect (for UK-based players), and Sparked Host (unlimited player slots).
Wishing you the best of luck and a happy, seamless gaming experience!
See Our Full Review of 1&1 IONOS
Whatever type of hosting plan you're looking for, 1&1 IONOS is a solid choice no matter the scale. Our reviewer Alexandra Anderson recently took 1&1 IONOS for a spin, and rated the popular host a 4.9 in the Dedicated Hosting category out of a perfect score of 5.0. Here's what Alexandra had to say about 1&1 IONOS:
A leading web host across the board, 1&1 IONOS offers solutions to meet the needs of all customers. Following a 2018 rebrand, the company focused its priorities on customer support and transparent pricing. Thanks to dedicated personal consultants, numerous site builder options, and a variety of cloud offerings, customers can trust 1&1 IONOS for the long haul.
Before signing up for 1&1 IONOS, it's a good idea to read through Alexandra's full review to learn about all the features 1&1 IONOS offers. You can also compare it to other web hosts to ensure you're getting the best deal possible:
If you decide 1&1 IONOS is the right choice, keep in mind that it takes just minutes to deploy your 1&1 IONOS server space. And at $33.00 per month, it's a bargain considering the many great features that come in any 1&1 IONOS plan.
Advertiser Disclosure
HostingAdvice.com is a free online resource that offers valuable content and comparison services to users. To keep this resource 100% free, we receive compensation from many of the offers listed on the site. Along with key review factors, this compensation may impact how and where products appear across the site (including, for example, the order in which they appear). HostingAdvice.com does not include the entire universe of available offers. Editorial opinions expressed on the site are strictly our own and are not provided, endorsed, or approved by advertisers.
Our Editorial Review Policy
Our site is committed to publishing independent, accurate content guided by strict editorial guidelines. Before articles and reviews are published on our site, they undergo a thorough review process performed by a team of independent editors and subject-matter experts to ensure the content's accuracy, timeliness, and impartiality. Our editorial team is separate and independent of our site's advertisers, and the opinions they express on our site are their own. To read more about our team members and their editorial backgrounds, please visit our site's About page.