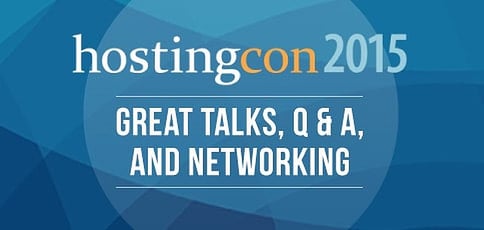 TL; DR: Whether you're a hardware company, a software developer, a web host, or you work in business development, there is an incredible opportunity for growth and networking at HostingCon. This year, with a larger exhibit hall, new interactive sessions, such as ask the experts and round table discussions, there is even more reason to be excited. As always, "the #1 reason people come to HostingCon is the networking." (Andy Grider, HostingCon Marketing Manager)
Love all things web hosting? There is no better place to share that passion than HostingCon 2015!
HostingCon is the premier industry conference and trade show for hosting and cloud providers, and this year it's back in San Diego, California, with global events taking place in China, India, and Europe. It's also sponsored by ResellerClub for the second time.
If you're in the hosting industry, or you just love keeping tabs on the latest and greatest tech and want to have a place to network, learn, and grow, HostingCon is the place to be.
What's New This Year
There will be some new changes to the HostingCon Global event to make it even better:
Pre-conference training workshops
Deep dive tech talks geared toward web hosts
Management workshops geared toward CEOs and managers
Ask the experts question-and-answers sessions
New round table discussion sessions between eight and 10 people on focused topics
An opening and closing networking reception for more networking opportunities
The HostingCon 2015 Locations and Venues
One of the most fun and valuable things at HostingCon is meeting new people and networking, so depending where you're located in the world, hopefully there is a HostingCon event nearby.
HostingCon Global: San Diego, California – July 27-29, 2015
The original HostingCon Global event, which has been running strong for more than 10 years, has returned to San Diego this year and is taking place at the San Diego Convention Center.
Take a look at the HostingCon Global 2014 gallery from last year's event.
HostingCon China: Shenzhen, China – May 30, 2015
More than 400 people were in attendance last year at the first HostingCon China, and it's set to take place this year at the Grand Hyatt in Shenzhen, China.
Check out the HostingCon China 2014 gallery from last year's event.
HostingCon Europe: Amsterdam, Europe – Sept. 22-23, 2015
More than 475 people attended the first HostingCon Europe last year, and it's being held again at the PTA (Passenger Terminal Amsterdam) in Amsterdam, Europe.
You can see from the HostingCon Europe 2014 gallery there was lots to do last year.
HostingCon India: Mumbai, India – Dec. 11-12, 2015
More than 2,000 people met up at the first HostingCon India, and this year it will be taking place at the Bombay Convention and Exhibition Centre in Mumbai, India.
Take a peek at the HostingCon India 2014 gallery for highlights from last year.
Want More Information?
If you'd like more info on all things HostingCon, be sure to check out the main HostingCon website for all the details on each event this year.
Final Thoughts on HostingCon 2015
Whether you're going to listen to some great talks or network with people in the industry, HostingCon is an experience you'll never forget!
The HostingAdvice team will be at HostingCon Global in San Diego this year, so track us down if you'd like to meet and talk.
We'll have more info about each HostingCon event as they get closer, so stay tuned.