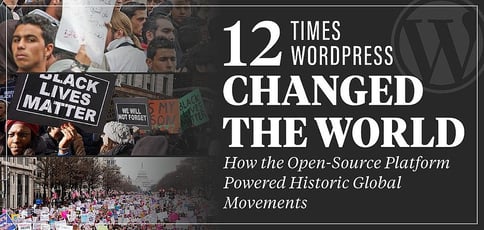 TL; DR: Powering more than 30% of today's websites through the freedom of open-source technology, WordPress is one of the world's most popular platforms for building, customizing, and maintaining online presence. But WordPress's mission goes beyond web development. The team and vast community of contributors behind the platform operate with the goal to further democratize web publishing, making WordPress especially well-suited for social activists looking to promote their causes and inspire civic involvement. From Black Lives Matter to international human rights, WordPress has laid the digital foundations for a number of world-changing movements.
When we think about open-source software, a few things come to mind. The most important being that the source code is accessible to learn from, modify, and even redistribute. It can be used by almost anyone, for almost any purpose, and it's free.
But dig a little deeper, and you'll find the tenets underpinning the open-source movement — collaboration, freedom, transparency, universal access — constitute a philosophy focused on breaking down barriers, forming new communities, and spurring innovation.
Few in the open-source space have embraced this spirit as fiercely as the WordPress community. With a mission to democratize publishing through the freedom of open-source, WordPress is expanding access to the web and providing a voice to millions of users worldwide.
That's why WordPress lends itself so well to modern activism. Many of today's social movements depend on the free, easy-to-use platform to cultivate an online community, facilitate communication, organize events, and raise funds. As these 12 cases demonstrate, WordPress is helping users from all walks of life change the world, one website at a time.
1. Endorsed and Used by a Historic US President to Champion Democracy
Widely regarded as our first digital president, Barack Obama has long understood the power of the internet. He successfully leveraged social networking to form connections on the campaign trail and participated in Reddit's "Ask Me Anything" discussions during his first term. He was the first president to go live on Facebook from the Oval Office, and the first to personally send out a tweet. Today, @BarackObama is the third most-followed account on Twitter, surpassed only by pop behemoths Katy Perry and Justin Bieber.
Considering his technical proficiency, it's no surprise that Obama also became the first president to power his presidential center website using WordPress. The Obama Foundation, established in 2014 to "inspire and empower people to change their world," enjoys an online presence created by Blue State Digital using WordPress 4.7's WP REST API.
The site is clean and responsive, featuring a custom theme built using Zurb's Foundation as its front-end framework. It relies on Typeform to collect citizen feedback, which is vital in informing the foundation's future efforts. Thanks to WordPress, 21st-century citizens have a chance to actively shape the future of the Obama Foundation — and, ultimately, the world.
2. Powering Revolutionary Blogs During the Arab Spring
Online activism played an undeniable role in the Arab Spring, a wave of pro-democracy uprisings that began with the Tunisian Revolution in 2010 before spreading to Libya, Egypt, Morocco, Yemen, Syria, and Bahrain. In the midst of riots, civil wars, and insurgencies, Middle Eastern and North African countries attempted violent crackdowns on demonstrators. For victims of the violence, refuge was found in the blogs and social media outlets they used to organize, express dissent, and spread news.
According to a 2011 Al Jazeera article, Ahmed Wafa used his WordPress blog, MADE !N L!BYA, to describe the actions of pro-Gaddafi forces in Misrata — the third largest city in Libya — even before journalists arrived. Also in Libya, blogger Ahmed Albokhari turned to WordPress to discuss controversial topics on his appropriately named blog, Taboo (though he didn't feel entirely safe writing about them until after the revolution).
Blogger Ola Eliwat, the author of Cinnamon Zone, lives in Jordan but frequently traveled to Tunisia as a reporter during the 2010 uprisings. According to Aljazeera, Ola believes online activism has had a "reverse big brother" effect on political leaders. "They know now that the people are watching," she told the news network.
3. #NeverAgain — Raising Awareness of Human & Civil Rights Issues
From championing the fight against genocide to tackling the threat of gun violence, NeverAgain.com's overarching mission is to spread awareness. Founded in 2016, the group uses WordPress to increase visibility for a variety of causes — including genocide awareness, civil rights, and gun control — through the power of storytelling.
Originally focused on genocide, NeverAgain.com also supports the Never Again MSD movement started by Parkland students in the wake of one of America's most devastating school shootings.
According to NeverAgain.com, "The world is still at risk of revisiting the horrors of the past. Most frighteningly, the world is at risk of forgetting the past." The site's growing repository of stories from people who have survived genocide and school shooting survivors is just one step in ensuring that never happens.
4. Black Lives Matter: Fighting for Social Justice in the Streets & Online
Before it became the global activist network it is today, Black Lives Matter appeared as a hashtag on social media following George Zimmerman's July 2013 acquittal in the fatal shooting of Trayvon Martin.
In response to the verdict, activist and editorial writer Alicia Garza posted an entry on Facebook reminding the black community that "our lives matter." Patrisse Cullors, Alicia's friend, shared the post multiple times while adding the hashtag #BlackLivesMatter. After quickly trending on social media, #BlackLivesMatter evolved into a chapter-based, member-led global network with the mission to stop violence against black communities.
The movement is now centered around the Black Lives Matter WordPress site, as well as various social media channels. This tech-savvy approach enables anyone with a smartphone and a desire for justice to connect with a local chapter, make a donation, and take action.
5. Committed to Making the Web Accessible to People of All Abilities
When President George H.W. Bush signed the equal-opportunity, anti-discrimination Americans with Disabilities Act (ADA) into law on July 26, 1990, he provided a groundbreaking legal framework for disability rights. During the signing ceremony that day, he was joined by Justin Whitlock Dart Jr., Chairman of the President's Committee on Employment of People with Disabilities, a disability advocate known as the "father of the ADA" for his involvement in passing the law. But Dart's work wasn't done after the ceremony. On July 25, 1995, he and other activists founded the American Association of People with Disabilities (AAPD), a 501(c)(3) non-profit organization in Washington, DC., to advocate for the legal rights of people with disabilities while safeguarding the ADA.
In today's digital-centric world, AAPD also advocates for policies that promote the development of universally designed technology. WordPress, which powers the AAPD website, shares the association's commitment to making the web accessible to people with disabilities. In fact, the WordPress Accessibility Team recently announced that all new and updated code released into the WordPress core, as well as bundled themes, must conform with the W3C's Web Content Accessibility Guidelines (WCAG) 2.0 at level AA, a legal standard in countries worldwide. Moving forward, WordPress's Accessibility Team will continue to promote equal opportunities for all.
6. Supporting a Platform Broadcasting Messages of Marriage Equality
Established in 2009 as the only organizational sponsor of the federal court case to overturn California's Proposition 8, The American Foundation for Equal Rights (AFER) helped lead the fight for full federal marriage equality in America.
WordPress powers the nonprofit's official website, which is used to communicate its message, provide updates, and share news from courtrooms across the US. In 2013, the United States Supreme Court handed AFER a victory reinstating marriage equality in California. Just one year later, AFER scored a second victory at the U.S. Court of Appeals for the Fourth Circuit, bringing marriage equality to Virginia. On June 26, 2015, the Supreme Court ruled that same-sex marriage is a constitutional right protected in all 50 states. Although AFER's mission is somewhat complete, its site serves as a reminder of challenges faced while safeguarding existing rights.
7. Inspiring Missions to Pass on Coding Creativity to the Next Generation
Educators are deliberating best practices for teaching children to code as it becomes increasingly important to equip students of all grade levels with computational thinking skills. And as a trusted, open-source platform, many consider WordPress the perfect vehicle to facilitate such learning opportunities.
Multiple resources, such as beanz magazine, a bi-monthly online and print magazine about learning to code, are available to teach students ages 8 and older how to create and publish content with WordPress in an engaging, entertaining way. In addition, events like WordCamp Miami feature an introduction to blogging and STEAM/STEM activities for children ages 6-13.
According to Torque, a WP Engine Publication, "getting kids into WordPress early is a great way to make coding and blogging a way of life, rather than something intimidating. The earlier they begin, not only will they have an easier time of learning, they'll understand the way the internet works and hopefully avoid some pitfalls."
8. Helping a Global Nonprofit Leverage Web Presence to Tackle Poverty
Acumen, a non-profit investment fund for entrepreneurs serving low-income communities, is aiming to change the way the world addresses poverty. To date, the group has impacted 230M+ lives in 13 countries by investing $110M in innovations as well as companies that enable low-income customers to improve their lives.
Acumen's website was created by social impact consult Briteweb, whose team used WordPress to build an easy-to-use CMS that aligns seamlessly with the nonprofit's brand. The site, developed in HTML5 and featured in WordPress's showcase, includes custom plugins to increase social media impressions, a tagging system to organize blog content, and the latest innovations in ajax loading, infinity scrolling, and JavaScript functionality.
Google Analytics and Acument's CRM platform are fully integrated with the site's backend, allowing Acumen to easily build donor lists and accept donations. Through the site, Acumen is able to raise awareness, attract partners, solicit charitable donations, and create more opportunities for engagement.
9. Housing the Ideas of Some of the World's Most Inspiring Thinkers
Operating under the slogan "ideas worth spreading," TED is a nonprofit organization that aims to share ideas and inspire viewers through brief but powerful TED Talks, as well as other programs and initiatives. The 18-minute talks, posted online for free, have had a profound effect on millions of viewers. TED organizers have received "thousands of letters and emails from people telling them how one or more TED talks have impacted their lives for the better," according to Time.
To inspire people using the written word, the TED Blog provides valuable ideas, takeaways from TED conferences, and information on TED initiatives ranging from business to culture. It's brought to life by WordPress.com VIP, a fully managed WordPress cloud platform offering effortless scaling and unparalleled security, flexibility, and performance.
Ultimately, the service frees up the folks at TED to focus on what really matters — inspiring the world through great ideas.
10. Digitizing the Charge to Confront Injustice in Korea
Amnesty International Korea (AIK), a non-governmental organization in Seoul, South Korea, is focused on promoting and defending human rights in Korea and around the world. As part of Amnesty International, the group operates independently from political ideology, economic interests, and religion.
On October 13, 2016, AIK launched a campaign to further understand human rights violations in North Korea. Discrimination against LGBTI people in South Korea remains prevalent, arbitrary detention based on the National Security Law continues, and repeated deaths of migrant workers have raised concerns about workplace safety, according to Amnesty.org.
AIK's website, amnesty.or.kr, is invaluable in spreading information on human rights violations like these to a large audience. Donations are also crucial in supporting the group's work protecting human rights around the world. Fortunately, the AIK site, powered by WordPress, features fast and easy ways for users to donate or become involved to defend human rights.
11. Bolstering Web Campaigns to Conserve the Natural World
In 2017, the Jane Goodall Institute (JGI), a global nonprofit founded by Dr. Jane Goodall to advance wildlife research, conservation, and education, celebrated its 40th anniversary. In the four decades since its inception, the institute has restored chimpanzee habitats, improved women's health in nearby villages, supported education for young women, and created a worldwide pipeline of future conservation leaders.
JGI believes in leveraging technology to gain insight, share resources, and engage community members — and that technology includes its website, janegoodall.org. When JGI found itself in need of a refreshed web presence to represent its vision and encourage fundraising, the institute turned to Good, Unlimited and Kite Inc. for brand strategy and site design. The result? A WordPress-powered site with a clean design that brought JGI's fundraising push front and center, providing increased revenue to be used toward Dr. Goodall's cause.
12. WordCamps — Bringing Together Local WordPress Communities
Whatever the social cause, WordCamps are available to help WordPress users spread their messages effectively. Matt Mullenweg, WordPress's Creator, developed the idea for the first-ever WordCamp, a free, one-day user conference, in 2006. On August 5, 2006, less than a month after he sent invitations, 300 WordPress enthusiasts gathered in San Francisco to share ideas and discuss the platform's future. From there, WordCamps quickly gained popularity.
Today, the number of locally organized WordCamps is growing, teaching programmers and tech newbies alike everything from plugin and theme development to advanced techniques and security. If you're looking to organize a local WordCamp, volunteers of all backgrounds are welcome to become organizers, but so much goes into planning a WordCamp that there's an entire site dedicated to the process. Or, if you're just interested in attending a WordCamp, events are scheduled daily.
The WordPress Bill of Rights and a Philosophy of Giving Back
Throughout history, people with common goals have organized to create lasting social change. What makes these efforts successful is complex, but present-day technology can certainly help. Today, the open-source philosophy behind WordPress, coupled with its mission to democratize publishing, is providing a voice to millions of activists worldwide.
And, since the software is licensed under the General Public License (version 2 or later), WordPress is technically backed by a bill of rights. These include: "The freedom to run the program, for any purpose; the freedom to study how the program works, and change it to make it do what you wish; the freedom to redistribute; and the freedom to distribute copies of your modified versions to others."
Ultimately, the intention of WordPress licensing is to ensure freedom of use — a relieving prospect for nonprofits and NGOs working toward social change. And, if any of those users are inclined to give back to the WordPress community, there are multiple opportunities to do so. After all, the best relationships are about give and take.
Advertiser Disclosure
HostingAdvice.com is a free online resource that offers valuable content and comparison services to users. To keep this resource 100% free, we receive compensation from many of the offers listed on the site. Along with key review factors, this compensation may impact how and where products appear across the site (including, for example, the order in which they appear). HostingAdvice.com does not include the entire universe of available offers. Editorial opinions expressed on the site are strictly our own and are not provided, endorsed, or approved by advertisers.
Our Editorial Review Policy
Our site is committed to publishing independent, accurate content guided by strict editorial guidelines. Before articles and reviews are published on our site, they undergo a thorough review process performed by a team of independent editors and subject-matter experts to ensure the content's accuracy, timeliness, and impartiality. Our editorial team is separate and independent of our site's advertisers, and the opinions they express on our site are their own. To read more about our team members and their editorial backgrounds, please visit our site's About page.