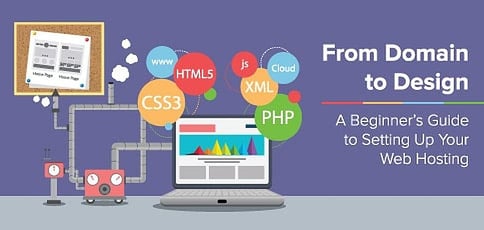 Learning how to set up web hosting is easier than you might think — even for first-time site owners. At the beginning, all the stress is placed on finding the right-sized services for your site, often relying on the tried-and-true real estate analogy: Shared hosting is like renting an apartment, VPS is akin to owning a condo, and dedicated servers are equivalent to owning your own home. It's a common comparison, and one I've even used before to explain managed services.
Despite my preference to relate hosting to pizza, clothing alterations, and the search for true love, your website needs somewhere to reside. We're here to help you find a happy hosting home.
After putting so much emphasis on finding just the right hosting provider, it's natural to relax a bit after signing up for a new plan. Selecting a host, however, is just the first step to getting your website online. Whether you're starting from scratch or looking to move sites from a previous hosting provider, we've outlined the steps to hosting happiness below.
1. Choose a Web Host
Simply put, you can't set up something you don't yet have. Identifying your best web hosting option can be tricky, given the wide variety of services, sales, and companies in the market. Just as a debt-strapped recent college grad probably shouldn't move straight into a mansion, a well-to-do family of eight wouldn't be happy in a cramped studio apartment.
Consider us your real estate agent and view your hosting provider as the properties that balance your budget with location, layouts, and upgraded features. At this stage, we're just identifying the neighborhood or subdivision you want to target. Most new customers will be quite happy with shared hosting, while others might be outgrowing their shared services and are ready to jump up to VPS, cloud, or dedicated plans. If you already run a website, keep an eye out for a host that offers free transfers or migration. You'll be able to skip a lot of these steps.
Shared Hosting
A great place to start your search, shared hosting is an affordable, user-friendly way to get small and medium sites online quickly. Shared hosts divvy up server resources to hundreds, sometimes thousands, of customers, making these the easiest plans to set up and manage. Customers can focus on their account without worrying about the technical details of server management.
Narrow down the pool of prospective providers by targeting a few features that are specifically important to you or the goals of your online project. That might mean high-performance solid-state drives, unlimited bandwidth, or spam filters for your email accounts. Other differentiators include eCommerce offerings and free domain options, along with perks like advertising credits, a website builder, and upgraded hardware. Here are some of the top shared hosts we recommend:
Known for high-performance, low-cost hosting
FREE website builder with 1,000s of templates
Endorsed by the WordPress.org team as a top host
FREE SSL certificate and CDN acceleration
Usually $7.99/mo, but our visitors pay $2.95/mo
Bluehost: Our Expert's Review
Setup time: 4 minutes
Go to full review

»
If you're looking for an affordable host, Bluehost is a solid, reputable choice; The company's low costs, coupled with its supremacy in the shared hosting arena, is what makes this provider such a valuable deal. The Bluehost name is listed toward the top of many of our reviews categories, and with good reason.
| Money Back Guarantee | Disk Space | Domain Name | Shared Hosting Plans |
| --- | --- | --- | --- |
| 30 days | 50 GB - Unlimited | FREE (1 year) | www.bluehost.com/shared |
An industry-leading host with competitive pricing
Attract visitors with FREE marketing credits
Lots of extras like SiteLock security
Start selling with FREE ecommerce tools
Get more than 75% off today! (usually $7.99/mo)
iPage: Our Expert's Review
Setup time: 5 minutes
Go to full review

»
Whether you're a first-time website owner or a web veteran, iPage's excellent hosting services and a fantastic list of extras make the brand one of the best values in web hosting. Unlimited disk space, bandwidth, and emails are just a part of what makes iPage's shared hosting plans a great deal.
| Money Back Guarantee | Disk Space | Domain Name | Shared Hosting Plans |
| --- | --- | --- | --- |
| 30 days | Unlimited | FREE (1 year) | www.ipage.com/shared |
High-quality hosting, no matter the format
FREE SSD storage packs 20x the performance
FREE SSL certificate and 24/7 support
1-click installs for WordPress and popular CMSes
Get started with FREE website transfer service
InMotion: Our Expert's Review
Setup time: 5 minutes
Go to full review

»
InMotion Hosting offers an excellent business-class shared hosting plan. While carrying a higher price tag than some other cheap hosts, it has a very nice list of features to help justify the extra cost.
| Money Back Guarantee | Disk Space | Domain Name | Shared Hosting Plans |
| --- | --- | --- | --- |
| 90 days | Unlimited | New or Transfer | www.inmotion.com/shared |
See all the best shared hosts »
VPS Hosting
A virtual private server, or VPS, is best suited for high-traffic sites and applications performing complex tasks. Physical servers are virtualized and split among fewer customers, leaving more power and performance for each website. Customers have direct access to their VPS and often are responsible for installing and maintaining software and security solutions.
VPS plans can be more complicated for beginners to set up, but many hosts offer various tiers of expanded support — also called managed services — that will help users stay on top of security, backups, and operating system updates. Keep scrolling for a list of our favorite VPS hosts.
Managed or unmanaged, in Windows or Linux
Cloud hosting with hourly or monthly billing
Instant upgrades without downtime
FREE around-the-clock monitoring
Automatic nightly backups available
Hostwinds: Our Expert's Review
Setup time: 6 minutes
Go to full review

»
Does any hosting provider have more virtual private server packages than Hostwinds. The company offers 10 configurations — and that's just for managed Linux server partitions.
| Money Back Guarantee | Disk Space | Domain Name | VPS Hosting Plans |
| --- | --- | --- | --- |
| N/A | 30 GB - 750 GB SSD | New or Transfer | www.hostwinds.com/vps |
$0.01 for the first month using code HOSTINGADV
Then $6 monthly with no contracts, no changes
Latest of PHP, MySQL, Perl, Python, and Ruby
7 operating system options for Linux or Windows
Full root access and choice of datacenter
InterServer: Our Expert's Review
Setup time: 6 minutes
Go to full review

»
InterServer's on-site datacenter and hands-on involvement with configuring and provisioning virtual private servers give customers a level of flexibility not seen with many other hosting providers. InterServer rations VPS and cloud resources through slices.
| Money Back Guarantee | Disk Space | Domain Name | VPS Hosting Plans |
| --- | --- | --- | --- |
| N/A | 30 GB SSD - 480 GB SSD | New or Transfer | www.interserver.net/vps |
High-speed hosting that's faster than AWS, Rackspace, and Digital Ocean
FREE backups, CDN, and DDoS protection
Up to 16 processors with all-SSD storage
Choice between cPanel or Plesk Onyx
Real-time monitoring and 100% uptime guarantee
Liquid Web: Our Expert's Review
Setup time: 7 minutes
Go to full review

»
It's no secret by now that Liquid Web is known for best-in-class technology and reliability that exceeds expectations. The company's cloud VPS environments embody that reputation to its fullest — including managed WordPress and WooCommerce products.
| Money Back Guarantee | Disk Space | Domain Name | VPS Hosting Plans |
| --- | --- | --- | --- |
| N/A | 30 GB SSD - 150 GB SSD | New or Transfer | www.liquidweb.com/vps |
Dedicated Server Hosting
Customers who opt for a dedicated server typically see very high levels of traffic, store massive amounts of data, and have a critical need for performance, security, and reliability. The most expensive hosting option, dedicated servers are also the fastest and most powerful hosting configuration. Users have ultimate control over how to set up their dedicated hosting, but with great power comes great responsibility.
Because customers get total and complete control over an entire server, dedicated hosting plans aren't really suited for rookies. Again, less experienced site owners can (and should) rely heavily on managed services, but the price tag can become astronomical for premium white-glove treatment. Our top dedicated server hosting providers, however, all excel at maintaining name-brand, performant hardware with hands-on technical support teams.
100% network and power uptime guarantees
Custom configurations and instant provisioning
Auto-migrations, backups, and real-time monitoring
Block/object storage and load balancer add-ons
Windows or Linux with 100% uptime guarantee
Liquid Web: Our Expert's Review
Setup time: 8 minutes
Go to full review

»
Liquid Web's strong suit is managed dedicated server hosting. The company owns and operates five state-of-the-art datacenters in the US and Europe works tirelessly to build and maintain custom solutions for added performance and security.
24/7 uptime monitoring and private datacenter
Up to 24 cores and 100TB bandwidth
12 operating systems and 3 control panels
Custom configs built and maintained in-house
Price-lock guarantee without contracts
InterServer: Our Expert's Review
Setup time: 8 minutes
Go to full review

»
You know a hosting company means business when it owns and operates its own datacenters. Because InterServer employees build and manage servers in the same building as company headquarters, dedicated hosting customers get the utmost in flexibility, support, and around-the-clock monitoring.
Root access and 3 levels of server management
Expertly managed servers deployed instantly
Choose from 4 datacenters across 3 continents
FREE redundant SSD storage in RAID-1 arrays
Choice of 13 Linux operating systems
A2 Hosting: Our Expert's Review
Setup time: 7 minutes
Go to full review

»
Whether you're looking for managed or self-managed hosting, A2 Hosting offers three extremely reliable dedicated server plans to meet your needs, depending on your levels of comfort and experience. With A2 Hosting's Unmanaged Flex Dedicated Server plan, users get administrator-level control with root access and their choice of Linux operating system.
| Money Back Guarantee | Disk Space | Domain Name | Dedicated Hosting Plans |
| --- | --- | --- | --- |
| 30 days | 256 GB SSD - 14 TB HDD | New or Transfer | www.a2hosting.com/dedicated |
See all the best dedicated servers »
2. Register a Domain Name
Once you find the perfect place or property, you'll need a way for people to find you. Because you can't select your home's address, we'll compare this stage to finding the specific apartment, condo, house, or floor plan in the complex, neighborhood, or subdivision you've chosen as your favorite. The idyllic house number and street name might already be occupied by someone else, but you can usually find something close nearby without stooping to streets that are hard to pronounce or remember.
Most hosting companies — but not all — allow you to reserve and register a domain name, with many even including the service for free. The hosts, acting as registrars, work with the global managers of domain registries to secure the name of your site. A few hosts, however, avoid this step and simply prefer to focus on storing your files and making them readily available to site visitors. You can register a domain with any registrar and house your information separately. While we recommend keeping everything under the same roof for simplicity, you can register a domain and host your files separately.
A domain name is like using your new home's mailing address instead of the longitude and latitude coordinates. Computers can't communicate using domain names and find each other using IP addresses. The Domain Name System, or DNS, acts as the translation service that connects IP addresses to domain names. Hosts use DNS servers or nameservers to connect your website to the worldwide system.
As your brand or website's address, the domain name you choose is supremely important. SEO experts at Moz outline eight rules for a strong domain name. To have the greatest effect, domains should be brandable, pronounceable, short, clear of trademarks, and intuitive. When needed, a domain name should use broad keywords or rely on creative modifications.
FREE domain registration and transfer
Unlimited disk space, domains, and databases
$200 toward Google AdWords and Bing advertising
Unlimited bandwidth and email addresses
FREE online store and website builder
iPage: Our Expert's Review
Setup time: 5 minutes
Go to full review

»
With iPage domain hosting, users get a free domain name registration or a free domain transfer, and can host unlimited domains. The company offers unlimited bandwidth and emails, plus $200 in advertising credits to help get your website launched….
| Money Back Guarantee | Disk Space | Domain Name | Domain Hosting Plans |
| --- | --- | --- | --- |
| 30 days | Unlimited | FREE (1 year) | www.ipage.com/domain |
FREE domain registration and site-building tools
Unlimited domains, emails, and bandwidth
Up to $200 in offers with Google, Bing, and Yahoo!
Top-ranked WordPress host with tons of perks
24/7 customer support and online tutorials
Bluehost: Our Expert's Review
Setup time: 4 minutes
Go to full review

»
Bluehost offers all the freebies you need to get started with domain hosting. The company includes a free domain or transfer, plus unlimited bandwidth and storage.
| Money Back Guarantee | Disk Space | Domain Name | Domain Hosting Plans |
| --- | --- | --- | --- |
| 30 days | 50 GB - Unlimited | FREE (1 year) | www.bluehost.com/domain |
World's largest domain registrar with 17+ million domains under management
FREE domain included with annual plans
Manage your domains via cPanel or Plesk
FREE email hosting at your domain
99.9% website uptime guaranteed
GoDaddy: Our Expert's Review
Setup time: 4 minutes
Go to full review

»
We'd be remiss not to include GoDaddy on this list of the top domain name hosting providers. Perhaps the most well-known name in the domain space, GoDaddy is widely recognized as the world's top registration services company, and the $1 hosting is tough to beat….
| Money Back Guarantee | Disk Space | Domain Name | Domain Hosting Plans |
| --- | --- | --- | --- |
| 30 days | 100 GB - Unlimited | FREE (1 year) | www.godaddy.com/domain |
See all the best domain hosts »
3. Choose a Website Design Route
Now, we're in that stage of finally having a new place to live — but all your stuff is still in boxes. To make a house a home, you might want to hire an interior decorator or a landscaping crew. Naturally, you want your space to look and feel like your brand or personality and take advantage of the files, pictures, and trinkets you own.
Website builders and content management systems blend the expertise of others while still allowing you to exude your own personal flair. Designing and coding a website from scratch, however, will likely appeal to developers and do-it-yourself-ers. If you already have a site design you're happy with, skip ahead to learn how to seamlessly migrate it to your new hosting plan.
A. Design By Website Builder
The red-hot market for site building platforms provides a bevy of options for site owners who want a custom look without the long days of slaving away over a code and a keyboard.
Website builders offer bloggers, entrepreneurs, developers, and hobbyists a chance to create a stunning and professional website in minutes, with services typically focused on usability and mobile-friendly designs. Buyer beware: Several hosts include a building platform for free with new plans, but others can only be had by using the site builder's hosting services.
No coding skills needed with drag-and-drop builder
100s of templates with niche-specific designs
Add features via the App Market and Wix Events
Easily create ecommerce functionality easily
Great way to build small sites on a budget
WEBSITE BUILDER
RATING
★★★★★
Wix: Our Expert's Review
Setup time: 4 minutes
Go to full review

»
Website building is where Wix shines. The thousands of templates, the intuitive editor, the industry-leading designs that cater to a variety of specific fields and use cases — all these facets represent a platform that excels at facilitating easy web design for the non-tech-savvy user.
| Money Back Guarantee | Disk Space | Domain Name | Website Builder Hosting Plans |
| --- | --- | --- | --- |
| 14 days | 500 MB - 20 GB | Transfer | www.wix.com/site-builder |
B. Design By Content Management System
You'd be hard-pressed to find a web host that doesn't offer a one-click WordPress installation. The world's most popular content management system can be tough for beginners to learn, but WordPress is a free, open-source solution seemingly without limits.
For nervous beginners, try signing up with our top WordPress hosting provider, InMotion Hosting, which blends the best of both worlds with its proprietary, one-of-a-kind WordPress website builder, called BoldGrid.
FREE software with 1-click install
Trusted by millions of site owners
1,000s of drag-and-drop themes
#1 blogging platform
Huge online community
WordPress: Our Expert's Review
Setup time: 5 minutes
Go to full review

»
WordPress, the #1 blogging platform and software that powers more than 26% of websites currently online, needs no introduction. The underlying software of WordPress.
Compare WordPress with other CMSes »
C. Design From Scratch
With the right tools and lots of patience, you can craft a website from thin air. Coding a website from scratch can be a worthwhile endeavor for those not under a time crunch to get their site online. Learning web design and programming languages empowers site owners to create exactly the look and user experience they desire — and further tweak and expand your website as you acquire more skills.
Still unsure which route to take? Whether you want to learn how to code or are still checking out your design options, our helpful guide to site builders, CMSes, and coding provides a greater level of detail on the perks and downfalls of each choice.
Additional Steps If You're Migrating From Another Host
If this isn't your first hosting home, you'll have the option to hire movers to box up and transfer your belongings from your old place. Many of our favorite hosts offer free website and domain migrations. Of course, you can elect to move things yourself with relatively little experience, but why bother? The hands-free transfers usually incur little to no downtime — and exactly zero headaches for you.
Transfer Files and Databases Using FTP and phpMyAdmin
Load up the moving truck by downloading all your website files through FTP, or file transfer protocol. You can either use your old host's file transfer tool found in cPanel installations or configure a free FTP program of your choosing. Unsurprisingly, you'll then connect to your new host's server through FTP and upload all the files to your new storage space.
For simple, static sites, that's all for this step. Most sites with dynamic content, such as blogs, have databases that will have to migrate, as well. Database management can be done using phpMyAdmin, which is found in your host's cPanel platform. Export the relevant databases from your old host and sign into phpMyAdmin on your new host. You'll need to create new databases and usernames before importing the information.
Alternatively, you can minimize downtime by downloading and restoring backups using cPanel, so long as the web-based control panel is used by both hosting providers. You'll want to collect compressed backup files for your website, subdomains, and databases. Once the files have been uploaded to your new server, you'll have to enter username and password information associated with each MySQL database in the cPanel tool.
Point Your Domain Toward Your New Host's Nameservers
Once your files and databases have been moved, all that remains is telling the internet that your domain should now look for a different server to load and display content. This is akin to alerting the Post Office of your new address and signing up for mail forwarding. Moving a domain name to your new hosting plan is completely optional. Hosts will give you instructions on how to initiate that process, or it is perfectly fine to host domains separately from your website files.
Regardless of where your domain resides, log into that account management interface, and replace the domain nameservers with the updated information from your new host. Changes to the DNS records will take up to 24 hours to take effect, but both the new and old websites will function properly in the interim.
Once Your Website is Set Up, You Can Focus On Content & Customers
Even though we enjoy comparing two hosting options to seeking medical attention, the tried-and-true real estate comparison is the best route for explaining how to set up web hosting services. Regardless of the new hosting plan or server configuration you ultimately select, price, support, storage, and performance are all important features to consider when shopping for a hosting plan. Those components never go out of style, whether you're looking for somewhere to house a blog or your growing online store.
Naturally, once you're done moving into the starter home of your dreams, all that remains is throwing the housewarming party. Take advantage of the SEO tools and advertising credits many hosts offer to grow your audience and show off your new digs.
Advertiser Disclosure
HostingAdvice.com is a free online resource that offers valuable content and comparison services to users. To keep this resource 100% free, we receive compensation from many of the offers listed on the site. Along with key review factors, this compensation may impact how and where products appear across the site (including, for example, the order in which they appear). HostingAdvice.com does not include the entire universe of available offers. Editorial opinions expressed on the site are strictly our own and are not provided, endorsed, or approved by advertisers.
Our Editorial Review Policy
Our site is committed to publishing independent, accurate content guided by strict editorial guidelines. Before articles and reviews are published on our site, they undergo a thorough review process performed by a team of independent editors and subject-matter experts to ensure the content's accuracy, timeliness, and impartiality. Our editorial team is separate and independent of our site's advertisers, and the opinions they express on our site are their own. To read more about our team members and their editorial backgrounds, please visit our site's About page.