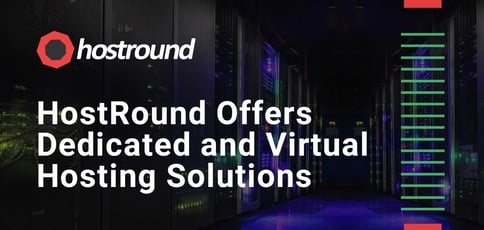 TL; DR: HostRound is a U.S.-based hosting provider that offers a full suite of web and email hosting solutions. Its robust technical backend tools offer a wide range of potential business applications. The company provides standard hosting services, managed through cPanel, and a responsive service team that supports internal product migrations for free. HostRound's journey continues with a stronger build-out of its VPS options and deeper integration with new technical partners across the industry.
Entrepreneurs and small businesses often start with shared hosting services to get their online operations off the ground. It is a cost-effective option, but businesses often outgrow shared hosting as their storage or bandwidth needs increase.
Eventually, dedicated servers or virtual private servers (VPS) may supplant shared hosting for more complex business use cases. Many companies switch to dedicated servers or VPS to gain more control over their data and ensure accessibility for their customers.
HostRound is a hosting provider that helps businesses launch online and grow from shared hosting to VPS and cloud options. The company helps entrepreneurs establish an online presence quickly and securely and continue their growth by meeting their server needs along the way.
"HostRound was established in 2017 by an ambitious entrepreneur who had 14 years of experience in web hosting and web app development," said the CTO for HostRound. "He had a passion for technology, in general, and for the World Wide Web, in particular."
Today, HostRound is a full-suite hosting provider headquartered in Delaware that offers a mix of dedicated and virtual services. It offers cloud backup, disaster recovery, and domain registration for clients.
As part of its virtual services, the company provides low-cost WordPress-optimized hosting with daily backups, malware protection, outgoing spam filters, one-click WordPress/Joomla/Drupal deployment, and a free CDN service. HostRound has three access tiers for clients, which it bills as effective for entry-level, medium, or high-performance clients.
"The motivation behind building HostRound was to go deep into the hosting ecosystem," the company's CTO said. "We are an infrastructure provider for other hosting businesses, as well as being a provider for end users."
Virtual and Dedicated Options Appeal to Shared Hosting Users
The biggest trend HostRound has seen in recent years is the increased interest in virtual servers over shared hosting, according to the company's CTO.
"When HostRound started, we focused on shared and dedicated hosting only and VPS wasn't one of our provided services back then, though it was in the pipeline," the CTO said.
HostRound leaders saw the increased demand and interest in VPS solutions. Its customers generally needed more resources and a customizable hosting environment but not necessarily the compute power of a bare-metal server. So HostRound accelerated the development of its VPS infrastructure, which now features several major technology partnerships.
For dedicated services, HostRound deploys U.S.-based servers in Dallas, Los Angeles, and New York. In Europe, it owns a datacenter in the Netherlands. Its datacenters support different levels of traffic — 50 TB or 100 TB — with seven base products that leverage Xeon-based servers. And all of its dedicated servers include fully managed cPanel/WHM.
HostRound's servers are DDoS protected with a free in-house mitigation system up to 40Gbps. It also offers a low-latency protection upgrade for enterprises that covers up to 1Tbps. It provides those services thanks to its partnership with Path Network (Path.net) which has POPs in the same locations as its datacenters.
The company built its first VPS presence at its primary datacenter in Dallas, with nodes powered by Intel E5 CPUs and high-performance SSDs. HostRound is upgrading to NVMe SSDs with massive throughput and multicore Intel scalable CPUs.
However, both shared and virtual hosting can have a similar drawback: the potential reputation of its associated IP address. Particularly with email, if a given origin IP is blacklisted by major providers, all email servers associated with that IP pay the price.
"One of the biggest challenges we faced when we started HostRound was email delivery rates for shared hosting customers," the CTO said. "At one point, this problem was threatening our shared hosting customer retention rate. Maintaining a mail server IP with a good reputation was a challenge until we partnered with SpamExperts. Mail delivery no longer represents a problem for us."
Premium Support Streamlines Customer Product Deployments
In the hosting market, product offerings and services are so alike in scope that pricing is relatively similar across the market. That means vendors often differentiate based on infrastructure quality, features, and support. HostRound delivers solid, owned infrastructure, and the company prides itself on responsive customer service.
"We believe that offering a wide range of services is good for our customers, who usually prefer a one-stop-shop for their online business needs," the CTO said.
HostRound's all-inclusive product portfolio and engaged service team mean that customers minimize cost and complexity by working with one vendor that satisfies their needs. The company actively solicits customer feedback about potential new products and has shaped its own development road map based on various requests. In addition, a verified uptime rate of 99.99% translates to almost no business disruption for customers.
According to the company's CTO, HostRound's easy migration within its diverse product portfolio has led to significant increases in account retention.
"When a customer signs up for shared hosting but then reaches a point where shared hosting is no longer a good fit, they may want to upgrade to a VPS or dedicated server," said the CTO. "We can easily perform the transition with minimal downtime for free when the purchased server is fully managed and powered by cPanel. That saves our customers significant time and effort."
That migration pathway isn't a common service. With many hosting providers, transitioning between product types means the customer must do it themselves. But HostRound's migration service ensures that, as companies grow, their scaling headaches are meaningfully reduced.
HostRound: Continuing to Future-Proof its Infrastructure
The earliest hosting providers focused on a shared model. After tinkering on his own for several years, HostRound's founder decided to launch a hosting company that helped other people establish their own space on the internet. The company now offers a full suite of services geared toward businesses of any size or complexity. And its hosting products are optimized for the most common content management systems, including WordPress.
As the hosting market matured, other product types — including dedicated servers and virtual private servers — became more common. The distinction between shared, virtual, and dedicated servers remains. But except for the smallest of websites with straightforward needs, HostRound has seen more of the market shift away from standard shared hosting.
The company began by focusing on cPanel-managed shared servers and dedicated servers, so its hardware and connectivity are perfect for business needs. It's also well-suited as a reseller, with two reseller tiers and value-added services including bandwidth oversells, spam filters, Cloudflare CDN, free backups, free SSL, and free Migration.
HostRound's next major initiative is to continue deploying new infrastructure, particularly around VPS options. Similarly, the company will seek out more technology partners to add to its stack. HostRound partners include cPanel, LiteSpeed, CloudLinux, Acronis, and Softaculous.
One of its goals for infrastructure improvements is to rapidly deploy dedicated servers so customers can get a dedicated server ready in as little as one hour.
HostRound's CTO is proud of the value it offers to clients.
"When HostRound started, we saw an opportunity to fill a gap in the market for good quality hosting at a reasonable price and with premium customer support," the CTO said. "We also include highly knowledgeable and well-trained staff, who can deal with any problems effectively and efficiently."