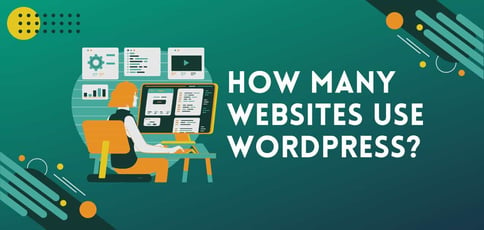 An eye-catching, functional, and reliable website is necessary for a business to establish an online presence. A website makes a statement about a brand, and WordPress is no stranger to the needs of online businesses. WordPress has come a long way since it was founded on May 27, 2003, by then-aspiring web developer Matt Mullenweg, and it is one of the most user-friendly, versatile, and robust CMSes around.
If you are wondering how many websites use WordPress, let's just say it dominates the content management system market. WordPress powers a staggering 43.1% of all websites on the web1. The open-source WordPress CMS is so popular because of its incredible array of powerful features.
Virtually each web hosting provider offers users a way to install the core software on their websites for free, and many offer dedicated WordPress hosting services. Here are some WordPress stats to show you exactly how popular WordPress is and to help you understand why it is so popular.
1. 810 Million Websites Use WordPress
You already know that 43.1% of all websites on the internet use WordPress1. More than 1.88 billion websites are online, and approximately 810 million of those are built on WordPress2. The numbers are staggering. WordPress's success can be attributed to its free, open-source roots, enormous database of plugins and themes, and flexible infrastructure.

The greatest contributing factor to WordPress's success is its free and open-source nature, making it easy to find, deploy, edit, and redistribute. As a WordPress developer, you can reap the benefits of its exceptional versatility and extensibility to build websites of all kinds, from a personal WordPress blog or SMB website to a complicated, multifaceted business website for large organizations.
Additionally, the remarkable WordPress community hosts thousands of online forums and can help you address any snag you may face. It is clear to see why WordPress usage is so high. More than 500 websites are built with WordPress daily, compared to about 60 to 80 on competing CMS platforms like Shopify, Wix, Squarespace, and Joomla!2.
2. WordPress holds 65.2% of the CMS Market Share
Speaking of WordPress statistics, here is one of the most impressive ones — the WordPress market share for CMS platforms is a mammoth 65.2%3. With a market share of 6.6%, WordPress's nearest competitor, Shopify, powers roughly 124 million of all websites. Wix, Squarespace, and Joomla! command a market share of around 52 million, 50 million, and 49 million websites, respectively (according to our calculations)3.

Shopify — 6.6% Market Share
Shopify is a cloud-based and hosted eCommerce company that enables you to start, market, and manage your business. All of your commerce is unified onto a single platform. You can build and customize your online store code-free and use tools for integrated payment processing, search engine optimization (SEO), marketing, and best-converting checkout.


Shopify also offers additional products and services catering to unique business needs, including accelerated payment options and easier access to capital. Finally, Shopify's App Store has thousands of third-party apps and features to further customize your online store.
Wix — 2.8% Market Share
Wix is a global leader in website creation, used by more than 250 million people across 190 countries4. It is an open SDK platform that offers a full suite of built-in tools for online professionals, web designers, and developers. The website-building platform provides more than 1,000 innovative features to build, manage, and grow your online presence professionally.


This includes advanced SEO and marketing tools. Wix Studio is an end-to-end web creation platform powered by Wix, specially built for freelancers and agencies. This platform enables them to develop and manage digital experiences for their clients at scale.
Squarespace — 2.7% Market Share
Squarespace is a popular website builder that is not too far behind Wix. Founded in 2003 in a dorm room at the University of Maryland and headquartered in New York, the Spacesquare platform has helped create millions of websites5.

The website-building platform offers its customers the highest standard of tools and services, great design capabilities, game-changing products, constant product upgrades and new features, creative freedom, and a simplified website-building process. Alongside website-creating services, Squarespace offers email marketing, SEO, creator, and logo-making tools.
Squarespace also offers eCommerce services. These services can help you power your eCommerce website and are ideal for businesses of all sizes.
Joomla! — 2.6% Market Share
Joomla! is an open-source CMS for publishing websites and web applications. The platform is search engine optimized, responsive, accessible, multilingual, extendable, and user-friendly. As Joomla! is built on a model-view-controller web application framework, you can use this framework independently to build sturdy web applications.

Joomla!'s caching engine speeds up your website's performance and enables you to use interactive design and dynamic data. If you are a developer, you can use the open-source software to create sophisticated website add-ons, such as communication tools, complex business directories, custom product catalogs, data reporting tools, and inventory control systems.
3. 62 Million+ People Have Downloaded WordPress
More than 62 million people have downloaded WordPress6. As mentioned earlier, the core WordPress software is free. Hence, the barrier to entry is extremely low for individuals and businesses with a low budget. That said, you may have to pay a fee for certain WordPress themes and plugins. The CMS updates its core software two to three times annually.

To download the WordPress core software, visit WordPress.org and click on the Get WordPress option at the top right of your screen. You will be redirected to the Download and Extend section of the website. From here, you can download and install the latest WordPress version. Go through the provided Installation Guide if you need any help7.
WordPress also lists recommended web hosts if you want to set up WordPress with a web hosting provider. According to the CMS platform, this is the "simplest way to start" and has considerable advantages8.
4. WordPress Has More Than 59,000 Plugins
The official WordPress plugin directory has more than 59,000 plugins9. These plugins can extend the functionality of a website. Some of the most popular plugins are Yoast SEO, Elementor, and WPForms. Yoast SEO is the most downloaded WordPress plugin in the WordPress directory, with more than five million active installations.

While many WordPress plugins are free, you may have to pay $100 to $200 for some premium plugins10. Free plugins may do the trick for personal blogs and SMBs, but mid to large-sized businesses may need the newer features, better code, WordPress security patches, premium support, and training and documentation associated with paid plugins.
5. 21% of WordPress Sites Use Elementor
Elementor is the most popular WordPress tool, with 21% of WordPress websites using it1. It is closely followed by WooCommerce, which is used by 20.6% of WordPress sites1. Elementor is a WordPress site builder that helps you effortlessly create professional, pixel-perfect WordPress websites without writing a single line of code.
The free version of the website builder, Elementor Core, includes the tool's main functionalities, enabling developers to build their websites with the Elementor drag-and-drop graphical user interface. The website builder's paid version, Elementor Pro, includes several advanced features and options.

WooCommerce is an open-source eCommerce platform for small to large-sized online businesses using WordPress. The highly customizable eCommerce platform provides all the tools you need to launch an online store, with hundreds of themes and extensions to boost your conversion rate and streamline your business. WooCommerce hosting plans add great value to businesses of all sizes.
Other popular WordPress tools include WPBakery, Beaver Builder, and 10Web Photo Gallery, used by 12.3%, 1.1%, and 0.8% of all websites that use the CMS platform, respectively1.
Should You Use WordPress Hosting?
WordPress is a powerful tool for website building. While installing and setting up the free core software is fairly straightforward, it takes significant time to create a WordPress website, especially if you are inexperienced. A wide array of themes and plugins are at your disposal, and without the proper knowledge of a particular WordPress theme or plugin, building a website may seem overwhelming.
You may have heard of web hosting services like shared hosting, dedicated server hosting, cloud hosting, and VPS hosting — but what exactly is WordPress hosting?
WordPress hosting providers know the ins and outs of the popular CMS platform and offer features and specifications that make setting up your WordPress website a piece of cake. The best WordPress hosting companies offer a fantastic WordPress user experience with robust hardware, standout uptime, and complimentary add-ons. A managed WordPress hosting plan makes your life even easier.
Hostinger's managed WordPress hosting plans, for example, offer a free domain name, a 99.9% uptime guarantee, WooCommerce optimization, automatic updates, a WordPress vulnerabilities scanner, object cache, AI tools, and enhanced security protection. In a nutshell, if you seek the best possible WordPress experience, it makes sense to use a WordPress hosting company.
Some other exceptional WordPress hosting solutions include WP Engine, Bluehost, and SiteGround.
The Future of WordPress
WordPress continues to dominate the CMS market share year after year. There's no telling when the open-source giant will slow down. One thing website creators and developers can know for sure is that WordPress remains one of the best ways to build an online presence.
Its mobile-friendly customizable themes, useful plugins, and SEO tools make it a popular choice for users of all experience levels. And with the right host, anyone can bring their ideas to life with WordPress.
Sources and Further Reading
https://w3techs.com/technologies/details/cm-wordpress/
https://colorlib.com/wp/wordpress-statistics/
https://blog.hubspot.com/website/wordpress-stats/
https://www.wix.com/about/us/
https://www.squarespace.com/about/company/
https://wordpress.org/download/counter/
https://wordpress.org/
https://wordpress.org/hosting/
https://wordpress.org/plugins/
https://www.zippia.com/advice/wordpress-market-share-statistics/