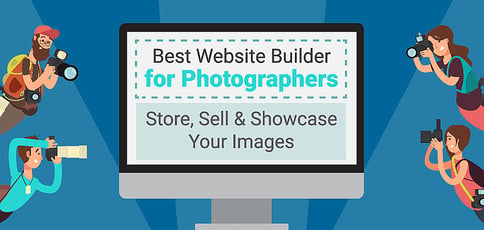 For those looking to create an impressive online portfolio in a snap, the best website builder for photographers comes ready to showcase your work and build a following. Whether you're a professional or a hobbyist, site builders are a great way for artists, designers, musicians, and other creatives to craft an online presence.
Options abound for site owners to get their images online, but not all of them address the specific challenges facing photographers — the ability to handle large file sizes and display interactive galleries, to name a couple. From family portraits and high-stakes sports imagery to the ability to book appointments and sell prints, site builders provide the design templates, functionality, performance, and security needed to effectively share your photos with the masses.
Here, we lay out and analyze the wide range of available tools that will help bring your website builder best bets into sharp focus.
Although the industry has undergone massive changes since the advent of digital cameras and the proliferation of smartphones, photography is still a livelihood to roughly 55,000 professionals — and that figure doesn't account for scores of self-employed photographers.
With more cameras in existence than ever before and most of them embedded into smartphones and other mobile devices, nearly everyone has the ability to capture all the colors, moments, and imagery happening in the world around them.
What you do with those photos, however, can still be a struggle for both professionals and amateurs. Launching and managing a website can be a daunting process for the uninitiated, full of jargon and confusion. Photographers' needs to display large images and share them with friends, family, and clients add another layer of complexity to an already technical operation.
Fortunately, website builders distill online galleries and portfolio projects into a simple, visual process perfect for visual thinkers. The best platforms for photographers, like the three listed below, provide a drag-and-drop interface that enables users to select a template and make fine-grain adjustments to the fonts, layouts, color schemes, and other elements to best reflect their personal or business brand. Behind the scenes, website builders take care of the web hosting setup and offer tools for simplified and effective search engine optimization, marketing, and sales.
Take a look at our three favorite website builders below. Although each platform has its particular strengths, these represent the best all-around solutions for most photographers.
See other top website builders »
Nowadays, anyone with a smartphone can fancy themselves photographers. You don't need to lug around a tripod and an armful of lenses to need an online solution befitting a photographer.
The explosion of mobile devices (and their embedded cameras) mean people around the world took 100 billion more photos in 2017 than they did in 2016 — yes, that's billion. Because about 90% of all digital photos are taken on phones and tablets, that means the digital camera industry is shrinking; sales dropped from 121.5 million in 2010 to about 35 million in the first half of 2015.
For professionals, we get it — cameras and lenses are ridiculously expensive. It's easy to blow your budget on photography equipment and leave yourself lacking funds for publishing, sharing, and selling your work online. Although we strongly recommend making a small investment in yourself and finding an affordable web hosting plan or website builder package, we can see how setting up your portfolio on a no-cost platform can save a few bucks before it's time to launch.
Free website builders will enable you to choose and customize a template, as well as getting a feel for the drag-and-drop controls and general interface. Those photographers serious about booking portrait sessions or selling prints, however, will want to upgrade to paid plans to enjoy more features like a custom domain name, eCommerce functionality, and access to tools for marketing and advertising. See our top free options below:
FREE pre-installed SSL certificate
Optimized performance, spam protection, and analytics via Jetpack
Dozens of FREE themes and gallery plugins
Integrate with WooCommerce to sell your prints
See other top website builders »
Despite their effectiveness, there are few potential drawbacks to using a website builder. For starters, the industry carries a reputation for not having the best customer support. Typically, free customers only have access to community forums and an online knowledge base; you'll have to pay more for the ability to send email tickets and even more to be able to contact support teams via phone or live chat — if either functionality exists.
Website builders are great for taking care of the technical, nitty-gritty details of hosting a website completely behind the scenes. But that lack of transparency can mean your website may live on an outdated server or infrastructure that isn't running at peak performance. Because site builders are all about ease of use, affordability, and looks, chances are the boring technology stuff takes a back seat.
To us, one of the biggest drawbacks of using a site builder is the fear of being trapped in a proprietary system with few options to transfer your site. Although platforms like Wix and Squarespace are top-notch sites we confidently recommend to our readers, your site and data can only exist within those companies; you'll have to start from scratch if you want to host your photos elsewhere.
Weebly offers a little more flexibility in that you can choose to pair their software with their in-house infrastructure or on the hardware and networks of a variety of web hosting partners. This gives interested customers more insight into and control over the technology behind their photography website, as well as the ability to move to another hosting provider or another level of service if your business grows beyond the lower levels of hosting capacities.
We've shared our review of Weebly in the previous section, so we'll go ahead and share our top hosting providers that include the platform or other site builders for free. Be sure to click on each review for more information:
See other top affordable site builders »
If we scared you a bit in the last section with the talk of vendor lock-in, never fear — WordPress is here! Although it's technically a content management system instead of a website builder, WordPress is an extraordinarily popular tool for creating and customizing websites. In fact, WordPress powers nearly a third of all websites, or about 60% of the CMS and site builder industry.
WordPress is entirely open-source software, meaning it's free to use, download, install, and customize. Tech-minded photographers can even dive into the code if they so choose, or hire a developer to make even more customizations to their site or the backend system. The larger WordPress community boasts thousands of free and premium themes, along with a vast array of plugins, or additional software components that introduce new functionalities to your WordPress installation.
For those who might be scared to leave the drag-and-drop experience of website builders, don't give up yet. In addition to a handful of page builder plugins that let you add, move, and adjust content on a grid-like layout of rows and columns, one of the most recent updates to WordPress unleashed a new visual editing experience called Gutenberg that features movable content blocks. Take it for a quick spin here to see if this might be a possible solution for you.
A slight word of caution: There is a bit of a learning curve to get started on WordPress, so head down this path with a good dose of patience. However, the rewards far outweigh the early headaches. Take a look at our favorite three hosting providers for WordPress users:
See other top eCommerce website builders »
Depending on who you ask, the idea of a starving artist is either an inspiration that feeds passion… or a frustrating cliché that breeds laziness. It can be tremendously hard to earn a living in such a highly specialized and creative field — but you won't get there if you don't try. Photographers can absolutely succeed in business without sacrificing their creativity.
If photography is currently more of a hobby that keeps you sane and happy after your day job, you may want to consider using your work and artistic eye to create a supplemental revenue stream. While creating a strong social media presence for your brand is free, your online portfolio and website will be critical to your overall success. Website builders provide a smooth on-ramp to the professional ranks by minimizing your startup costs and enabling you to start selling quickly.
For professionals, website builders can take photographers from surviving to thriving. By minimizing the time spent behind your monitor and keyboard, you can spend more time behind the viewfinder. Centralize your business operations by bringing everything into one program. Believe it or not, site builders are more than just pretty templates — they can help with product descriptions, shopping carts, payment processing, shipping, inventory, and occasionally even with accounting. Plus, don't forget email marketing and search engine optimization.
Whether you're looking to book portrait sessions, sell digital files, or make and send prints to clients and other customers, website builders often come with eCommerce tools that will help you start connecting with paying customers. Be sure to pay attention to which features are available when shopping for your site builder. We've laid out our three favorite builders for businesses below:
See other top eCommerce website builders »
So many factors go into finding just the right website builder for your photography business. In addition to the quality and performance of the template you select, you'll want to make sure the drag-and-drop interface is comfortable and easy to operate. Cost is always important, as well as customer support and the number and type of features.
Picking a platform largely depends on your goals, whether it's for sales or simply showcasing your work. Make sure your site builder will grow alongside your success — both in terms of storage space for your image files and the bandwidth to speedily deliver your site to a growing audience of fans, visitors, customers, and patrons. Ideally, you'll only have to make this decision once, so be sure to take the time to do the research and kick the tires of the various software programs.
For photographers, site builders largely fall into three camps: all-purpose platforms like Wix and Weebly, the proprietary builders from web hosting companies, and the specialized products created specifically for photographers, artists, and designers. We've compiled a list of the best representatives from each area to help you find exactly the right option.
16. GoDaddy — $5.99/Month (One month free, no credit card required)
The undisputed king of domain name registrations, GoDaddy is the go-to option for all things websites. Particularly built for beginners, the company also provides the infrastructure, security, performance, and support for growing businesses. With the GoCentral Website Builder, GoDaddy promises to help customers build better websites in less than an hour.
Particularly helpful, users can try out GoCentral for free — even for creating an online store. The GoDaddy site builder comes packed with SEO tools, a free SSL certificate, and themes built for photographers. What's more, customers can edit their site on any laptop, phone, or tablet.
17. DreamHost — $4.95/Month (One month free, no credit card required)
For those photographers wavering between using a website builder or WordPress, you'd be hard-pressed to find a better partner for either option than DreamHost. The highly regarded hosting provider is one of only three companies to be recommended straight from the WordPress core team. DreamHost's do-it-yourself site builder, Remixer, is one of the only drag-and-drop editors that enables users to export their site to WordPress.
Remixer plans feature unlimited websites and no page limits, as well as a custom domain name and access to free stock images. Photographers will especially appreciate the platform's built-in image editor that allows users to apply filters, rotate, scale, and crop pictures.
One of the world's largest hosting providers, 1&1 IONOS is a full-service company that aims to serve the gamut of website owners. From true beginners to experienced developers, small businesses to full-scale organizations, 1&1 IONOS provides incredibly affordable services that scale alongside your needs.
The company's MyWebsite builder comes with an array of responsive and mobile-friendly templates, as well as pre-filled text and image suggestions to ease some of the load off your shoulders. Other features include email marketing, social media and blog integrations, and the ability to adapt your site for certain target audiences.
19. Format — $6.00/Month
Boasting nearly two dozen image-focused themes, Format bills itself as the website builder for creators. In addition to the visually minded portfolio platform, Format also enables photographers to manage online galleries via an iOS app. The Toronto-based company allows prospective customers to get started for free and emphasizes efficient workloads.
Every Format site includes blogging, SEO, and social media tools, as well as an online store and password-protected proofing galleries to deliver work securely. Photographers can publish images directly from Adobe Lightroom, ensuring professionals have no wasted motions when editing images on a deadline.
Since its founding in 2012, Portfoliobox has attracted more than 1 million creatives to its drag-and-drop platform. The real-time editor is extremely easy to operate, and users aren't locked into a particular template — customers can combine templates and layouts to create exactly the online experience and brand representation they desire.
One of the few specialized site builders to include a permanently free option, Portfoliobox doesn't charge customers who publish 50 or fewer images. The platform emphasizes stunning, flexible, and responsive galleries, along with an eCommerce solution that seamlessly integrates with the site building experience.
21. Dunked — $8.00/Month
Built specifically for creative professionals, Dunked is an especially streamlined tool for quickly crafting and launching online portfolios. Users start with a 10-day free trial that doesn't restrict any features. When it comes time to upgrade, photographers can choose between two premium, yet affordable, plans.
Dunked templates are beautiful and built to showcase visual art, but they aren't nearly as numerous as what you may find with other site builders. Although Dunked provides top-notch hosting through a highly regarded industry leader in Rackspace, customers will need to register a domain name separately through another registrar.
22. AllYou — $8.00/Month
Created in Zurich in 2011, AllYou was built from the start to serve photographers, designers, and artists. The ultra-intuitive drag-and-drop editor enables users to launch a website in just a few clicks, or spend time customizing color schemes, fonts, and other styles.
In addition to a partnership with Adobe Typekit to provide more than 1,000 available fonts to choose from, AllYou will automatically detect high-resolution screens and ensure your work looks its best. Although support is contained within user forums, we appreciate how AllYou integrates with third-party services like Vimeo, YouTube, Soundcloud, and Issuu.
Born out of a dinnertime conversation among friends about the future of photography, PhotoShelter has been around for more than a dozen years and is a tried-and-true platform for established professionals. Photographers can store, sell, deliver, and organize images with a broad set of scalable features such as cloud storage, image theft guard, and private client galleries.
PhotoShelter comes with a rather steep price tag, but you can try out the program without cost for 14 days. The New York-based support team is staffed by expert users and many professional photographers, ensuring you're getting superb advice about your photography business and online presence.
Rounding out our list is Squarespace, a premium all-purpose site builder known for stunning, image-heavy templates. The full-service company offers drag-and-drop simplicity backed by powerful unlimited hosting and security. Photographers can easily combine the Squarespace site builder with the platform's integrated online stores, custom domains, and marketing tools.
Additionally, Squarespace gives photographers a custom tool for designing logos along with professional email hosting with G Suite. The price is steeper than many other platforms, but photographers will appreciate the responsive templates, powerful eCommerce solutions, and personalized support.
Whether you are just getting started with photography or are a seasoned veteran, creating and growing an online presence is vitally important to your success. Publishing your photos online spreads your work to the masses. Instead of being intimidated by the exposure, embrace the opportunities for professional growth. Treat your website or photography portfolio like a gallery exhibit, welcoming viewers to your visual take on the world.
Just like showing in a gallery, though, be prepared for lots of setup and fine-tuning of your displays. Instead of getting bogged down in the nuts and bolts of coding a site from scratch or dealing with the hassles of web hosting, site builders give you a chance to save some time, money, and even sanity.
Photography websites help professionals streamline communication, whether you're sharing images with friends and family members or potential customers. Instead of sending the same information, such as stories from vacation or the cost of a session, use your website to proactively educate your visitors.
Having a professional online portfolio or website enables photographers to build their brand, which goes well beyond the images you produce. Beyond your talent, your website should represent your personality and overall style. Potential clients or employers will consider the full picture when looking to hire a photographer or buy a print.
A picture is worth a thousand words, and website builders give you the platform and the megaphone to get started in just a few clicks. So take a deep breath and begin building!
Hopefully, our recommendation of Wix fulfills all your web hosting needs. Starting at just $0.00 per month and rated 4.9 overall, Wix gives users plenty of bang for the buck. Among our favorite features:
No coding skills needed with drag-and-drop builder
100s of templates with niche-specific designs
Add features via the App Market and Wix Events
Easily create ecommerce functionality easily
Great way to build small sites on a budget
If you'd like recommendations similar to Wix and others in 24 Best Website Builders for Photographers (June 2023), check out these popular guides. You'll find comparisons of Wix to other hosts on pricing, features, support and more:
And of course, if Wix is your top choice, you can get started now at just $0.00/month. Wix is easy to set up and scale, no matter the size of your next project.
Advertiser Disclosure
HostingAdvice.com is a free online resource that offers valuable content and comparison services to users. To keep this resource 100% free, we receive compensation from many of the offers listed on the site. Along with key review factors, this compensation may impact how and where products appear across the site (including, for example, the order in which they appear). HostingAdvice.com does not include the entire universe of available offers. Editorial opinions expressed on the site are strictly our own and are not provided, endorsed, or approved by advertisers.
Our Editorial Review Policy
Our site is committed to publishing independent, accurate content guided by strict editorial guidelines. Before articles and reviews are published on our site, they undergo a thorough review process performed by a team of independent editors and subject-matter experts to ensure the content's accuracy, timeliness, and impartiality. Our editorial team is separate and independent of our site's advertisers, and the opinions they express on our site are their own. To read more about our team members and their editorial backgrounds, please visit our site's About page.