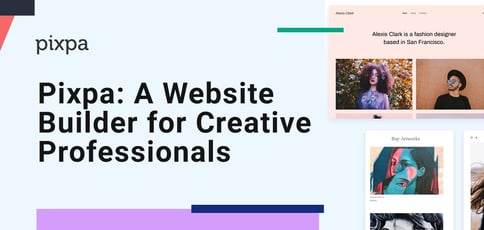 TL; DR: Pixpa is a website builder that gives creative professionals an easy way to create an online space where they can show, share, and sell their creations. The platform emphasizes the customer experience and relies on feedback to continually innovate and improve its products. Pixpa aims to become the platform of choice for creatives and small businesses wanting to establish an online presence that attracts customers and grows their brand.
A decade ago, Gurpreet Singh ran a design agency that started attracting requests from his creative friends.
Gurpreet said they would ask his agency to build portfolio websites where they could show off — and possibly sell — their work. At the time, those were side projects, but as word of Gurpreet's high-quality website building spread, they became a consistent revenue stream for the company.
"We had built our own agency portfolio website on WordPress, and it was clunky and difficult to manage," Gurpreet said. "We created scores of websites for photographers, artists, and designers, but managing and updating the websites was difficult and needed a lot of hand-holding."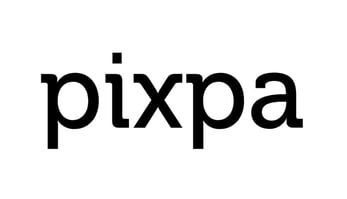 Gurpreet decided to branch out, and that portfolio work eventually evolved into Pixpa, a venture dedicated to making site-building easy for creative professionals. Gurpreet said he envisioned a tool to showcase portfolios online that wasn't cookie-cutter like many other platforms.
"As a portfolio website builder, we differentiated ourselves by offering the best possible online galleries to showcase one's work with a lot of layouts and styling options," Gurpreet said. "This, along with our customer-centric approach, got us a lot of traction among creators."
That focus on creative professionals, including many photographers, is one of the factors that distinguishes Pixpa from its competitors. Today, Pixpa is more than a place for professionals to showcase their art. It also offers robust ecommerce options so they can sell the work and grow their businesses.
"Now, Pixpa has evolved into an all-in-one platform for creators and small businesses to build websites, portfolios, stores, blogs, and client galleries," Gurpreet said.
An Intuitive Platform With a Focus on Accessibility
Many entrepreneurs and creative professionals have had disappointing experiences with website builders when designing an online portfolio or personal website. The experience can be overwhelming as users with an eye for detail must decide which template or design is suitable to showcase their work.
Pixpa aims to replace that frustration with a seamless user experience.
"Our mission is to empower our customers to build websites that they love," Gurpreet said. "From our polished, professional design templates to the comprehensive feature set and affordable plans, everything works together to make Pixpa the platform of choice for creators and small businesses."
Gurpreet said that, around the time the idea for Pixpa took hold, the website builders and the CMS platforms available didn't offer the ease-of-use or the polished aesthetics that clients deserved.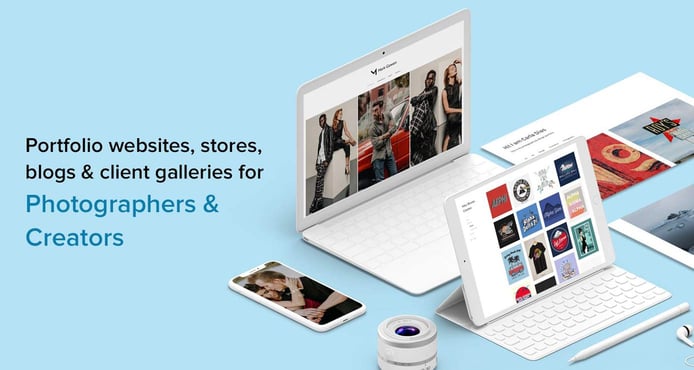 "The idea of building a do-it-yourself portfolio website builder started as an internal tool and slowly kept evolving to become a software-as-a-service product," he said.
And clients use the Pixpa platform for much more than just creative portfolios and websites. Pixpa also allows customers to create an online store and establish an ecommerce presence.
Its tools include features to create an integrated blog, client galleries, and a mobile app.
Gurpreet said ease-of-use is one of the company's guiding principles and he has seen many customers switch to Pixpa from other platforms. And when those customers make the switch, Pixpa shows them another one of its guiding principles: listening to them.
Growing by Prioritizing Customer Feedback
Customer feedback has contributed to the development of Pixpa's growing list of features that it bakes into every product.
"I believe that the main reason customers are switching to and sticking with Pixpa is our customer-centric approach," Gurpreet said. "Everything that we do is based on the feedback that we get from our customers."
That customer-centric approach also allows Pixpa to stay at the forefront of technology and business trends. Gurpreet said he has observed significant changes since launching Pixpa.
"The first big shift that we have witnessed is that creators wanted to do more with their website than just showcase their portfolio," he said. "They want to sell online, start a blog, share their work with clients, and have social media connections and marketing tools embedded within their website."


That's why Pixpa pivoted from portfolio-building to give customers the power to build their website, portfolio, store, blog, and client galleries in one place without needing to write code. Advanced users can also further customize their websites with CSS.
Pixpa's responsive customer support also gives entrepreneurs and creatives more flexibility. Gurpreet said the response time to customer inquiries is currently less than three minutes.
"We are here to help our customers build better websites and grow their businesses," he said. "It is the customer support and service DNA of our team that allows us to not just retain our customers, but also grow through word-of-mouth referrals."
Pixpa's time in business has also followed a significant industry shift to mobile technology. And the company has evolved to meet its customers' evolving needs.
"Everyone is now consuming data and browsing on mobile devices. It is critical for us to have Pixpa websites deliver a great experience on all mobile devices and empower our customers to grow their business in today's mobile-first world," Gurpreet said.
Pixpa: A Top Choice for Creative Professionals
Modern creative professionals can reach wider audiences than ever before, and Pixpa is well-positioned for future success thanks to its commitment to innovation.
"Most of our work now is strengthening the workflows that customers need to manage, grow, and market their business online," Gurpreet said. "We have already built a lot of features within Pixpa that eliminate the need to use third-party plug-ins, including marketing pop-ups, announcement bars, and cookie consent bars."
Gurpreet said he believes the company's customer-first approach will continue to be a guiding force in 2022 and beyond.
"We have built strong connections between our customer feedback channels and product road map discussions. We follow our customer journeys based on what they want to accomplish and grow with them," he said.
The Pixpa team knows from experience that technologies and customer needs are ever-changing. That includes areas that customers may not initially consider when they choose the platform as their website builder.
"We are working on strengthening our ecommerce offering with more advanced tools for managing shipping, discounts, and taxes," Gurpreet said.
He said the company is also working on integrating Pixpa stores with third-party marketplaces.
"We have got a great road map for the coming months, and we are excited about the direction in which Pixpa is evolving and the feedback we receive from our users," Gurpreet said.