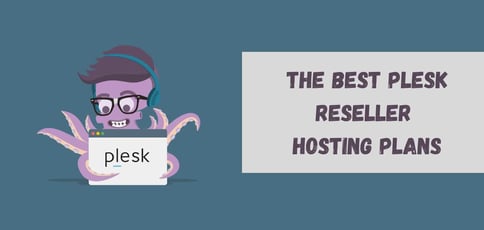 Every person in the web hosting industry knows what cPanel is. Even if you're a novice who's just purchased their first shared hosting plan, you likely have some experience with the most common control panel. The software is easy to learn and offers secure server management. However, many industry folks seek alternatives as cPanel pricing continuously increases.
Introducing Plesk: a low-cost alternative to cPanel for reseller hosting companies. The software, which is a part of the WebPros package, has the advantage of supporting both Linux and Windows servers. Keep reading to discover our picks of the best Plesk reseller hosting options and some cPanel alternatives.
The Best Plesk Reseller Hosting Plans
Plesk bills itself as "the ultimate WordPress toolkit" and is designed for infrastructure providers who can scale to enterprise levels in the cloud. With more than 100 plugins for the control panel, Plesk is no longer a weaker option to cPanel, and the licensing costs are still less, depending on the Plesk provider.
Building your own web hosting company on cloud hardware or a self-managed datacenter facility is no easy task. Reseller plans make it possible for web design agencies to orchestrate shared, VPS, VM, and dedicated server plans for their customers and manage the environment with unlimited subdomains.
Choose between Windows or Linux reseller plans
VPS or shared reseller options available
SSD storage with CloudLinux and LiteSpeed
FREE management with cPanel, WHM, and WHMCS
Unlimited domains, email, FTP, and databases
RESELLER
RATING 4.5 ★★★★★ Our Review
AccuWebHosting: Our Expert's Review
Laura Bernheim (HostingAdvice.com): Blending performance and affordability, AccuWebHosting offers the full range of reseller options. Entrepreneurs can choose Windows or Linux, as well as shared or VPS configurations, depending on the scale of their reseller business. Go to full review »
| Money Back Guarantee | Disk Space | Domain Name | Setup Time |
| --- | --- | --- | --- |
| 30 days | 10 GB SSD – 150 GB SSD | New or Transfer | 4 minutes |
AccuWebHosting takes the tried, tested, and true method of offering cPanel on shared Linux reseller accounts and Plesk on shared Windows reseller accounts. Most web hosts have been using this method since before Plesk, cPanel, WHMCS, and WebPros merged. Each hosting account has a different developer audience.
AccuWebHosting has been the top customer choice for reseller hosting for many years. The hosting company offers the SolidCP control panel over Plesk and cPanel on its reseller VPS plans, including a custom AMP for hardware, storage configurations, and web traffic metrics instead.
This combination of shared Linux and Windows servers, along with Windows VPS servers, makes AccuWebHosting a top choice, but it is its hardware, datacenter engineering, and customer support that distinguish the company the most for resellers.
Choice of Windows or Linux reseller packages
Hardware via Dell servers & Intel Xeon processors
1-click upgrade for FREE domain reseller account
Unlimited Plesk or cPanel accounts with all plans
99.99% uptime guarnatee with distributed DNS
RESELLER
RATING 4.3 ★★★★★ Our Review
ResellerClub: Our Expert's Review
Laura Bernheim (HostingAdvice.com): Known for a reseller program that has attracted more than 200,000 entrepreneurs, ResellerClub offers numerous services to those looking to start their own businesses in web hosting and domain registrations. In addition to serving more than 5 million domains and customers in more than 150 countries, the hosting provider has crafted among the most diverse portfolio of solutions that we've ever seen. Go to full review »
| Money Back Guarantee | Disk Space | Domain Name | Setup Time |
| --- | --- | --- | --- |
| 30 days | 40 GB SSD – 200 GB SSD | New or Transfer | 4 minutes |
ResellerClub offers Plesk control panel options on its VPS plans with a choice of three licensing options: WebAdmin, WebPro, or WebHost. VPS hosting plans range between $8 and $42 per month depending on the configuration, which is a fair price for the features you get. Resellers can white-label and rebrand these products on their websites with managed datacenter support.
Windows reseller products come with unlimited Plesk control panels for business owners who want to operate a shared Windows server environment. These plans include the Parallels Panel and a suite of pro tools for ASP.NET development. The Windows reseller plan also includes automated billing and Cloudflare CDN integration — major perks for aspiring resellers.
3. ASPHostPortal
ASPHostPortal is a highly specialized ASP.NET host with reseller accounts that include the Plesk control panel. ASPHostPortal supports nearly every Windows Server, .NET Framework, and ASP.NET release Microsoft has produced in the last 20 years. We highly recommend this host for Windows reseller hosting plans.


Reseller accounts at ASPHostPortal are priced in four tiers with quotas for 10 to 40 websites, giving you flexibility and room for growth. Each site can have a unique Plesk control panel and ASP.NET configuration. ASPHostPortal reseller plans are great for programming teams that need to support and modernize legacy code. However, unlike other Plesk reseller providers, the company does not support Linux hosting.
4. Netcetera
Netcetera offers Windows and Linux reseller accounts on the shared hosting model with a unique Plesk control panel provided for every user. The licensing cost for each Plesk panel is included in the subscription fee for the reseller plan, which has three tiers.


Netcetera reseller plans support 50, 100, or 300 domains with fair pricing on Windows and Linux plans. The reseller receives a specific configuration of pooled resources to manage all of the registered domain accounts. However, Windows shared hosting has a much higher cost at Netcetera. This type of shared Reseller plan with Plesk will appeal to web design companies, independent developers, freelancers, and ASP.NET specialists alike.
5. Webline Services
Webline Services delivers the complete suite of Linux and Windows servers with Plesk control panel support on its reseller plans and options for cPanel reseller plans with Softaculous.


All Webline Services hosting plans can be white-labeled for use in any reseller business plan. The accounts are enabled to be oversold, so you only need to upgrade when the domains exceed the resources allocated to each plan.
All reseller plans include the Plesk Power Pack of add-ons as a free bonus offer. This includes anti-virus scanning, developer tools, Docker support, and PostgreSQL extensions. You can also enable Google PageSpeed Insights Pro.
Plesk Alternatives: cPanel Reseller Hosting
There is currently only a small difference between Plesk and cPanel licensing costs for retail users. But bulk pricing and grandfather clauses allow the oldest web hosting brands to secure wholesale pricing on cPanel at a lower cost per month for each user.
Providing customers with a unique cPanel or Plesk login is critical to reseller hosting. Reseller plans based on WHMCS allow web hosting companies to pass on their low-cost bulk licensing for cPanel to customers.
If you want to save money with bulk cPanel licensing, take a look at the reseller plans below:
SSD reseller hosting with FREE cPanel/WHM
Keep your reseller business organized with WHMCS
FREE dedicated IP and site backups
Tons of email features with IMAP and POP3 support
Manage your domains with a FREE Enom license
RESELLER
RATING 4.9 ★★★★★ Our Review
InMotion: Our Expert's Review
PJ Fancher (HostingAdvice.com): InMotion Hosting offers cPanel reseller hosting that's affordable, easy to manage, and includes free SSDs. Become a domain reseller for popular gTLDs and TLDs with a free Enom license and WHMCS to manage your accounts. Go to full review »
| Money Back Guarantee | Disk Space | Domain Name | Setup Time |
| --- | --- | --- | --- |
| 90 days | 80 GB SSD – 260 GB SSD | FREE (1 year) | 5 minutes |
InMotion Hosting includes a free WHMCS license on its Reseller hosting plans, which are based on the same NVMe SSD hardware that many users swear by. There are four main tiers of reseller billing at InMotion Hosting, which scale up to 100 included cPanel licenses.
Most reseller hosts launching in the current environment will struggle to sign up 100 new platform users. However, established web design firms that host many client websites can use InMotion's reseller plans to do so.
You can white-label shared hosting plans through the InMotion Reseller program with up to five dedicated IP addresses for domain use.
Affordable reseller plans with luxury features
FREE Enom account to manage unlimited domains
Turbo Server configuration loads pages 20x faster
FREE SSDs, CDN, and choice of server location
99.9% uptime guarantee and 24/7 monitoring
RESELLER
RATING 4.8 ★★★★★ Our Review
A2 Hosting: Our Expert's Review
Alexandra Anderson (HostingAdvice.com): A2 Hosting provides some of the most appealing reseller hosting deals on the market. Enjoy free Enom, cPanel, and WHMCS accounts to get your business started, then leverage A2 Hosting's impressive speed to impress your customers. Go to full review »
| Money Back Guarantee | Disk Space | Domain Name | Setup Time |
| --- | --- | --- | --- |
| 30 days | 60 GB SSD – 270 GB SSD | New or Transfer | 4 minutes |
A2 Hosting is one of the most popular reseller hosts. It has traditionally used its market position to amplify the platform with Turbo servers based on NVMe SSD hardware. All A2 Hosting reseller plans include a free WHMCS and cPanel license with a third option for the Blesta billing software.
A2 Hosting has a strong reputation for innovation, reliability, and security. This is important when making a long-term reseller commitment with a vendor. It is known to roll out new PHP and MySQL releases faster than other hosts, an advantage you can pass on to your clients using white-label billing.
Start a company with cPanel reseller hosting
Unlimited domains, emails, and MySQL databases
99.9% uptime guarantee and 400+ tutorials
All web hosting reseller plans include WHMCS
FREE ResellerClub account for domains
RESELLER
RATING 4.7 ★★★★★ Our Review
HostGator: Our Expert's Review
Ryan Frankel (HostingAdvice.com): HostGator offers some of the industry's best reseller hosting plans, with WHMCS included for your management purposes, as well as cPanel for your customers. You specify your reseller hosting customers' packages, disk space, and bandwidth. Go to full review »
| Money Back Guarantee | Disk Space | Domain Name | Setup Time |
| --- | --- | --- | --- |
| 30 days | 60 GB – 140 GB | New or Transfer | 4 minutes |
HostGator reseller hosting has been an industry standard for more than 20 years. The HostGator reseller platform has defined the system with its tiered billing levels based on the amount of shared hosting resources allocated to each account. All of the HostGator reseller plans include support for unlimited domains. You also get a free WHMCS and cPanel license.
Start off with an Aluminum plan and scale to Silver, Gold, and Platinum reseller packages to get the best hosting prices for your clients in multi-domain publishing. Every tier gives you more RAM, SSD storage, vCPUs, and bandwidth. HostGator issues free SSL certificates for every domain, whereas other companies charge as much as $12.95 per year for each domain.
What Is Plesk?
Plesk is a control panel for web servers running Linux and Windows operating systems that allows you to share hardware resources between users with isolation and security.
The benefit of using a GUI and browser-based approach to manage your server is that you don't have to learn how to use the command line. Like cPanel, Plesk is compatible with Softaculous.
cPanel and Plesk provide similar functionality in managing domains, email, FTP account settings, file storage, and database management. Both of these control panel solutions will work on shared, VPS, VM, & dedicated servers.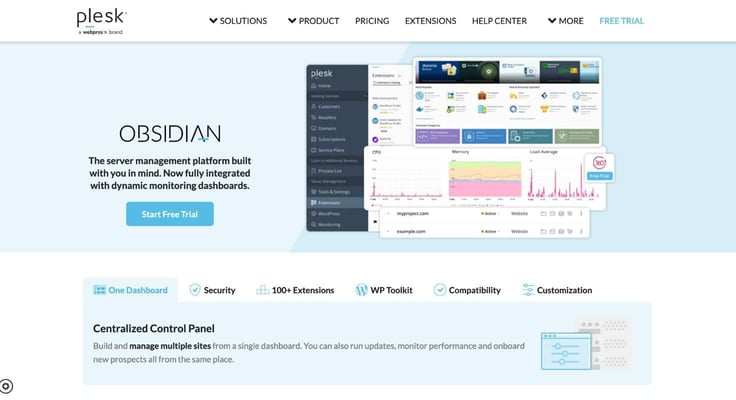 Plesk allows users to register root domains to the /public_html folder of the web server and route the file system for add-on domains to support unlimited website accounts. Like cPanel, Plesk offers tools for domain names, email addresses, databases, FTP, SSH, SSL, and other web server configuration options. Admins can also configure PHP settings on the server.
Plesk is an integral part of the WebPros toolkit for resellers and web hosting companies, allowing them to offer secure services at scale on shared hosting plans. Plesk has developed many tools for multicloud support and can be used to run web hosting services professionally on public cloud hardware.
Web hosts and resellers enjoy bulk licensing costs with Plesk that are a fraction of the single server subscription prices, allowing them to build margins for profit in the industry. You can use this to your advantage as a reseller by white-labeling Plesk products.
Is Plesk Hosting Good?
The performance of Plesk hosting is directly related to the hardware configuration and datacenter engineering that backs it. You must continually monitor the levels of web traffic on the servers and their storage backups with fail-safe controls for software and hardware failures.
Plesk is proven to scale to the highest web traffic rates on public cloud hardware. Web servers operating at more than 80% of allocated capacity can risk failure and data loss.
To Plesk or Not to Plesk? That Is the Question.
With its legacy user base, Plesk is more efficient and advanced in many ways than cPanel. Plus, it includes more options for managed WordPress hosting than cPanel.
The ability to add plugins to Plesk through the third-party marketplace means that most of the functionality of cPanel can be replicated, and developers can build new solutions to expand their platforms. Plesk administration of web servers is as good, if not better, in some ways than cPanel.
How Secure is Plesk?
The uplift of Plesk from an independent alternative to partner with cPanel and WHMCS has increased the amount of resources dedicated to security on the platform. While WebPros maintains enterprise-grade security on the platform with Plesk, they cannot be held responsible when the software is not installed or configured correctly on web servers.


Reseller accounts add a layer of engineering expertise through the datacenter technicians managing the hosting company. In most instances, resellers can expect the services provided by their web host to be more secure than if they operated with a DIY approach. Because of this, it is important to contract with security experts for your reseller sites.
Plesk has a good reputation for security on Windows and Linux, where systems administrators will patch vulnerabilities regularly. Security errors are more likely to occur from datacenter configuration issues.
Similarly, if web hosting resellers are late with applying updates and security patches, they are placing their client sites at risk. Rely on managed reseller platforms instead to guarantee a higher level of security for Plesk accounts through 24/7/365 vigilance and anti-virus scans.
Is cPanel Better Than Plesk?
WebPros has worked for more than five years to improve Plesk's functionality, design, and security as a control panel solution. cPanel faces major industry disruption after IBM announced changes to how Red Hat Enterprise Linux (RHEL) is managed and distributed.
Plesk is OS-agnostic and can run on any Linux or Windows server distro. This is a big advantage when functionality is equivalent and Plesk's licensing costs are lower overall.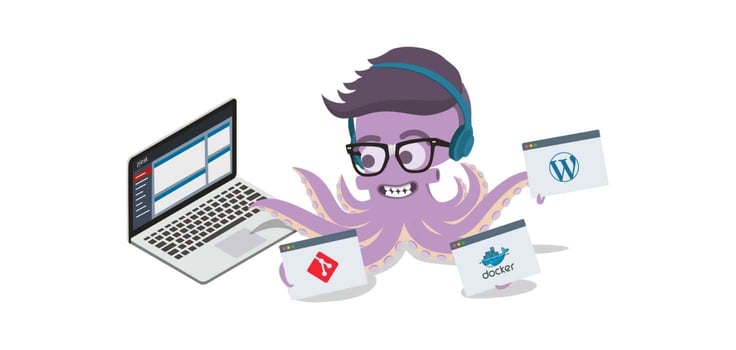 cPanel has a massive user base relying on the service in shared web hosting. The software has one of the best brand reputations in the web hosting industry. WebPros is investing in modernizing and innovating with the Plesk distribution rather than burying it as a core competitor to cPanel.
The addition of managed WordPress hosting tools makes Plesk stand out over cPanel as a new option for platform development. Integration with VMs and VPS plans via WHMCS billing and subscription tools are functionally equivalent between Plesk and cPanel with Softaculous.
Anticipating the new distributions of both platforms, web hosts are paying extra for the brand recognition of cPanel rather than additional functionality and transitioning to CloudLinux to preserve compatibility. The best recommended solution is to resell both solutions to clients.
Offer cPanel and Plesk Options on Reseller Sites
The latest distribution of the WebPros package makes it easy for web hosting companies to launch and manage services on public cloud hardware or a self-managed datacenter. Plesk and cPanel functionality has become widely equivalent with plugin solutions from third-party companies like Softaculous working on both platforms.
Pros of using Plesk:
Plesk is an equal, if not better, match to cPanel because it offers the same functionality with even more tools for managed WordPress hosting.
Plesk is compatible with Linux and Windows, a major perk for resellers.
Plesk licensing generally costs less than cPanel licensing.
When it comes to your reseller business, you should choose the control panel that makes the most sense for your customer base. However, you can't go wrong by offering both cPanel and Plesk to your customers. This is ideal if you want to provide the most features to clients.
Further Reading: "8 Best: Plesk Reseller Hosting and Alternatives (Oct. 2023)"
Hopefully, our recommendation of AccuWebHosting fulfills all your web hosting needs. Starting at just $8.99 per month and rated 4.5 overall, AccuWebHosting gives users plenty of bang for the buck. Among our favorite features:
Choose between Windows or Linux reseller plans
VPS or shared reseller options available
SSD storage with CloudLinux and LiteSpeed
FREE management with cPanel, WHM, and WHMCS
Unlimited domains, email, FTP, and databases
If you'd like recommendations similar to AccuWebHosting and others in 8 Best: Plesk Reseller Hosting and Alternatives (Oct. 2023), check out these popular guides. You'll find comparisons of AccuWebHosting to other hosts on pricing, features, support and more:
And of course, if AccuWebHosting is your top choice, you can get started now at just $8.99/month. AccuWebHosting is easy to set up and scale, no matter the size of your next project.
Advertiser Disclosure
HostingAdvice.com is a free online resource that offers valuable content and comparison services to users. To keep this resource 100% free, we receive compensation from many of the offers listed on the site. Along with key review factors, this compensation may impact how and where products appear across the site (including, for example, the order in which they appear). HostingAdvice.com does not include the entire universe of available offers. Editorial opinions expressed on the site are strictly our own and are not provided, endorsed, or approved by advertisers.
Our Editorial Review Policy
Our site is committed to publishing independent, accurate content guided by strict editorial guidelines. Before articles and reviews are published on our site, they undergo a thorough review process performed by a team of independent editors and subject-matter experts to ensure the content's accuracy, timeliness, and impartiality. Our editorial team is separate and independent of our site's advertisers, and the opinions they express on our site are their own. To read more about our team members and their editorial backgrounds, please visit our site's About page.