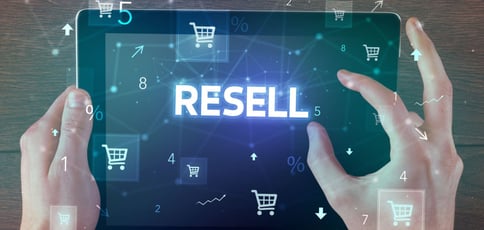 Reseller hosting is quite profitable when run alongside other related businesses, including web design and SEO marketing. Many threads I've seen on Quora project the average income for a reseller host at around $20 to $200 a month per client. So, if you have around 10 clients at the bare minimum, that's a cool $2,000 worth of residual income.
Marketing can help create awareness, but it's the quality of the product that sells. Regarding reseller hosting, features such as NVMe storage can help drive sales, even among those clients who don't know what the type of storage is or what it does.
Clients don't need to know what NVMe storage is to experience its speed benefits. With that in mind, here are eight of the best NVMe reseller hosting providers to get you started on your reseller hosting journey.
1. InMotion Hosting
InMotion Hosting includes NVMe storage in all reseller plans except its basic package (R-1000N). Anything above comes with ample NVMe storage for your clients. Regardless of the reseller hosting plan you choose, you'll get unlimited email accounts, a free SSL certificate for each account, at least one dedicated IP address, a powerful security suite, and tons of marketing tools.
SSD reseller hosting with FREE cPanel/WHM
Keep your reseller business organized with WHMCS
FREE dedicated IP and site backups
Tons of email features with IMAP and POP3 support
Manage your domains with a FREE Enom license
RESELLER
RATING 4.9 ★★★★★ Our Review
InMotion: Our Expert's Review
PJ Fancher (HostingAdvice.com): InMotion Hosting offers cPanel reseller hosting that's affordable, easy to manage, and includes free SSDs. Become a domain reseller for popular gTLDs and TLDs with a free Enom license and WHMCS to manage your accounts. Go to full review »
| Money Back Guarantee | Disk Space | Domain Name | Setup Time |
| --- | --- | --- | --- |
| 90 days | 80 GB SSD – 260 GB SSD | FREE (1 year) | 5 minutes |
I'd recommend this host if most of your clients are small businesses that need a robust hosting environment equipped with marketing tools to grow their operations. Even better, if you're a marketing agency looking to incorporate reseller hosting into your business plan, you've hit the jackpot with this web hosting service.
2. Hostinger
Hostinger is a well-respected host for beginners and experts alike. It comes with a range of features to attract customers, including a free domain name, site-building tools, and security features. Its Pro package comes with NVMe storage up to 300GB, depending on the hosting plan you choose. Here is what you can expect from this host:
Unlimited everything, from storage to databases
FREE site builder & WP performance upgrades
FREE daily or weekly backups
Custom control panel and auto-installation scripts
SSH access & unlimited FREE SSL certificates
RESELLER
RATING 4.9 ★★★★★ Our Review
Hostinger: Our Expert's Review
Laura Bernheim (HostingAdvice.com): As the shared hosting market becomes increasingly saturated, unlimited storage, bandwidth, and email accounts have become surprisingly average. Hostinger, however, extends the routine, expected metrics to greater lengths — the number of websites, databases, FTP users, subdomains, and parked domains are all unrestricted for most customers. Go to full review »
| Money Back Guarantee | Disk Space | Domain Name | Setup Time |
| --- | --- | --- | --- |
| 30 days | 50 GB SSD – 200 GB SSD | FREE (1 year) | 3 minutes |
Hostinger perfectly suits a reseller hosting business with a huge client base. For context, its base plan alone can host up to 300 websites and comes with unlimited email accounts, unlimited (and free) SSL certificates, unlimited bandwidth, and a free content delivery network.
3. A2 Hosting
One of the reasons A2 Hosting is one of the fastest web hosting providers is because it uses NVMe storage on its Turbo Servers. That's like an extra engine on a Koenigsegg Jesko Absolut, widely considered the fastest car in the world.
Affordable reseller plans with luxury features
FREE Enom account to manage unlimited domains
Turbo Server configuration loads pages 20x faster
FREE SSDs, CDN, and choice of server location
99.9% uptime guarantee and 24/7 monitoring
RESELLER
RATING 4.8 ★★★★★ Our Review
A2 Hosting: Our Expert's Review
Alexandra Anderson (HostingAdvice.com): A2 Hosting provides some of the most appealing reseller hosting deals on the market. Enjoy free Enom, cPanel, and WHMCS accounts to get your business started, then leverage A2 Hosting's impressive speed to impress your customers. Go to full review »
| Money Back Guarantee | Disk Space | Domain Name | Setup Time |
| --- | --- | --- | --- |
| 30 days | 60 GB SSD – 270 GB SSD | New or Transfer | 4 minutes |
Keep in mind that not all reseller hosting plans at A2 Hosting come with NVMe storage. This feature is only available on its Turbo reseller hosting plan. But all of A2's reseller packages support white labeling, so you can customize your packages to fit your brand.
4. ScalaHosting
ScalaHosting is a leading provider of scalable NVMe reseller hosting plans. If most of your clients need flexible websites or web applications, here's the best place to host them. However, similar to A2 Hosting, not every reseller hosting package from ScalaHosting comes with NVMe storage; it is only included in the Entry Cloud package.
1-click install for WordPress, Drupal and 400 others
Unlimited email accounts, databases & bandwidth
24/7 tech support for beginners and pros alike
12-month or 36-month plan at $2.95/month
Anytime unconditional money-back guarantee
RESELLER
RATING 4.7 ★★★★★ Our Review
ScalaHosting: Our Expert's Review
Laura Bernheim (HostingAdvice.com): It's tough to argue with a shared hosting service that comes with all-SSD storage and unlimited bandwidth, databases, and email accounts. ScalaHosting provides all the above and several other premium features for a very affordable price. Go to full review »
| Money Back Guarantee | Disk Space | Domain Name | Setup Time |
| --- | --- | --- | --- |
| 30 days | 10 GB SSD – 2 TB SSD | FREE (1 year) | 6 minutes |
This package is also reasonably priced and has rich features, most of which are free. Those include free SSL certificates, unlimited hosting accounts, and free offsite daily backups.
5. UltaHost
UltaHost is a bit expensive compared to other reseller hosts we've reviewed. But the key to saving money with this host is to opt for a longer contract. The longer the contract, the cheaper it is. And if you're looking for a month-to-month payment option (which isn't usually the best choice for reseller hosting), you'll also find that here.

All of its reseller hosting packages come with NVMe storage but with a smaller storage capacity than other hosting providers on our list. Even so, it's still perfect for smaller websites, such as portfolios, blogs, or small business sites.
6. NameHero
​Every reseller hosting plan at NameHero has NVMe SSD storage. Depending on your NVMe SSD hosting plan, you'll get up to 270 gigabytes of storage. More on the offer table below.

NameHero understands what potential clients usually seek in a web hosting provider. The fast and powerful storage aside, it offers free SSL certificates, a free LiteSpeed web server (for faster caching), unlimited databases, subdomains, FTP accounts, and domains. And while other premium hosts charge for backups, NameHero does it for free every night.
7. FastComet
FastComet offers NVMe storage on all its cloud and dedicated server hosting plans. If you want to resell those resources to clients, you can do so directly from your cPanel or Web Host Manager (WHM) account.

The host also has a free WordPress hosting toolkit to help you build and manage WordPress websites under one roof. That makes it a great reseller hosting option for a web design or development business that deals mostly with WordPress projects.
8. MilesWeb
MilesWeb breaks down its hosting services into small packages, ideal for reseller hosting businesses with limited budgets. So, if you're just getting started with reseller web hosting and aren't ready to invest big bucks, MilesWeb is a great place to start. Even better is that each reseller hosting package, regardless of size, features NVMe SSD storage.

Its Micro package, the smallest of all, offers 10GB worth of NVMe SSD storage. That's perfect for a non-resource-intensive project like a small business website, portfolio, or even a blog. And remember, you can always scale up if needed.
What Is NVMe Hosting?
NVMe hosting is a term that describes a web hosting service that uses NVMe (Non-Volatile Memory Express) storage technology to store and serve website data.
NVMe technology was developed in 2009 by NVM Express Workgroup, a group of more than 90 companies led by Amber Huffman of Intel. Today, it is one of the most widely used storage protocols for high-speed data transfer and low latency.
This characteristic makes NVMe web hosting particularly effective for hosting websites and web applications that require fast loading times and responsiveness. And since speed is a critical ranking factor in the world of SEO, NVMe storage is now a requirement for every website that wants to rank high on top search engines such as Google and Bing.
Let's briefly look at some of the key features of NVMe hosting. They include:
Speed
This type of storage is significantly faster than traditional hard drives (HDDs) and even faster than solid-state drives (SSDs) that use SATA interfaces. As a result, websites and applications that use NVMe storage witness quicker data retrieval and faster website loading times.
Low Latency
Because an NVMe drive is faster than traditional hard drives and even SSDs, it tends to have extremely low latency. This refers to the amount of time it takes to transfer data from one point to another over a network.
Improved Input/Output Performance
In the web hosting world, Input/Output operations refer to the process of reading from disk and writing to disk. In other words, when a user visits a website or web application, the web server that hosts the website or application fetches various files, including HTML, images, CSS, JavaScript, and database records, from storage devices. The speed at which the web server accesses these files depends on the storage technology.
You should expect this process to be faster in websites or applications that use NVMe storage. On the other hand, writing to disk refers to a process where web applications generate data, such as user-generated content, and save (or rather write) it to the server.
Enhanced User Experience
When websites or web applications load faster, it leads to a better user experience. As mentioned earlier, this is one of the aspects search engines look at when deciding where to rank a website. Faster loading speeds also lead to better user experience and low bounce rate (which is yet another key ranking factor).
NVMe vs. SSD Hosting: What's the Difference?
NVMe and SSD are both storage technologies, but they differ in many ways. For example, the term "NVMe" is more specific to modern non-volatile memory-based storage devices.
Conversely, SSD can be any type of storage that uses solid-state drives. This even includes storage devices that use outdated technologies such as Serial Advanced Technology Attachment (SATA).

It goes without saying that NVMe drives are way faster than SSDs. These speeds apply to both reading and writing processes, as discussed earlier. However, keep in mind that SSDs are not the slowest drives out there; they're still faster than traditional hard drives but not as fast as NVMe storage devices.
Is Reseller Hosting Profitable?
Reseller hosting can be a profitable business venture, but it's not a get-rich-quick scheme. The key to profitability is ensuring that you provide high-quality web hosting services. The higher the quality, the longer clients will stay with your services.
Also, like any other business model, numbers matter when reselling website hosting resources. The Reddit reviews I referenced earlier in this article show what I mean.
Most people agree that this business model can bring in anywhere from $20 to $200 a month per client. That's not a significant amount, but it could be if you increase your client base.

For example, you manage to bring in about 50 clients. That's $1,000 a month worth of passive income (assuming each client brings in $20 of profit each month). The best thing about this business model is that there isn't a ceiling.
I've seen local businesses start with just two clients in the first few months and then increase to 100 within the first year. With some good marketing and, more importantly, powerful hosting resources, you can host multiple websites and make good money.
What Is the Difference Between Cloud Hosting and Reseller Hosting?
Cloud and reseller hosting are two different types of hosting services.
Cloud hosting involves using cloud computing technology to host a website. This type of hosting is particularly popular due to its scalability and high levels of security.

Scalability means the ability to automatically increase or decrease hosting resources, such as CPU, RAM, and storage, based on the amount of traffic on the website at a particular time. Because cloud hosting is highly scalable, most cloud hosting providers offer a pay-as-you-go pricing model, meaning that clients only pay for what they use.
On the other hand, reseller hosting is a type of web hosting business where you buy hosting resources in bulk and resell them to clients. In this type of business, you, the reseller, act as a middleman between the web host and client.
Harness the Power of NVMe Reseller Hosting to Make Passive Income
NVMe storage is a must-have if you plan to start a profitable reseller hosting business. That's because most clients will appreciate the high performance and efficiency this type of storage brings compared to traditional hard disks or SSDs.
Having NVMe storage, especially if you're a digital agency, can help you achieve better SEO results for clients. Speed and performance are critical ranking factors in SEO, and NVMe storage devices offer both.
While the best reseller hosting providers should have room for profitability, your business plan also has a huge influence on the profit margins. This business model, or its profitability, doesn't start and end at finding a reseller host with NVMe storage. You'll also need a business plan detailing your target market, how much you intend to charge for your hosting services, the target number of clients, and, importantly, the right reseller host to bring this business idea to life.
See Our Full Review of InMotion
Whatever type of hosting plan you're looking for, InMotion is a solid choice no matter the scale. Our reviewer PJ Fancher recently took InMotion for a spin, and rated the popular host a 4.9 in the Reseller Hosting category out of a perfect score of 5.0. Here's what PJ had to say about InMotion:
InMotion Hosting is consistently one of the best hosting providers you'll find. You pay a bit of a premium for great support, powerful hardware, and supreme reliability, but the value of the product is market-leading. Whether you need SSD-powered VPSs or are ready to build your first site with its BoldGrid web builder, InMotion should be a top contender for your host.
Before signing up for InMotion, it's a good idea to read through PJ's full review to learn about all the features InMotion offers. You can also compare it to other web hosts to ensure you're getting the best deal possible:
If you decide InMotion is the right choice, keep in mind that it takes just minutes to deploy your InMotion server space. And at $15.99 per month, it's a bargain considering the many great features that come in any InMotion plan.
Advertiser Disclosure
HostingAdvice.com is a free online resource that offers valuable content and comparison services to users. To keep this resource 100% free, we receive compensation from many of the offers listed on the site. Along with key review factors, this compensation may impact how and where products appear across the site (including, for example, the order in which they appear). HostingAdvice.com does not include the entire universe of available offers. Editorial opinions expressed on the site are strictly our own and are not provided, endorsed, or approved by advertisers.
Our Editorial Review Policy
Our site is committed to publishing independent, accurate content guided by strict editorial guidelines. Before articles and reviews are published on our site, they undergo a thorough review process performed by a team of independent editors and subject-matter experts to ensure the content's accuracy, timeliness, and impartiality. Our editorial team is separate and independent of our site's advertisers, and the opinions they express on our site are their own. To read more about our team members and their editorial backgrounds, please visit our site's About page.