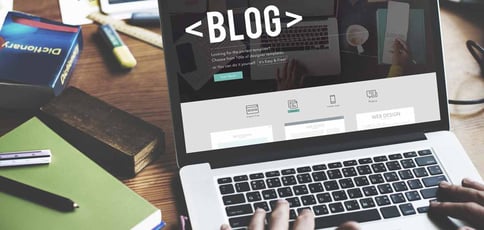 In the new reality of a worldwide pandemic, cheap blog hosting platforms offer a promising way to safely communicate and connect with friends and like-minded people around the world.
What's more, finding a blog host that offers low-cost services without sacrificing performance, support, or usability is easier than you probably think. We took a deep dive into the realm of web hosting to find the best blogging platform that enables you to share your message without breaking the bank.
Join more than 31 million online writers in the U.S. who have updated their blog at least once a month by taking the first step with one of the hosts below. Who knows, you may even find a way to make money with your blog!
Best Cheap Blog Hosting Platforms
Competitive pricing for web hosting has been on hosts' radars since 1995, when GeoCities, Angelfire and Tripod went so far as offering a free plan. Easy-to-use publishing tools similarly keep prices low when looking to start a blog.
Whether you're blogging about the crazy antics of your neighbor's cat or creating a professional blog to draw attention to your organization, this guide can help you figure out the most economical web hosting provider to meet your needs.
Cheap shared hosting from a trusted provider
Ideal for hosting a WordPress website
FREE Weebly website builder and Cloudflare CDN
Unlimited traffic and 24/7 live chat support
Get 70% off today with our Bluehost coupon
CHEAP
RATING 4.8 ★★★★★ Our Review
Bluehost: Our Expert's Review
Ryan Frankel (HostingAdvice.com): Bluehost pricing is about as competitive as the industry offers. Sign up for a shared hosting plan for as little as $2.95 per month, and WordPress hosting packages are consistently priced; a VPS plan starts at around $19.99 per month; and the dedicated hosting rates are as little as $79.99 per month. Go to full review »
| Money Back Guarantee | Disk Space | Domain Name | Setup Time |
| --- | --- | --- | --- |
| 30 days | 10 GB SSD - 100 GB SSD | FREE (1 year) | 5 minutes |
The highly-rated web hosting service from Bluehost continually impresses with features like an easy-to-use cPanel interface, integrated website builder, free site migration, and competitive uptime.
If you are planning to use WordPress hosting to create your blog site, Bluehost is one of only three web host services explicitly recommended by the leadership of the ultra-popular content management system.
The leading host will even migrate an existing WordPress website for free and include no-cost domain registration, SSL certificate, and content delivery network.
Number of live sites: More than 2.1 million
Types of plans: Single-website shared hosting with 50GB website space and unmetered bandwidth, or plans for multiple websites with unlimited storage and unmetered bandwidth. WordPress users have multiple specialized packages available, as well.
Uptime: No guarantee
Security: Bluehost doesn't cut corners on security, using SSL certificates, CloudFlare, Spam Experts, SiteLock, CodeGuard, Postini, and more to protect customers and their visitors
Veteran site owners looking to be thrifty, however, will probably want to move their existing blog themselves if they don't use WordPress. While other providers regularly transfer customers' websites for free, Bluehost charges a $150 one-time migration fee.
Bluehost typically performs on par with other web hosting services by meeting or exceeding industry standards across the board — including regularly delivering beyond 99.9% uptime.
Some may find it interesting that Bluehost does not provide an uptime guarantee, but Bluehost is one of the safest bets around when it comes to low-cost hosting for both beginners and experienced site owners.
With more than 2 million sites using Bluehost and friendly 24/7 support available to assist you at every turn, we don't hesitate to recommend the timeless hosting company to bloggers.
Unlimited everything, from storage to databases
FREE site builder & WP performance upgrades
FREE daily or weekly backups
Custom control panel and auto-installation scripts
SSH access & unlimited FREE SSL certificates
CHEAP
RATING 4.9 ★★★★★ Our Review
Hostinger: Our Expert's Review
Laura Bernheim (HostingAdvice.com): As the shared hosting market becomes increasingly saturated, unlimited storage, bandwidth, and email accounts have become surprisingly average. Hostinger, however, extends the routine, expected metrics to greater lengths — the number of websites, databases, FTP users, subdomains, and parked domains are all unrestricted for most customers. Go to full review »
| Money Back Guarantee | Disk Space | Domain Name | Setup Time |
| --- | --- | --- | --- |
| 30 days | 50 GB SSD - 200 GB SSD | FREE (1 year) | 3 minutes |
Are you a beginner blogger and not sure how to get the ball rolling? Hostinger has helpful 24/7 customer support and one-click software installations to help rookies get started.
Even if you are a more experienced blogger, the web host offers premium technologies like the LiteSpeed web server to boost your blog's speed and Git access for integrated version control.
Even better, we love how Hostinger regularly offers discounts — even as high as 80% or 90% — on top of its already surprisingly affordable plans. Learn more about the web host:
Number of live sites: More than 602,000
Types of plans: Single-website hosting with 10GB storage and 100 GB bandwidth or up to 100 websites with 100GB storage and unlimited bandwidth. WordPress-optimized plans are available, too
Uptime: 99.9%
Security: In addition to free SSL certificates and CloudFlare-protected nameservers, Hostinger takes weekly backups, offers SSH access and secure collaboration tools
You're likely to do a double-take on Hostinger's jaw-dropping price of just $1.99 per month. This isn't a typo! By making its hosting so affordable, Hostinger hopes to keep customers around for the long haul.
A few small wrinkles may stand out to customers, however. If you're used to the traditional cPanel control panel, you will need to adjust to Hostinger's proprietary hPanel instead — an easy task to navigate, given its visually appealing design and user-friendly systems.
All customer and technical support inquiries go through chat. While you can quickly reach a helpful technician any time of day or night, some folks like to have the option to call.
Hostinger is a solid service that has few drawbacks, with the company refusing to cut corners to make its price point more profitable. The company includes a free domain, SSL certificate, email accounts, content delivery network, and 30-day money-back guarantee.
In short, if you're looking for the cheapest long-term price on the market, look no further than Hostinger.
Host up to unlimited websites on a single plan
FREE SSL certificate included on all plans
Unlimited bandwidth & email addresses
1-click WordPress installs & FREE blog tools
Get 67% OFF by buying 36 months upfront
CHEAP
RATING 4.6 ★★★★★ Our Review
HostGator: Our Expert's Review
Ryan Frankel (HostingAdvice.com): HostGator is a great compromise between performance and price. The company offers unlimited emails, MySQL databases, disk space, and bandwidth, plus one-click installs of popular open-source projects, in addition to a 99. Go to full review »
| Money Back Guarantee | Disk Space | Domain Name | Setup Time |
| --- | --- | --- | --- |
| 30 days | Unlimited | FREE (1 year) | 4 minutes |
If you'd like a hosted blogging platform with super cute names for its website hosting plans, check out HostGator.
Its Hatchling and Baby plans are great for personal bloggers, and the company also offers a Business plan (though sadly its name doesn't come with a special flair).
The cute names will mean nothing once the plan is selected though, so you may also consider signing up for HostGator because of its excellent support, commitment to helping users get up and running, extensive storage, and support for a variety of programming languages.
Number of live sites: More than 770,000
Types of plans: All shared hosting comes with unlimited storage and bandwidth, plus site builder and one-click software installations. Easily upgrade to specialized WordPress plans, as well.
Uptime: 99%
Security: Custom firewall, large mod security rule, DDoS protection, highly secure datacenters, further confidential security measures, along with SiteLock and other upgrades
We certainly appreciate HostGator for offering the standard freebies, such as the complimentary SSL certificate, one-year domain registration, content delivery network, and free site transfers.
The web host sweetens the deal even further by including unlimited email accounts and a longer-than-average 45-day money-back guarantee.
HostGator further eases any fears customers may have about starting their first blog by offering a one-of-a-kind website builder. Developed in-house, Gator provides an easy way to create the design of your dreams without having to learn to code.
We've found Gator to be an extremely user-friendly drag-and-drop builder, but you may have to pay extra for the tool depending on which plan you choose.
Unlike others on the list, HostGator doesn't automatically include a CDN — but you can easily connect to other providers like CloudFlare, which lets users leverage their global network for free.
Plans can range from one month to three years, with better discounts the longer you choose. No need to commit to a long-term investment when you can test the waters with a month-to-month hosting plan.
Overall, HostGator is a solid service. While it's not quite a free platform, being able to give HostGator a try for just a few dollars each month may help give you some peace of mind if you just want to dip your toe into the realm of blogging.
Manage your domain and hosting under one roof
Choice of cPanel or Plesk control panels
Up to unlimited bandwidth and storage
Microsoft 365 inboxes included FREE for first year
Get 70% OFF by signing up today
CHEAP
RATING 4.5 ★★★★★ Our Review
GoDaddy: Our Expert's Review
Ryan Frankel (HostingAdvice.com): A major pull factor for GoDaddy's hosting services is certainly the cost. It's hard to beat web hosting for just a few dollars per month, especially when the company includes a free domain name, control panel, impressively fast load times, and unlimited websites with most plans. Go to full review »
| Money Back Guarantee | Disk Space | Domain Name | Setup Time |
| --- | --- | --- | --- |
| 30 days | 25 GB - Unlimited | FREE (1 year) | 4 minutes |
Powering more than a whopping 17 million websites across the internet, GoDaddy is the most recognizable hosting brand in the world.
While the company's highly visible and robust marketing techniques plastered the company's name and colorful logo across billboards and televisions, GoDaddy also built the technology and infrastructure to deliver high-powered hosting for bloggers.
Gone may be the days of Danica Patrick's face on billboards, but we think you'll agree that GoDaddy's newest marketing strategy is one to get behind.
The most crucial element of #OpenWeStand is the provision of free websites and marketing advice for small businesses and their supporters. Read more about the goals and impacts of focusing on building an online business presence.
If you're looking for a way to start a self-hosted blog for your business, we've found your match!
Number of live sites: More than 17.2 million
Types of plans: Single-website plan comes with 100GB storage and unmetered bandwidth, while other plans include unlimited resources and enhanced processing speeds
Uptime: 99.9%
Security: SSH, FTP over SSL (FTPS)
If you're looking for a one-stop-shop, GoDaddy is a great option. Most plans come with the usual free SSL certificate, DNS administration, domain registration, and email account.
Interestingly, GoDaddy gives new customers a one-year free trial of Microsoft 365 email — perfect for building subscriber lists and newsletters to inform and engage with your audience.
The 30-day money-back guarantee is standard for most hosts, but we appreciate the company's 48-hour refund policy for monthly plans.
With more than 150 easy installation scripts to choose from, GoDaddy customers will have no shortage of CMS or blogging tools at their disposal when it comes time to write.
FREE Cloudflare CDN and SSD speed boost
Optimized caching and 1-click installs
Unlimited email, domains, and databases
Advanced security and FREE HackScan
24/7 support via phone, chat & tickets
CHEAP
RATING 4.6 ★★★★★ Our Review
A2 Hosting: Our Expert's Review
Alexandra Anderson (HostingAdvice.com): There are plenty of excellent cPanel shared hosting providers out there, so what sets A2 Hosting apart from the rest. Not only does the company offer a ton of features, but it has custom-built its packages for enhanced performance, speed, and security — putting your priorities above pricing. Go to full review »
| Money Back Guarantee | Disk Space | Domain Name | Setup Time |
| --- | --- | --- | --- |
| 30 days | 100 GB SSD - Unlimited SSD | New or Transfer | 4 minutes |
A2 Hosting has made a name for itself by prioritizing speed and reliability. The company's Turbo Servers are configured and optimized to deliver hosting services more than 20 times faster than competitors.
The forward-thinking web host pairs its advanced server technologies with wide-ranging support for all sorts of blogging programs, content management systems, programming languages, email newsletters, forums, and other platforms to build reader engagement
Number of live sites: More than 62,000
Types of plans: Single-website plan comes with 100GB SSD storage and unlimited bandwidth, while other plans support unlimited websites, storage, and bandwidth
Uptime: 99.9%
Security: A2 Hosting's Perpetual Security suite includes HackScan protection, along with DDoS and brute force defenses, a dual firewall, and around-the-clock server monitoring
A2 Hosting connects bloggers with almost 40 programs to help you write, edit, publish, and distribute your content. Surely you'll find the right solution!
Like other companies, A2 Hosting offers a full refund if you cancel within the first 30 days. However, you can also cancel after the initial 30-day period, and the host will refund the prorated amount for the unused time — a bit like a "Get Out Of Jail Free" card.
If you realize six months into your service agreement that the uptimes aren't up to par, you don't have to spend the next 30 months imprisoned.
A2 Hosting may be a little more expensive in the long run, but professional bloggers will undoubtedly find great value in the company's premium infrastructure and support.
FREE BoldGrid site builder and templates
FREE website, domain, and cPanel migrations
SSD storage makes your site load up to 20x faster
Security suite includes SSL and hack protection
Unlimited bandwidth and email accounts
CHEAP
RATING 4.7 ★★★★★ Our Review
InMotion: Our Expert's Review
PJ Fancher (HostingAdvice.com): InMotion Hosting offers an excellent business-class shared hosting plan — with a price tag lower than several other budget hosts. For the IT crowd in the audience, you'll appreciate SSH access, as well as support for PHP, Ruby, Perl, Python, WP-CLI, and other popular languages. Go to full review »
| Money Back Guarantee | Disk Space | Domain Name | Setup Time |
| --- | --- | --- | --- |
| 90 days | 100 GB SSD - Unlimited | FREE (1 year) | 5 minutes |
Many of the options we've presented so far allow you to test the water before making a commitment — but none quite like InMotion Hosting's industry-leading 90-day money-back guarantee.
InMotion can confidently offer this guarantee because of the company's dedication to personalized customer support, cutting-edge technologies, and user-friendly features like a premium website builder.
Number of live sites: More than 369,000
Types of plans: One website comes with 10GB of SSD storage and unlimited bandwidth, while other shared hosting packages deliver up to 100 sites and 200GB of SSD storage. Strong WordPress plans include capacity for up to six websites ranging from 50-200GB storage with unlimited bandwidth
Uptime: 99.9%
Security: Automatic protection from attacks and malware, plus free SSL certificate, DDoS protection, and automatic backups are available
The company's new UltraStack server configuration features a custom blend of technologies that promise faster loading times, server-side caching, and plenty of room for your blog to grow.
InMotion's commitment to customer service includes connecting with all new customers individually by phone to ensure a smooth onboarding process.
You can simply either verify your account and get to work or chat with your support agent to coordinate your free website migration, blogging platform installation, SSL certificate deployment, and other tasks.
With InMotion, your cPanel access will connect your free domain registration with more than 400 one-click installation scripts for popular software programs to make sure your blog content will have a major impact.
Easy setup and superb reliability since 1998
FREE domain and Google marketing included
Unlimited bandwidth, storage, and emails
FREE site builder and shopping cart
Get more than 38% off today (was $7.99/month)
CHEAP
RATING 4.7 ★★★★★ Our Review
iPage: Our Expert's Review
PJ Fancher (HostingAdvice.com): Whether you're a first-time website owner or a web veteran, iPage's excellent hosting services and a fantastic list of extras make the brand one of the best values in web hosting. Unlimited disk space, scalable bandwidth, and emails are just a part of what makes iPage's shared hosting plan a great deal. Go to full review »
| Money Back Guarantee | Disk Space | Domain Name | Setup Time |
| --- | --- | --- | --- |
| 30 days | Unlimited | FREE (1 year) | 5 minutes |
iPage, which has been in the web hosting business since 1998, boasts a wealth of knowledge and resources to give you an excellent blogging experience. Only you can decide what is ultimately best for your blog. We think iPage is a solid option, if for no other reason than because your dollar truly goes a long way.
You'll be hard-pressed to find another WordPress host with unlimited websites, storage, bandwidth, and MySQL databases, plus an online marketplace included for iPage's prices.
Number of live sites: More than 1 million
Types of plans: One easy plan includes unlimited websites, storage, and scalable bandwidth. The company also has a handful of plans specifically for WordPress and a website builder.
Uptime: 99.9%
Security: 24/7 network monitoring, plus an enhanced security suite featuring SiteLock, virus scans, and a custom firewall
If you are looking for the cheapest option for one of the more robust (typically more expensive) plans on the market, then you've found it in iPage. Even better, bloggers will enjoy a free SSL certificate, email address, and domain registration.
Given the standard 99.9% uptime guarantee and around-the-clock customer support, iPage really does seem to provide everything you would need to succeed!
FREE website transfer service to get started
99.9% uptime guarantee and unlimited traffic
User-friendly WordPress installation
24/7 support featuring custom systems
4 caching options plus staging and Git
CHEAP
RATING 4.6 ★★★★★ Our Review
SiteGround: Our Expert's Review
Alexandra Anderson (HostingAdvice.com): Providing hosting with the perfect balance of technological innovation and superior customer support, SiteGround offers a range of affordable hosting services to meet your needs. In addition to the expected cheap web hosting perks — a free website builder and unlimited bandwidth — the company specializes in custom-built tools to deliver strong and positive user experiences. Go to full review »
| Money Back Guarantee | Disk Space | Domain Name | Setup Time |
| --- | --- | --- | --- |
| 30 days | 10 GB SSD - 40 GB SSD | New or Transfer | 6 minutes |
Sure, SiteGround may not be the cheapest way to start a blog, but the company's services represent a major bargain for those who are looking for top-of-the-line technology and customer support.
SiteGround recently moved its operations and hosting service from an already impressive network to Google Cloud Platform — unlocking even greater speed, reliability, and scalability for its customers.
By leveraging Google's SSD persistent storage, your blog content and website data will be stored across multiple locations instead of one physical machine. That means your information won't be lost if the hardware fails.
Number of live sites: More than 2,000,000
Types of plans: One website comes with 10GB web space and unmetered traffic, while other shared hosting plans account for unlimited websites, storage, and bandwidth. Managed WordPress hosting plans scale from one to unlimited websites, as well.
Uptime: 99.9%
Security: Web Application Firewall, AI Anti-Bot System
Adding to the company's security and stability, SiteGround also offers daily backups with all of its plans (a service that many other companies charge for, especially on cheap hosting packages).
SiteGround takes an interesting approach to its uptime guarantee. If your blog's availability falls below the 99.9% uptime promised, the company will compensate you with additional months of free hosting.
Most companies place responsibility on website owners to detect, document, and report unexpected outages, and make prorated refunds difficult to come by.
SiteGround, however, offers some of the quickest and friendliest customer support in the industry, along with free CDN, SSL certificate, email address, and out-of-the-box caching.
For those looking to start a blog, the web host is clearly a premium option when you add in the company's 100% renewable energy match and commitment to carbon neutrality, as well as SiteGround's status as the second on our list to come with the WordPress leadership team's seal of approval.
Unlimited storage, bandwidth, and email accounts
FREE website builder with ecommerce tools
FREE site transfers and personalized onboarding
$150 in Facebook, Google, and Bing ad credits
400+ Softaculous 1-click app installers
CHEAP
RATING 4.4 ★★★★★ Our Review
Web Hosting Hub: Our Expert's Review
PJ Fancher (HostingAdvice.com): For those on a budget looking for a first-time host, and for those who would like a few extras to go along with it, Web Hosting Hub has a plan for you. With a whole lot of features, the company is a great value — so long as you are willing to sign up for a longer plan. Go to full review »
| Money Back Guarantee | Disk Space | Domain Name | Setup Time |
| --- | --- | --- | --- |
| 90 days | Unlimited | FREE (1 year) | 6 minutes |
As shared hosting specialists, Web Hosting Hub is more targeted toward bloggers and beginners — which makes it particularly relevant for this list. You don't have to worry about how to choose a web hosting service or which plan is the right size for you.
Each new customer receives a welcoming phone call from the company and personalized attention while walking through the setup process. They'll take care of any and all fears you may have about jumping into the world of web hosting for the first time.
Number of live sites: More than 40,000
Types of plans: Unlimited storage, bandwidth, and email accounts on all three offered plans, which start at two websites
Uptime: 99.9%
Security: Automatic vulnerability patching and malware removal, SSH access, suPHP encryption, and Advanced Policy Firewalls
As a result of being more heavily geared toward smaller setups and less experienced users, Web Hosting Hub lacks some of the more advanced options that would be appealing to developers or larger enterprises.
The company also doesn't offer a month-to-month payment option, which seems like a missed opportunity when many new bloggers aren't sure if they are ready to make the commitment.
But we love that Web Hosting Hub offers to install WordPress for you during the checkout process, even including the BoldGrid website builder to further simplify the design process.
Also, be sure to not miss Web Hosting Hub's stellar 90-day money-back guarantee! The generous terms make the hosting provider a safe spot to take your first steps.
Included domain name
CGI, PHP, Python, Perl, Ruby, and MySQL support
1-click script installs
Access to website builders with eCommerce cart
60% off for joining today
CHEAP
RATING 4.4 ★★★★★ Our Review
FatCow: Our Expert's Review
PJ Fancher (HostingAdvice.com): FatCow is one of the better budget hosts out there. They offer great hosting features and server performance for a low price. Go to full review »
| Money Back Guarantee | Disk Space | Domain Name | Setup Time |
| --- | --- | --- | --- |
| 30 days | Unlimited | FREE (1 year) | 5 minutes |
If you enjoyed the charming way HostGator names its hosting plans, FatCow raises the bet and goes all in! Hosting facts are formatted to look like nutrition labels, the support team is called the "Moo Crew," and the site has plenty of built-in bovine puns.
The steaks are high (sorry, couldn't help ourselves) with affordable blog hosting plans, so a few limitations may give site owners pause before signing up with FatCow.
Number of live sites: More than 128,000
Types of plans: One standard shared hosting plan that comes with unlimited websites, storage, bandwidth, and email addresses. Or, you can choose between a pair of WordPress-optimized plans.
Uptime: No guarantee
Security: SiteLock malware scanning, backups, firewall, and DDoS protection
For starters, the company makes no mention of an uptime guarantee. You can find a few references to 99% uptime, which means your blog could be unavailable for more than 7 hours per month without recourse.
Don't let us steer you wrong (OK, we'll stop), we've had positive experiences when reviewing FatCow. Customers receive free unlimited email accounts, a domain name, and an ecommerce platform.
But the industry-standard 30-day money-back guarantee comes with some added peril. If you decide to cancel before your term is up (but after the money-back guarantee period), you will be charged $35 — a far cry from the prorated refund you can expect from other hosts.
All in all, though, FatCow is a solid service that provides unlimited domains, storage, and bandwidth for a very reasonable price — but you may wish to look into the following issues before making your final decision:
Best of the Rest: Cheap & Free Blogging
We get it — why pay for cheap blog hosting when there's such a thing as free blog hosting?
In choosing a free blogging site or hosted option, you may be sacrificing some elements offered by the more specialized hosting companies, like security, storage, bandwidth, and uptime.
By the same token, if you are going with an all-in-one hosting provider, you may find deficiencies in the host-provided templates or plugins available that affect the presentation of your final product.
Many free blogging platforms have paid plans that can scale with your project, but many of them are more expensive than hosting services, and they still don't offer the storage and features that your blog may need in the long run.
Site migration can sometimes be expensive and a time-consuming process, so be sure to keep the future in mind as you make your decision.
The following services emphasize the website and content builder functions over the more technical web server and data storage aspects of hosting.
Start designing for FREE
FREE domain with most plans
Drag-and-drop templates, specific to industry
Exhaustive knowledgebase of articles
Huge app market available
CHEAP
RATING 4.8 ★★★★★ Our Review
Alexandra Anderson (HostingAdvice.com): Wix is known as a web-leading site builder service that's one of the most affordable — because getting started is absolutely free and about as easy as processes get. You can log in via Facebook or your Gmail account and be editing your new web property within minutes. Go to full review »
| Money Back Guarantee | Disk Space | Domain Name | Setup Time |
| --- | --- | --- | --- |
| 14-day FREE trial | 2 GB - Unlimited | FREE (1 year) | 4 minutes |
Known for its ultra-popular drag-and-drop site builder, Wix is also a fairly popular blog platform offering both free and premium hosting options.
Paid prices start at $0.00 per month and generally contain fewer perks in premium web hosting plans than other hosts offer. On the bright side, you won't have to be as intimately involved with the technical side of things.
Number of live sites: More than 4.5 million
Types of plans: Free plan comes with an assigned domain name, Wix ads, and up to 500MB of storage and bandwidth. Paid plans enable you to connect a custom domain, remove ads, and grow beyond 3GB of resources
Uptime: No guarantee
Security: Level 1 PCI compliant, ISO 27001 and 27018 certificates, TLS 1.2, DDoS protection, website security monitoring, two-factor verification
Their site builder tool is truly where Wix shines. If you're looking for a free blog site with a user-friendly, drag-and-drop website builder, Wix could be a good option.
Keep in mind, though, that Wix only provides 500 MB of storage and bandwidth for its free plan. If you plan to be a regular blogger and include pictures or videos, 500 MB may not be enough.
Build your site with 1000s of FREE themes
FREE Jetpack Essentials improves your SEO
Pre-installed SSL certificate on your subdomain
Seamless writing experience perfect for bloggers
WordPress has two different sites, WordPress.com and WordPress.org. You can check out the differences here, but the main issue is that WordPress.com offers a modified version of WordPress platform with an integrated hosting service.
WordPress.org, on the other hand, strictly concerns itself with the free publishing software you can download and use with other hosts.
With nearly 410 million people viewing 20 billion WordPress pages each month, who better to trust with a WordPress blog than the company that put the program together in the first place?
Types of plans: The free service includes one site with 3GB of storage, WordPress ads, and fewer themes. Paid plans come with a free domain name registration, the ability to remove ads, increased support, unlimited premium themes, and up to 200GB of disk space
Uptime: No guarantee
Security: Encryption, HTTPS and SSL, firewalls, monitoring, security testing, automated site backups and restores, along with a bug bounty program via HackerOne
Pretty much considered the standard against which other options are measured, the WordPress editor is quick and easy to learn. Plus, it saves your work every few moments so you won't lose valuable progress.
In addition to a free-forever plan, WordPress.com offers four premium hosting packages, ranging as high as $45 per month. In addition to the free custom domain registration (a rarity among hosted platforms), WordPress.com also offers above-average support.
If you need a premium theme or custom plugins, you may be paying a pretty penny. That's why we typically recommend self-hosted WordPress from one of the hosts above. You'll have total freedom to use whichever theme you wish.
Blogger is the third most popular blogging site after WordPress and Wix. That's not much of a surprise since it is owned by Google and is backed by the advertising power the giant can provide.
Other perks come with that connection as well, such as near 100% uptime on cutting-edge cloud technologies, plus the ability to integrate with Google Drive to increase storage capacity from 1 GB to 15 GB.
You will automatically receive a .blogspot.com subdomain. If you want your own domain, you will have to purchase it from another provider.
You may also find the templates to be quite outdated when compared with those of many other providers these days. But, hey, it's a free site so we expect a few concessions, right?
Squarespace is well-liked for having sophisticated templates that function well with web and mobile devices.
The premium website builder also boasts built-in functionality that will allow you to schedule a blog post and even include a podcast with your blog.
Sadly, the available navigation structure doesn't lend itself to websites that may need a multilevel menu hierarchy, which also makes it nearly impossible to create a multilingual website.
Perhaps most importantly, Squarespace does not offer an always-free plan. Aspiring bloggers will be able to start with a 14-day free trial — no credit card required — but then you'll have to pay upward of $12 per month for a subscription.
That being said, we love how Squarespace seamlessly guides prospective new users to potential new themes through a personalized questionnaire. The company's template designs are unequivocally considered the best in the hosted website builder space.
Medium's built-in audience of 100 million monthly readers makes it a very appealing option for people looking to popularize their blog and potentially earn money from it in a shorter period of time and with less effort than would be possible through self-promotion.
Unlike any other free blogging site on this list, Medium doesn't ask you to sift through hosting plans or make decisions about domains or how the selected hosting service will influence the growth, direction, and features of your blog.
However, it's a drastic departure from the other options on our list. You won't have the ability to customize your site's appearance, and there's no option to have readers go to a personal domain name.
At most, Medium represents hosted content, not even a full, hosted website. If you insist on a completely and truly free blog solution, Medium may be your choice.
What is Blog Hosting?
Put simply, blog hosting is simply the manner in which your digital content is stored and provided to your readers.
Hosting providers allocate space on their servers for files — such as code, text, and images — that make up your website, then provide the network connections to make it all available for viewing online
Blog hosting comes in two main flavors: hosted and self-hosted platforms:
Hosted platforms have your website data stored on their servers and you must work within their parameters.
Self-hosted platforms rent out space on their devices for you to use as you see fit.
Self-hosted platforms are designed to integrate with independent website builders and external developers, though they often also include a website builder so that you can do everything in one place in much the same way the free platforms function.
Typically, blog websites are small enough that they are hosted on a shared hosting plan.
For most bloggers, the (significantly) lower price of the shared hosting outweighs the cost of VPS or dedicated hosting. If you're looking for a dedicated server, you will likely spend a considerable amount more (but we can still help you find the least expensive options!).
Ultimately, a self-hosted blog provides more flexibility over design and branding, especially when paired with powerful independent website builders, better SEO, and increased advertising revenue.
Why Do I Need Cheap Blog Hosting?
First off, you need website hosting services if you have content you would like to share on the internet. If you're happy sharing your stories with mom and pop over text, then you don't really need a blogging platform or online hosting services.
Once you've decided to share your content more broadly and you're talking about a multiyear commitment to managing a website, the costs can really add up (a few dollars for a theme, some money for the domain, a little extra for regular backups…).
It's not long before you're shelling out a noticeable amount each month. When you can get a reliable hosting service on the cheap, it can make a big difference.
Cheap blog hosting is typically:
Cheap (as in less than $5 per month)
Easy to set up
Easy to use and maintain
Light on administrative requirements
Supported by customer service professionals
If you're going the truly free route, you will be using a subdomain like www.sample.blogspot.com, which is generally viewed today as an amateur blog.
If you want something more polished, you will need to shell out at least a few dollars a month for a domain. Free blogs and fully hosted systems also often limit the users to features built into their systems. External themes and plugins aren't always supported.
This extends to advertising options, so it is typically more difficult to make money off your blog when using a free blogging platform.
In fact, the free blogging platforms typically put their ads on your blog, and the only way to remove them is to sign up for one of the premium plans.
How Do I Choose the Best Blog Hosting Platform?
Choosing how to take those first steps with a new blog is always daunting. But when broken down into just a few steps, the process is infinitely more attainable.
Step 1: Come up with a vision and a plan for your blog
Will you post daily, weekly, or monthly?
Will you have lots of pictures or media?
How long do you intend to keep the blog running?
Will you develop a brand?
Do you plan on selling branded merchandise?
Step 2: Layout your budget
Having a clear idea of your budget will help you narrow down the choices. For example, if you have a $100/year budget and Host A costs $100/year but doesn't include a feature you need, then you would go with Host B even though the uptime isn't quite as good.
Step 3: Identify your writing goals and workflow
Research blogging platforms to see which offers the right environment for you. The text editor will need to be fast and easy to use, and you'll want to be able to easily add images.
But do you want to be able to schedule posts? What about posting premium content available only to subscribers?
Many blogging tools will give you a free trial or online demo. Take advantage of these! Kick the tires and take each contender for a spin before you drive off the lot.
Step 4: Compare your needs with available plans
Now that you know your ideal writing environment, let's go find how to get it hosted! Choosing a system like WordPress or another blog platform available as part of an application library like Softaculous really won't restrict your options.
But falling in love with Wix's blog tools, for instance, makes your choice automatically.
Do your research to match your chosen blogging platform with the other features and requirements you identified earlier, all with a hosting provider that gives you everything at the price point you desire.
Where Can I Host My Blog for Free?
There are a number of services that offer free hosting for your blog. We will provide a short list here, but be aware that there are sometimes other costs associated with your blog (like domain registration) and scaling in size with some of these options can cost you significantly in the long run.
Check out our review of the top free blog hosting sites for more detailed information on each:
Even within the free options, there are variations that can help you narrow down suitable options. For example, if you have a proclivity for developing and wish to create your blog with text, Jekyll will generate a static website from your favorite markup language.
If you want something a step more advanced on the design front, take a closer look at Ghost.
Ghost, like WordPress, is an open-source platform, but Ghost has some distinct advantages when it comes to blogs because its functionality is more directly focused on content and post creation.
Since it has a narrower focus and a more honed infrastructure, Ghost is quite a bit faster than WordPress. A self-professed 1,900% faster, in fact.
If a drag-and-drop setup is more your speed, a platform with an integrated site builder like Wix would be the best option. Further still, if you just want to write and publish without having to mess with any details, Medium is the way to go.
How Do I Start a WordPress Blog?
It may seem like a no-brainer to use WordPress.com for both hosting and website development given the versatility and popularity of the website building software.
However, be warned that the features and functionality between the two are not the same. WordPress.org is hands-down the better option for users who value the design freedom and features of WordPress and want a variety of themes, plugins, add-ons, and customizability.
The process of starting a WordPress Blog will be a bit different for each site.
For WordPress.com
Sign up for an appropriate level hosting plan
Set up your site title and tagline (My Site → Manage → Settings)
Connect to your domain, if you do not wish to use the free one provided
Create your first post (My Site → Site → Posts → Add New Post)
Develop the content
Publish (click Publish in the top right corner of the editor)
For WordPress.org
Select your hosting provider and purchase your domain
Install WordPress (most hosts have a one-click installation script available in cPanel)
Log in to the administration area through your domain
Choose your theme (When you log into WordPress for the first time, WordPress will automatically assign their latest theme to your site. You can select a new theme by going to Appearance → Themes in the dashboard)
Customize and configure your theme as needed
Write and publish pages and posts
This a simplified overview of the process and only includes the most basic steps to get you from idea to published post. Check out more detailed breakdowns of each step and be sure to peruse guides from WordPress for more information.
Cheap Blog Hosting Platforms Help You Earn Money With Your Posts
If you wish to monetize your writing, you can certainly do so with a blog. There are dozens of ways to make money blogging. If you wish to generate an income from your content, you will need to have a good following.
With time, passion, drive, and the good fortune to build your readership, you can start to turn a profit with your blog through affiliate marketing and advertisements.
You can include affiliate links and ad placements on your blog from day one, but the financial benefits are heavily linked to your traffic. So, more readers = more $. With the increasing use of ad blockers, it is becoming more difficult to achieve decent earnings with ads.
More reliable and less reader action-dependent options for making a buck include sponsored posts and paid reviews. To get the attention of entities willing to pay you for these, you will need to come to the table with an established, respectable following.
Once you've grown big enough, you can also capitalize on that celebrity by engaging in speaking gigs, developing educational resources and establishing membership websites.
…And it all started with a cheap blog hosting platform.
Further Reading: "15 Cheap Blog Hosting Platforms (Oct. 2023) - $0.99 to $3.95"
Hopefully, our recommendation of Bluehost fulfills all your web hosting needs. Starting at just $2.95 per month and rated 4.8 overall, Bluehost gives users plenty of bang for the buck. Among our favorite features:
Cheap shared hosting from a trusted provider
Ideal for hosting a WordPress website
FREE Weebly website builder and Cloudflare CDN
Unlimited traffic and 24/7 live chat support
Get 70% off today with our Bluehost coupon
If you'd like recommendations similar to Bluehost and others in 15 Cheap Blog Hosting Platforms (Oct. 2023) – $0.99 to $3.95, check out these popular guides. You'll find comparisons of Bluehost to other hosts on pricing, features, support and more:
And of course, if Bluehost is your top choice, you can get started now at just $2.95/month. Bluehost is easy to set up and scale, no matter the size of your next project.
Advertiser Disclosure
HostingAdvice.com is a free online resource that offers valuable content and comparison services to users. To keep this resource 100% free, we receive compensation from many of the offers listed on the site. Along with key review factors, this compensation may impact how and where products appear across the site (including, for example, the order in which they appear). HostingAdvice.com does not include the entire universe of available offers. Editorial opinions expressed on the site are strictly our own and are not provided, endorsed, or approved by advertisers.
Our Editorial Review Policy
Our site is committed to publishing independent, accurate content guided by strict editorial guidelines. Before articles and reviews are published on our site, they undergo a thorough review process performed by a team of independent editors and subject-matter experts to ensure the content's accuracy, timeliness, and impartiality. Our editorial team is separate and independent of our site's advertisers, and the opinions they express on our site are their own. To read more about our team members and their editorial backgrounds, please visit our site's About page.