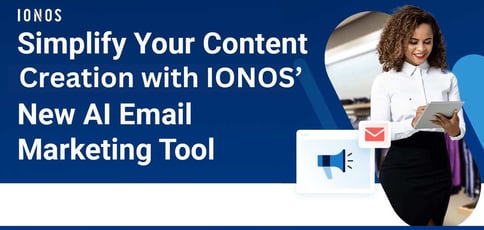 TL; DR: Small businesses are the backbone of our country. But entrepreneurs often have to log long hours to reach the level of success where they can thrive with stability. Small businesses have an average of 10 employees and often turn to other resources and solutions to help streamline and manage operations. IONOS helps entrepreneurs tackle email content creation with its recently released AI email marketing feature. We spoke with Patrick Schaudel, Senior Vice President of Products at IONOS, about how the tool generates email content, provides value, and ensures the best practices.
Imagine you're a small bakery shop owner. You arrive before sunrise to prepare today's batch of freshly baked goods and set up shop for the incoming morning rush. Your two other employees follow suit, helping you lift trays of pastries into the oven and clean tables. A line has formed soon after you switched the shop's sign to open. Before you know it, your team is juggling customer requests, crafting delectable coffee drinks, and fielding phone calls from people placing preorders.
After sitting in your office at the end of the week, you realize something's missing. It's not the numbers since you have already balanced the books. You also remembered to lock the shop's front and back doors. Then, the light bulb goes off: The weekly newsletter announcing your new monthly flavors was supposed to be out today. Now, it's time to hustle to figure out what you will write.
Small business owners often have to manage multiple sides of the business without many hands on deck. That includes the marketing, operations, payroll, and other departments. So it can be easy for something to fall by the wayside without the proper assistance. Thankfully, tons of software exists online to help simplify these tasks for SMBs.

IONOS recently released a new feature, an AI-integrated email marketing tool to help businesses quickly create content. "SMBs can quickly and easily use IONOS' AI-powered email marketing tool to drive customer retention and engagement by sending newsletters with targeted promotions and valuable content," said Patrick Schaudel, Senior Vice President of Products at IONOS.
By integrating AI into its email marketing software, IONOS can help users streamline their content creation process and spend less time drafting content. With only a few clicks, businesses can spin up engaging newsletters and campaigns to captivate customers and alert them of their newest products. Its email marketing tool is comprehensive and includes all the best practices, such as data privacy and compliance.
How AI Adds Value to IONOS' Email Marketing Software
IONOS has offered email marketing software for years, but its new AI feature has helped take its capabilities to the next level. Partick told us integrating AI has added value to the product. And IONOS email marketing wasn't the only tool to receive an AI upgrade within the platform.
"Artificial Intelligence is here to stay in the hosting industry. Many traditional best practices have been taken to a new level in terms of simplicity and time savings because of AI," said Patrick.

IONOS has leveraged AI to enhance its domain search experience and fine-tune the website creation process for users. The IONOS team also uses AI solutions within their internal solutions, so this isn't its first go-around. When implementing AI into its email software, IONOS looked to OpenAI.
"When we had the opportunity to integrate an AI component, it was immediately added to the email marketing tool. Since OpenAI's interface scales perfectly, we had no concerns here," said Patrick.
The email marketing software includes several highlights. Its text-generation assistant allows users to create texts based on only a short description and word count. Understanding and navigating the interface is also super simple, so no training is needed. But Patrick said text generation is only the beginning of the AI journey for IONOS.
Empowering SMBs to Take Control of Content Creation
Entrepreneurs have little time to waste. According to a study by Inc., 33% of small business owners work at least 50 hours a week, and another 25% log more than 60 hours weekly. Swamped with to-do lists, a business owner simplifying even one task can save them from unneeded hassle. As it happens, simplicity is exactly what IONOS offers.
"Our main target group is self-employed entrepreneurs and small businesses with up to 25 employees who want to stay in touch with their customers but don't have the ability to employ a dedicated department or staff that can focus on email marketing in a time-intensive manner," said Patrick.

Its email marketing software can be an extension of your team, handling your email campaigns and allowing you time to focus on other urgent duties. And it is so simple to get started. All a user needs to do is go into the interface, write out a prompt, and the AI will return a fitting text generation. Users can also personalize messages with customer names to build rapport.
"We tailored the email marketing tool to the target group of freelancers and small businesses by leaving out unnecessary ballast and instead focusing on intuitive usability, all-around security, and speed," said Patrick.
With this tool, businesses can optimize their performance by creating engaging content that boosts customer retention and keeps customers in the loop. No need to sit around and spend hours thinking about the best words to put on the page. IONOS takes care of that, ensuring high-quality and relevant content every time. Users can also scale as their customer base grows with IONOS' flexible pricing options.
Ensuring Only the Best Practices
IONOS' email marketing software is a complete, well-rounded tool. It covers all the bases, including security, compliance, performance analysis, and responsiveness. Whether your customer is on a desktop or mobile, all of IONOS' email templates will automatically adapt and upload a flawless display. Data privacy is also a number one priority.
"In today's world, data privacy is not only a compliance requirement but also a key trust factor between businesses and consumers. So these features are essential," said Patrick.

IONOS provides GDPR compliance to meet data protection measures required to send email messages to European customers. So all customer data is processed according to those regulations. IONOS also protects users from unintentional misconduct by including imprint and an unsubscribe link in all its newsletter templates.
"In addition, the tool uses a double opt-in process, which is considered industry best practice for email list maintenance and customer consent," said Patrick.
Its double opt-in process ensures genuinely interested customers sign up for your newsletter by leading them through a confirmation step after signup. Users can also visualize key metrics, such as open rates and clicks, and analyze real-time performance within the software. As for the future, AI continues to be a shining factor for IONOS.
"We will certainly be expanding our AI portfolio in the future, helping our customers engage with their customer base and serving as a partner for their online success," said Patrick.