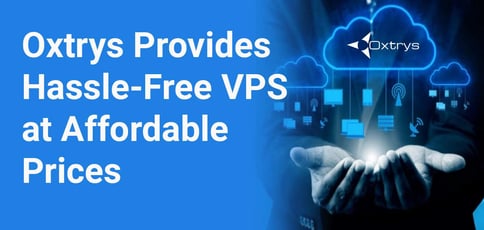 TL; DR: VPS hosting is an excellent option for users looking for more flexibility and computing power than shared hosting but don't want to shoulder the expensive price tag of dedicated servers. Oxtrys is a hosting platform that provides reliable VPS plans at affordable prices. It combines simple hosting with attentive customer support to help users accomplish their goals. We spoke with Ankit Mathur, Oxtrys Founder, about the platform's selling points, future releases, and focus on customer satisfaction.
VPS hosting may not be the most popular hosting form among customers. That title currently belongs to shared hosting. But that doesn't mean VPS' share of the market isn't exploding. According to a HostingAdvice stat guide, VPS hosting's compounded annual growth rate (CAGR) is 15.4%, the highest among its server counterparts. The VPS market is also expected to reach $8.16 billion by 2026.
But what could be the catalyst behind VPS' fast-growing success? I say it's probably its unparalleled combination of features. Not only is a VPS flexible and powerful, but it is also affordable. A top choice among developers, VPS can handle high-performing projects and testing demands. And as new technologies emerge, such as AI and machine learning, developers will need the computing power of VPSes to push their developments to the next level.

Oxtrys is a hosting platform specializing in VPS services. Founded in 2018, Oxtrys pairs performant VPS servers with high-touch customer support to provide users with a simplified hosting experience. "Our objective is to give hassle-free VPS services at affordable prices," said Ankit Mathur, Oxtrys Founder.
Oxtrys has more than 30,000 satisfied customers worldwide. It has datacenters in six countries and serves customers in more than 90 countries. With server locations worldwide, Oxtrys ensures ultra-low latency and fast speeds for all customers. Oxtrys has helped people from all walks of life get their websites and developments online.
Hosting a Powerful VPS Experience
Oxtyrs has accomplished a lot in the five years since its inception. Oxtrys started with only Windows VPS servers but later launched Linux VPS servers to meet the needs of a larger audience. Today, the team also operates six datacenter locations, including Germany, the US, the UK, Singapore, Australia, and Japan. Oxtrys also has a dedicated server datacenter in France.
"We also have other tie-ups with Indian companies for products like Next Gen. Recently, we made a tie-up at a Cronus database. They provide cloud database backup and cloud storage for our platform," said Ankit.
Expanding its services has allowed Oxtrys to provide a more well-rounded customer experience. With more datacenters, it can reach more users and offer reliable services that don't falter in performance. Oxtrys has also won several awards for its reliability and performance, including Most Reliable Server from the Industry of Commerce and Best VPS by Sensy Media Corporation.

Oxtrys' main goal is to provide hassle-free hosting, and its fantastic customer support plays a considerable role in that mission. "We have a support policy where users can reach us on WhatsApp. You can always chat with us. So we are never far behind," said Ankit.
Even with the simplest hosting, you never know when a hosting obstacle may arise. So, having a web host with 24/7 customer assistance is always good. Oxtrys takes pride in providing customer support and always being one call or chat away. Its WhatsApp integration allows users to reach Oxtrys quickly. Ankit said customers don't have to submit complicated support tickets and expect long wait times. The Oxtrys team immediately responds to all questions.
Oxtrys makes the shopping experience simple. Its web pages guide users along the journey, explaining use cases and each server's capabilities. The Oxtrys technical team also provides a quick setup and takes care of server management duties, including maintenance, security, and backups.
Providing All the Essentials
Ankit told us that Oxtrys' primary use cases are website hosting, testing, and Forex trading. Users can leverage its Windows or Linux offerings for website hosting and other development tasks. But for Forex trading, Oxtrys offers a dedicated VPS environment to ensure stability and top security while trading. These plans are tailored to fit the requirements of trading platforms.
AI-based development is another use case that has gained momentum on the Oxtrys platform. Ankit said many companies use VPS environments to host AI/ML projects — so much so that they are onboarding these virtual machines en masse.
"What we recommend to AI companies is not too much focus on storage but more focus on bandwidth. That way, you can process a lot of transactions at the same time. Plus you have compute power," said Ankit.

Ankit said storage doesn't have to be a priority since developers mostly use VPSes for the development and testing stages. As for important hosting essentials, Oxtrys offers an excellent batch. Its features include SSD storage, highly scalable servers, a control panel (cPanel or Plesk), unlimited traffic, and full root access — not to mention security.
"We already have DDoS protection built into our VPS. We also provide SSL at the domain level verification and the company level verification," said Ankit.
Oxtrys recently entered into an agreement with DigiCert, a global certificate authority, to provide site security and SSL for its VPS services. This way, users can protect their websites and their visitors. You can read more about DigiCert here.
Meeting Future Customer and Market Needs
Oxtrys provides full remote access for Windows VPS users. Customers receive complete control over their Windows server to install and uninstall software through a remote desktop. But Ankit told us that many Oxtrys VPS users handle and manage multiple VPSes with remote access. But switching between these VPSes in Remote Desktop Protocol (RDP) mode can be a hassle, since users have to sign in with their credentials every time.
To maintain its hassle-free hosting and solve this issue, Oxtrys has been developing a tool to help users avoid this overly complicated sign-in process. "The tool we are working on will allow users to enter their credentials into one platform," said Ankit.
Once they enter the credentials, they can switch to a different VPS by selecting the VPS, and the RDP mode will automatically pick up the credentials, the admin account, and the password from the tool. Then, it will log the user into the VPS. As for other future needs, Ankit focused on where he sees the hosting market going and what the industry can do to meet those needs.
"Hosting is going in the direction where it will have to accommodate an increasing number of workloads and data. Many companies want to merge servers to meet those needs. But that requires a layer, which can be expensive. So I would suggest a solution that can lower the prices of integrated machines for the future," said Ankit.