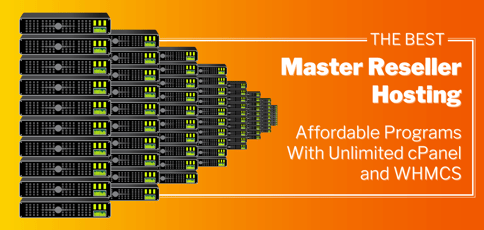 The world of master reseller hosting can be just as perplexing as the movie "Inception" to those not in the know. The 2010 sci-fi action film introduced moviegoers to a complex and confusing world of never-ending staircases, unraveling perceptions of reality, and dreams within dreams.
Many experienced site owners already know that traditional reseller web hosting entails a hosting customer selling off portions of his or her server resources to clients. While Leonardo DiCaprio and his "Inception" costars navigate the various levels of subconsciousness with dramatic kicks, master resellers represent that next level of the hosting dream in that they can give their customers the ability to resell their server space to a third level of consumers.
To be an effective master reseller, you'll need ample high-performance computing power, along with the software tools to efficiently manage your hosting business. We've compiled a list of our 10 favorite master reseller hosting companies that can help you dream big.
1. InMotion Hosting — Best Overall Master Reseller Hosting
When comparing the best master reseller hosting options, perks like scalable computing environments, high-performance solid-state drives, helpful software for client and billing management, and the ability to create an unlimited number of cPanel accounts all represent those Inception-style kicks that can take an average reseller business venture to the next level.
Reseller hosting can take on a variety of forms. At the lowest level, entrepreneurs get a larger-than-average shared hosting environment they can portion out and sell to a small group of customers. Other web hosting providers prefer to offer resellers credits or wholesale pricing on individual products they can then advertise at a profitable rate.
Because master resellers serve a much larger customer base, a top-tier VPS or dedicated server is typically the best bet. With the root access and added control site owners have over the larger hosting environments, virtually any of these plans can be turned into a reseller account — just make sure to check your provider's terms and conditions to make sure it's ok.
Thanks in large part to the wide range of server options, we especially appreciate the services InMotion Hosting offers to resellers. The company gives entrepreneurs a choice between well-rounded shared server space and supercharged virtual machines — both featuring complete SSD storage, free WHMCS, unlimited cPanel accounts, an eNom domain name reseller account, and one of the best money-back guarantees in the industry. What's more, InMotion will help transfer you, your resellers, and customer accounts to the company's hardware with seamless, hassle-free site transfers. Check out our full review of the company to learn more:
SSD reseller hosting with FREE cPanel/WHM
Keep your reseller business organized with WHMCS
FREE dedicated IP and site backups
Tons of email features with IMAP and POP3 support
Manage your domains with a FREE Enom license
RESELLER
RATING 4.9 ★★★★★ Our Review
InMotion: Our Expert's Review
PJ Fancher (HostingAdvice.com): InMotion Hosting offers cPanel reseller hosting that's affordable, easy to manage, and includes free SSDs. Become a domain reseller for popular gTLDs and TLDs with a free Enom license and WHMCS to manage your accounts. Go to full review »
| Money Back Guarantee | Disk Space | Domain Name | Setup Time |
| --- | --- | --- | --- |
| 90 days | 80 GB SSD – 260 GB SSD | FREE (1 year) | 5 minutes |
See other top reseller hosts »
2. A2 Hosting — Best Master Reseller Hosting With Free WHMCS Account
You have customers, your customers have customers… how are you going to keep it all straight? Beyond the technology setup associated with partitioning server resources and configuring cPanel accounts, resellers need to account for billing management and customer support. Fortunately, many top providers include the super useful WHMCS as an added perk. The platform, usually available as a one-click installation through Softaculous or other popular script libraries, simplifies and automates common tasks associated with running a web hosting business.
To be clear, WHMCS is entirely different from the WHM software usually paired with cPanel licenses. WHM, which stands for Web Host Manager, provides administrative access to various server management and configuration tools within the cPanel interface. WHM users can use the software to create and manage multiple cPanel accounts for customers, monitor and protect their server, transfer or back up data, and designate reseller accounts with the proper access.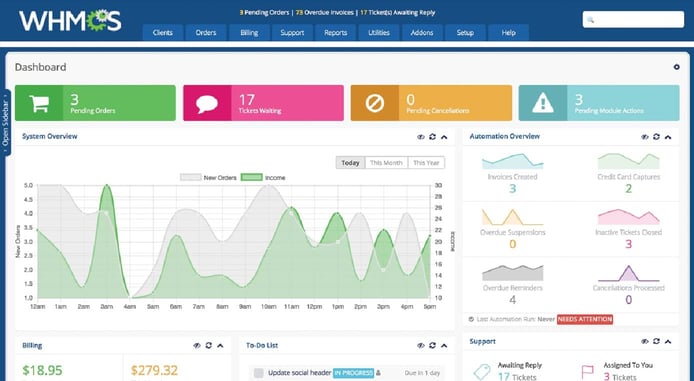 As for the other program, WHMCS — or, Web Hosting Manager Complete Solution — focuses on automation and efficiency when it comes to provisioning cPanel accounts and server resources, sending invoices and collecting payments, and providing well-integrated tools for customer support. With WHMCS licenses starting out just shy of $20 per month, finding a reseller hosting provider willing to include the program for free is important for web hosting business owners.
For that perk, we turn to A2 Hosting. Especially known for supercharged servers that deliver page loads 20 times faster than standard architectures, the company includes free WHMCS or Blesta with three of its four reseller hosting plans, along with an eNom domain reseller account. What's more, A2 Hosting customers can upgrade their WHMCS to include additional features and the capacity to handle more clients. Learn more about the company by reading our review below:
Affordable reseller plans with luxury features
FREE Enom account to manage unlimited domains
Turbo Server configuration loads pages 20x faster
FREE SSDs, CDN, and choice of server location
99.9% uptime guarantee and 24/7 monitoring
RESELLER
RATING 4.8 ★★★★★ Our Review
A2 Hosting: Our Expert's Review
Alexandra Anderson (HostingAdvice.com): A2 Hosting provides some of the most appealing reseller hosting deals on the market. Enjoy free Enom, cPanel, and WHMCS accounts to get your business started, then leverage A2 Hosting's impressive speed to impress your customers. Go to full review »
| Money Back Guarantee | Disk Space | Domain Name | Setup Time |
| --- | --- | --- | --- |
| 30 days | 60 GB SSD – 270 GB SSD | New or Transfer | 4 minutes |
See other top reseller hosts »
3. Hostwinds — Best Cheap Master Reseller Hosting
A lean budget is of the utmost importance for all new or small businesses, whether they're in the hosting industry or not. Keeping costs low gives companies more room to remain open and try to turn a profit while maximizing income. As such, affordability is critical when it comes to finding the right host for your master reseller business.
Instead of simply turning to the cheapest host that will do the bare minimum for you or the slew of master reseller providers with operations overseas, look for an established and trusted hosting company that will give you the tools to succeed: high-performance infrastructure, helpful support, and the trifecta of cPanel, WHM, and WHMCS.
Particularly at the VPS, cloud, and dedicated server levels — the configurations most helpful to master resellers — Hostwinds ranks near the top in terms delivering the biggest bang for a customer's buck. Admittedly, the specific plan we've highlighted in our review below likely won't be the best fit for master resellers (in fact, the company has three different programs for resellers), as it focuses on distributing shared hosting and cPanel subscriptions, but Hostwinds boasts a price structure that's far below the industry norm. Master resellers will be far better served by looking at a VPS or dedicated server through Hostwinds. Still, take a look at the basics of the company's offerings by clicking on our full review below:
Per-account pricing format keeps costs low
Unlock discounts as you gain more customers
Industry-leading 99.999% uptime guarantee
Instant setup with 24/7 managed support
Unlimited bandwidth, email, and disk space
RESELLER
RATING 4.4 ★★★★★ Our Review
Hostwinds: Our Expert's Review
Laura Bernheim (HostingAdvice.com): Champions of performance, uptime, and customer support, Hostwinds takes a slightly different approach to its reseller hosting. Entrepreneurs essentially add shared hosting accounts to resell to their clients, enabling you to take a hands-on approach to onboarding. Go to full review »
| Money Back Guarantee | Disk Space | Domain Name | Setup Time |
| --- | --- | --- | --- |
| 3 days | Unlimited | New or Transfer | 6 minutes |
See other top reseller hosts »
4. InterServer — Best Unlimited Master Reseller Hosting
Master reseller web hosting sounds like a painfully nerdy Xzibit meme from MTV's "Pimp My Ride": "Yo dawg, I heard you like reseller hosting, so I added reseller hosting to your reseller hosting account so you can resell your reseller hosting." The same type of absurdity follows the concept of unlimited anything in the hosting realm; shared hosting providers, in particular, tout limitless storage, bandwidth, memory, email accounts, and more (Buzz Lightyear's "To infinity and beyond," anyone?). But servers have limits, and penalties exist for those that misuse or overstep their allotted resources.


In terms of reseller or master reseller hosting, unlimited typically refers to the number of cPanel account or license installations you can configure on your account, though you could also theoretically expand that definition to cover the number of domain names, websites, or anything else on that list from before. While master resellers with lofty business aspirations will certainly appreciate the vast number of cPanel licenses (though pushing any boundaries quickly approaches overselling your infrastructure), your customers will similarly appreciate ample server space and other resources.
InterServer combines spacious servers with unlimited cPanel accounts and domains with its reseller hosting accounts, which enable resellers to give their customers all the features included with the company's traditional shared hosting plans: unlimited SSD storage and emails, a drag-and-drop website builder, and impressive proprietary tools for content caching and website security. Check out our review below for more information:
Set up unlimited cPanel accounts for your clients
FREE proactive daily backups and no setup fee
Private DNS servers and dedicated IP address
Clients enjoys all standard shared hosting features
Client management through WHM control panel
RESELLER
RATING 4.6 ★★★★★ Our Review
InterServer: Our Expert's Review
Laura Bernheim (HostingAdvice.com): InterServer automatically connects your customers to the company's full roster of shared hosting perks, including high-performance SSDs, a website builder, free migration, and Intershield security. Enjoy instant account setup and easy management on premium hardware. Go to full review »
| Money Back Guarantee | Disk Space | Domain Name | Setup Time |
| --- | --- | --- | --- |
| 30 days | 80 GB SSD – 280 GB SSD | New or Transfer | 4 minutes |
See other top reseller hosts »
Best of the Rest for Master Reseller Web Hosting
Master reseller, or its cousins alpha master and super alpha master reseller hosting (yes, really), are hard to find. The more tiers of sellers you add, the faster you can expect to chew through server resources and need to expand to a larger virtual or dedicated server. Hosts can often be leery of outwardly advertising this service, perhaps because of a combination of low demand or a narrow audience that already has the technical abilities to set up a business like this on a big hosting environment.
Even among our favorite web hosts in the world, simple reseller hosting isn't as popular as you might think. We wanted to make sure to call attention to these options for those who are just getting started with reseller hosting — and, hey, if you succeed with your first venture, you can easily migrate your growing business to that host's upgraded services. Whether you're looking to set up your first reseller company or are looking for a home for your established, multitier organization, be sure to consider the reseller, VPS, and dedicated server options we'll happily vouch for below:
5. HostGator
In addition to scalable computing power, free WHMCS, and unlimited domains, emails, and databases, HostGator pairs pairs its reseller accounts with the domain-buying power of its sister company ResellerClub (more on them later). Resellers can register, manage, and renew domains for their clients, unlocking more than 70 top-level domains. You can integrate the free account through WHMCS or an API and receive up to 80% off registrations.
Although HostGator's reseller plan comes with a little less storage space and bandwidth than we'd like to see, the company makes the process of upgrading to larger servers extremely affordable — that's why we consider HostGator the best host to grow with. The company's 45-day money-back guarantee is two weeks longer than the industry average, but our favorite feature may be the collection of more than 400 video tutorials you can place your branding on to help your clients learn and succeed.
Start a company with cPanel reseller hosting
Unlimited domains, emails, and MySQL databases
99.9% uptime guarantee and 400+ tutorials
All web hosting reseller plans include WHMCS
FREE ResellerClub account for domains
RESELLER
RATING 4.7 ★★★★★ Our Review
HostGator: Our Expert's Review
Ryan Frankel (HostingAdvice.com): HostGator offers some of the industry's best reseller hosting plans, with WHMCS included for your management purposes, as well as cPanel for your customers. You specify your reseller hosting customers' packages, disk space, and bandwidth. Go to full review »
| Money Back Guarantee | Disk Space | Domain Name | Setup Time |
| --- | --- | --- | --- |
| 30 days | 60 GB – 140 GB | New or Transfer | 4 minutes |
See other top reseller hosts »
6. HostPapa
Yes, HostPapa is a few dollars per month more expensive than many competitors on this list, but the company provides the perks to make the investment plenty worthwhile. In addition to larger capacities of SSD-powered storage, HostPapa removes all restrictions on what you and your clients can create; there are no limits to the domains, websites, cPanel accounts, databases, or email accounts.
Resellers can enjoy a brandable cPanel interface, along with private nameservers. We also appreciate how the company pairs performance and security, with RAID arrays, caching, and a content delivery network matching up with around-the-clock network monitoring, brute-force detection, server firewalls, and free SSL certificates.
Unlimited reseller hosting via cPanel and WHM
FREE billing software from WHMCS or ClientExec
White-label control panel and private nameservers
Customize your clients' hosting packages
Wholesale domain reselling with unlimited email
RESELLER
RATING 4.1 ★★★★★ Our Review
HostPapa: Our Expert's Review
Laura Bernheim (HostingAdvice.com): For a little bit of a premium, HostPapa will flood your reseller web hosting business with all the functionality you could ever need — and then some. Featuring unlimited cPanel accounts, email addresses, domains, databases, HostPapa is a solid option for resellers looking to enter the market. Go to full review »
| Money Back Guarantee | Disk Space | Domain Name | Setup Time |
| --- | --- | --- | --- |
| 30 days | 50 GB – 250 GB SSD | FREE (1 year) | 5 minutes |
See other top reseller hosts »
7. AccuWebHosting
Showcasing cloud-based performance and a wide variety of Windows or Linux server configurations, AccuWebHosting is another great host around which to consider building a master reseller business. We'd perhaps like to see the storage capacities bumped a little higher, but the CloudLinux operating system and LiteSpeed web servers help the environments run effectively.
AccuWebHosting is another unlimited reseller host, covering domains, websites, email, FTP accounts, and databases. Throw in modern versions of PHP and HTTP/2 support, and your business will be well-suited to adapt alongside new technologies. Your customers can use the popular RVSitebuilder and more than 100 auto-installation scripts covering popular tools such as WordPress, phpBB, OSCommerce, and others.
Choose between Windows or Linux reseller plans
VPS or shared reseller options available
SSD storage with CloudLinux and LiteSpeed
FREE management with cPanel, WHM, and WHMCS
Unlimited domains, email, FTP, and databases
RESELLER
RATING 4.5 ★★★★★ Our Review
AccuWebHosting: Our Expert's Review
Laura Bernheim (HostingAdvice.com): Blending performance and affordability, AccuWebHosting offers the full range of reseller options. Entrepreneurs can choose Windows or Linux, as well as shared or VPS configurations, depending on the scale of their reseller business. Go to full review »
| Money Back Guarantee | Disk Space | Domain Name | Setup Time |
| --- | --- | --- | --- |
| 30 days | 10 GB SSD – 150 GB SSD | New or Transfer | 4 minutes |
See other top reseller hosts »
8. GoDaddy
What better brand to align your business with than the world's largest web hosting company? Always the go-to spot for new domain name registrations and first-time web hosting accounts, GoDaddy leverages its reputation into a strong reseller program that's a little different than many others in the marketplace. Instead of getting a flat commission, resellers can set their own profit margins and select which product to sell to customers.
While you design your own customer-facing online marketplace, GoDaddy powers all the product management, sales, payment processing, and billing systems with in-house systems. The company will help you upsell more products, access and manage customer accounts, offer promotions, and build informative reports. We especially like how GoDaddy integrates with your existing WordPress site; APIs enable you to integrate the company's domain search functionality and gives customers the ability to add products to shopping carts.
Get products for 20-40% off retail prices
White-label storefront with credit card processing
Easy integration with WordPress via GoDaddy's API
Sell anything: domains, hosting, email, and more
Custom software for management and reports
RESELLER
RATING 4.5 ★★★★★ Our Review
GoDaddy: Our Expert's Review
Ryan Frankel (HostingAdvice.com): GoDaddy gives you all the tools and products to be successful in reseller hosting without stepping on your toes. Set your own prices and run promotions while the company's platform processes payments, tracks sales, and helps you build your business. Go to full review »
| Money Back Guarantee | Disk Space | Domain Name | Setup Time |
| --- | --- | --- | --- |
| 30 days | Unlimited | New or Transfer | 4 minutes |
See other top reseller hosts »
9. ResellerClub
As the name may imply, ResellerClub knows a thing or two about reseller hosting. Believe it or not, the company has built a ton of business around reselling services and servers from two of its sister companies, Bluehost and HostGator. When it comes to its own Linux or Windows reseller options, though, ResellerClub offers the full slate of unlimited features, domain reselling, and management software. ResellerClub environments are backed by Cloudflare network security and CDN, in addition to CloudLinux, Apache, and ClamAV antivirus.
ResellerClub makes it incredibly easy at signup to upgrade to a free domain and hosting reseller account that gives you industry-best pricing on more than 500 TLDs and a free storefront. The company has also built custom modules and plugins to integrate your cPanel and WHMCS to give you complete control and added functionality.
Choice of Windows or Linux reseller packages
Hardware via Dell servers & Intel Xeon processors
1-click upgrade for FREE domain reseller account
Unlimited Plesk or cPanel accounts with all plans
99.99% uptime guarnatee with distributed DNS
RESELLER
RATING 4.3 ★★★★★ Our Review
ResellerClub: Our Expert's Review
Laura Bernheim (HostingAdvice.com): Known for a reseller program that has attracted more than 200,000 entrepreneurs, ResellerClub offers numerous services to those looking to start their own businesses in web hosting and domain registrations. In addition to serving more than 5 million domains and customers in more than 150 countries, the hosting provider has crafted among the most diverse portfolio of solutions that we've ever seen. Go to full review »
| Money Back Guarantee | Disk Space | Domain Name | Setup Time |
| --- | --- | --- | --- |
| 30 days | 40 GB SSD – 200 GB SSD | New or Transfer | 4 minutes |
See other top reseller hosts »
10. SiteGround
SiteGround goes about reseller hosting differently than the other providers on our list. Instead of giving you a ton of storage space and bandwidth, the company enables resellers to purchase hosting credits. One credit equals a year of shared hosting, and the more accounts you purchase, the higher discount you get.
Resellers can activate the accounts in one click, and customers can instantly enjoy SiteGround's superb services. You're limited to one website and 10GB of SSD storage per account, but SiteGround throws in a free content delivery network, caching tools, automatic daily backups, and incredibly responsive and helpful support agents.
Discounted plans for different workflows
Ultra-reliable cloud hosting infrastructure
FREE site transfers and WordPress migrator plugin
Unlimited MySQL databases and bandwidth
White-label client management and private DNS
RESELLER
RATING 4.7 ★★★★★ Our Review
SiteGround: Our Expert's Review
Alexandra Anderson (HostingAdvice.com): You'll be hard-pressed to find a more affordable reseller plan that comes with better hardware than SiteGround. The web host carries a stellar reputation for customer service and cloud-based scalability. Go to full review »
| Money Back Guarantee | Disk Space | Domain Name | Setup Time |
| --- | --- | --- | --- |
| 30 days | 10 GB SSD – 40 GB SSD | New or Transfer | 6 minutes |
See other top reseller hosts »
What is a Master Reseller?
Reseller hosting is a form of web hosting wherein the account owner has the ability to use his or her allotted hard drive space and bandwidth to host third-party websites. The reseller purchases the host's services wholesale and then sells an individual cPanel account to customers, usually for a profit. A key advantage of reseller hosting is the ability to buy and resell web hosting services with little overhead and risk.
A master reseller plan, on the other hand, allows users to own, manage, and sell reseller accounts through a control panel such as WHM or WHMCS. Using a WHM account or similar management system, a master reseller plan holder can control their resellers' resources, such as disk space, bandwidth, and the optional inclusion of an SSL certificate, and also set their own pricing for these services.
An alpha reseller hosting customer can create and manage multiple master reseller accounts, as well as reseller accounts and hosting accounts within those plan environments. Finally, a super alpha reseller account holder can create and manage alpha resellers, master resellers, and individual hosting accounts. Over the years, other reseller niches have emerged, opening up opportunities for domain reselling and managing website encryption with an SSL reseller account.
Is Reseller Web Hosting a Good Business?
Reseller hosting is a popular choice for web designers and developers who serve as site administrators for their clients. By reselling web hosting services, they can offer their clients a complete web hosting solution that includes email accounts, domain name registration, website design and development, and eCommerce solutions.
Reseller hosting is also a good choice for those who want to start their own web hosting business. By becoming a reseller, they can offer web hosting services to their customers without having to invest in their own infrastructure or staff.
Build Your Business by Empowering Others to Resell cPanel and WHM
Master reseller web hosting plans, with their ability to create both shared hosting and additional reseller accounts, are no doubt attractive — and perhaps a little intimidating. The additional selling power can boost your revenue, but master resellers need to keep close attention on server resources and customer support.
Exponentially growing numbers of customers can quickly make a server become overcrowded, leading to performance issues and downtime you'll need to answer for. But, by signing up with a strong VPS-driven reseller account, your investment can slowly scale within the right-sized infrastructure. Of course, don't hesitate to upgrade to a dedicated server (or two) as your computing requirements dictate.
If you have the time and resources to closely monitor and deal with any issues that may arise, you just may be up for the challenge of master reseller hosting. Show off your tech skills and recruit resellers you trust to represent your brand well.
Keeping to the theme of complicated twists and turns, "Inception" ends on a cliffhanger (shocking, right? Also, here comes a spoiler alert for those who dare get outraged at not knowing what happens in a movie that's roughly a decade old). Leonardo spins a top, and users are left wondering whether he has made it back to the real world or is choosing to live with his children in a dream.
That's the finale we leave you with — now that you have the best options for master reseller web hosting, will your business thrive or falter? We can show you the best technology platforms and add-on services that set you up for success, but your fate is wholly dependent on your business acumen, salesmanship, and the success of your clients — and, in turn, their clients.
Further Reading: "10 Best Master Reseller Hosting Plans (Oct. 2023)"
Hopefully, our recommendation of InMotion fulfills all your web hosting needs. Starting at just $15.99 per month and rated 4.9 overall, InMotion gives users plenty of bang for the buck. Among our favorite features:
SSD reseller hosting with FREE cPanel/WHM
Keep your reseller business organized with WHMCS
FREE dedicated IP and site backups
Tons of email features with IMAP and POP3 support
Manage your domains with a FREE Enom license
If you'd like recommendations similar to InMotion and others in 10 Best Master Reseller Hosting Plans (Oct. 2023), check out these popular guides. You'll find comparisons of InMotion to other hosts on pricing, features, support and more:
And of course, if InMotion is your top choice, you can get started now at just $15.99/month. InMotion is easy to set up and scale, no matter the size of your next project.
Advertiser Disclosure
HostingAdvice.com is a free online resource that offers valuable content and comparison services to users. To keep this resource 100% free, we receive compensation from many of the offers listed on the site. Along with key review factors, this compensation may impact how and where products appear across the site (including, for example, the order in which they appear). HostingAdvice.com does not include the entire universe of available offers. Editorial opinions expressed on the site are strictly our own and are not provided, endorsed, or approved by advertisers.
Our Editorial Review Policy
Our site is committed to publishing independent, accurate content guided by strict editorial guidelines. Before articles and reviews are published on our site, they undergo a thorough review process performed by a team of independent editors and subject-matter experts to ensure the content's accuracy, timeliness, and impartiality. Our editorial team is separate and independent of our site's advertisers, and the opinions they express on our site are their own. To read more about our team members and their editorial backgrounds, please visit our site's About page.