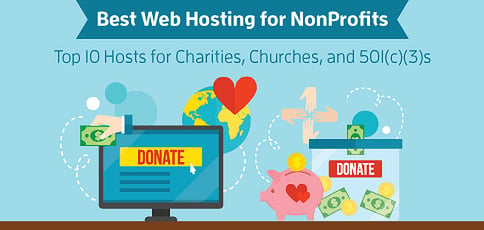 Even though charitable organizations face an added challenge of balancing its core missions with the necessary internal operations to keep the doors open, the best web hosting for nonprofits can help charities coordinate fundraisers, manage newsletters, and spread the word.
Modern nonprofits have to maintain a far-reaching and mobile-friendly web presence. In fact, 65% of Gen Y donors prefer to learn about charitable organizations through their websites — and nearly half of this demographic makes donations from the browsers on their mobile devices.
Visually appealing websites are integral to the success of any nonprofit, as they can work to drive engagement by more than 180%. While it may seem a daunting and expensive task for many nonprofits to craft professional-grade sites that allow for seamless donation functionality and simple content management, there are many hosting providers that can help make the process pain-free without breaking the bank. Here, we'll take a look at the top 10 hosts for nonprofits.
Top 5 Hosts for Charities, Nonprofits, Churches, and 501(c)(3) Orgs
Because many charities and nonprofit organizations rely solely on donations to fund their causes, pumping a bunch of money into web development efforts and hosting might be the last thing on the minds of boards of directors. But it doesn't have to be. There are hosting providers who offer hosting and easy-to-use website builders at very low premiums, making it simple and affordable to spread your message to the masses. Here are the five that top our list.
$0.01 for the first month, then $5 monthly after
NO annual contracts and NO sudden price increases
Unlimited storage space, data transfers, and email
New domain is $11 with 1-month plan ($1.99 otherwise)
99.9% uptime and price-lock guarantee
InterServer: Our Expert's Review
Setup time: 4 minutes
Go to full review

»
It's hard to argue with a shared hosting plan that includes unlimited storage, bandwidth, websites, and email — but shared hosting is a crowded industry that turns on name recognition, reputation, and bargain-basement prices. InterServer outperforms some of...
Sure, we can't promise you free web hosting, but what about only paying a penny for your first month? InterServer is a fantastic option for those new to web hosting and on a tight budget. Unlike most of its competitors, the company doesn't believe in locking customers into long-term contracts — they want to earn your business each and every month.
And don't let the low prices and flexibility scare you off, either. The company boasts some of the leading technologies out there, and your website will be hosted in a datacenter the company's founders designed, built, and continue to work in each and every day. In fact, you very well might have one of them answering a support ticket.
With InterServer, nonprofits can expect high-performance solid-state drives to deliver its site to potential volunteers and donors in a snap. With hundreds of cloud apps available for installation with just a few clicks, you'll be able to schedule and promote events, manage a mailing list, and so much more.
Known for high performance at a low price
Endorsed by WordPress.org team
FREE Weebly site builder and CloudFlare CDN
FREE domain and unlimited storage
Get 63% off today (was $7.99/month)
Bluehost: Our Expert's Review
Setup time: 4 minutes
Go to full review

»
If you're looking for an affordable host, Bluehost is a solid, reputable choice; The company's low costs, coupled with its supremacy in the shared hosting arena, is what makes this provider such a valuable deal. The Bluehost name is listed toward the top of...
| Money Back Guarantee | Disk Space | Domain Name | Cheap Hosting Plans |
| --- | --- | --- | --- |
| 30 days | 50 GB - Unlimited | FREE (1 year) | www.bluehost.com/shared |
An excellent choice for nonprofit site hosting, Bluehost offers some of the best performance in the industry at a very low cost of entry. Starting at only $2.95 per month, Bluehost's Basic plan offers the hosting of one website, 50GB of storage, and unmetered bandwidth. When you move up the price tiers, which is only a difference of a few dollars, sites and storage become unlimited, as do domains and email accounts.
Bluehost also provides peace of mind with comprehensive site and resource protection. The host creates daily backups of all accounts. This gives site owners the ability to restore their sites and data should a catastrophe occur. Where performance is concerned, Bluehost can identify sites on shared servers using massive amounts of resources and temporarily move them elsewhere. This greatly lessens the risk of downtime or waning performance.
Site management is also simple with Bluehost. The cPanel interface Bluehost provides allows centralized management of everything associated with a site, including domains, emails, and data files, among others.
For nonprofits powering sites through WordPress, Bluehost is a great choice. The host has been endorsed by the WordPress.org team and offers single-click WordPress installations.
FREE Cloudflare CDN and SSD speed boost solution
A2-optimized caching and 1-click CMS installs
Up to unlimited email addresses, domains, and databases
Advanced security features and FREE HackScan
24/7/365 Guru Crew support via phone, chat, and tickets
A2 Hosting: Our Expert's Review
Setup time: 4 minutes
Go to full review

»
There are plenty of excellent cPanel shared hosting providers out there, so what sets A2 Hosting apart from the rest? Not only does the company offer a ton of features, but it has custom-built its packages for enhanced performance, speed, and security —...
| Money Back Guarantee | Disk Space | Domain Name | Cheap Hosting Plans |
| --- | --- | --- | --- |
| 30 days | Unlimited SSD | New or Transfer | www.a2hosting.com/shared |
It's no secret page load speed affects engagement and conversion rates among site visitors. In fact, 79% of site visitors note they won't come back if they experience an issue with site performance. Nonprofits running their sites with A2 Hosting ensure speed is never an issue.
A2 Hosting's lightning-fast load times quickly get your site in front of visitors to convert them into donors. The hosting company boasts up to 20 times faster servers than the competition and, if you're currently running on another platform, offers free account migration.
A2 Hosting is compatible with all the major CMS and eCommerce platforms, including Drupal, Joomla, WordPress, Magento, and OpenCart. The host tailors its speed and service for each platform to ensure optimal configuration.
Also included with A2 Hosting are free SSDs to boost performance by up to 300% and free SSL certificates to maintain security. A2 Hosting plans start at $3.92 per month. With a 99% uptime commitment and a money-back guarantee, there's not much to lose by signing up.
Featuring easy setup and superb reliability since 1998
FREE domain and FREE Google marketing included
Unlimited disk, bandwidth, and emails
FREE site builder and shopping cart
Get more than 75% off today (was $7.99/month)
iPage: Our Expert's Review
Setup time: 5 minutes
Go to full review

»
Whether you're a first-time website owner or a web veteran, iPage's excellent hosting services and a fantastic list of extras make the brand one of the best values in web hosting.Unlimited disk space, bandwidth, and emails are just a part of what makes...
| Money Back Guarantee | Disk Space | Domain Name | Cheap Hosting Plans |
| --- | --- | --- | --- |
| 30 days | Unlimited | FREE (1 year) | www.ipage.com/shared |
Don't let some of the lowest prices in the hosting industry fool you; iPage offers a complete suite of powerful tools to get your nonprofit's message online. Starting at just $1.99 per month, site owners get unlimited disk space, scalable bandwidth that doesn't limit site traffic, and unlimited domain names.
For site design and development, iPage offers its proprietary intuitive website builder at no additional cost. Included are hundreds of professionally designed templates and setup wizards that make installation simple. The host also offers a single-click installer for nonprofits using WordPress and is compatible with all the top CMSes.
If you're selling merchandise or want to accept donations, iPage offers a free online storefront with a simple single-click installer. Payments and donations can be handled through a PayPal integration or accepted via credit card.
Marketing your nonprofit is also simplified with iPage. The host offers site owners educational resources on marketing best practices. In addition, iPage provides $100 in Google AdWords and $100 of Bing search credits. In the US, a free Yellowpages.com listing and toll-free phone number are also available.
Around-the-clock phone and chat support and troubleshooting tutorials are included in the price. So, if you're looking for a great deal with a ton of features, iPage might be the host for you.
Get 62% off monthly pricing by buying 36 months up front
Unmetered disk space & bandwidth
Unlimited email addresses & free SSL certificate
One-click WordPress install & free blog tools
Free 1-year domain registration on select plans
HostGator: Our Expert's Review
Setup time: 4 minutes
Go to full review

»
HostGator is a great compromise between performance and price. The company offers unlimited emails, MySQL databases, disk space, and bandwidth, plus one-click installs of popular open-source projects, in addition to a 99.9% uptime guarantee on its shared...
| Money Back Guarantee | Disk Space | Domain Name | Cheap Hosting Plans |
| --- | --- | --- | --- |
| 45 days | Unlimited | FREE (1 year) | www.hostgator.com/shared |
If you're looking to expand your nonprofit's online footprint but don't want to empty the coffers in the process, HostGator offers feature-rich hosting packages starting at only $2.64 per month. For those new to web development, HostGator provides Weebly's intuitive drag-and-drop site builder as part of its core package. With tons of templates from which to choose, site admins don't have to be expert coders or designers to create beautiful, professional-grade sites.
HostGator packages include unmetered disk space and bandwidth, meaning there are no set limits on storage or traffic in its shared hosting plans. One domain is included in HostGator's Hatchling plan. However, just a couple bucks more will get you unlimited domains.
Nonprofits benefit from HostGator's cPanel administration dashboard. And the host's eCommerce features allow organizations to sell merchandise and accept donations.
Marketing is also made simple with HostGator, as it grants site owners $100 Google AdWords credit and $100 in Yahoo! and Bing paid ads.
Best Free Domain & Email Hosting for Nonprofits
The first and arguably most essential element of a nonprofit's website is its domain name. Everyone knows that a good domain name tells the world what your organization does and gets donors knocking on your door. Some of the top hosts offer free domains during the first year of a hosting package, and some even offer free domains as long as you remain a customer. This is an important offering to consider when choosing a host, as it can save a ton of money over the life of your nonprofit.
Effective branding is essential for nonprofits, too. That's why it's integral for organizations to communicate to their audiences through custom email addresses. Email addresses related to your domain name work wonders to establish credibility with your donors. Many hosts also offer free and unlimited unique email addresses in their plans, which can be a valuable asset when it comes to pumping fundraising campaigns out to potential givers.
We've looked at the domain and email hosting plans offered by all the top hosts. Below, you'll find our top choice to help get your mission-critical domain out to the masses.
FREE domain registration and transfer
Unlimited disk space, domains, and MySQL databases
$200 toward Google AdWords and Bing advertising
Unlimited bandwidth and email addresses
FREE online store and website builder
iPage: Our Expert's Review
Setup time: 5 minutes
Go to full review

»
With iPage domain hosting, users get a free domain name registration or a free domain transfer, and can host unlimited domains. The company offers unlimited bandwidth and emails, plus $200 in advertising credits to help get your website launched…
| Money Back Guarantee | Disk Space | Domain Name | Domain Hosting Plans |
| --- | --- | --- | --- |
| 30 days | Unlimited | FREE (1 year) | www.ipage.com/domain |
See more domain and email hosts for nonprofits »
Best WordPress Web Hosting for Nonprofits
There's no doubt WordPress has become the most popular website-building and management platform. The software now powers upward of 75 million sites, and blogs run on the platform get more than 14 billion views per month. If you're one of the millions putting WordPress to work, it's integral to choose a host offering top-notch WordPress hosting with the CMS either pre-installed or just a click away.
Because of its popularity, there's no shortage of hosts that provide WordPress hosting. However, it's important to do some research to discover which hosts don't put limitations on which WordPress themes and plugins can be employed on a site.
We've done the legwork to find the best WordPress hosting bang for your buck. Take a look at our top-rated WordPress hosting provider below and be sure to read the full review. It's chock-full of great information on how WordPress hosting can work for your nonprofit.
WordPress pre-installed with NGINX and PHP 7
FREE SSL certificate and unlimited bandwidth
Optional automatic plugin, theme, and core updates
Features a FREE drag-and-drop WP page editor
Premium themes and plugin subscriptions
InMotion: Our Expert's Review
Setup time: 5 minutes
Go to full review

»
InMotion Hosting, long known for affordable and high-performance shared hosting options, entered the WordPress space with a solid option built upon the company's reputation for great support and reliability. Costing a small premium over other budget-minded...
See more WordPress hosts for nonprofits »
Best Shared Web Hosting for Nonprofits
Shared hosting is great for small nonprofits (or even large ones) that want to avoid costly impacts to their bottom lines. The concept is pretty simple, and the name pretty much says it all. Shared hosting involves many sites being hosted on the same server. Because resources are shared between sites, it dramatically lowers the price.
Numerous hosting providers offer effective shared hosting at very low rates. We've looked at reliability, uptime, security, free domain options, and storage allowances to bring you the best shared hosting plans the industry has to offer. Below is our #1 pick.
Known for high-performance, low-cost hosting
FREE website builder with 1,000s of templates
Endorsed by the WordPress.org team as a top WP host
FREE SSL certificate and CDN acceleration
Usually $7.99/month, but our visitors pay $2.95/month
Bluehost: Our Expert's Review
Setup time: 4 minutes
Go to full review

»
If you're looking for an affordable host, Bluehost is a solid, reputable choice; The company's low costs, coupled with its supremacy in the shared hosting arena, is what makes this provider such a valuable deal. The Bluehost name is listed toward the top of...
| Money Back Guarantee | Disk Space | Domain Name | Shared Hosting Plans |
| --- | --- | --- | --- |
| 30 days | 50 GB - Unlimited | FREE (1 year) | www.bluehost.com/shared |
See more shared web hosting providers for nonprofits »
Best VPS Hosting for Nonprofits
VPS hosting is more expensive than shared hosting; however, it allows an ability to scale that cannot be matched by going the shared route. Therefore, VPS is an ideal solution for larger nonprofit organizations or for established nonprofits looking to grow their sites.
The most effective VPS packages usually come with enterprise-grade solutions such as security patches, server management, and high availability. A good VPS plan will also include powerful SSD drives to boost performance, secure email, and free backup protections.
For the best virtual private server (VPS) hosting has to offer, our team delved into the hosts providing the service with maximum computing power, storage, and bandwidth at the most cost-efficient price. Check out our review of the top-rated VPS host below.
Managed or unmanaged virtual servers available in Windows or Linux
Cloud hosting instances with hourly or monthly billing
Instant upgrades without downtime
FREE around-the-clock monitoring
Automatic nightly backups available
Hostwinds: Our Expert's Review
Setup time: 6 minutes
Go to full review

»
Does any hosting provider have more virtual private server packages than Hostwinds? The company offers 10 configurations — and that's just for managed Linux server partitions. Hostwinds provides 10 additional plans each for managed Windows VPS and unmanaged...
| Money Back Guarantee | Disk Space | Domain Name | VPS Hosting Plans |
| --- | --- | --- | --- |
| N/A | 30 GB - 750 GB SSD | New or Transfer | www.hostwinds.com/vps |
See more VPS hosting providers for nonprofits »
Best Dedicated Server Deals for Nonprofits
We're, well, dedicated to bringing you the best in dedicated server hosting. When compared with shared and VPS hosting, you may experience a bit of sticker shock when looking at what it will cost to run your site on a dedicated server. However, if you're experiencing traffic in the hundreds of thousands and still want fast load times, going dedicated may be the only way to go.
Having a lone server hosting one website means speeds that can't be matched by the other hosting varieties. Most hosts that offer dedicated hosting provide a choice of OS, backups, and a team of development and support personnel at your beck and call.
Below is our top-rated hosting provider offering the service. Take the time to read our full review and how employing it can impact your site's performance; your nonprofit site visitors will thank you for it.
100% network and power uptime guarantees
Custom configurations, SSDs, and instant provisioning
Auto-migrations, backups, and real-time monitoring
Block/object storage and load balancer add-ons
Windows or Linux servers with 100% uptime guarantee
Liquid Web: Our Expert's Review
Setup time: 8 minutes
Go to full review

»
Liquid Web's strong suit is managed dedicated server hosting. The company owns and operates five state-of-the-art datacenters in the US and Europe works tirelessly to build and maintain custom solutions for added performance and security.Liquid Web offers...
See more dedicated server deals for nonprofits »
Find the Best Web Hosting to Expand Your 501(c)(3) Nonprofit's Impact
We know that balancing fundraising efforts with the central goals of your nonprofit has never been an easy task. But it doesn't have to be difficult to marry the two on your organization's website. By taking advantage of the features offered by some hosts mentioned here, you can be sure to blast your mission to the world and compel donors and volunteers to get involved in the cause — all without breaking the bank.
Even better, many hosts will even offer discounts to charitable organizations — but you'll have to comb through the fine print and check with your hosting provider to make sure. If a coupon code sounds appealing to you, we've amassed a list of the biggest hosting deals and coupons you can find on the web. If you're ready to get your message in front of those who'll support your mission, take a look at our comprehensive reviews of the top hosts that can make this goal an affordable reality.
Advertiser Disclosure
HostingAdvice.com is a free online resource that offers valuable content and comparison services to users. To keep this resource 100% free, we receive compensation from many of the offers listed on the site. Along with key review factors, this compensation may impact how and where products appear across the site (including, for example, the order in which they appear). HostingAdvice.com does not include the entire universe of available offers. Editorial opinions expressed on the site are strictly our own and are not provided, endorsed, or approved by advertisers.
Our Editorial Review Policy
Our site is committed to publishing independent, accurate content guided by strict editorial guidelines. Before articles and reviews are published on our site, they undergo a thorough review process performed by a team of independent editors and subject-matter experts to ensure the content's accuracy, timeliness, and impartiality. Our editorial team is separate and independent of our site's advertisers, and the opinions they express on our site are their own. To read more about our team members and their editorial backgrounds, please visit our site's About page.