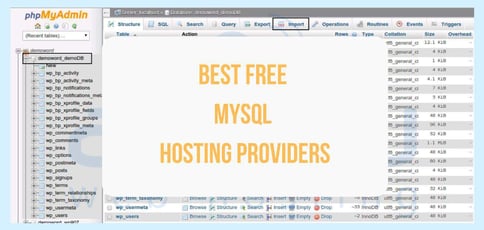 Working with MySQL databases can be fun, but not when you're constantly worried about costs. It's like storing your precious belongings in a rented storage space, but you're unsure whether you can afford next month's storage fees. Your mind won't be at peace in such a scenario.
But what if I told you it's possible to host and manage MySQL databases for free? Sounds too good to be true, right? In this article, I'll introduce you to 11 of the best free MySQL hosting providers to bring your data-driven dreams to life.
The Best MySQL Hosts With Free Trials
If you don't want to pay for an expensive database hosting plan, your first option is to choose a MySQL host with a free trial. This type of offer will let you host your database for free for a certain period after which it will charge you a fee.
The whole point of a free trial is to gauge whether the host offers what you need for your database. If you don't like what you get, you can cancel anytime before the free trial period ends. With that in mind, let's explore some of the best options available.
Customize your cloud environment for FREE
Work with a dedicated account manager
Dozens of Windows & Linux OS choices
Complimentary live chat support open 24/7
Launch in less than 60 seconds
MYSQL
RATING 4.9 ★★★★★ Our Review
Kamatera: Our Expert's Review
Laura Bernheim (HostingAdvice.com): That's right, Kamatera gives new customers FREE access to high-quality VPS hosting for 30 days. Upgrade your bargain-basement shared hosting to a cloud server configured to your exact specifications for no cost. Go to full review »
| Money Back Guarantee | Disk Space | Domain Name | Setup Time |
| --- | --- | --- | --- |
| 30-day FREE trial | 20 GB SSD – 4 TB SSD | New or Transfer | 3 minutes |
Free trial duration: 30 days
Kamatera offers MySQL hosting on its cloud-based servers. Whenever you hear the word 'cloud' in web hosting lingo, think of freedom to grow as you wish. Real clouds can spread across the sky or occupy small sections. That's how this type of hosting works; it is highly customizable and scalable depending on your hosting needs.
Kamatera's MySQL hosting service has two plans you can choose from. The Simple plan comes with all systems preset, meaning you can get started immediately. The customized option does exactly what it sounds like.
Instead of offloading your free MySQL database into the server and managing it right after signing up, the customized MySQL hosting allows you to create the kind of database that suits your needs. It's like a web hosting buffet serving different specifications and features you need to feed your database with. You can choose your preferred operating system, datacenter, storage capacity, number of IP addresses, bandwidth size, memory, and more.
Try managed cloud hosting for FREE for 3 days
Optimize costs with custom server configurations
Scale server resources up and down as needed
FREE SSL certificates, site migrations, and CDN
Use code HOSTINGADVICE for 25% OFF
MYSQL
RATING 4.7 ★★★★★ Our Review
Cloudways: Our Expert's Review
Alexandra Anderson (HostingAdvice.com): Cloudways doesn't offer a dollars-per-month shared hosting plan. But the company still brings a significant bargain to the table, thanks to a (short) free trial. Go to full review »
| Money Back Guarantee | Disk Space | Domain Name | Setup Time |
| --- | --- | --- | --- |
| 3-day FREE trial | 20 GB SSD – 4 TB SSD | New or Transfer | 8 minutes |
Free trial duration: 3 days
This web host's name alone tells you everything you need to know about its hosting environment — it's based in the cloud. I like how Cloudways blends the world of a database administrator and a web developer into one cloud hosting environment. Database administrators can also use its easy-to-use yet powerful built-in MySQL manager to manage their databases.
On the other hand, it also comes with developer-friendly tools and features, such as remote MySQL connections, which allow developers to access databases remotely. This is especially crucial if something goes wrong with your database and you need help troubleshooting or when you're working on a team project.
Its compatibility with GitHub also makes it easier for developers to work on projects in remote repositories, as the host automatically updates the code on live servers.
I also recommend this host if you're still learning the ropes of MySQL databases. It offers tons of resources, including tutorials on how to get started with your virtual database. And if you ever feel stuck, its customer support team is available 24 hours a day, seven days a week, to answer your questions.
The Best "Almost-Free" MySQL Hosts
If a host with a free trial doesn't suit you, you can always opt for a web host that's so cheap it almost seems free. Fortunately, you have many options to choose from. These MySQL hosts offer the perfect balance between price and features. Let's take a look.
Unlimited databases with generous 3GB maximum
Support for remote MySQL access and InnoDB
Custom control panel for easy database oversight
GitHub integration plus phpMyAdmin
LiteSpeed caching and WordPress acceleration
MYSQL
RATING 4.9 ★★★★★ Our Review
Hostinger: Our Expert's Review
Laura Bernheim (HostingAdvice.com): Although Hostinger's low prices make it seems the company is best serving beginners and site owners without advanced requirements, developers will be impressed with the level of advanced features available on most plans. Hostinger gives users tons of administrative access to perfectly tailor their database hosting plan as needed. Go to full review »
| Money Back Guarantee | Disk Space | Domain Name | Setup Time |
| --- | --- | --- | --- |
| 30 days | 50 GB SSD – 200 GB SSD | FREE (1 year) | 3 minutes |
Money-back guarantee: 30 days
Hostinger is yet another affordable MySQL hosting option worth checking out. On top of keeping the prices low, this host will let you create unlimited databases on its servers. So, whether you run an online learning platform, an eCommerce or gaming website, or anything along those lines, you have so much room to store data with this host.
Developers can also benefit from Hostinger's low prices. Its integration with GitHub creates the dream database environment if you're working on a web development project. It automatically updates your code whenever you make any changes, allowing you to focus on the most important part of the project: development.
Unlimited databases on high-class servers
FREE cPanel license for easy management
Optimized configurations for WordPress
All-SSD solution for your files, OS, and databases
FREE HackScan, SSL, and 99.9% uptime guarantee
MYSQL
RATING 4.5 ★★★★★ Our Review
A2 Hosting: Our Expert's Review
Alexandra Anderson (HostingAdvice.com): A2 Hosting caters to performance-minded folks across all hosting disciplines. The provider's MySQL-focused plans allow users to host five databases on the most basic package — up to unlimited DBs for just a few dollars more. Go to full review »
| Money Back Guarantee | Disk Space | Domain Name | Setup Time |
| --- | --- | --- | --- |
| 30 days | 100 GB SSD – Unlimited SSD | New or Transfer | 4 minutes |
Money-back guarantee: 30 days
Speed is one of the most important things I look for when choosing a MySQL hosting provider, and that's why A2 Hosting is on this list in the first place. You probably already know how these databases work; the faster they are, the quicker they will process requests and deliver them to the client.
Having a slow database is like betting on a sloth to outrun a pronghorn antelope. Since A2 Hosting has turbo-charged servers, you'll get up to 20 times faster speeds than most hosting companies offer. This is the perfect host for your gaming database, online store, fintech venture, or anything along those lines.
MySQL hosting crafted for superior performance
Separate disk for MySQL and in-house query cache
Support for unlimited databases
Easy management with cPanel and phpMyAdmin
Custom optimizations for performance and security
MYSQL
RATING 4.5 ★★★★★ Our Review
SiteGround: Our Expert's Review
Alexandra Anderson (HostingAdvice.com): SiteGround sets the standard for MySQL server hosting with support for unlimited databases, a free cPanel license, and hardware and software optimizations that deliver excellent performance and security. All MySQL files are housed on a separate disk. Go to full review »
| Money Back Guarantee | Disk Space | Domain Name | Setup Time |
| --- | --- | --- | --- |
| 30 days | 10 GB SSD – 40 GB SSD | New or Transfer | 6 minutes |
Money-back guarantee: 30 days
SiteGround is up there with my all-time favorite WordPress hosting providers (it's not restricted to WordPress only, but enjoys its endorsement), and that's because, somehow, it finds ways to do things differently from other web hosts. For instance, regarding MySQL hosting, most hosts I've reviewed so far offer unlimited databases.
But in a typical SiteGround fashion, this host has a separate disk for MySQL databases. It's like having a car with two separate engines; one works best when driving on highways, while the other (the MySQL disk in this case) only swings into action when off-roading. This leads to better performance and less server congestion because, obviously, two are better than one.
Pay just $1/month for 12 months
Unlimited databases available on most plans
2GB of storage per MariaDB or MySQL database
Upgraded PHP memory and up to 19 GB RAM
Georedundant ISO-certified datacenters
MYSQL
RATING 4.4 ★★★★★ Our Review
1&1 IONOS: Our Expert's Review
Alexandra Anderson (HostingAdvice.com): Offering full support for MySQL, MariaDB, and even Microsoft SQL Server, 1&1 IONOS takes data management seriously. The company will automatically set up MariaDB for you, but enables you to manually control MySQL databases if you choose. Go to full review »
| Money Back Guarantee | Disk Space | Domain Name | Setup Time |
| --- | --- | --- | --- |
| 30 days | 10 GB – Unlimited | FREE (1 year) | 4 minutes |
Money-back guarantee: 30 days
IONOS is not only affordable but incredibly easy to navigate. While it does not come with a MySQL hosting environment by default, you can set it up in four simple steps. My favorite thing about this host is that it holds itself to high standards in the hosting industry despite being cheap. For instance, its servers are highly scalable and optimized for high performance, perfect for a growing database.
But that's not even the best part. When you sign up for a hosting account with IONOS, the host will assign a personal consultant you can communicate with directly if you ever need help with your database. I've been using web hosting services for close to 15 years now, but that's a first in the industry. In a world where the customer is king, IONOS is the perfect definition of a kingmaker.
Highly compatible LAMP stack with MySQL support
FREE website transfer from WordPress or cPanel
Zero-downtime MySQL migration when you start
Unmetered bandwidth and a FREE SSL certificate
Automatic weekly off-site data backups
MYSQL
RATING 4.4 ★★★★★ Our Review
HostGator: Our Expert's Review
Ryan Frankel (HostingAdvice.com): We love HostGator for its flexible, modern support of important technologies customers use as foundations of their online presence. MySQL hosting is no different, evidenced by the company's expert-level support and assistance with migrations and setup. Go to full review »
| Money Back Guarantee | Disk Space | Domain Name | Setup Time |
| --- | --- | --- | --- |
| 30 days | Unlimited | FREE (1 year) | 4 minutes |
Money-back guarantee: 30 days
HostGator goes the extra mile to woo anyone looking for reliable MySQL hosting. This host knows the specific features any database administrator would look for when deciding whether that particular hosting provider is worth signing up for. While it is common knowledge that you'd want to choose a web host that offers routine database backup, HostGator spices it up by backing up databases off-location.
This off-site technology means that if anything happens to the main SQL server infrastructure, you won't have to worry about losing your database. Instead, this host will restore the off-site copy of the database almost instantly, limiting the chances of service interruptions. And if your website runs on WordPress, you'll get free migration to this host with zero downtime.
Other Free MySQL Hosting Providers
Now, let's check out some hosts that are completely free. No free trials. No credit card information. Everything's free.

Pro tip: Free hosting plans are great for students and test projects but may not have the resources required for professional websites. If you're looking for performance, we highly recommend choosing an "almost-free" hosting plan from one of the options above.
8. Gigarocket
Gigarocket suits students learning to build websites and create databases. Its generosity will blow your mind. Upon signing up, you'll have access to tons of tools to help you create a free website. You'll also have access to a private control panel which serves as a centralized location from which you can control your website and databases.

This host is also surprisingly well-equipped with powerful infrastructure you often don't see with even some of the best free web hosting providers. For example, its NGINX-powered servers support MySQL and MariaDB databases and come with a free SSL certificate to protect your data and boost your SEO. What else would you ask for from a free MySQL host?
9. InfinityFree
InfinityFree is completely free; it won't ask for your credit card information when you sign up. That's how it's been for a decade. It's almost difficult to believe how this host manages to stay free despite offering the kind of features and services you'll find in some premium hosting providers. But it says it makes enough money by running ads on its website and control panel, which makes perfect sense given that it has more than 400,000 clients.


In addition to supporting up to 400 MySQL databases, InfinityFree describes itself as the world's fastest free hosting provider. And given that some free hosting providers don't invest in state-of-the-art infrastructure, it's refreshing to see this host grab th.e bull by the horns and lead the way.
10. HelioHost
You should check out HelioHost for three reasons. First, it's completely free. Second, it allows remote access (which is perfect for collaboration). Third, you can create unlimited MySQL databases.

The only downside is that it only allows you to sign up at specific times of the day. For instance, free signups are only available from midnight UTC daily, and they tend to fill up quickly. On the brighter side, you have at least four free plans to choose from (Johnny, Ricky, Tommy, and Lily), so you won't run out of options. One more thing: This host doesn't have powerful infrastructure and resources for its free plan, so use it for testing databases but not for production purposes.
11. GoogieHost
GoogieHost welcomes you on board with a free subdomain, business email, SSL certificate, and a Site.pro website builder. But what makes it truly special in the world of free MySQL hosting is that it combines speed, security, and excellent customer service to provide the perfect hosting environment for your databases. All that comes with zero ads and unlimited databases.

As you'd expect, the free option has some drawbacks. For example, you'll only get one gigabyte of free storage, which can fill up pretty fast if you're working with significant amounts of data. But this plan is the perfect fit if you want to test things out.
What Is MySQL Hosting?
To understand what MySQL hosting is all about, let's first start with MySQL, an open-source relational database management system (RDBMS) used to manage and organize structured data. MySQL communicates in a language known as SQL ( sometimes pronounced as "Sequel"). Using this language, you can request a particular database — hosted in a physical bare-metal server or cloud environment — to retrieve specific information you want.

Here's a hypothetical example. Let's say you are looking for a certain tool at your local hardware store, whether it's Home Depot, Ace, or anything else, and you're unsure where to find it. You, the client, will ask the store attendant to help you find the tool. And because this attendant knows where to find it, they'll bring it to you much faster because they work at the store.
That's how MySQL hosting works. Using the example above, your local hardware would be the hosting provider in this case. Its database would contain all the tools you need, while SQL represents the language used to communicate with the database (store attendant) to retrieve the tools you're looking for.
Is There a Free MySQL Cloud?
Free cloud-based MySQL providers are fairly common. Here are some ideas to help you decide what would work best for you.
If you run a business or a massive project and want to try out different hosting providers risk-free, I'd recommend starting with Kamatera. This host offers free MySQL cloud hosting services for the first 30 days, so you have all the time in the world to explore and decide if it's worth it.
Cloudways is also free, but not the right fit if you need more time to move around the system before deciding whether it's the right choice. Although it uses cloud-based servers, the free trial only lasts three days. That's not necessarily a bad thing if you're ready to start exploring the database right after signing up.
Where Should I Host MySQL?
Our favorite MySQL host is Kamatera. But the right host for you will depend on several factors.

When choosing the right host for your MySQL database, you should know that each host is unique in its own way. So, before you even grab the shopping basket, you should first understand your goals.

For instance, a host with limited storage may work best for testing a database with minimal data. On the other hand, an eCommerce website or online gaming platform will need unlimited storage at the very least.
The same applies to your level of experience dealing with databases. If you're a beginner, you'll likely need to contact support quite often. In that case, a web host that provides dedicated MySQL support, such as IONOS, would be a great fit. The bottom line is that the right host will also depend on your needs and not solely on its features or services.
Can I Host My Own MySQL Database?
You can host your own MySQL database on a local computer, a separate server (machine) that you own, or by using a third-party platform such as Docker.
But hosting your own database has a number of caveats you should know about before deciding whether it'll work for you.
Hosting your own database may work for a personal development project, but it can be stressful and overwhelming to maintain for bigger, sensitive, and resource-intensive projects.
Secondly, self-hosted databases are usually not as fast, secure, and reliable as those offered by hosting companies. That's because hosting providers have the resources and infrastructure to support these hosting environments.
When it doubt, opt for an affordable MySQL host instead.
Get a Free Hosting Service for Your MySQL Databases the Smart Way
Free MySQL hosting comes in different forms. Whether you are a student playing around with databases, a website administrator managing a powerful website, or a database developer working on a project, there's always a MySQL hosting plan that matches your needs.
With that in mind, I know we all love free stuff, but sometimes, free costs a lot more when you start thinking about security, storage, unlimited bandwidth, customer service, and all those add-ons you'll need down the road. So, rather than settle for a completely free web hosting plan and stress about migrating to a premium host shortly after, you're better off paying for a cheap provider.
Not sure where to start? You have tons of options to choose from: IONOS, Hostinger, A2 Hosting, SiteGround, and HostGator are a few examples of pocket-friendly hosts.
And if you want more power, even better performance, and more scalability up there in the cloud, Kamatera and Cloudways lead the way.
Further Reading: "11 Best: Free MySQL Hosting Providers (Oct. 2023)"
Hopefully, our recommendation of Kamatera fulfills all your web hosting needs. Starting at just $0.00 per month and rated 4.9 overall, Kamatera gives users plenty of bang for the buck. Among our favorite features:
Customize your cloud environment for FREE
Work with a dedicated account manager
Dozens of Windows & Linux OS choices
Complimentary live chat support open 24/7
Launch in less than 60 seconds
If you'd like recommendations similar to Kamatera and others in 11 Best: Free MySQL Hosting Providers (Oct. 2023), check out these popular guides. You'll find comparisons of Kamatera to other hosts on pricing, features, support and more:
And of course, if Kamatera is your top choice, you can get started now at just $0.00/month. Kamatera is easy to set up and scale, no matter the size of your next project.
Advertiser Disclosure
HostingAdvice.com is a free online resource that offers valuable content and comparison services to users. To keep this resource 100% free, we receive compensation from many of the offers listed on the site. Along with key review factors, this compensation may impact how and where products appear across the site (including, for example, the order in which they appear). HostingAdvice.com does not include the entire universe of available offers. Editorial opinions expressed on the site are strictly our own and are not provided, endorsed, or approved by advertisers.
Our Editorial Review Policy
Our site is committed to publishing independent, accurate content guided by strict editorial guidelines. Before articles and reviews are published on our site, they undergo a thorough review process performed by a team of independent editors and subject-matter experts to ensure the content's accuracy, timeliness, and impartiality. Our editorial team is separate and independent of our site's advertisers, and the opinions they express on our site are their own. To read more about our team members and their editorial backgrounds, please visit our site's About page.