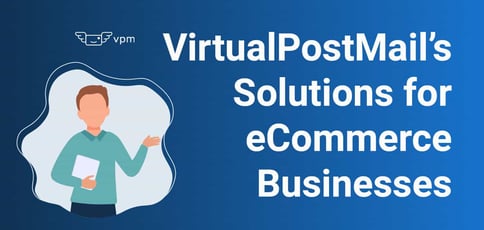 TL; DR: Say goodbye to PO boxes and hello to the only virtual mailbox you'll ever need again. VirtualPostMail (VPM) is a comprehensive solution for US-based eCommerce businesses and stores. It provides real US addresses at monitored collection centers, virtual mailboxes with mail scanning and on-site shredding, and add-ons with its in-house products, TruLease, TruAssist, and TruStart. We sat down with Terry C., Partnership Manager of VPM, and Leilani H., Marketing Manager of VPM, to learn more about the company's step-above services and plans to enhance its customers' experiences.
There's nothing quite like the feeling of pure bliss that comes when you decide to take that leap and start your own small business. But that bliss quickly melts away when you realize how much you actually have to do. And then, upon registering your LLC, browsing vendors, and setting up your merchant account, you quickly realize you don't want your address plastered everywhere.
Plus, there's always a chance you'll get your business mail mixed up with your personal mail — and the last thing you need as a startup is to lose precious information.
This is where VirtualPostMail (VPM) comes in. Dedicated to providing its customers with real US addresses and essential features, including compliance assistance, VPM is a one-stop solution for eCommerce stores, foreign businesses, and digital nomads wanting to set their businesses off on the right foot.


"We started VPM to help businesses grow," said Terry C., Partnership Manager of VirtualPostMail. "Our ultimate goal is to act as a supporting role in helping SBOs expand beyond what they thought possible."
VPM's virtual mailboxes come with a commercial address, mail scanning, on-site mail shredding, easy check deposits, mail forwarding, and free 60-day storage. Every virtual mailbox also comes with a registered agent whose main job is to keep your business legally compliant.
Leilani H., Marketing Manager of VPM, highlights that this is just one of the unique features VPM offers. "We already have lots on our road map, and we're excited to see how far we can go," she said.
VPM can also be used for international stores or local businesses with foreign ties whose primary demographic is US consumers. Some federal regulations and platform requirements may require an American address to legally operate and sell within the borders — which is exactly what VPM hopes to solve.
How VPM Differs From Traditional Online Mail Services
There's no shortage when shopping for virtual mail services, but knowing how each one works may steer you in a different direction.
For example, many virtual mail companies work with partners to help handle their customers' mail. While convenient for them, your mail actually goes through quite a few hands: Once received, it's forwarded to their central mail central processing center to be scanned, sorted, processed, and then stored. This means your mail is at a greater risk of being delayed, lost, or damaged.
If this sounds like a lot of steps, that's because it is.
But this is where VirtualPostMail is different. Each VPM location is a central processing center, which means the middleman is cut out. And since each location performs the scanning, sorting, processing, and storage on-site, the risk of your mail being lost or damaged is significantly reduced.
"We really do reduce the risk of not knowing where your mail is going," said Leilani. "We never want our customers to be concerned about their privacy, so it's a major purpose in our services."
And since VPM owns and operates all mailbox locations, only verified employees handle your mail.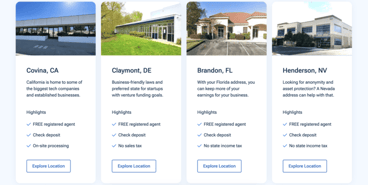 VPM also acts as a registered agent on your business's behalf. A registered agent is required by all states to operate your business and can help you stay compliant. And with VPM as your official representative, you'll be able to act fast on time-sensitive matters, protect your home address, and stay informed with same-day access and notifications so you can access your mail immediately.
In other words? You never miss a deadline or misplace important paperwork again.
"This is the heart of our services," Leilani added. "We can do all these things because we own and operate our locations and have complete quality control."
But VPM goes a step further. Sure, it offers virtual mailboxes and even a free registered agent to help you stay compliant, but its unique in-house products make it stand out among the crowd.
VPM is the Holy Grail of Virtual Mailboxes
No, it's not an exaggeration: With VPM's customized extra tools, it really is like the holy grail of virtual mailboxes because you can choose from:
TruLease, where you can lease an office to meet physical address compliance requirements
TruAssist, your very own virtual assistant
TruStart, a step-by-step how-to on everything you need to know to register and start your LLC accurately
"We started to see a lot of our clients weren't able to sustain their financial, capital, or business accounts, and we decided to create a solution to grow with our clients in that sense," Terry explained.
Here's a breakdown of each product.
TruLease
TruLease is a unique solution that lets businesses obtain a physical address in the US, complete with a legitimate lease agreement and utility arrangements. Although American business owners can use TruLease, it's a handy tool for those outside the US who can't physically go to the space themselves.
"Many of our clients encountered the same problems with trying to comply with US federal regulations, like opening a bank account that requires proof of address," Terry explained. "So TruLease is a pretty ideal solution for all business owners, both local and international, and even those who have foreign ties."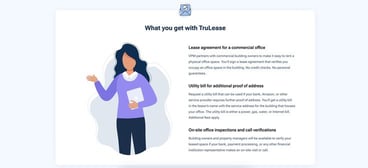 Leilani added that many people have also moved to the VPM platform from the traditional PO box. "But so much fraud has been happening within financial institutions, and now businesses are being flagged and their stores being shut down. Now they use our platform to help mitigate that."
Some services that require proof of address are business bank accounts, Amazon storefronts, Shopify payments, merchant accounts, DUNS (Dun & Bradstreet Number), and CAGE (Culture, Administrative, Geographical, and Economic Distance Framework).
TruAssist
If you've ever wanted a personal assistant but thought your business was too small to have one, think again.
TruAssist is a remote virtual assistant that handles everything operational, including administrative, accounting, and purchasing tasks. It can handle email correspondence, outgoing calls, basic bookkeeping tasks, invoice delivery, vendor negotiation, supply purchases, and more.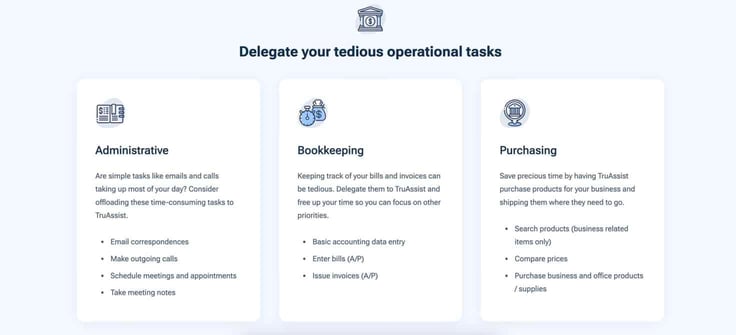 "This is a great solution for anybody who wants help with the things they can't take over themselves," said Terry.
Right now, TruAssist currently provides bookkeeping services for select customers, but VPM plans to open it to all customers in the near future.
TruStart
TruStart is an essential yet easy-to-follow online video course that helps you form your own LLC, open a business bank account, and comply with state laws and taxes. (Because let's be honest: Everyone's least favorite thing about starting their own LLC or business is all the red tape.)


The program has everything you'll need to use VPM, including step-by-step visual guides, resources, lifetime access to video lessons, templates for LLC creation, and a community support forum.
What's great is that TruStart offers detailed sections that help you understand the "why" behind the "how" since part of being a business owner is about, well, the business aspect.
Finally, a Solution for Remote Businesses
"We're focused on helping the remote small businesses and startup owners," explained Terry. "Our solutions can make it easier for local and foreign businesses to run their businesses from anywhere."
In short, VirtualPostMail is an all-in-one service platform for those who don't have or want to use their own physical address, such as remote businesses, digital nomads, or international professional services.
For instance, small business owners or LLCs seeking privacy and security can benefit from using a virtual mailing address, which allows them to avoid sharing their personal addresses with customers and suppliers.
International companies or US-based businesses with foreign ties also may require a "home base" in the US to meet compliance requirements. Amazon, for example, requires a physical US address to sell products on its platform.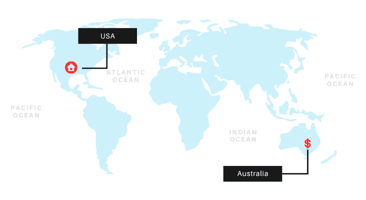 But that's not all. Terry and Leilani let us know the company is gearing up to expand. It's all set to open a new location in Texas by the end of 2023.
VPM also aims to complete the Service Organization Control 2 certification by the end of this year. SOC 2 is an audit certification that assesses and verifies a service organization's controls related to security, availability, processing integrity, confidentiality, and data and information privacy.
Passing the SOC 2 certification means VPM is doing everything by the book, and you can trust your information is protected.
Whether you're a local LLC with an online storefront or an international business catering to US consumers, VirtualPostMail can help you beyond your traditional PO box needs: It can organize, protect, and secure your business's needs with just the click of a button.
Learn more about VPM today.