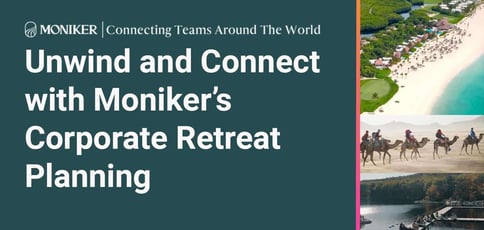 TL; DR: Building a strong company culture in a remote work environment can be tough. Employees can't talk in person, collaboration looks different, and recognizing employees doing good work can fall by the wayside. Moniker, a corporate retreat planning agency, can help remote or hybrid businesses reconnect teams through real-world experiences. Its expert team plans and executes trip proposals that can take your team to the dazzling, tropical beaches of Thailand or somewhere closer to home like a ski retreat in the snow-blanketed mountains of Colorado. Moniker also provides virtual team-building events. We spoke with Sean Hoff, Founder and Managing Partner of Moniker, to learn more about the agency.
Remote work has revolutionized the workforce and has made a substantial impact on the economy. Although the opportunity for remote work has been around for some time, not many people began leveraging it until the COVID-19 pandemic. Since then, we have seen hybrid work grow and more people find the freedom to leave their jobs for more flexible ones. It all started with remote work, pointing employees to a new way of viewing work.
But some things aren't as golden working from home. Remote work has given employees more freedom and flexibility, but other things typically fostered in a physical setting have suffered. And employee connections are a prime example. Building rapport and collaboration among teams can be much more difficult in a virtual environment, especially if your employer doesn't have a solid culture in place.
But it doesn't have to be that way. Companies that have gone remote have found new ways to keep their employees connected and boost engagement. Many teams have turned to customizable company retreats to prioritize team bonding and show employees their appreciation. And the folks at Moniker can help companies plan the perfect getaway.

"Retreats used to be much more work-focused. It was probably 60/40 in terms of the time spent on work and handling activities and leisure. But it flipped. Teams are using the retreat more as an opportunity for their team to get to know each other, network, and build connections," said Sean Hoff, Founder and Managing Partner of Moniker.
Moniker is an award-winning corporate culture agency specializing in imaginative trips and virtual experiences for companies to build connections and improve job satisfaction. The agency plans retreats in countries worldwide to fit your team's needs, whether that's bonding over a ski trip in the French Alps or staying near homebase to relax in a nature retreat in Catskills, New York.
Build Team Connections in Exotic, Offsite Locations
Sean wasn't always a part of the travel planning industry, but his interest in it isn't new. Before he created Moniker, he worked at an investment bank that would invite employees on a President's Club trip to reward their top performers. Sean soon found himself getting involved with the internal planning committee for these trips. This involvement helped him spot the weaknesses in work trip itineraries, which sent him down the path of Moniker.
"We were heading to Barcelona, where I did my MBA. So I know that city very well. And it was becoming clear to me that the suggestions and direction of the company hired to plan the trip were not good. So I started planning a shadow trip on the side," said Sean.
Sean veered from the typical touristy activities and allowed his coworkers to explore Barcelona in a more intimate way. When he noticed his coworkers' positive reception of his planning, he became confident he could do it for other companies. So he created Moniker.

Moniker allows companies to leave behind ordinary travel experiences to embrace more fulfilling trips. Its agency works with companies to plan trips that empower teams to foster connections while enjoying everything their travel location has to offer.
For example, Moniker planned a nature retreat for Bombas in Catskills, a city near NYC, to help them bond after a period of rapid growth and new hires. The Bombas team arrived at a stunning countryside estate where they could unwind in a natural and relaxed setting. This remote backdrop also gave them more time to focus on team-building activities, which included relay races, s'mores by the fire pits, and epic lip sync battles.
Like a corporate travel genie, Moniker executes a trip according to a company's desires. Its past trips include a "Mission Impossible" themed getaway in the heart of the French Alps with skiing and wine tours, a beachy retreat in Cancun with unforgettable shows and views, and a unique destination trip to Da Nang, Vietnam, that immersed teams in the rich culture and history of the location.
Take a Step Away from the Everyday Virtual Grind
During the COVID-19 pandemic, Moniker, like many other companies, experienced the good and the bad. The team was on pace for its biggest year when clients started calling in and canceling their retreats. Moniker was able to bounce back but also pivot and address a new need. The COVID-19 era had spawned a new market.
"So many companies have moved into hybrid or remote. So they still need to get together once a year. And we're the people that they call," said Sean.

A client had called Moniker and requested a virtual experience that could bring employees together while social distancing. That's when Sean had his Eureka moment, an idea that could reconnect employees with a real-world experience. So Moniker contacted a local university's theater program and hired actors to host a murder mystery event on Zoom. It was so well-received that Zoom and other major news publications spotlighted Moniker on their platforms.
"So that idea sustained us. We grew and ended COVID with about 11 or 12 people. Since then, company retreats have become really popular. We went from $12 to $15 million. Now we're going to be $18. And heading into next year, we're anticipating to be at $20 to $25 million," said Sean.
Moniker's virtual game catalog has also expanded since the COVID-19 pandemic. It now has 3D virtual escape rooms, trivia, and other murder mystery themes. Its gaming events can host up to 300 participants, and anyone globally can join. With Moniker, companies can create a fun and engaging space for remote workers to connect and take a break from the virtual workspace.
What's Next for Moniker: A Cultural Advisory for Employers
Moniker has grown since its launch 10 years ago. The team now has 18 people working full time, and the company has built a $15 million business. Sean said he is proud of how Moniker survived the challenges of the COVID-19 pandemic and grew at an ultra-fast speed. Moniker has also received tons of positive feedback from employees and CEOs alike.
"We have CEOs come to us and tell us they feel there's like a glow that lasts for a month or two after the retreat. They see improved productivity, people are generally happier, teams are more collaborative, and people are working better because they know their team members better," said Sean.

Moniker's feedback proves the value of team connections within companies. Sean said he's also received feedback about an employee who was ready to leave their workplace but ended up staying because of the connections they formed with their coworkers at a company retreat. And the Moniker team wants to continue helping teams develop better relationships with a new service.
"A lot of companies have switched to hybrid or remote and haven't done such a good job of that. They don't know how to do onboarding that well. They don't know how to celebrate achievements or do employee recognition in the remote world," said Sean.
Moniker seeks to create a cultural advisory arm of its agency to help companies establish culture in a remote work environment. Its internal team has gained a breadth of experience and knowledge in this area by speaking to and helping so many different companies over the years.
"This is something we want to get into because I think a lot of employees would appreciate it if their employers knew how to do this remote thing better. So we have a lot of wisdom that we can share in that regard," said Sean.