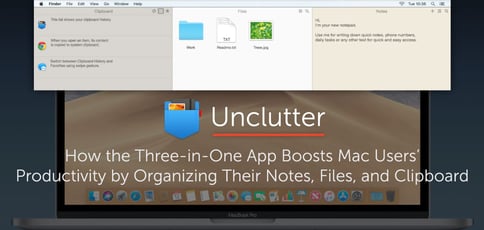 TL; DR: The Unclutter desktop app boosts productivity and organization for Mac users by seamlessly integrating with the macOS operating system to optimize note creation, file storage, and clipboard history. The simple, yet wildly effective tool is just a mouse movement away and unlocks a hidden storage area to manage your ideas, reminders, and recent actions. Developer and CEO Eugene Krupnov continues to provide transparency and upgraded features without adding to the unnecessary clutter his app seeks to prevent.
Everyone has that junk drawer in their house, or the ubiquitous box of random cables you're positive you'll need eventually. You may not use them every day, but they always seem to come through in the clutch.
Why not have the same system for your computer?
In these days of digital hoarding, Unclutter comes through for Mac users looking for faster ways to access important files, ideas, and recent actions. With a simple mouse stroke, users can reveal a hidden drawer with well-organized and convenient areas for notes, files, and pasteboard history.
Instead of letting powerful technology stand in the way of productivity or contribute to the chaos, Eugene Krupnov combined three distinct tasks into a streamlined and optimized application that enables users to effectively leverage their computing power and creativity.
"We are proud to keep Unclutter very simple," he said. "I mean, it looks simple and it's easy to use. Although it wasn't an easy task, this app combines the functionality and complexity of three different apps."
And we found this simplicity to be one of its top selling points. For me, Unclutter represents the Holy Grail of what I would term "Desktop Zero." After an easy install, my desktop was clutter-free, but I took comfort in the fact that all the files I needed were just a mouse stroke away. I would recommend Unclutter to all Mac users seeking a better way to organize their digital workflows.
Providing Transparency and Simplicity to the macOS Experience
Leading a small, independent development team in the Ukraine, Eugene and his brother, Oleg Krupnov, joined forces with designer Taras Brizitsky to reexamine how Apple users interacted with their MacBooks and iMacs.
The team, helmed by Oleg, first launched disk space analysis app DaisyDisk to visually represent storage usage and help users identify, locate, and delete unwanted files. A few years later, Eugene seized on another inconvenience for macOS users and released Unclutter in 2012. Oleg and Eugene separated to work on their separate apps, but the brothers still collaborate as needed.
"From the start, I wanted to create something useful for people," Eugene said. "Building a Mac app was a really nice way to do that…. It was pretty simple: Eliminate the most annoying, small inconveniences when using a Mac."
To solve user frustrations with the macOS access to notes and file storage, Eugene concentrated on removing complexity instead of just replacing it with an alternative solution. By removing the barriers and hangups users struggled with, he found that customers quickly adopted Unclutter's interface and would stick with the app through multiple devices.
"Unclutter turns out to be very addictive," Eugene said. "Once you use it, you will not want to go without it. Many users say Unclutter is one of the first apps they install on a new Mac. That means a lot to me because if you get used to the app that quickly, then Unclutter is really a useful and convenient tool."
Unclutter's Three-Pronged Approach to File Management
Whether users start with Unclutter's seven-day free trial or download the app from the App Store, they can quickly get the hang of using the streamlined interface. Simply by moving the pointer to the top of your screen and scrolling down, Unclutter reveals its trio of features:
Notes: No more waiting for a text editor or notes application to open. Just swipe down and start typing or search existing notes. You can even configure the app to store notes in a shared folder to automatically sync across all your devices.
"Sometimes you just need to write something down fast," Eugene said. "Launching a notes app is not always a convenient solution. This small delay may easily become a big distraction that breaks the workflow, stills user focus, and reduces productivity."
Files: As a go-to place for casual, convenient storage, Unclutter's drag-and-drop area keeps frequently-accessed files at a user's fingertips or provides a drop zone for quickly moving files between applications.
"Finder is not always a good helper, and desktops turn into a mess very quickly," Eugene said. "We set out to create a convenient place to drop some occasional files."
Clipboard: Like a Time Machine for the copy-paste function, Unclutter displays a history of your recently copied items. Users can also tag frequently used clips to be saved permanently for future use.
"Having the ability to see what's currently on your Mac's clipboard before pasting and to recall something copied previously is definitely a must-have for most people," Eugene said.
Finding Ways to Upgrade Functionality Without Creating Clutter
Updating Unclutter, an app built on stripped-down simplicity, can be a balancing act between adding modern, progressive features and needlessly adding to the very mess the program aims to eliminate.
"As macOS evolved, Unclutter has changed, too," Eugene said.
The program initially launched with a skeuomorphic design, imitating a notepad. It was revamped in 2015 with the release of Version 2 to better match the surrounding operating system. With app updates released every few weeks, Eugene is already at work on the next big upgrade.
"There are still lots of things to do, but I can already say that the new Unclutter will have a new, fresh look and many updates to improve the convenience of use and capabilities," he said.
Although he wouldn't share many details of the pending updates, Eugene told us that Unclutter will continue to capitalize on its signature time-saving features. The app's convenience and scroll-down-from-the-top opening method — Unclutter's "killing feature," according to Eugene — requires the app will remain simple, quick, and natural.
"The main Unclutter advantage is the ability to quickly open whenever and wherever you need it," he said. "One simple gesture, and Unclutter opens on any display connected — even in fullscreen mode when only one app is present on the screen."
Behind an active user community, personal support, and a transparent development cycle, Eugene and Unclutter foster an almost open-source energy where he connects and communicates directly with customers.
"Based on our own experience and the feedback from our users, we've compiled a list of missing features," he said. "Now, it's a good time to make all the fixes and get users' productivity to the next level."