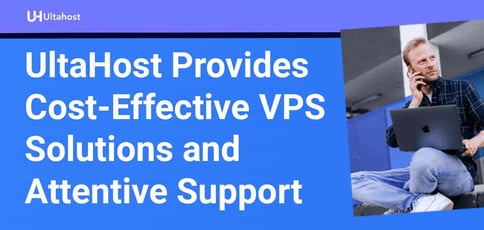 TL; DR: UltaHost provides users with cost-effective hosting solutions and 24/7 support services to bolster and enhance various online business projects. Accessible worldwide, UltaHost offers a high-performing and quick hosting experience backed by NVMe storage and a 100% uptime guarantee. The UltaHost team is also known for its outstanding customer support, which includes server assistance, setup, configuration, and troubleshooting.
Google processes more than 8.5 billion searches per day, according to Oberlo. This number may not come as a surprise as Google is an essential part of our everyday lives, no matter where you live in the world. We look to it for product reviews, shopping options, and answers to our burning questions, among other things. It's like our own more advanced and intelligent Zero 8 ball.
Google's success as a search engine can be credited to its unwavering commitment to quality and relevant results. It closely analyzes and understands user behavior to match users to the best websites with accurate answers. This attention to quality is why businesses with online aspirations must deliver high-quality websites to extend their reach.
Page loading speed is one factor that directly affects a website's Google rank success. If your site isn't fast enough, it can hurt your conversions, SEO, and organic traffic numbers. Since Google favors fast sites, slow websites won't rank well. Thankfully, website owners can turn to high-performing web hosting providers to power their online projects with speed and reliability.

UltaHost offers fast, secure, and user-friendly hosting for business owners. Its easy setup, 100% uptime guarantee, and excellent load times keep user websites running smoothly year-round. Many users have leveraged UltaHost to power their websites and have rated it excellent on TrustPilot. One user, Aaron Porter, left glowing remarks about its services.
"Ultahost has gone above and beyond in terms of customer service, price, and quality of service! Their team does an all-around amazing job. The servers are fast, and I am very happy," said Aaron.
Delivering Competitively Priced Solutions Built For Speed
Established in 2018, UltaHost provides shared, VPS, VDS, and dedicated web hosting, among other features, to thousands of customers across the globe. With rates that start at $3.29 a month, users can enjoy plans packed with performance and security features, including SSD storage, dedicated firewalls, and SSH access. As for its standout offerings, Elin Doughouz, the Founder of UltaHost, told us that its VPS plan is the most popular product among customers.
"Our VPS plans are really cheap. If you check another competitor's plan, you can see the big difference in prices. We also sell extra services that other companies do not like Macintosh VPS services. So we have few things different from other competitors," said Elin.
UltaHost's combination of performance and affordability allows users from any background to jump-start their business in no time. Its hosting platform is also ideal for various business agendas, from small personal blogs and résumés to eCommerce and video-sharing platforms.

UltaHost's speed capabilities can ensure that users gain the visibility they need for their businesses. Users can choose from a range of NVMe SSD storage options to store web files, accelerate data transfers, and maintain stability. UltaHost also promises up to 20 times faster page loads for shared web hosting users.
For users in need of specific business tools, UltaHost also offers specialized hosting services. Its fast and secure infrastructure can provide a tailored hosting environment for eCommerce, email, CRM, and social networking hosting. Without performance issues, these specialty tools make it easier for businesses to run popular scripts and operational software, including Rise, Magento, and WooCommerce.
Sometimes, users won't know if their web host is a good fit until they try out its services. The UltaHost team understands this and offers flexibility with its plans. Users can cancel any plan within 30 days and get a full refund.
Expanding Global Reach With New Server Locations
UltaHost has seen tremendous growth since its launch in 2018. As the hosting company gains more customers, it also looks to expand server locations to accommodate those new users.
"Every few years, we open a new datacenter location in another country, so we are expanding more and more. Recently, we started to sell Mac systems and had so many sales coming. And now we're trying to open locations in India," said Elin.
Elin also told us that the force behind UltaHost's progression is customer demand from other countries. Many customers have contacted the team to request server locations in Asia because they were experiencing increased traffic from there. The UltaHost team decided to build a new server site to help users maximize their growth and reap the benefits instead of losing their traffic opportunities to other websites. And the team has more developments on the way.
"In the future, we are trying to open as many locations as we can. Now we are operating in Canada, USA, Germany, and Amsterdam. So I was planning to open in Singapore and India this year. My plan is always to expand to meet the requirements of my customers. So I also have plans for the UK in the future," said Elin.
The UltaHost team has also experienced growth in the past years. Elin told us that he started the company with only three other colleagues, and the team has now grown to 32 remote employees from all over the world.
"We have about 32 employees from basically all over the world. We have employees from India, USA, Germany, and Turkey. We have a great mix from each country," said Elin.
Highlighting Customer Support As The Focus Of Operations
As UltaHost has grown over the years, its customer base has also evolved. Elin told us that, when the team members first began their hosting journey, they had difficulty understanding customer needs.
"Over time, we got more experience with each customer. We made an automation system for customers to make it easy for them to install scripts, workplaces, or themes. We are also trying to minimize our tickets by providing a few extra free services for customers," said Elin.
Listening to customer requests helped the UltaHost team learn more about its customers and how to accommodate their needs. With that, the UltaHost feature list grew to meet customer requests and simplify the hosting experience for users.

Support is also a significant piece of the UltaHost vision. Elin said the quality of UltaHost customer support is so high that it drives users to the company. The hosting provider has one of the best support staff and helps users with everything from configuration and setup to custom solutions and server management.
"Ultahost is very helpful with setting up platforms for us. They even went above and beyond by helping to upload a custom platform that I was having trouble with," said a UltaHost user named Anthony Johnson.
Users can access multiple support services when they run into a problem. Expert support and a ticketing system are available 24/7. UltaHost also has an active community of customers and experts sharing solutions, a knowledge base, support add-ons, and integrated server and website monitoring tools for troubleshooting.
"Our support is always excellent. And we have plans to make our support last only 15 minutes for each ticket to get an answer. My priority now is to provide fast support," said Elin.