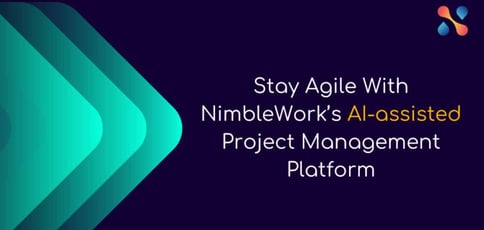 TL; DR: Maintaining agility as a business in today's economy can be difficult. Companies are often confronted with some new tool or technology they need to onboard. Industry markets are also ever-changing. But what if there were a way to keep your teams more agile in the face of change? NimbleWork provides project and work management solutions to help users collaborate effectively, connect in real time, and deliver projects successfully. We spoke with Mahesh Singh, CMO and Co-Founder of NimbleWork, about the platform, its AI capabilities, and new releases.
It may seem paradoxical to use AI and humanizing work in the same sentence. In the last year alone, numerous talking heads have hopped online to pin humans and these intelligent machines against each other, especially in the work arena. Anyone searching the topic of AI can easily find at least one article painting it as the greatest enemy of the future workforce. But today's reality has shown otherwise.
Maybe 10 to 20 years from now, time may prove skeptics right. As of today, AI has helped tons of companies develop tools for everything from content creation to improved productivity and cybersecurity that enhance workflows within the workplace. These tools assist humans rather than usurp their roles. NimbleWork is one SaaS provider leveraging AI to accomplish its own "paradoxical" mission: to humanize work, improve collaboration, and streamline project management.

NimbleWork places AI right at the center of human productivity. Its platform helps users find the balance they need to maximize workflows while staying fresh and agile. With new technologies and trends released annually, teams need to be ready to embrace these changes through effective collaboration and management. And NimbleWork helps them do just that.
"There is a whole body of knowledge around being lean and agile, which empowers teams to do the work they are most capable of doing while also challenging them sufficiently. So finding the right medium that allows teams to maximize the flow of work is a very strong concept we try to implement," said Mahesh Singh, CMO and Co-Founder.
NimbleWork brings the human element of work to the forefront, allowing teams to work in safe and productive environments. Its platform provides users with the necessary tools to stay connected in distributed workplaces, create project workflows unique to their needs, and take corrective action to improve core business processes.
Creating Project Environments Tailored to User Needs
NimbleWork didn't always have nimble in its name. When the company first launched in 2002, it was called Digité. At the time, the company provided web-based collaborative solutions for product and project teams to build and deliver projects successfully. During the COVID-19 pandemic, especially with the prevalence of the Hybrid Work Model, Digité decided to change directions, revamp its product portfolio, and change its name to NimbleWork.
"We wanted the name because we believe it truly represents who we are in terms of what we enable our customers to be. And it's just rooted in the background of agile project management," said Mahesh.

Over the years, NimbleWork built out its platform to deliver robust capabilities in four areas: Project Management, Collaboration, Process Governance, and AI/ Machine Learning. Its project management solutions provide users with templates to better visualize, manage, and execute workflows. Anyone can access these general-purpose templates to help streamline and complete tasks for various use cases.
"Second is collaboration. So we make collaboration effective and easy so users won't have to depend on email and external platforms to manage what they do," said Mahesh.
Its third solution encompasses the area of process governance, which is a pillar for mature project management companies. Mahesh said every large company has strong process capabilities that they rely on to distinguish themselves from their competitors. So NimbleWork's solutions allow them to map and automate these processes so that everything will align in a unified manner every time their teams start a new project.
Lastly, NimbleWork provides customers with tools to automate based on their data science. "Data science and AI help users forecast what's going on within their project and take corrective action proactively," said Mahesh.
How NimbleWork Humanizes Work With AI
We touched a little bit on NimbleWork's mission to humanize work. But its efforts to drive a more humanistic workplace run deep. Although AI may seem like the unlikeliest tool to leverage, its use within NimbleWork's platform has helped the company improve collaboration and workplace atmosphere for teams.
"We want to humanize work by providing capabilities that let people connect with each other effectively and find what we call human moments. So people can relate to each other, their work, and so forth. And so they can find an alignment of purpose," said Mahesh.
NimbleWork's mission is to help businesses find agility, and that requires teams to be engaged and on the same page. NimbleWork implements a method called pool-based execution, which informs teams of their priorities and allows them to choose when to complete those tasks. As for integrating AI, NimbleWork does so to help users optimize their workflow.
"We are trying to make AI as embedded as possible. So that as people work, they are enabled by AI to take care of the mundane work. We provide capabilities in terms of similarity and recommendation engines that let them learn from already completed work, so they're not reinventing the wheel to solve a problem," said Mahesh.
The NimbleWork team went through various steps to ensure AI would prove meaningful for its customers. It also had to look at use cases and understand its audience demographic to deliver the right capabilities. Overall, the team set out to create an AI offering to help businesses work less on the mundane and use their time more efficiently.
"We also integrated GenAI into the system so that anytime a user asks a generic question, the system knows where to fetch that data. So figuring this out in terms of the design and making it available contextually in the standard usage of our system were the big challenges we tackled," said Mahesh.
What's New: Products to Improve Business-Side Tasks
In March 2023, NimbleWork released several new features to help improve business-side tasks. These products each have a specific purpose and function, but they can all come together to provide an end-to-end solution. Its OKR and retrospective tools help teams align with boards to set objectives, share opinions, and visualize progress.
Some of the newer features also focus on employee engagement and work management. For example, its celebrate paradigm helps teams connect by allowing members to send thank-you notes or celebrate personal or work-related achievements. Another feature prompts teams to take breaks, while another sends automated inspirational messages to encourage employees during the workday.

"We're working along the humanized work axis to continue to build new things. We're also talking to our customers to see what else we can do to make it more meaningful and useful for them," said Mahesh.
NimbleWork is also switching gears to meet the needs of smaller businesses and teams. The team understands that small businesses don't have the same staffing resources as enterprises and seeks to provide tools to streamline their processes without the need for complex technology. NimbleWork also plans to boost its integration capabilities.
"We are not an isolated application. We sit in an ecosystem where there are lots of other applications. So we look to provide more integration capabilities out of the box but continue to make the platform easier, more extensive, and more self-service," said Mahesh.