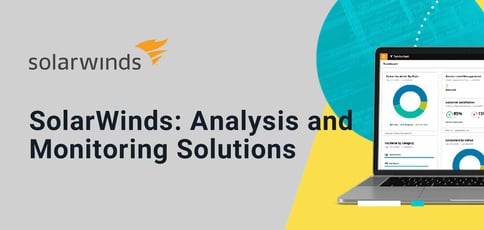 TL; DR: SolarWinds offers a robust portfolio of IT management software to help businesses efficiently monitor, analyze, and secure their IT infrastructures. The company's wide range of solutions can deploy across on-premises, cloud-based, and hybrid environments. SolarWinds aims to provide IT professionals with intuitive management tools that ease the operational pressures and complexities they face. And the company continually innovates new tools and services based on customer feedback and requirements.
The IT industry has produced many memorable quotes over the decades. Still, few resonate quite as prophetically as Sun Microsystems Chief Scientist John Gage's "The network is the computer" declaration of 1984.
That quote began the race to connect computers. Today, the network management discipline within the IT skills spectrum may be less dynamic than it was in the 1980s and 1990s. But SolarWinds recognizes its importance.
SolarWinds has focused on IT infrastructure management software since it was founded in 1999. The firm, headquartered in Austin, Texas, has steadily developed a comprehensive product suite of monitors, analyzers, troubleshooting tools, and secure infrastructure management solutions.
Its portfolio enables large and small organizations to manage their IT performance across a range of environments, including cloud, hybrid, or on-premises. And the SolarWinds acquisition of database performance management specialist VividCortex further extended the company's reach into infrastructure.
SolarWinds now has more than 3,400 employees who serve more than 320,000 customers globally. The company's value proposition is closely tied to its commitment to engage with IT operations professionals working in all disciplines and sectors. That ensures its solutions development ethos is attuned to its requirements as they evolve.
Recently, SolarWinds announced a wide range of enhancements across much of its IT operations portfolio designed to meet the needs of professionals working in hybrid environments.
"Technology professionals have hard jobs," said Lee McClendon, SVP, Product, IT Operations Management at SolarWinds. "End-users can be demanding, and businesses need constant access to ever-expansive applications and infrastructure. Performance expectations are high, and the responsibility to deliver on those expectations rests squarely on the shoulders of IT professionals."
Network Focus Keeps IT Complexity Under Control
The focus on networks dates back to the origins of SolarWinds, according to Lee.
"We started with management products that were very network-focused — because that is usually the first place troubleshooters look when there's a system performance issue," he said. "Troubleshooting then moves up to the infrastructure, applications, and database, and you have to look across all of that when pinpointing a problem."
SolarWinds has grown by expanding to ensure that it troubleshoots across all of those different areas.
Lee has seen many IT trends come, go, disrupt, and dissolve, and was already a seasoned software engineer when he came to SolarWinds in 2006. But Lee said there's no question about the technological change that's had the most significant impact in recent years.
"Without doubt, over the last decade, the biggest shift in IT has been the advent of cloud," Lee said. "It's interesting to recall the cloud's early days when it was new — and still kind of scary. Now it's mainstream, and it has changed the way we all think about IT at a fundamental level."
In terms of more general industry change, the escalation in enterprise IT complexity is another significant factor. Many IT teams are expected to do more with less while working within more complex environments.
SolarWinds differentiates on the principle of making things easier for its customers, and its declared objective is to eliminate complexity from IT.
Intuitive Software Products Provide Quicker ROI
SolarWinds helps clients manage on-premises, cloud-based, and hybrid infrastructures with full continuity while also holding to its commitment to keep its management tools simple to use.
"Customers don't want to have to partner with multiple management solutions vendors for each of their IT environments — and with us, they don't have to," said Lee. "That's why SolarWinds aims to provide best-of-breed solutions across the entire enterprise IT estate. And that makes sense because management issues do not apply exclusively to a specific type of environment. They exist across private cloud, public cloud, legacy platforms, you name it. And it's our job to have the know-how and tools that extend across that entirety."
The other foundational tenet SolarWinds follows is: Make it simple. From early on, the company invested heavily in product usability. Its goal was to ensure that customers could download products easily and quickly see value without needing time-consuming coaching or guidance.
It's a fundamental idea that still shows through in SolarWinds' products, said Lee.
"With us, you don't need to have consultants come in and demonstrate the product's value," he said. "You can see that value immediately because we have invested in usability that's self-evident from the outset."
Understanding User Needs Brings New Business Referrals
Early on, SolarWinds had the motto: Built by engineers for engineers. And that ethos still rings true for its engineering teams, Lee said.
Its team members understand the challenges faced by IT specifiers because they often used to be IT specifiers. Some SolarWinds product managers are even former SolarWinds customers.
"Effective engineering teams start with effective product managers talking to customers. The core of their job is to understand the problems a customer has — and then come up with innovative ways to solve them," said Lee. "That keeps SolarWinds focused on building solutions that address actual issues our customers face."
That's why SolarWinds invests so much in customer research, and feedback is critical to its development process. The company has a usability team that solicits customer responses, attends user group meetings, and understands how they use SolarWinds products. SolarWinds' THWACK user community has more than 150,000 members.
Another differentiator that Lee cites is customer size range. SolarWinds solves problems for large organizations with global requirements and for small customers who might just want a point solution.
"It could be that a small customer is part of a large enterprise. We grow business from internal referrals. That's when our customers talk to colleagues in another part of the IT function — maybe one that runs some legacy system — and they say, 'How come SolarWinds solves your issues without consultants?' So, often, they end up moving to us from their incumbent technology providers."
SolarWinds: Product Upgrades Support Customers Through Trying Times
Evolutions in technology will shape the future of SolarWinds, but another global challenge also impacts its direction and customer relationships: the Covid-19 pandemic. Covid-19 has tested societal and economic reliance on IT systems and forced them to adapt to disruptive circumstances and maintain necessary levels of business continuity.
"The world has been changed by recent events," said Lee. "The demands that we have seen on IT departments are not unfamiliar but are on a scale we have never witnessed before. We learned from the coronavirus crises. It provided an opportunity to add even more to our value proposition, and support customers across a range of different coronavirus-related challenges."
SolarWinds continues to add to its range of IT operations management solutions. Recent updates across its portfolio include new versions of network, systems, and database management products that deliver monitoring depth. The company's view remains that a hybrid IT approach to monitoring and management requires visibility into the entire technology stack and beyond the security firewall.
"We have a saying in the company: 'If you fear boredom more than change, you're probably good for a SolarWinds employee,'" Lee said. "We thrive on change. If you look at the company's history over the last 20 years, it's a matter of filling gaps as we continue to expand our IT capability horizons."