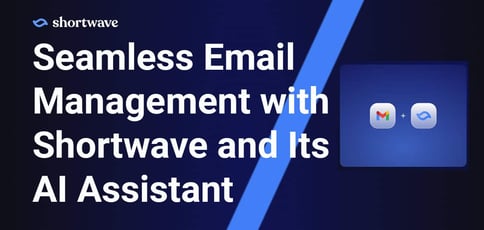 TL; DR: There's an app for almost everything, from mastering new languages to tracking your expenses. But when it comes to managing your email, the choices are a little overwhelming. Shortwave, however, stands out from the crowd with its effortless organization via the Shortwave Method and an artificial intelligence (AI) assistant. Andrew Lee, Co-Founder and CEO of Shortwave, walked us through the features of Shortwave and what's coming up next.
Let me take a wild guess about your email habits: You probably have a professional email for work, a personal email for family and friends, and a junk email that you use for one-time discounts and subscriptions you plan to cancel.
If that sounds right, you've probably wished for a magic solution to instantly reorganize and declutter your email. Plenty of email organization apps claim to combat spam or group messages, but Shortwave is a game changer.

Shortwave is your go-to email organization app, designed to declutter your inbox by sifting through your emails with automatic bundling and smart labeling. Its newest addition, an AI assistant, takes your email management up a notch by performing email-related tasks you don't have time for (or don't feel like doing).
The average American spends 28% of the workday reading and responding to work emails. That's why we sat down with Andrew Lee, Co-Founder and CEO of Shortwave, who told us how Shortwave can save you an hour a day.
Goodbye, Crowded Inbox. Hello, Email Mastery
In the Digital Age, where technology dominates almost every aspect of our lives, many normalcies have become outdated. Instead of dealing with junk mail at our homes or telemarketers calling our landlines, we are now inundated with an astonishing 3 billion spam emails every day.
As we receive more and more emails, it's become increasingly challenging to separate the important from the less important ones. This is where Shortwave shines.
"We allow you to treat your inbox like a to-do list. It's not just about marking them; it's about arranging them logically and identifying related items and grouping them," Andrew said. "It's like creating your own stack of tasks within your inbox. This way, you have a clear overview of what needs attention and can organize your workload more effectively."
Here's how the Shortwave Method works: First, it clears out non-actionable emails. Related emails are automatically sorted into bundles condensing multiple emails into one compact line in your inbox.

Next, it organizes your remaining to-dos. Easily drag and drop to reorder them as you see fit so you can prep your inbox to a distraction-free view. Don't forget to add labels to long-term projects — like a collaborative email chain with your team on A task and then a separate label for B task.
Lastly, you can set up automation for easier management. You'll want to set up your email first with the proper bundling and labeling, but once you've done that, the automation works itself out.
You can arrange delivery times (prefer to get emails about next week's tasks at 4 p.m. on Friday?) and use smart labels.

Here's how Andrew uses it: "I like to get all my finance updates at 7 a.m. every morning, but I don't want them to interrupt me throughout the day. So I see nothing about finance all day — but then the next morning, there's a new batch waiting for me. I do the same for promotions, support, and other categories."
Smart labels can be automatically applied to new messages from specific senders and even set rules for bundling preferences, allowing for ultimate customization.
Shortwave's AI Assistant Tackles Email Tasks You'd Rather Skip
I downloaded Shortwave to play around with its features in real time.
Although I'm using the free version, the AI tool is still usable — which surprised me because most organizations will require an upgrade to use smart tools like this.
"We want to give you a conversational interface that feels a lot like an actual human executive assistant where you have a partner that can help you get to your email every day," explained Andrew.
There are tons of other great features included in the base plan:
The AI-powered executive assistant
Cross-platform accessibility with web, iOS, and Android apps
Customizable controls for efficient mail filtering
Built-in shortcuts and markdown support for quick composing
Powerful search capabilities with advanced query options
Guaranteed to ensure security and privacy
As you can see, security is also at Shortwave's forefront. Since Shortwave operates on Gmail, it works closely with Google to ensure data security. Andrew emphasized that although Shortwave accesses your data, it is entirely protected by Google's infrastructure, which is one of the largest and most secure cloud infrastructures in the world.
But the real value shines when you upgrade to a paid plan, which lets you control your inbox and use the AI assistant to its full potential. Here are a couple of my favorite features:
Email Contextualization
​​We've all experienced it — that moment when you vaguely remember some information from an email, like a fuzzy timestamp or a forgotten name.
Shortwave's AI search is a handy solution that enables you to retrieve precise information even when your memory is hazy on the details. This feature leverages AI to sift through your email history and provide relevant results.

Say you marked an email as "Done" and scheduled an informal standup meeting a month later with that same sender — but can't remember their name or why you scheduled an appointment at all.
"The AI assistant can tell you all the details you need without having to search pages of old emails or trying to recall certain keywords," Andrew said.
Email Composition
Shortwave assists in composing emails, both in responding to emails and crafting new ones. Andrew said there are two big categories of people using this feature.
"Some people want AI to help them craft the right language. For example, maybe there's an emotional component where you have to reject a candidate, but you want to be polite and optimistic," Andrew explained. "Others are looking for help with expertise. I can ask the AI to help augment my lack in that area to help me write the emails so they make sense."

But what's really helpful is that the AI assistant can mimic your writing style, which is automatically learned from previous emails.
The AI assistant can adapt to your unique communication style, making it appear like you crafted every email. Impress your colleagues with tailored responses or set a meeting with a prospective client and save time while doing it.
Shortwave Plans to Continue Surfing the AI-Assisting Horizon
As with any successful product, continuous innovation is the driving force behind improvement. Shortwave is no exception, consistently enhancing its features and functionality. A glance at Shortwave's Changelog shows a long history of product changes, bug fixes, and new features, including the AI assistant, which was rolled out in October 2023.
But there's at least one thing Shortwave is fixated on: AI. Andrew said AI can be tricky because, while computers are very deterministic, AI is more like a person you have to explain things to.
"Sometimes it doesn't get things right and tries to make things up, so you have to think about how to build the sandbox around it to guide it to do the things you want," he said.
So Shortwave's next mission is to enhance its AI assistant, making it smarter and more capable while delivering improved responses. For instance, Shortwave is actively working on features that will enable you to schedule meetings and add events to your calendar. This is just one of the many exciting developments on the horizon.
There's a lot more to Shortwave, and the best part is you can get started for free. Take charge of your inbox, simplify work with the AI assistant, and stay on top of your game. Try Shortwave today.