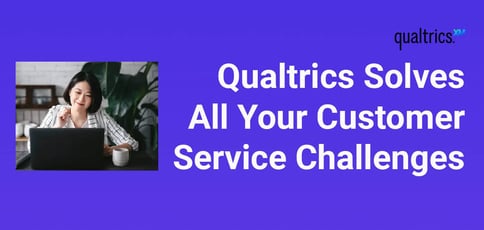 TL; DR: Qualtrics is a versatile software platform empowering businesses in the age of digital transformation with its customer experience (CX) solution. CX, including customer service, proper market research, and data-driven decisions, has never been more important in today's digital business landscape. Jill Larson, Chief Product Officer for strategy & Research at Qualtrics, tells us how the company helps customers perform qualitative and quantitative research that provide actionable insights for companies in all industries.
"The internet is becoming the town square for the global village of tomorrow." You might recognize this quote from Bill Gates.
Even if you don't, take a moment to think about how this prediction has already come true. More than 15 years after he uttered this famous statement, almost everybody has moved online to do everything from starting new relationships to buying products and services.
Good customer service brings people back to the platform, whether it's a dating app or an online retail store. While customer support platforms have evolved, the sentiment has remained the same: providing excellent support and service to a company's customers — especially since customers will switch to a new company if they have a single bad experience.
But with the advancement of the internet, it's also becoming more challenging to gauge what customers expect. According to a Forbes study, consumer expectations are skyrocketing as technology expands because their options are more plentiful. In turn, many companies are improving customer journeys with one-click buying, support, and cancellation — better known as instant gratification.

The ever-changing needs and desires of consumers are also why qualitative and quantitative research has become necessary, which is what Qualtrics offers companies of all sizes.
Qualtrics is a software platform specializing in online surveys, automated insights, and experience management. Jill Larson, Chief Product Officer of Qualtrics, tells us it's a perfect medley for market researchers, customer specialists, and management-employee engagement.
Customer Service Has Always Been the Heart of Success
Qualtrics may sound like it specializes in qualitative research, but that's not where it started.
"Qualtrics has been known as a quantitative research platform, and then we expanded our use cases into a whole new category of experience management," Jill tells us. "So, really, quantitative research has been our bread and butter."
If you don't know, qualitative and quantitative go hand in hand, but they're different research methods. Think of qualitative as quality — it deals with words, meanings, thoughts, and opinions of services, products, and brands. Quantitative is akin to quantity, which relays the performance or impact of a brand or product.
You could perform qualitative and quantitative research on the same issue but get completely different insights. Let's dive into Qualtrics in action.
Using Qualtrics In Real-Time
You could deploy Qualtrics Video Feedback to quickly collect richer, more nuanced insight into your target audience's thoughts, opinions, and feelings via video surveys. Qualtrics Automated Insights, combining qualitative and quantitative research, show that leggings are popular for their durability and comfort. Still, many women also complain about poor quality and lack of colors.

According to your Qualtrics Research Hub, which brings together the millions of data points that make up all of the brand studies, customer feedback, and market data into a searchable system, you also find that women between 18 and 29 are the most frequent buyers of leggings, and their preferences on material have changed over time. Instead of sticking to jersey cotton, more consumers are happy with a nylon/lycra material. From this, you know there's a market for women's leggings — but these extra insights tell you something about the fabric material that other manufacturers might not already know.

Now, you also know that most consumers prefer leggings with bright colors, followed by geometric patterns, neutrals, and dark shades. Many consumers complain about finding colors they like or patterns that aren't outdated.

Luckily, with Qualtrics, you can ask the insights platform questions directly, such as: "What are the top changes this audience would like to see?" And within seconds, you'll get instant feedback from carefully collected data through both qualitative and quantitative research.
The Power of Data in Customer Experience
Jill says that there are three main aspects most companies are trying to address: acquiring new customers, retaining existing ones, and increasing their market share. This may include answering questions such as:
How can we allocate our budget and resources most effectively to attract new customers and employees?
How can we secure future revenue and future talent?
How can we retain our existing customers and employees while fostering growth?
Answering these questions involves analyzing several data points through qualitative and quantitative customer experience research. In other words, dedicating time, resources, and teams to study how customers perceive and experience your brand can mean the difference between gaining and losing customers.
It's essential for businesses that are looking to expand services.
"Companies are always looking for the next opportunity, like venturing into new markets, developing new products and services, and remaining competitive and ahead of the curve by recognizing upcoming trends," Jill says. "Even when those are identified, the next step is to know how to invest in them wisely and bring them into a market in a way that minimizes risk."
And what's one trend that everybody is using to enhance their services? Artificial intelligence (AI). Qualtrics is no different. With its surveys and chats, you can use AI in whatever way streamlines your process the most.

"The ability of AI to moderate a conversation responsibly is a big deal for us and our customers, so we're working on a set of features that will allow the researcher to design a discussion guide," Jill emphasizes. "And by this, you can tell Qualtrics how much you want AI to have that conversation go off the edges and how much you want them to stick to the script."
So, for example, if you're using an AI agent to prescreen problems in live chats from customers, you can design whether you want the agent to stick to a specific script or use its machine learning (ML) skills to ask more questions and gain more clarity before your customer service agent logs on.
One of Qualtrics' customer support features, Real-Time Agent Assist, also helps guide the customer agent through an entire conversation. The AI may ask your agent to verify an order number or remind them to respond empathetically. Your agents can also receive an analyzed scorecard at the end of each chat so you and your employees can better understand what is working well and where improvements can be made in customer interactions.

This real-time guidance and feedback loop fosters a culture of continuous improvement within your customer service team, ultimately leading to more satisfying and productive customer interactions.
It's a win-win for enhancing customer experiences and boosting your team's performance.
What's on the Horizon for Qualtrics?
One of the most exciting features on the horizon is the Qualtrics Research Hub, a central repository for research findings regardless of source. This tool is set to revolutionize how organizations access and use research insights.
So whether surveys were commissioned through an agency, conducted through Qualtrics, or received through subscriptions, business owners can access everything in one place with a simple searchable query.
"You could look up what you already know about a particular piece of material you've been studying and how people perceive it," Jill explains. "It's a way for any kind of organization to easily and intelligently find any of those insights that they may have commissioned with an agency; they might have run studies on their own through Qualtrics or other means."
The Qualtrics Research Hub is currently in pilot testing and is scheduled for release in late 2023. Organizations will be better equipped to make informed decisions based on past research with easier and simpler access.
Qualtrics knows the importance of staying one step ahead in the rapidly changing business landscape and the ever-evolving needs of consumers. Qualtrics' current tools and upcoming Qualtrics Research Hub provide businesses with everything they need right at their fingertips. Whether through qualitative or quantitative research, automated insights, or the new Qualtrics Research Hub, Qualtrics never rests when providing solutions for modern business.