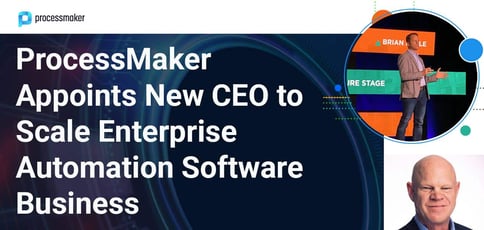 TL; DR: ProcessMaker offers business process automation software with the latest AI capabilities and intelligent document processing. Handling complex workflows can cause teams to lose a lot of valuable time. ProcessMaker enables users to streamline and automate workflows and process designs. Its IDP feature allows companies to process document data quickly and leverage this data for effective decision-making. ProcessMaker also recently welcomed its new CEO, Jeff Lortz, to spearhead the company's next chapter of scalable growth.
The phrase "time is money" may seem like some cliche saying you hear now and then. But it cannot be more accurate in the corporate world. Businesses handle all kinds of challenges. And time is not always on their side. The more time teams take to accomplish a task, the more potential profits and leads funnel down the drain.
Enterprises have a variety of complex workflows that drive their business processes. Without the right tools, these workflows can extend in time and take weeks or even months to complete. That is why many companies rely on workflow solutions to streamline processes and boost efficiency across the board. Some of these solutions take it a step further by incorporating automation and tailored flexibility into their platforms for more simplicity.
ProcessMaker is a low-code process automation and intelligent document platform that allows enterprises to simplify and automate their complex workflows. The company integrates AI and automation into its features, enabling enterprise companies to streamline workflows and save time with more efficient processes. In April 2023, ProcessMaker announced the appointment of Jeff Lortz as its new CEO to head the company into its next growth stage.

"ProcessMaker operates in a highly competitive market with numerous tools and platforms for businesses to drive efficiency through automation. However, our company is well-positioned to stand out from the crowd due to our heritage in open-source business process management tools," said Jeff.
Jeff Lortz will take over the position from Brian Reale, the founder of ProcessMaker, who has served as the CEO for more than 20 years. Although Brian will remain on the board of directors to help drive the company's strategic direction, Jeff will use his skill set to guide the company into the future. In January 2021, ProcessMaker raised $45 million in investments from ​​Aldrich Capital Partners, a private equity firm. During this pivotal time of growth, ProcessMaker seeks to scale operations further by leveraging this funding under Jeff's leadership.
Delivering Low-Code Business Automation for Complex Workflows
In 2008, ProcessMaker launched the open-source version of its business automation software. And within two years, the company reached 500 downloads a day. The ProcessMaker team decided to develop an enterprise version after receiving many customer requests asking for more support on the management side. Now its platform is one of the leading process automation platforms on the market, with a global enterprise business and a constantly growing open-source community.

In addition to bringing Jeff on board, ProcessMaker has also been working on expanding its entire C-Suite and leadership team to accomplish its growth undertaking. ProcessMaker has hired new C-level executives to head various departments in the last six to nine months.
ProcessMaker started as a global-first company, serving companies in Latin America, Africa, Europe, and APAC. For the last few years, however, it has focused on extending its reach in the US. But ProcessMaker isn't for any ordinary workflows. The ProcessMaker team works with a variety of multinational corporations that have complex workflow needs.
"The strength of the ProcessMaker Platform is in helping organizations automate sophisticated workflows that involve multiple geographies, departments, business units, decision-makers, human and nonhuman actors," said Brian Reale.
Although ProcessMaker has shifted its focus to the banking and higher education sectors, it continues to work with other industry giants.
Expanding Feature Set With Intelligent Document Processing
ProcessMaker hasn't only expanded in the leadership department, it has also grown through acquisition. In September 2022, ProcessMaker widened its capabilities by acquiring the company Doculayer. With Doculayer, ProcessMaker adds intelligent document processing to its software, further rounding out its business process management portfolio.
"The Doculayer acquisition leans into our ability to help customers automate document-intensive workflows. Using ProcessMaker IDP, customers can leverage artificial intelligence, machine learning, and natural language processing to take documents as input, scan and read them into our platform, and incorporate those previously unstructured documents and associated data into their processes," said Jeff.
Users of ProcessMaker IDP can leverage this feature for any document involved in a workflow. For example, banks undergo a process called KYC, or Know Your Customer, to verify their clients' identities and information, including driver's licenses and other documents. ProcessMaker allows banking institutions to scan documents and eliminate the need for manual checking and ID verification.

"So users can open a bank account in minutes now without human intervention on the bank's part. Whereas if it was a manual process where humans review everything, it could sometimes take weeks or months," said Brian.
Various industries can leverage ProcessMaker's intelligent document processing for their needs. Its AI, ML, and NLP capabilities can automatically validate documents, check them against existing databases, and enable users to integrate document data in their workflows and decision-making. Overall, document intelligence allows users to save time and further automate their processes.
Integrating AI Capabilities With New Platform Releases
Besides its acquisition of Doculayer and introduction of ProcessMaker IDP, ProcessMaker has more improvements in AI coming soon. With the focus and demand for AI higher than ever, the ProcessMaker team is readily positioned to meet the needs of the market with new product innovations.
Since ProcessMaker has quarterly releases, the team plans to add new AI functionalities incrementally. One prominent feature it has on the way is an AI-powered workflow builder. Users can use natural language to specify the type of workflow they need and then have it built automatically by AI, removing the need to manually design and develop processes in a designer with BPMN 2.0 elements.
"The accelerating maturity of AI and machine learning capabilities has created a stronger demand for organizations to automate increasingly complex processes and tasks. BPA platforms like ours have become the perfect harness for these AI services to apply more intelligence to automation," said Jeff.
ProcessMaker has found much success by staying nimble in its operations and strategy. AI has become a significant part of the future of the automation industry. ProcessMaker has positioned itself ahead of the competition by tackling this trend early with the acquisition of Doculayer and building other AI capabilities into its platform.
"Our product road map has shifted dramatically to leverage AI faster and develop more innovative ways for our customers to capitalize on this trend. In short, partnering with us means staying ahead of the curve and enjoying the benefits of cutting-edge technology that can help transform your business," said Jeff.