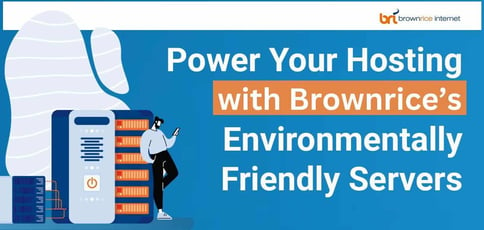 TL; DR: Energy consumption in the hosting industry is a glaring issue that unfortunately many companies haven't done much to curb. Datacenters produce high levels of carbon emissions every year, with server cooling infrastructure being one of the primary culprits. Brownrice is one hosting provider that has stepped up to help turn the tide. Brownrice uses solar energy and a method called hot aisle containment to reduce power consumption and its carbon footprint. It also has an excellent hosting platform with unique features. We spoke with Nathan Kappen, Director of Security at Brownrice, about the host's green practices, feature-packed hosting plans, and customer relationships.
A datacenter's cooling system is an essential piece of its infrastructure. It keeps servers and other equipment from overheating and allows hosting services to run functionally around the clock. But one detail about it is not so cool: It's a massive energy guzzler. According to Dataspan, an average cooling system consumes about 40% of a center's total power. And often, companies use inefficient cooling methods, which means they use more energy than necessary.
Unfortunately, the hosting industry is already a well-known carbon footprint contributor, accounting for 1% of global energy consumption. And datacenter cooling systems are often the main accomplices. But changes in cooling structures can help shift the wave and move the industry toward positive environmental impact. One hosting company has already jumped on board to turn the tide by instilling greener practices in its datacenter.

Brownrice offers a variety of hosting services, all powered by eco-friendly datacenter infrastructure. Everything from its cooling systems to office buildings uses renewable sources and other energy-conserving technologies. And all of this starts with Brownrice's strategic datacenter location.
"We're in the Rocky Mountains, so we have very dry, cool air. So we do a few things to utilize that and keep our costs low. Not only does it save us energy costs that we can pass on to the customer, but it's also important for every datacenter to handle heat effectively," said Nathan Kappen, Director of Security at Brownrice.
But the natural environment isn't the only thing Brownrice prioritizes. The web host also focuses on delivering top-performance VPS and dedicated server environments. On its site, users can find VPS, managed WordPress, and dedicated hosting alongside domain registration, SSL certificates, and other essentials.
Using Green Practices to Conserve Energy
Air conditioning is a significant player in the energy crisis, even within residential buildings. It ranks as one of the top energy users within homes and consumes about 6% of the US's electricity. Now imagine A/C cooling at the scale of Big Tech and hosting datacenters. That's a lot of space to cool. This is why Brownrice has implemented greener practices to fight the heat and reduce energy use.
Brownrice uses a method called hot aisle containment. Every server has a front intake and back exhaust to manage the cool and hot air flow. But what Brownrice does with the exhaust differs from what traditional systems do. "We contain the hot air behind the server and have large fans that exhaust the air outside the back of the building," said Nathan.
This way, hot air circulates and doesn't reenter the building, prompting the air conditioning units to work harder to decrease temperatures. Brownrice's datacenter location in the Rocky Mountains has also helped the team save on energy usage. In the summer, Brownrice uses A/C to cool servers, but once fall comes around, it can use its natural environment to cool its datacenter.

"Some of the largest datacenters are in very hot areas. Running that much refrigeration is counterintuitive and expensive since servers make a lot of heat. So it's quite a bit of savings we get from that alone," said Nathan.
Brownrice's datacenter in New Mexico also receives around 300 days of sunshine a year. So the company set up a solar array for its building to leverage the sun's power. The team received funding assistance from the USDA, which paid 20% of the solar panel installation fees with its Rural Energy for American Program grants. Brownrice uses solar power 100% of the time during peak production. Solar energy also powers its offices. As for other green initiatives, the team has more on the way.
"We are going to expand our datacenter soon and will maintain our practices there. We also plan to take the hot aisle heat, which comes out at 90 degrees, and funnel it back into our office during the winter. So that is something else that's on our radar," said Nathan.
A Hosting Platform Loaded With Features
Brownrice offers multiple hosting options within its platform, from traditional plans like VPS to unique choices, including webcam hosting. But one thing to keep in mind is that Brownrice skips the add-on button and loads its plans with valuable features. SSL certificates, snapshot backups, and its control panel are all included for no extra cost.
Every VPS plan has full virtualization, which means users get dedicated resources and an IP address. "So part of our approach has always been not to oversell. Overselling is spinning up VPSes that could potentially use more resources than the host machine even has. On our platform, another person's VPS or hosting service will never drag yours down," said Nathan.
One of Brownrice's highlights is its snapshot feature. Users get two new snapshots every 48 hours, which are entirely accessible. Brownrice also does local and remote backups. It syncs backups to its local server and remote servers to help with disaster recovery. These backups can go back as far as three months. Its PHP software is also a standout.

"PHP FPM allows us to run multiple PHP versions on the server at the same time. Our managed VPS is a LAMP stack. We host many WordPress sites, which is our bread and butter. So anything that you would host on a LAMP stack, you can host on our managed VPS platform. We also have unmanaged VPS options available, so you can build and manage your own Linux stack with the OS of your choice," said Nathan.
The PHP FPM software made its platform more flexible, allowing users to switch between versions on the fly per site. This makes troubleshooting and debugging WordPress sites much easier. Brownrice's managed VPS platform is also PCI-ready.
"We use secure trust PCI scanners to scan for server-side vulnerabilities. I say PCI-ready because it's up to the user to maintain their application's compliance. But our Managed VPS does pass current PCI DSS standards right out of the box," said Nathan.
Another large part of Brownrice's business is their webcam hosting, which is hosted in the same eco-friendly datacenter with more than 600 cameras across the globe. Their streaming platform is packed full of features such as automated time-lapses, video recordings, PTZ control, logo overlays, and more. They host most of the Ski Resort cameras in North America, so chances are if you're looking at a Ski mountain camera, it might be hosted by Brownrice.
Meeting Customers Where They Are
Brownrice caters to various types of customers and businesses through its platform. Among its most common users are developers. Nathan told us Brownrice has built relationships with most of its developer customers. Developers often refer customers to its services, and Brownrice also directs users looking for web development to them.
Brownrice's support staff also plays an essential role in establishing strong customer relationships. All of its employees are US-based and trained to answer technical questions. "We have low support queues and quick response times. So that's one thing that people love us for," said Nathan.

Word-of-mouth is the most effective marketing tool for Brownrice, which has helped it land multiple local businesses and larger enterprises. Its enterprise customers are its primary dedicated and colocation users. Brownrice has two other server locations on the West and East coasts for its colocation services. Users can combine colocation hosting with its managed geo sync feature, which works similarly to CDN but covers the entire site, not just the content.
"It's better than a CDN because the entire site is geographically redundant. If you're on the East Coast, your website will load first from the East Coast datacenter for faster response time. If that datacenter happens to be down, you have three nodes total so that it will failover to the next closest one," said Nathan.
Nathan said the geo sync hosting is also an excellent load balancer. Brownrice works hard to meet customers where they are by answering their questions, listening to requests, and providing hosting services with high availability. The team continues to elevate the user experience and plans on expanding to meet more needs.