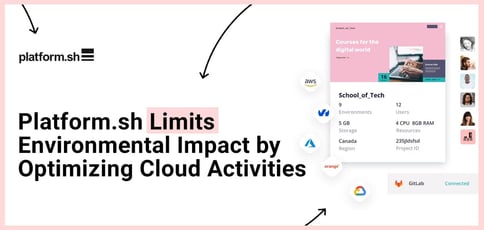 TL; DR: Platform.sh leads the cloud industry by highlighting and reducing the sector's role in carbon emissions and environmental impact. Formed in 2015, Platform.sh provides users with an unified platform to build, run, and scale their web applications efficiently with fully automated infrastructure solutions. As cloud usage soars, the company has formed initiatives to limit energy use and its carbon footprint by optimizing infrastructure and leveraging server density. Platform.sh conveys a message of hope and environmental awareness on this Earth Day and beyond.
When Platform.sh first formed, its founders Fred Plais, Damien Tournoud, and Ori Pekelman had one thing in mind. Coming from a tech and web development background, they had long experienced the irks of managing infrastructure work. And that frustration was something they looked to solve for every developer.
"All the time, we were slowed down by the cloud infrastructure and all the tedious work required to build a web application," said Fred Plais, CEO and Co-Founder of Platform.sh. "It's estimated that 30% to 40% of the time developers spend is on managing infrastructure, technical security, dependency, databases, and folders."
Managing operational duties takes away vital time to complete mission-critical tasks, including building experience, features, and interface for end users. So the Platform.sh team created the company to simplify development workflows and enable engineers to spend more time elevating applications for customers instead of plumbing the cloud.


Platform.sh allows developers to build, run, and scale websites or web applications on fully automated cloud infrastructure with its multicloud PaaS offering. The company's number one market is the United States, and it's a G2 market leader, ranking above the competition in multiple categories, including database support and development environment.
As a cloud hosting provider, the Platform.sh team understands its responsibility to its customers. But its scope of responsibility has also widened. The environmental impact produced by the cloud services industry has skyrocketed in recent years, with the IT sector accounting for 4% of the global GES emissions — more than the airline industry.
Fred told us Platform.sh is committed to assessing and reducing its carbon footprint on an operational scale while setting an example for customers and the industry as a whole. The company has also partnered with Greenly to calculate its carbon emissions and provide transparency to its customers.
"We have a responsibility not just to be a sustainable business, but to ensure everything we do enables our customers to be sustainable too — they need to be able to understand their impact to either reduce it or offset it," said Fred.
Combating the Rise of Energy Usage by Limiting Hardware
As more companies undergo cloud adoption, a trend expected to continue through 2025, cloud energy usage will only rise. One way energy usage has increased is through the accumulation of hardware.
Because servers are inexpensive, companies tend to stock up on them to increase their computing power performance. Though this solution may seem beneficial in the short term, it comes with consequences.
"There is a tendency to solve problems by adding new hardware that is not in line with the challenges that the planet has today, which is making sure that we save energy. Everything we want to do should require less hardware and less computing firepower," said Fred.
Platform.sh recognizes the threat cloud services have on the environment and has built several initiatives to counter that. Increasing server density is one example.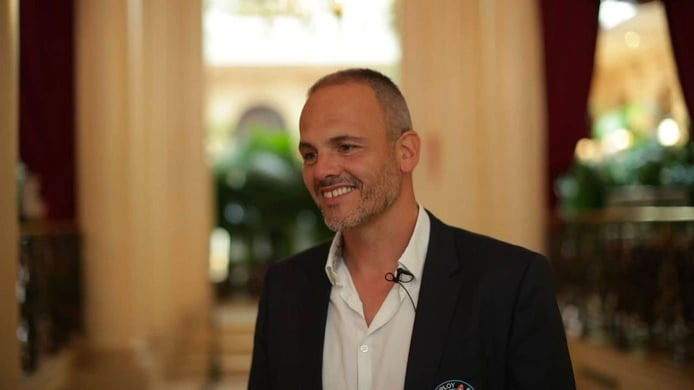 Fred told us that servers are significantly underutilized and inefficiently optimized, typically wasting 60% to 80% of server capacity. Platform.sh equips proprietary technology to increase density by up to 12 times and cut energy usage by up to 10 times. And that's not the only way the company saves energy.
"We also give priority to code, rather than hardware, by making sure that our code scales well. The objective of trying to be efficient in leveraging servers, networking, and computing capacities by using smarter software drives us," said Fred.
Platform.sh facilitates application performance monitoring to achieve its smarter energy goals. It recently acquired Blackfire, an APM technology built by the creators of Symfony, to do so.
With Blackfire, users can optimize individual app performance and use fewer resources to run the same workloads. It does so by allowing developers to identify performance bottlenecks to increase run speed and push scalability, fixing the problem from the inside rather than relying on external hardware.
Leading the Way for Companies to Make Conscious Infrastructure Choices
When it comes to environmental impact, companies and our society as a whole have often waited too long to act. Instead of leading proactively, we've relied on reactive measures to solve our problems. That approach has long been our Achilles' heel.
Platform.sh sets out to do more by focusing on making conscious infrastructure choices and educating others in the industry to follow suit with a transparent environmental impact model.
"Companies should assess the location of their datacenters versus networking costs and the impact they will have on their carbon footprint because it's extremely meaningful. And that should be a part of the material when making decisions and IT investments," said Fred.


When choosing datacenter locations, many companies prioritize proximity to deliver a higher customer experience and reduce networking costs. Platform.sh highlights the importance of including infrastructure location in business decisions because it can significantly reduce carbon emissions.
By building in the right location, businesses can limit their environmental damage through their choice of energy use. For example, a datacenter in Sweden using renewable energy emits 10 times fewer CO₂e per kWh than one powered by coal-generated electricity in Germany.
Fred also advised companies to align their choice of cloud infrastructure providers with their action plans. Different providers offer different advantages, such as better Power Usage Effectiveness. So customers should choose the one that provides the benefits that best fit their needs.
Conveying a Message of Hope for Climate Change in the IT Space
Fred said he has seen tons of traction surrounding climate change in the IT industry in the last two years. Improving corporate carbon footprint has been in the conversation and will only grow as awareness increases.
"The mentalities and the mindset is changing, and this is now becoming a serious topic. People want actionable plans. It's sometimes even in the top three priorities. I think we are far from being alone. And that's excellent news," said Fred.
Platform.sh also helps businesses act responsibly by collaborating with them on climate strategy and knowledge sharing. The team teaches customers to scale efficiently to meet their needs without overprovisioning. This methodology allows businesses to grow and operate with the environment in mind.
Platform.sh's partnership with Adobe is a prime example of this collaboration. Adobe empowers retail brands to deliver multichannel eCommerce experiences through one platform with Platform.sh. This partnership also helps Adobe reduce its carbon footprint through Platform.sh's streamlined infrastructure efficiency and optimized cloud performance.
"There are plenty of ways to decrease your carbon footprint. Years ago, we had no expression of how these things could happen for the company. But there are plenty of ways to have an impact, and sometimes it's easy and not costly. And it makes a difference," said Fred.