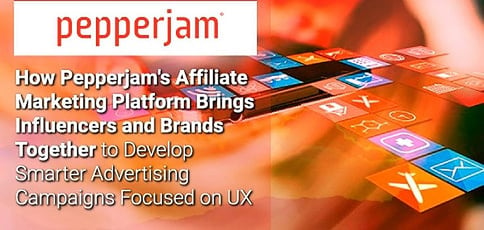 TL; DR: If you're a site owner looking to monetize your content, affiliate marketing should be top of mind. This effective form of advertising allows web publishers to partner with brands relevant to their missions and audiences. And Pepperjam has been facilitating these beneficial relationships between advertisers and publishers for more than a decade. Pepperjam's performance marketing platform brings together site owners, businesses, and ad agencies in a transparent network that ensures high value for all parties. We recently sat down with Senior Vice President of Marketing Maura Smith, who told us how Pepperjam continues to act as a matchmaker for brands and publishers to ensure an optimal user experience for site visitors that results in high conversion rates and big returns on investment.
It's no secret that the internet has changed the way we purchase products and services. In fact, 60% of consumers research goods online before buying, and roughly 50% of people purchase at least 25% of their products and services on the web. As a result, brands have flocked to the internet to get in front of these digital-age consumers. And joining an affiliate marketing network has proven to be one of the best ways to do that.
The concept behind affiliate marketing is simple: Brands partner with site owners publishing content relevant to their products and services and enter into a performance-based, cost-per-action (CPA) agreement. The publisher then positions the advertiser's products within content that will generate the most clicks for the brand, and voila — all parties benefit. Publishers monetize content, brands sell more goods, and consumers are presented with products relevant to their specific interests.
This dynamic has proven so successful that the overall value of the affiliate marketing space is forecast to reach upward of $6.8 billion by 2020. With so many dollars at stake, brands and publishers need to partner with the right network to ensure they get the biggest slice of the eCommerce pie. And, for more than a decade, Pepperjam has delivered the solution.
As a global leader in performance marketing, Pepperjam's network is aimed at helping brands and site owners make the most out of high-value relationships.
"We have the technology that enables brands to very easily track reports and facilitate payments to their publishers," said Maura Smith, Pepperjam's Senior Vice President of Marketing. "Meanwhile, publishers have the trust of a third party like Pepperjam in ensuring that advertisers hold up on their end."
Pepperjam's dynamic attribution technology allows businesses to identify the most effective advertising channels and ensure appropriate commissions for top market influencers. Pepperjam also provides users with insights regarding conversion rates and compliance violations, among other valuable analytics.
An Affiliate Network Built on Transparency
By the late 2000s, sites like Amazon and eBay were already well-established as global retailers, having adopted customer-centric marketing strategies such as affiliate marketing and the use of product reviews and recommendations. However, many businesses were still struggling to stay competitive even after implementing those same methods.
Affiliate campaigns worked wonders in theory but had varying results depending on the effectiveness of individual publishers. As an answer to this dilemma, the Pepperjam Affiliate Network was launched in 2008 with the goal of uniting publishers, ad agencies, and brands under one transparent network.
"It was Pepperjam's first foray into a technology venture," Maura said. "Previously, Pepperjam was a service-based business."
Originally a foodservice company, Pepperjam transformed into one of the largest names in performance marketing. As a result, eBay's Enterprise Marketing Solutions department purchased the company in 2009 and eventually rebranded itself as Pepperjam in 2016.
Today, Pepperjam works with thousands of clients from every corner of the marketing space, offering proprietary tracking technology and exclusive advertiser streams. By leveraging these insights, users gain a comprehensive, and therefore more transparent, look into partnerships.
Nurturing Connections Between Brands, Publishers, and Agencies
By maintaining transparency within the affiliate marketing scene, Pepperjam facilitates stronger, safer, and more profitable relationships between all parties.
"Pepperjam believes in creating and nurturing connections that result in transformative business outcomes," Maura said. "We want to ensure value for all of our client types, acting as a marketplace, of sorts, where brands and agencies can meet publishers, and where publishers can meet brands and agencies."
Much more than just another affiliate network, Pepperjam gives companies a significant edge over the competition, maximizing publisher influence and diversifying market strategies. On the other hand, publishers looking to monetize their content find that Pepperjam's performance-based marketing guarantees fair commission rates as well as stable partnerships that call to mind what it truly means to be an affiliate. More than simply pushing products, these influencers get the recognition they deserve as key business drivers.
Due to the relative ease of joining affiliate programs, companies are often flooded with thousands of publishers. These affiliates are assigned IDs that consist of long number strings with no other differentiators besides conversion stats. However, Pepperjam gives a face to these marketers, shining the spotlight on their ability to drive business success. Because every publisher carries a different level of marketing influence, Pepperjam enables brands to issue larger incentives to their most effective affiliates.
"You have that structured third party to do the legwork for you," Maura said.
Performance Insights that Lead to Better Marketing Strategies
When matching businesses with publishers, Pepperjam provides a comprehensive analytics platform that helps brands determine the most appropriate ads and channels with which to formulate campaigns. It also allows publishers to better understand how ads are performing.
"They can look at data from a singular point in time or trended data to gauge performance over time," Maura said. "We cover all of the traditional metrics that a digital marketing platform would provide, including CMS conversions, click-through rates, average order value, and more."
Pepperjam's analytics are offered in a centralized and holistic manner, making it easy for either party to identify potentially profitable partnerships. The dashboard is designed for quick navigation and enables users to track real-time data in accordance with specific marketing goals and subsequently take immediate action.
This method of data collection, known as KPI (Key Performance Indicator) tracking, includes metrics, such as return visitor rates, traffic sources, and purchase funnels, that detail the customer journeys. The use of automatic reporting and compliance management keeps the network safe and strengthens brand integrity. And compliance violations are reported in real time, allowing for quick intervention.
"Because Pepperjam sifts over thousands of data points across a thousand advertisers, we have the benefit of aggregating performance data across advertising verticals," Maura said. "We can put those insights into our platform and give publishers a point of reference for which brands they may or may not want to partner with."
Publishers often specialize in specific niche markets and may experience high conversion rates due to practices they may not have been fully aware of before Pepperjam. For example, someone with a moderately successful Youtube gaming channel may consider taking commissions from game developers or retailers that carry specific accessories, offering a more relevant — and ultimately more pleasant — ad experience for viewers.
Tapping Into Market Trends to Increase the Value of Digital Marketing
Successful marketing is far more than a simple numbers game. Having thousands of affiliates does not necessarily translate to thousands of conversions. Pepperjam knows this and, thus, looks beyond the last-click conversions on which most affiliate networks tend to focus.
Conversions are commonly tracked only through specific URLs that lead directly to sales pages, often leaving middle-man influencers out of the equation. Every click has a story. Marketing is anything but linear, and the primary contributors to a successful conversion can fall anywhere within the clickstream.
"One of the hottest areas in digital marketing over the last few years is influencer marketing," Maura said. "Pepperjam has been following this trend and determining how to contribute to that area of the industry for both our clients and publishers."
Pepperjam has implemented several features to ensure the quality of conversions and make sure influencers are recognized. In addition to dynamic commissioning, Pepperjam uses specialized attribution features for codes and preferred publishers. In the case of in-cart attribution, Pepperjam establishes appropriate timeframes between clicks and finalized transactions to prevent drive-by commissions. Similarly, affiliates can opt for exclusive promotion codes that tie the purchase to them regardless of who closed the transaction.
Maura told us Pepperjam plans to incorporate even more features in the future to encourage growth among businesses and the marketers who keep them going strong. The process of designing these features is heavily influenced by user feedback as well as marketing trends like influencer marketing, couponing, and viral advertising.
"We use various survey methodologies to capture feedback, both qualitative and quantitative, from brands and publishers," Maura said. "This feedback is provided to all of our teams at Pepperjam in order to provide as much value as we can, whether it's in the technology and products team, the customer service team, or others."
Pepperjam works with numerous agencies and technology partners, including Magento, Shopify, Oplytic, and Cybba, to revolutionize the affiliate scene. By establishing a strong community based on feedback, advanced matching technology, and delivering more fulfilling camaraderie, Pepperjam lets marketers know what works and how to capitalize on it.
Advertiser Disclosure
HostingAdvice.com is a free online resource that offers valuable content and comparison services to users. To keep this resource 100% free, we receive compensation from many of the offers listed on the site. Along with key review factors, this compensation may impact how and where products appear across the site (including, for example, the order in which they appear). HostingAdvice.com does not include the entire universe of available offers. Editorial opinions expressed on the site are strictly our own and are not provided, endorsed, or approved by advertisers.
Our Editorial Review Policy
Our site is committed to publishing independent, accurate content guided by strict editorial guidelines. Before articles and reviews are published on our site, they undergo a thorough review process performed by a team of independent editors and subject-matter experts to ensure the content's accuracy, timeliness, and impartiality. Our editorial team is separate and independent of our site's advertisers, and the opinions they express on our site are their own. To read more about our team members and their editorial backgrounds, please visit our site's About page.