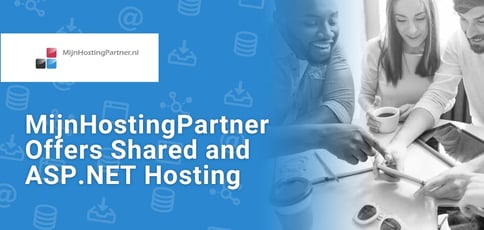 TL; DR: The hosting market isn't always known for excellent service. But Holland-based MijnHostingPartner, which has operated since the 1990s, maintains excellent customer satisfaction scores thanks to its reliable support team. The company offers ASP.NET Core hosting in addition to shared and managed WordPress solutions. Moving forward, MijnHostingPartner's focus on innovation in the security space will keep customers continually protected against emerging ransomware and DDoS attacks.

Many hosting providers only last a few years before being acquired or exiting the market — but MijnHostingPartner is the exception to the rule. The Netherlands-based hosting provider has operated independently since the early days of Windows 95.
"We started in this industry about 25 years ago, and we've certainly earned our stripes over the years," said Patrick Brouwer, Director at MijnHostingPartner. "In addition to private individuals, we also serve companies and government institutions."
The company's portfolio includes three primary product lines: shared web hosting, ASP.NET Core hosting, and a managed WordPress solution.
MijnHostingPartner's shared hosting product comes in four different flavors differentiated by storage space and the number of domains associated with each account. The ASP.NET Core product, on the other hand, is offered through a range of packages featuring varying disk space and access to MS-SQL databases. The company's managed WordPress solution, also available in packages of varying storage space, allows users to offload technical burdens like updates and backups for a stress-free experience.


MijnHostingPartner also manages domain names and email-only accounts atop Microsoft Exchange. The company offers free domain packages; customers either transfer their existing domains or purchase new ones through MijnHostingPartner's online portal.
While the Dutch company's main website is MijnHostingPartner.nl, it also caters to a global audience via additional language-specific domains for the major communities it supports. These include MyHostingPartner.com, MeinHostingPartner.com, and MijnHostingPartner.be.
"We distinguish ourselves in the market because we're one of the few hosters in the Netherlands who have their services on a Windows platform instead of Linux," Patrick said.
Rising Above Challenges in Website Reliability
The majority of websites were little more than tech-forward business cards when MijnHostingPartner was founded in the 1990s. The public didn't expect much in terms of performance at the time — so it generally didn't matter if a site incurred intermittent downtime or frequent glitches.
All of that changed after the dot-com bubble and the growth of Web 2.0 technologies in the consumer space. At that point, a steadily rising share of consumers began to expect fast, reliable websites, whether for informational or commercial purposes.
While huge companies could afford massive servers with high-bandwidth internet connections at the time, the majority of small companies could not. Hosting companies created shared hosting to enable SMBs to access the web affordably. In theory, a relatively modest hardware setup could serve hundreds of low-traffic websites at deeply discounted rates.


But not all hosting providers are created equal. While the hosting market at large has experienced several challenges over the last 15 years — think spotty performance, support, and dependability — MijnHostingPartner aimed to provide consistently performant hosting.
"I think that the biggest challenge for a web host is in providing reliable, fast, and secure hosting at the best price," Patrick said. "By keeping costs low, working with state-of-the-art equipment, and closely following developments in software and security, we are able to remain competitive."
MijnHostingPartner's specialty Windows offering also serves to differentiate the company from its competitors. Relatively few shared hosting services offer ASP.NET hosting, making this particular product an intriguing choice for SMBs and indie developers committed to Microsoft's stack.
Windows Platform Hosting & Managed Solutions
Many shared hosting providers focus on Linux because it is the operating system for which the majority of popular control panels are optimized. Linux is also free and open-source, which helps cut costs. But Linux is not the only player in the game — Microsoft, too, powers servers, as well as some of the frameworks that make the web work. MijnHostingPartner is one of the few budget-friendly shared hosting providers that deliver an uncompromising Windows experience.
The company supports all versions of ASP.NET Core, Microsoft's open-source web framework and successor to ASP.NET. This includes the latest version, ASP.NET Core 3.0, which was launched in September 2019 with significant performance improvements.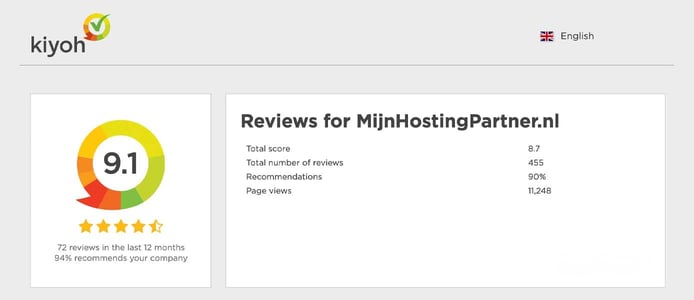 Beyond ASP.NET Core, the company provides a standard web hosting account that includes ASP.NET, five or more domains, unlimited email accounts and aliases, webmail interfaces, and unlimited MySQL databases.
MijnHostingPartner's managed WordPress product, on the other hand, delivers unlimited email addresses on a single domain plus unlimited traffic and MySQL databases.
"Managed WordPress is a good example of a package in which we unburden the customer as much as possible so that he or she can keep the focus on managing the content of the website," Patrick said. "In the Netherlands, we are one of the cheapest hosts despite the fact that we work on a Windows platform. Our customers really appreciate us — see our reviews — and we are quite proud of that!"
MijnHostingPartner: An Affordable Partner in the Netherlands
MijnHostingPartner, which has operated for a quarter-century, has weathered the evolution of the hosting market via its support for ASP.NET Core and its strategic location in the Netherlands, which enjoys strict data protection under European Union regulations. The company has earned significant positive mindshare among its customers, as evidenced by its high recommendation rates.
Moving forward, the company will remain focused on providing high-quality hosting services backed by attentive customer support.
"I think the focus we have is good, and it is important not to stray from it," Patrick said. "Our specialty is hosting websites — and that expertise flows through our veins. We will continue to innovate, improve our service, and maintain our high levels of quality. Security in the form of ransomware attacks and DDoS attacks remains a challenge, but we are well prepared for the future."
Overall, MijnHostingPartner aims to help SMBs save time and money developing and maintaining a highly performant online presence. The company has options for everyone — from customers who need access to an email server and a website without more advanced cloud options to those who must access a hosted ASP.NET Core server. And MijnHostingPartner's competitive pricing and corporate longevity are tough to beat.
"We try to keep the hosting as simple and cheap as possible," Patrick said. "And although it is sometimes difficult to satisfy customers, we try to be as service-oriented as possible."