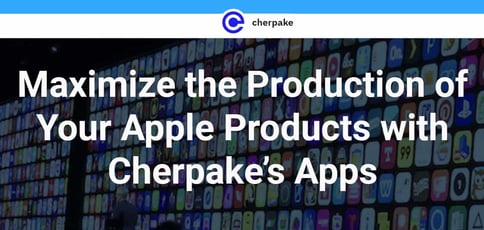 TL; DR: Desktop computers are perfect for demanding workflows, such as storing large files, app development, and streaming. But unlike laptops, they keep you in one place, which is not always helpful. Cherpake provides apps to help Apple users turn their mobile devices into mini extensions of their Mac and PC desktops. This way, users can be in a completely separate room from their Mac and still access it the way they want. We spoke with Evgeny Cherpak, the creator of Cherpake apps, about his app collection and why he prefers iOS.
Evgeny Cherpak has experienced a lot of change in his life. Born and raised in Ukraine, Evgeny moved to Israel with his family as a teenager. Once he graduated high school, he was off to the military, serving as an F-16 technician in the Israeli Air Force, first as a recruit and then as enlisted personnel.
Soon enough, Evgeny's love for computers led him down a different path. So, he left the military to pursue a career in development and joined an American startup as a Windows developer. He later pivoted to iOS app development.
In 2016, Evgeny, who doesn't shy away from the changing tides of life, made the fateful decision that set him on the journey he's on today. He left his startup to become a full-time indie developer. And there have been no regrets. Evgeny has achieved much since then, creating a collection of iOS apps that have been downloaded more than 3 million times on the App Store.

What's even more interesting is that Evgeny wasn't looking to start his own business. Instead, Cherpake was born out of his own needs and soon evolved into a brand, in a way, by accident.
"I decided to put my apps on the App Store. Initially, they were private apps for myself. After a while, I started getting reviews and emails asking for features and improving the existing ones," said Evgeny.
Available free on the App Store, Cherpake's apps primarily focus on maximizing the usability of Apple products and leveraging these devices in unconventional ways to improve comfort for users. His most popular application is his remote mouse and keyboard solution that allows users to control their Mac or PC from remote locations like the couch or their bed. Evgeny has also modified this solution to create similar apps tailored to music composition and Excel spreadsheets.
Users can browse the complete Cherpake list of applications on Evgeny's website here.
Improving Convenience for Apple Users
Everyone has had a couch potato moment — when getting up to complete a task seems too much of an effort. It could be walking to the kitchen to grab a snack or maybe going to your bedroom to check an email that just pinged on your phone. Instead, you sink further under the blankets and continue watching your show. Although Evgeny created his tools for more than couch potato moments, they did serve as a launching point.
"I wanted to solve those needs for myself. As I extended the functionality, I realized that it could serve other users too. The remote keyboard is my main app, and I'm constantly developing it because I use it all the time," said Evgeny.
In 2013, Evgeny developed the remote keyboard and mouse app to help him control his Mac Mini from the TV in his living room. The app supports Mac, iPhone, Apple Watch, and Apple TV and allows users to connect any of these devices to their computers for remote use.

"Because I have all those devices, it's just so convenient. You don't need to grab something else. You can do the task with what you have. So if I'm in front of my TV and want to control my computer in another room, I can do it with my Apple TV remote," said Evgeny.
Evgeny gives users the power of convenience and choice, no matter the situation. His apps also cover ground for users, so they can stay in their comfortable and relaxed states. One Apple Store reviewer who uses their computer monitor to watch TV explained how they constantly had to get up from across the room to switch controls. Downloading the remote keyboard app helped solve their pain point.
"​​This app also has a keyboard function and a nice little portion where it displays a grid with mute, volume down, volume up, back, play/pause, forward. And that covers what I need most of the time. Very helpful," said the user.
Transforming Apple Devices into Computer Extensions
Cherpake's apps enable users to transform their iOS devices into computer extensions. Users can leverage his solutions to accomplish several tasks on mobile devices and TVs that they wouldn't be able to do otherwise. His remote keyboard and mouse app comes in two versions: free and premium. The free version provides basic media controls for popular websites and apps, a keyboard, and a mouse.
If users want to do more, they can purchase a premium subscription. This version allows users to access a live view of their computer screens, complete system commands, launch and quit apps, use Siri, and open screen mirroring. It also has advanced features to enable customers to create control panels and add custom actions using AppleScript and PowerShell.
The other Cherpake apps also provide excellent remote functionality for different use cases. The Sibelius Keypad turns iPads and iPhones into virtual keypads and works in tandem with the music notation software on the user's computer. His Finale app works similarly, allowing users to compose in Finale on their mobile devices.

For professional users, Evgeny developed a Remote KeyPad and NumPad solution that allows them to create custom keypads for their tools, including Excel and Numbers, to boost productivity. Users can move freely and access their computers from their mobile screens.
Evgeny also built his apps for people on the go. His File Explorer and Player app acts as a flash drive and can stream videos, display pictures and documents, and transfer files from your Mac. It also allows you to use a personal hotspot to control your Mac when network connections aren't available. And users don't have to worry about bad experiences. Evgeny actively maintains and updates all of his apps.
"A couple of years ago, I switched to publishing everything immediately. Now, I do almost weekly updates because it's so easy and tempting to implement features. And then I get instant feedback. So every project I make is published immediately," said Evgeny.
What Makes iOS Different from Other Systems?
Evgeny wasn't always an iOS guy. He said he switched to a Mac in 2010 and never went back. But he told us some customers have returned to a Windows operating system and have asked for Windows support so they can continue using his tools.
"Some people go back and forth between operating systems. Now, they're switching to Windows and want the same functionality. So that's something I've been focusing on recently," said Evgeny.
Evgeny also explained why he likes working with iOS instead of Android and other operating systems. He said the Apple platform is well-defined and has fewer devices to accommodate. It also has an excellent set of APIs, which makes developers' lives easier. Another highlight is its App Store, which is a great monetization opportunity.
"The Android store is overwhelmed with a number of applications that have the same functionality. Because of this, it can be hard to monetize your application. Without monetization, app development can be a hobby, but it can't turn into a professional venture," said Evgeny.
While Android's Play Store is more open, Apple's App Store is more restricted and has strict guidelines to follow. Although this may seem like a drawback, it helps indie developers like Evgeny break into the market and stand out. Since his journey began in 2016, Evgeny has created eight applications, and he continues to provide more value to help Apple users get the most out of their devices.