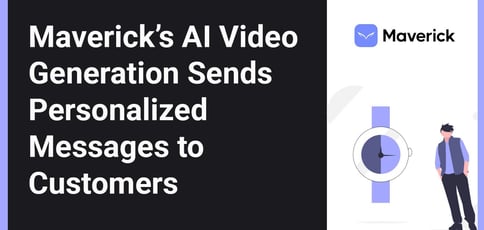 TL; DR: Forming strong customer connections is crucial to developing a positive, long-standing brand reputation. But creating these relationships isn't always so easy when you have an eCommerce business. Maverick helps companies drive engagement and maintain personalized customer interactions with its AI-generated video platform. We spoke with Debarshi Chaudhuri, Co-Founder of Maverick, about how the company leverages generative AI to create personalized videos at scale and helps boost ROI for users.
What turns a visitor into a repeat customer? From my experience, this answer is linked to the quality of the customer service. When I step into a shop, I want to feel welcomed and valued as a customer. I prefer a place where I can order a drink, exchange greetings and pleasantries with attentive staff members, and receive my order with a friendly smile.
But this isn't always the case. No one wants to enter a store and feel like another number. Brands that recognize the importance of customers and offer a pleasing shopping experience often excel because when customers enjoy their experience, they want to return.
Of course, online shop owners don't have a physical location where staff members can welcome customers, so these retailers have to take an alternative approach to form customer relationships.

Online brands can provide a quick and convenient user experience, but the personalized connection of in-person shops can get lost in the airwaves. This is where Maverick steps in. Maverick provides entrepreneurs with an AI platform for creating personalized videos at scale.
"We take audio and video content that brands provide to us and then run our models to process the content to generate thousands of personalized videos," said Debarshi Chaudhuri, Co-Founder of Maverick.
Thanks to Maverick, online entrepreneurs can solve customer engagement challenges and boost retention by sending customers personalized video messages. Brands can send a variety of messages, including new product launches or a thank you for signing up. The messages can even include individual user names to show appreciation and form better customer relationships.
Harnessing Generative AI to Bolster eCommerce Branding
Maverick Founders Debarshi Chaudhuri and Eitan Winer created the company with eCommerce entrepreneurs in mind. The road to establishing Maverick wasn't without its challenges, but it took off after a lightbulb moment.
Eitan and Debarshi met at a mobile gaming company where they were coworkers. They worked together so well that they decided to build a business together.
After exploring ideas for two years, the Maverick Founders landed on the idea for an AI video generation tool for eCommerce businesses. "It was a combination of our interests and background," Debarshi told us. "Eitan had previously run his own eCommerce store, importing alpaca goods from his native Bolivia. And I had worked on developing AI apps in the past."

While researching the idea that became Maverick, they realized how difficult it was for businesses to get off the ground and empathized with the journey. This realization played a considerable role in establishing the company. Debarshi and Eitan spoke with several entrepreneurs about their experiences and developed Maverick's personalized video marketing to help online brands boost customer lifetime value.
"Before we even built the product, we built a demo video and sold it to some people. Then we started to automate more of the video generation using AI over time," said Debarshi.
Debarshi told us they had to wade through some technical challenges before successfully generating convincing AI videos. The team also tested everything manually to ensure the technology offered the most effective solution for users. Now Maverick customers can leverage the tool to boost their brand's reputation and build customer loyalty.
Increasing Customer Retention and Revenue
The Maverick platform allows businesses to create meaningful and personalized interactions with customers, even though they can't interact in person. A personal touch is essential to the development of a successful brand, and now eCommerce companies can bring a personalized message to online customers.
"Once you start thinking about investing in your brand, a lot of that comes back to the people behind the brand, like the team, and connecting those people with your customers," said Debarshi.
The Maverick team set out to help users build that brand component and increase organic growth with its video marketing tool. The more people enjoy a service, the more likely they will refer to a friend. And Maverick's AI-generated videos allow businesses to form authentic customer relationships, thus boosting customer lifetime value.

"People like to form a deeper relationship with the people behind the company they're buying from. And customers love getting these videos from the people behind the brand," said Debarshi.
Maverick users don't have to do any heavy lifting to integrate the tool into their daily operations. Maverick provides prebuilt scripts and templates which fit multiple use cases. Businesses can also leverage Maverick to send videos in personalized emails or create branded video pages.
Video is one of the most engaging forms of marketing, and personalization only amplifies its success. Customers using Maverick have achieved great metrics, including an 84% email open rate, a 54% post-purchase email click-through rate, and a 15% cart recovery rate. Maverick users have also seen 20% more repeat purchases.
Optimizing AI Services to Boost ROI for Businesses
Maverick has helped many businesses boost return-on-investment (ROI) numbers as well. The company works with entrepreneurs who have appeared on Shark Tank, and the video tools have helped create marketing assets. These videos provide an avenue for companies to build trust and show appreciation to their customers. By using Maverick, the Shark Tank Alumni have accumulated positive reviews and seen their ROI multiply 50 times over.
As for the future, the team plans on refining Maverick to accommodate more visual content and create higher returns for users. Debarshi told us the industry is at a point where brands are transforming how they interact with customers and develop engaging content. And Maverick intends to lead the way with its video tools.
"What we're doing is diving into AI generation of content in order to deliver that closer relationship and what brands care about. So we're looking at how we can continue using AI content like video, image, and text to drive as much ROI for brands as possible," said Debarshi.
Users who want to try out Maverick's tool can demo the product on its homepage, no strings attached.