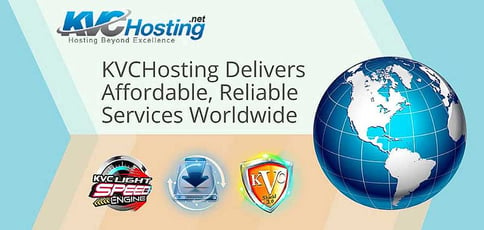 TL; DR: Headquartered in Oklahoma City with additional facilities in California and New York, KVCHosting provides affordable and reliable hosting services to small and medium-sized businesses across the globe. The company's broad portfolio of cloud, virtual, and dedicated servers include SEO-friendly hosting packages backed by detail-oriented customer support. With plans for expansion into Sweden and Indonesia plus high-performance PCIe SSD servers on the way, the company is showing no signs of slowing down.
With a primary datacenter in Oklahoma City flanked by colocation facilities in New York and California, KVCHosting's reach extends from sea to shining sea with a pit stop in America's heartland. The strategic locations allow clients across the globe to leverage the connectivity benefits inherent in geographically diverse server placement.
"We have three locations here in the US — our headquarters in Oklahoma City as well as Fremont, California, and Buffalo, New York," said CEO Hendrikus Kwan. "We're also in the process of expanding to Sweden and Indonesia."
Though KVCHosting has now cast a wide net over the hosting industry, the company comes from humble beginnings. "We started back in 2010 with knowledge from a telecom perspective as well as some background in SEO," Hendrikus said. "We had used other hosts for a long time, but we wanted to offer a cheaper and a better service with a shorter response time."
With that, KVCHosting was born. Since its inception, the company's customer-first mentality and affordable, reliable hosting solutions have led to steady growth and multiple industry awards. Today, KVCHosting continues to provide a comprehensive suite of cloud, virtual, and dedicated servers — including innovative SEO hosting plans — housed in secure datacenters across the country. With plans to leverage a new breed of SSDs and open additional datacenters overseas, the forward-thinking company is committed to meeting the evolving needs of its customer base in an ever-changing market.
Cloud, Virtual, and Dedicated Servers From Coast to Coast
KVCHosting offers a range of hosting plans suited for a variety of users. For those looking for ample resources, the company's Cloud Unlimited plans come with all the disk space, bandwidth, and domains one could ever need.
Looking to start your own hosting company? Professional Reseller plans provide a simple and inexpensive solution. For high-traffic sites in need of heightened security and control, KVCHosting's SSD VPS Hosting packages are a viable option.
According to Hendrikus, the company's dedicated servers can be used for a range of purposes, from gaming services to database management. Managed Dedicated Servers are also available, with 50TB bandwidth, 24GB RAM, and the help of a support team ready and willing to handle setup, monitoring, maintenance, and security.
Hendrikus told us longtime clients, including VPN provider HMA!, choose KVCHosting specifically for the connectivity benefits of its centralized Oklahoma City location. That's no understatement: The precise geographical center of the contiguous US is located two miles from Lebanon, Kansas, which is just five hours from Oklahoma City.
"We're also serving the third-largest hosting company in Indonesia," he said. "They chose to move to our location because of the service and performance we provide, as well as the affordable pricing."
Though KVCHosting's datacenters span the country, the company's Oklahoma location is its true powerhouse. "We have colocation in Fremont, California, and Buffalo, New York, but as far as our team goes, the innovation happens in Oklahoma," Hendrikus said.
A Large Selection of Affordable SEO Hosting Packages with Multiple IPs
These days, an effective SEO strategy is a must-have for SMBs looking to attract online visitors and grow their businesses. While it's true that many small and medium-sized business owners aren't SEO experts, they can still optimize their sites for better rankings.
KVCHosting's SEO packages help businesses improve their search results by hosting domains across multiple C-Class IPs in the US and Europe. The technique makes search engines register the sites as different and unique, thus ranking them higher.
All SEO hosting plans include a free site builder, cPanel and WHM, 99.9% uptime, unlimited email accounts, and DDOS protection. They're also backed by a 45-day money-back guarantee and a knowledgeable support team that can answer questions about SEO marketing. The contract-free packages also include SEO tools to help customers monitor site visibility and build links.
Hendrikus told us the SEO packages offer an affordable solution that doesn't sacrifice quality or results. KVCHosting's pricing model is based on conversations with longtime customers and other providers in Oklahoma.
"We ask customers how much they are willing to pay, take the conversation back to the office, and have meetings to discuss what customers expect to pay," he said. "From there, we determine a medium price point that's not too expensive or too cheap."
The ultimate goal is to keep prices as low as possible while still making a profit. "There's no mathematical formula, but it works," Hendrikus said.
Building Trust Through a Customer-First Support Approach
While KVCHosting recognizes the challenges inherent in standing up to industry giants like AWS and Azure, the company has no plans to back down. Instead, it aims to provide small and medium-sized businesses with a generous support approach they likely won't find elsewhere.
"This is a cut-throat industry; every single day there's a new hosting company popping up and trying to take market share," Hendrikus said. "We treat each customer as one of our own — and that's the difference."
He's right — great customer service does make a difference. According to a recent survey, 54 percent of US customers said they cut ties with a company due to poor support in 2017. What's more, 33 percent said friendly and knowledgeable representatives are key to a good customer service experience.
"At the end of the day, it's about retention," Hendrikus said. "As long as customers are getting quality services, great support, and fair pricing, things will work out."
To that end, the company boasts an average response time of about 15 minutes and vows to treat all customers equally, whether they're paying $50 a year or $1,000 a month. And, whenever possible, the team will go above and beyond the scope of traditional service.
"From time to time, we will connect with the customer through TeamViewer and go in, with permission, to teach them what needs to be done and how to do it," Hendrikus said. "We have a lot of happy customers."
When mistakes happen — after all, they're inevitable in any business — KVCHosting's strategy is to resolve the issue and use it as a growth opportunity. "You can just make one small mistake and your customer will move to another company, just like that," Hendrikus said. "Our goal is to learn from our mistakes."
New Product Launch: High-Performance PCI Express SSD Servers
KVCHosting's existing range of hosting solutions are powered by SSDs, which offer enormous advantages in terms of performance over HDDs. While HDDs rely on spinning magnetic disks to store data, SSDs use nonmoving semiconductor chips that are inherently faster.
Fast-loading sites are essential for SMBs looking to enhance online presence. In fact, Google has used page speed as a ranking factor for desktops since 2010 and factored it into the algorithm for mobile search results earlier this year.
"We started transforming all our servers into SSDs early on," Hendrikus said. Today, the trendsetting company is already moving on to a new type of SSDs known as PCI Express (PICe). These drives are even faster than traditional SSDs.
"We want to transform all of our SSDs into PCI Express, which will provide twice the speed," he said. "We're currently testing out products and trying to keep prices down."
Whether it's selecting strategic datacenter locations or determining a winning formula for ROI, KVCHosting's goal is simple — to build a financially stable business that puts clients first at all times.