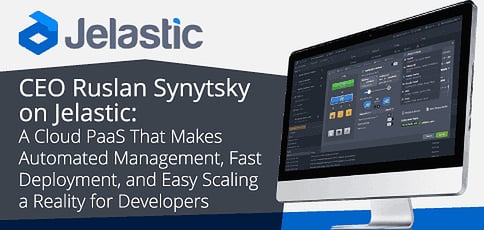 TL; DR: Founded in 2011 to fill a clear void in the market, Jelastic's turnkey Platform-as-a-Service (PaaS) tool automates sysadmin tasks so developers can focus on what matters most — application creation. The Palo Alto, California-based team of experienced tech leaders, developers, and project managers are devoted to providing advanced technology backed by high levels of support. We recently caught up with CEO and Co-Founder Ruslan Synytsky, who filled us in on popular features like multi-cloud infrastructure management and pay-as-you-use pricing, as well as upcoming releases, including managed Kubernetes hosting.
Automation — a force so powerful that some consider it part of the modern industrial revolution — is redefining the way we live, communicate, and do our jobs. Much like the assembly lines of the past, this new technology is allowing companies to increase output and turn their attention to higher-level tasks.
Ruslan Synytsky understood this concept well when he co-founded Jelastic, a cloud platform that allows companies to automate specific engineering tasks so developers can focus on their core competencies.
"While working on different projects, I noticed that companies spend a massive amount of human resources on configuration of application servers and databases, ongoing maintenance of the infrastructure, security updates, and, of course, architecture modernization when a project is growing; for example, going from standalone to a cluster mode," Ruslan said.
The prototype was designed exclusively for Java in 2010, when Platform-as-a-Service (PaaS) first gained popularity as a cloud delivery model. Ruslan told us the market had a good offering for Ruby from Heroku at the time, but it was difficult to provide PaaS for Java for a number of reasons. And one of the most glaring issues was management complexity.
"There are so many different implementations of Java application servers, and a huge number of libraries and options," Ruslan said. "Multiply this by choice of possible databases, and it gets even more complicated. As a result, the level of support should be advanced."
In 2010, potential PaaS solutions for developing Java applications also consumed large amounts of RAM — making their usage cost-prohibitive for many startups.
"Initially, Java was not designed for elastic environments, and as a result, it reserved resources even if they were not needed," Ruslan said. "We made the crucial decision to focus on Java to solve the complexity of server management and make Java hosting cost-efficient."
And so, with a name derived from the mash-up of "Java" and "elastic," Jelastic was born in 2011. Today, the platform has expanded beyond Java, allowing users to enjoy the benefits of automation when deploying applications written in various programming languages, including PHP, Python, Ruby, .NET, and Node.js.
Ease Administrative Burdens and Increase Productivity With One Click
The beauty of Jelastic lies in its ability to build a scalable, complex environment in just one click — allowing developers to focus on app creation rather than on configuring an operating system, application servers, and databases. In turn, the process decreases app development time, lowers maintenance time, and reduces engineering costs.
To start, users choose the app server they need (such as Apache, Nginx, Glassfish, TomEE, Jetty, or Tomcat) and select either an SQL or NoSQL database. To minimize support and management tasks, highly available clusters are automatically deployed, scaled, and replicated. For example, once a standard application is uploaded to Jelastic, it will be deployed through all nodes.
Ruslan told us all of this is possible through managed containerized application environments. Jelastic uses containers as an underlying virtualization layer, which works to increase the efficiency of resource usage and replicates the initially-built automation for various programming languages.
"From the very start, we built Jelastic on top of Virtuozzo containers," he said. "So, when Docker's container technology evolved, we already had substantial expertise in this sphere and smoothly integrated this standard into the platform.
Simplify Multi-Cloud Management Across Various Locations
Jelastic also features multi-cloud configuration, which allows applications to be hosted in different cloud environments.
"Initially, Jelastic was created as a platform for service providers to offer public cloud and managed services around, but considering that it could be easily installed on bare metal or any IaaS, we opted to launch private and hybrid cloud options," Ruslan said.
The company then formed Jelastic Cloud Union — a community of partners in which datacenters across the globe provide the computing capability to power the PaaS offering.
"Partnerships with globally known cloud vendors helped us to provide a multi-cloud implementation," Ruslan said. "We started with two in the US and Germany and grew to 60 datacenters in 28 countries."
The platform automates both scaling and clustering and provides continuous security updates. Ruslan said Jelastic's multi-cloud PaaS combines several benefits, including increasing team productivity, saving time and money, and improving performance and security of user applications.
"This is a solution for independent software vendors, service providers, telcos, and enterprises needing to speed up development, reduce the cost of IT infrastructure, and improve uptime and security," he said.
Freedom of Choice: Pay-As-You-Use Pricing Free From Vendor Lock-In
Ruslan told us the core tenet underlying Jelastic's broad range of solutions is freedom of choice. The goal is to deliver greater flexibility to users.
"Customers can choose between various solutions and services, ways of management, hardware, locations to host the data, cloud hosting providers, and so on," he said.
Perhaps most significantly, users are free from the confines of vendor lock-in. In the words of Java Developer and Jelastic user Bruno Souza, "The freedom to choose to leave is why you can confidently choose to stay."
Automatic vertical scaling and a pay-as-you-use pricing model enable the platform to cope with fluctuating traffic in the most cost-efficient way.
"Many companies don't do routine checks to see how much capacity they are using, so in most cases, they are overpaying for resources that never get used," Ruslan said. "We implemented the unique ability to get the required number of resources (RAM and CPU) on the fly. Customers won't over-allocate beyond what is needed, especially during low-use or idle times."
Coming Soon: New Packages, Including Managed Kubernetes Hosting
Governed by both customer feedback and industry trends, Jelastic's internal development process involves polishing existing functionality and keeping pace with evolving technology. Ruslan told us the company is currently focusing on an innovative lineup.
Although popular applications, such as WordPress and Magento, are already available for automatic installation through Jelastic, the company is working on providing additional out-of-the-box options.
"We are actively working on enhancing and spreading scalable and clustered packages for businesses," Ruslan said. "We'll populate these solutions among hosting providers as an extra product line and a better way to provide managed services."
The company also plans to add programming language support for Go and to provide a self-deployment option for a lightweight version of the PaaS. Ruslan told us customers will be able to auto-install the platform on the hardware or cloud of their choice. But development won't stop there.
"During the upcoming months, Jelastic is going to launch its own version of a managed Kubernetes hosting package available for automated installation across multiple clouds and on-premise with no vendor lock-in," Ruslan said. "Customers can start from one instance and grow up to thousands, manage the workloads via intuitive UI, as well as automate the DevOps processes with open API and Cloud Scripting."
This solution will also meet the needs of those interested in building a managed hosting business around Kubernetes services.
Ruslan attributed the company's rapid growth to a cohesive family environment.
"I remember the days when we were staying for several nights or even all weekend in the office to complete work," he said. "From the very start, we were addicted to the happiness and satisfaction of our customers and partners. Currently, the team is growing and extending with new, talented people, and I'm proud that we keep that initial dedication to a common goal."