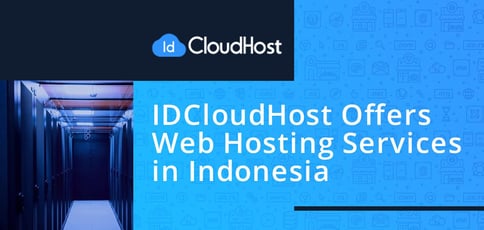 TL; DR: IDCloudHost has earned a sizable share of the Indonesian web hosting market during its five years in operation. The company offers cloud hosting, domain registration, and a wide range of services to help entrepreneurs launch and thrive. The number of internet users in Indonesia increased from 110 million to just under 185 million between 2015 and 2020. And IDCloudHost has played a role in that national transformation and continues to offer fast, reliable, and responsive hosting options for more than 90,000 customers.
Just five years ago, 110 million out of 260 million people in Indonesia had access to the internet. By July 2020, that number had grown to 185 million, which now represents about 71% of the population. Such a dramatic shift makes it clear that Indonesia is going through a historic digital transformation.
But many Indonesian hosting providers continue to chase after the most current or expensive tech solution to attract new customers, while many entrepreneurs figure out how to use hosting services to their business's advantage. IDCloudHost has remained ahead of its competition by listening to entrepreneurs, meeting their requests, and solving common issues for startups.
In the rapidly expanding Indonesian market, IDCloudHost differentiates itself from its competitors by offering affordable solutions, including VPS, dedicated servers, domain names, and SSL certificates. And part of its success is that it remains responsive to customer feedback.
"Feedback from users is critical in the web hosting industry because we can learn what our customers need and make decisions that provide the solutions our customers are asking for," said Muhammad Mufid Luthfi, Co-Founder and CMO at IDCloudHost.
IDCloudHost was founded in 2015 and has grown to serve more than 90,000 customers. It offers services at competitive price points compared with prices international hosts charge and provides high speeds and robust customer support.
"One of the problems we see is the high price for web hosting services and cloud infrastructure services in Indonesia, so IDCloudHost offers services at a better price with all the needed functionality," Muhammad said
IDCloudHost offers packages that include all the digital services entrepreneurs need to streamline a website launch and scale into the future. And its range of products and entry-level prices have helped it become a global player in the democratization of these services for Indonesia. IDCloudHost works with early adopters and has helped influence the overall market in a positive direction.
Another way it has helped shift the market is by offering freemium services for NGOs and educational institutions. That's because part of IDCloudHost's mission is to make it possible for every Indonesian to access the technologies they need to learn, grow, and prosper.
Easy Implementation and Affordable Hosting Packages
IDCloudHost offers price points that encourage entrepreneurs to transition their businesses online. It has also created a platform that's easy to navigate, allowing even novice entrepreneurs to build a website. With packages that offer solutions for every customer, IDCloudHost has helped remove entry barriers for millions of new internet users in Indonesia.
"IDCloudHost services are cheaper than international competitors, so it is easily the right choice for startups in Indonesia," Muhammad said.
One of the most significant challenges for entrepreneurs is the steep learning curve that often comes with digital technology. IDCloudHost removes that barrier with its easy-to-use website-building tools, customer service, and services offered at competitive and scalable prices.
IDCloudHost began as a B2C business, which allowed it to scale up in its early years. That background has helped IDCloudHost build products for users of many skill sets. When selling to a B2B market, companies can often expect an IT department to hit the ground running with a software solution. Still, IDCloudHost's history has allowed it to adopt a more user-friendly attitude.
"IDCloudHost continues to innovate and constantly conducts evaluations to get feedback related to its services in Indonesia," Muhammad said. "We made various improvements, including simplifying transactions with an easy-to-use system, as well as increasing local bank payments so users can choose the right payment method for them when making transactions on IDCloudhost."
Businesses also do not need an IT department or expansive budget to get started with IDCloudHost, and every part of the user experience is carefully crafted. IDCloudHost aims to reach everyone and help them bring their business online.
Holistic Solutions From Domain Names to Website Building
Entrepreneurs may get discouraged by all the steps involved in building a website. First, they need a web host and a domain name, then they can start designing the interface — but they can't forget about security tools and SSL certificates. That complexity may have kept many new users from starting the journey. That's why IDCloudHost offers every step of the process in an intuitive, affordable platform.
IDCloudHost also launched a new Private Cloud service where users only pay for what they need. That is just one of the many valuable services aimed at its B2B customers.
"Since its launch in August 2020, there are more than 2,000 users on the Private Cloud, and this will only continue to grow as the number of servers increases at IDCloudHost," Muhammad said.
IDCloudHost focuses on innovating and adding new products that allow users to build the solutions they need. And security is a top priority in all of its services. Since the COVID-19 pandemic began, cyberattacks have increased by 400%. Now, every internet user and website owner needs to be more vigilant when navigating a digitally connected world.
"From the security side, we learn a lot from issues that occur," Muhammad said. "This leads to the continual improvement of the IDCloudhost technical and network operations center teams."
IDCloudHost continually upgrades and strengthens its servers, allowing users to focus on their product instead of worrying about a breach.
Responding to Challenges with Educational Resources and NGO Hosting
IDCloudHost set out to make launching and hosting online enterprises easier for Indonesian entrepreneurs. Another central part of its mission is to serve the needs of communities instead of just the bottom line. And during the COVID-19 pandemic, while many students quickly transitioned into online classrooms, IDCloudHost assisted teachers and NGOs as they educated others.
"Even during COVID-19, we found new opportunities, one of which is in the education sector. Many schools in Indonesia have begun digitizing and developing advanced e-learning facilities and computer-based tests (CBT). IDcloudHost offers the services schools need and provides server packages built especially for educators."
But IDCloudHost doesn't stop at building and streamlining those services; it also offers them free to those in need. IDCloudHost understands the historic moment that Indonesia is in as it transforms into a digital society, and instead of focusing on money, it prioritizes helping people in need.
"We also have several free premium offerings through IDCloudHost social programs such as the Ekabima Program, which provides websites for schools. We have the NGO Go Digital program, which offers free websites for NGOs and one year of free hosting in addition to domains to help digitize schools and NGOs in Indonesia."
IDCloudHost understands its essential role at this moment, which is why it has taken an active role in helping every Indonesian. The internet is a great equalizer, and IDCloudHost is working hard to make access universal.