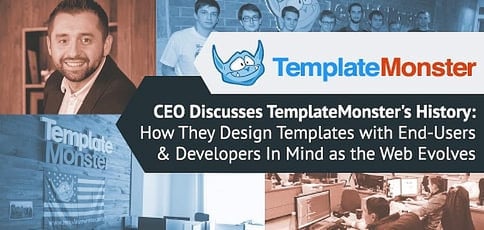 TL; DR: Web design "templates" are an inexpensive site-building shortcut — one that's become immensely popular among seasoned developers and non-coders alike. Amateur site owners can use them to quickly construct their site without coding, while developers can use them to get a head-start on design. Since 2002, TemplateMonster has been designing, developing, and evolving with the demands of this ever-growing user base. We spoke with their CEO, David Braun, to hear the company's backstory and how they've adapted with industry changes. //
For users looking to build a website, the site design process can be daunting. Even seasoned web developers can be slowed down and frustrated by the idea of starting from scratch to construct a professional and beautiful web property. Site design templates can be the key to the web design kingdom — valued for their low cost, simple implementation, and quality end result by customers across the skillset spectrum.
TemplateMonster, a pioneer provider of beautiful and easy-to-implement website templates, offers thousands of custom designs. The templates are easy for non-developers to manipulate while they also serve as excellent stepping stones for dev folks to get a head-start on development — helping them develop a client's site, blog, or landing page up to 5x faster than with a CMS alone.
CEO David Braun shared with us the story of TemplateMonster, including the challenges of designing for two parties with extreme variations in technical ability: end-users and developers. He walked us through how TemplateMonster navigates each of their site building needs while adapting to changes on the Web in general.
The Story of TemplateMonster: How They've Evolved with the Industry
In the years leading up to TemplateMonster, websites were judged differently: A/B testing wasn't done, search engine optimization wasn't nearly as emphasized as it is today, and conversion was hardly discussed. Your website (and therefore the likelihood of a user using your services) was judged based on the design and the design alone — so having a good designer was imperative.
Chapter 1: Mass Producing a Web Designer's Internal Process
Before TemplateMonster, David and his team were running a design studio called Inverse Logic. He assimilated it to a web design "agency" where their designers were working with big-name clients like The Gap and General Electric to come up with designs that said customers wanted. However, the back-and-forths between clients, managers, designers, and developers — the dialogue loop that repeated with each tweak — created a dizzying amount of interactions. "Why don't we sell something pre-made?" David said, recalling the idea that inspired TemplateMonster.
While on the cusp of initiating TemplateMonster, the Inverse Logic team had a particular web designer that was exceptionally talented and productive. "He could complete the entire website in one day," David said. "As I was observing how he was doing this, I saw he was using his own library of various pre-designed elements that he designed himself." David asked the designer if these pre-made elements could be beneficial to other users. Knowing how much this library was speeding up his own work, the designer presumed they could — and he was spot on.
In May of 2002, David launched TemplateMonster with this idea of a repository of pre-designed elements for customizing a site. They offered around 20 or 30 templates featuring various designs for different niches, broke them up into "Silver," "Gold," and "Platinum" categories, and started selling them at around 25 bucks a pop. Sales took off — hitting almost $70,000 the first week.
At the time, there wasn't any competition, so they didn't have to incur the cost of advertising. They did, however, have one of the first Affiliate Programs on the Web, so within three years' time 200 providers were selling TemplateMonster's products. After learning to mitigate the risk of fraudulent payments on the Web, the TemplateMonster team developed into a large and powerful factory. "You've created the McDonald's of web design," David said, quoting a friend's description of the conveyor belt of mass production he'd inspired.
Chapter 2: Adapting to the Rise of Open-Source Site Builders & The Fall of Flash
For several years, the TemplateMonster assembly line flowed with the full force of productivity, as templates moved through frontpage designers, illustrators, icon designers, junior designers, Flash animators, music composers, and so on. "It worked perfectly for almost eight years," David said. He reported extreme growth patterns: 200 percent annual sales increases as their team also expanded from 30 to 300. "It was very, very good until Steve Jobs said that Flash was going to die," David said. "About 80 percent of our inventory at the time was Flash-based, so it was a big hit to our business."
The TemplateMonster team was a family at that point and David didn't want to have to let members of his team go simply because the industry was suddenly shifting away from their skillset. He made the call to invest in the training to transition his team along with the industry — retraining animators to become HTML coders. Naturally, this took time, and the quality of the product suffered in the beginning; however, David knew what was important — he made the investment in his team and watched as TemplateMonster started to grow a year later.
Meanwhile, Google released their AdSense program in 2010, seriously thwarting sales from TemplateMonster's Affiliate Program (which they relied on for half of their revenue at the time). "Word-of-mouth and our networking saved the business," David said. The company restructured to become a template marketplace — giving various designers the opportunity to boost their own sales utilizing TemplateMonster's exposure, promotion, and audience.
All the while, open-source platforms like WordPress, Joomla, and Drupal were starting to grow. TemplateMonster seized the opportunity to become the go-to provider for open-source site builders. They transitioned away from their conveyor belt production model and instead created an ecosystem of fully-functioning teams that specialized in WordPress, Joomla, Drupal, and the like.
They took another year developing standardized operational procedures (SOPs) to dictate how these teams, which functioned almost as independent web design agencies, would build, update, and maintain the code for each of their respective platforms. David told us this significantly increased the number of support agents needed. "The product became more complex; it's not just a set of HTML files; it's a lot of plugins, systems, et cetera, so it creates a lot of hassle from a support standpoint," he said. The TemplateMonster Support Department was initiated with the aim of educating and empowering clients; today, it accounts for 25 percent of the company's revenue.
The Climax: Simplicity for End-Users vs. Functionality for Developers
The biggest challenge TemplateMonster faces to this day is balancing the needs of their two large client bases: end-users and developers. About 50 percent of the TemplateMonster audience is comprised of end-users (mostly SMB owners who haven't allotted huge budgets to web design); meanwhile, the other 50 percent is made up of developers looking to speed up the production process and give visual results to their customers quickly.
"How do you make a product that suits the end-user who speaks one language and at the same time is attractive to a hard-core web developer who speaks an entirely different language?" David said, illustrating the challenge TemplateMonster faces in creating product roadmaps. TemplateMonster navigates this by recognizing that the solution cannot be a one-size-fits-all product. They create templates suited for developers and they create templates catering to the needs of folks who aren't tech-savvy — and they do both exceptionally well.
TemplateMonster determines how to best meet the needs of both user bases in two ways:
Hot Topics (User Feedback): TemplateMonster is the only template provider with 24/7 Live Chat, which allows them to communicate with customers directly to determine what users need. Consumers can propose new topics, vote for the ideas that they believe would be beneficial additions, and even refresh old topics as their needs continue to evolve.
Project Managers (Community Research): TemplateMonster has Product Managers dedicated to each open-source platform (e.g., WordPress.org). They constantly investigate and hone in on the features or functionalities that the platform communities are requesting.
"The biggest challenge then becomes not just the production but the constant updates," David said. "For example, with every annual update of WordPress, we have 1,500+ templates that are instantly incompatible." Each year, TemplateMonster removes a handful of templates from the market — a costly casualty that David told us is frustrating but necessary. TemplateMonster very much emphasizes customer quality over company costs.
The Culture: In-House Incentives, Challenges, & Philanthropic Support
Today, TemplateMonster is a huge network of approximately 50 support personnel, 90 folks in production, 20 sales staff members, 40 marketing gurus, and 30 developers working on the website itself. It's an ever-growing team with a passion for activity, innovation, giving back, and self-learning. Evidence of this can be seen in their culture and team amenities, which include:
Sports & Activities: They play water polo, basketball, football, and various indoor games.
In-House Challenges & Anti-Smoking Efforts: The company fights against tobacco use within the team by offering bonuses to those who successfully kick the habit. Team members can place bets and engage in friendly competitions to encourage quitting.
Internal "Startups" & Hackathons: The company incentivizes innovation by allowing team members to pitch ideas for "startup projects" within the office. They host hackathons internally and if the startup idea is a hit, TemplateMonster will become an internal investor. An example of a successful "startup" from the team is their Flash-based CMS, which was founded in 2008 and TemplateMonster received a return on their $100K investment in a week.
Anti-War Efforts in Ukraine: The company set up the largest crowdfunding platform, PeoplesProject.com, in support of wounded soldiers and refugees in the war currently going on in Ukraine. TemplateMonster has an office based out of Ukraine and they are proud of their strong influence in this charity space — having raised over $10M to date!
David's hands-on involvement in creating this positive and creative culture was palpable during our discussion. TemplateMonster's commitment to encouraging innovation and growth within the company has certainly translated into incredible expansion for the company as a whole.
Final Words on TemplateMonster's Road to Design Dominance
TemplateMonster has had a lengthy and ever-evolving history of helping developers help their clients while also helping end-users build beautiful sites themselves. Today the product base includes over 26,000 design items while the product range includes five template types based on the software platform involved (e.g., a CMS/blog-based site with WordPress or Joomla vs. a Flash/media-based site). There are also over 50 topical categories for users to browse.
The TemplateMonster story is as dynamic as their current offerings are rich. They're a totally bootstrapped company with a presence in 14 countries, 14 years of experience in web design, development, software, and eCommerce markets, and 10 million dollars in annual revenue as a result. David told us that in 2016 and onward TemplateMonster will continue developing solutions — "connecting the right product with the right customer." We look forward to seeing what the TemplateMonster team comes up with next.
Advertiser Disclosure
HostingAdvice.com is a free online resource that offers valuable content and comparison services to users. To keep this resource 100% free, we receive compensation from many of the offers listed on the site. Along with key review factors, this compensation may impact how and where products appear across the site (including, for example, the order in which they appear). HostingAdvice.com does not include the entire universe of available offers. Editorial opinions expressed on the site are strictly our own and are not provided, endorsed, or approved by advertisers.
Our Editorial Review Policy
Our site is committed to publishing independent, accurate content guided by strict editorial guidelines. Before articles and reviews are published on our site, they undergo a thorough review process performed by a team of independent editors and subject-matter experts to ensure the content's accuracy, timeliness, and impartiality. Our editorial team is separate and independent of our site's advertisers, and the opinions they express on our site are their own. To read more about our team members and their editorial backgrounds, please visit our site's About page.